Blake Rasmussen and Steven Sunu were joined by Mark Heggen of the Secret Lair team to review the first year of Secret Lairs and discuss the future of the products going forward, previewing art and themes for drops coming in 2021 and beyond.
The trio started the show going over how 2020 went for Secret Lair products and reflecting on the improvements the team made from increasing global availability to adjusting how and when drops went up for sale and how long they were available. Heggen said that 2021 will have many more Superdrops similar to the Secretversary, where they will have multiple drops at once over a longer order window compared to one-off drops. While there will still be flexibility and unique drops can still happen, the majority of products will be released in groups. The first Superdrop is set for February and more will follow every couple of months.
Heggen also said the products will have a true preorder method going forward. The product will go on sale for a time period and consumers won't be billed right away, instead waiting for all the orders to be collected to schedule a print run leading to a confirmation email two weeks before printing, and then finally charging consumers before shipping.
For 2021, Secret Lair will continue to feature new art and unique art styles as it is one of the main bloodlines of the product. There will be more art similar to the Party Hard, Shred Harder drop from the current Secretversary Superdrop, as well as more Artist Series drops like the Seb McKinnon collection. Weekly MTG unveiled some new art from future drops, including a sketch from a future Artist Series: Kaja and Phil Foglio and a finished piece of art from Artist Series: Johannes Voss. The Foglio collection is slated for 2022, while the Voss drop is coming in 2021.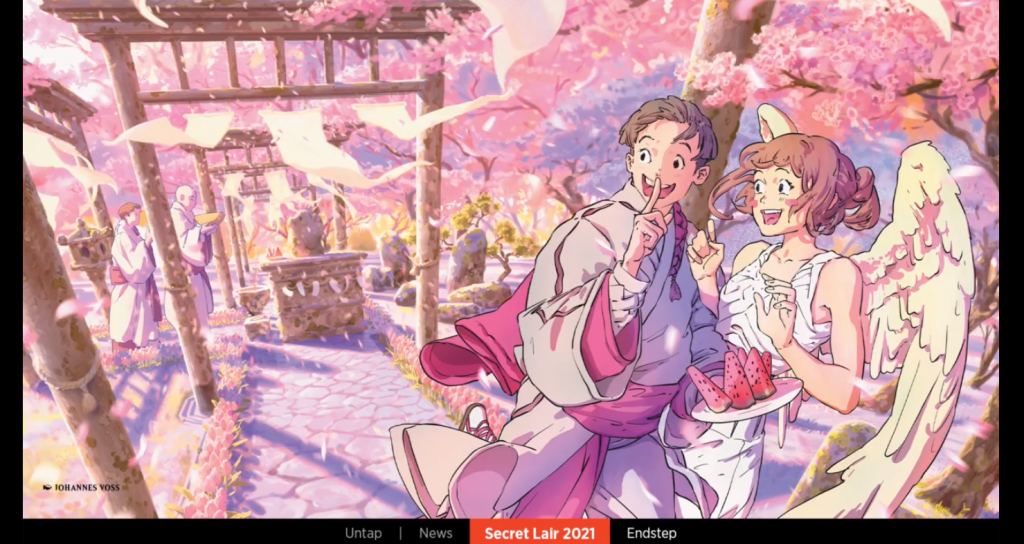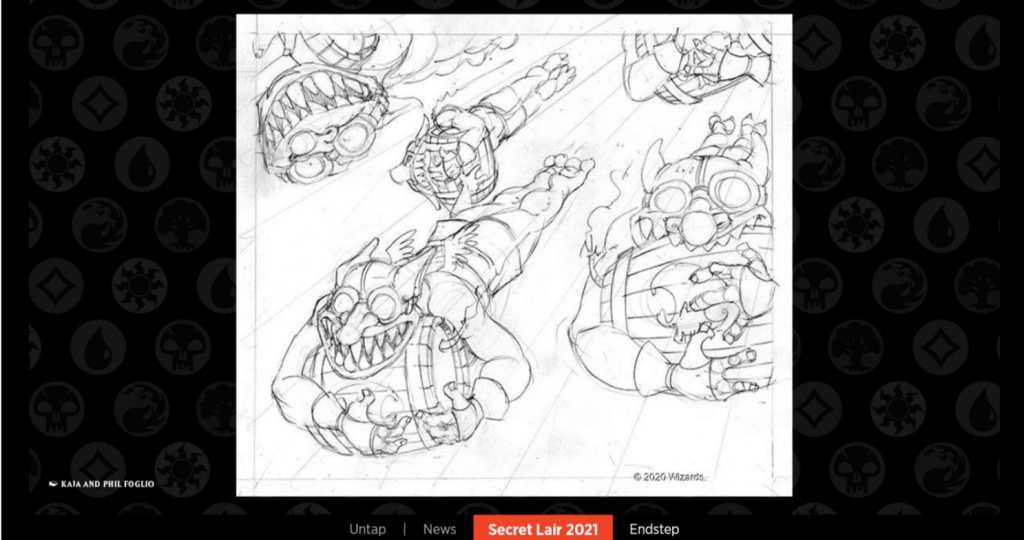 A piece of art for a new printing of Nature's Lore by Jeff Soto was also previewed. Soto is known for his work with clients like Disney and Rockstar Games and for illustrations for post-hardcore bands Finch and Halifax. The style is similar to the heavy metal poster style of the Party Hard, Shred Harder drop.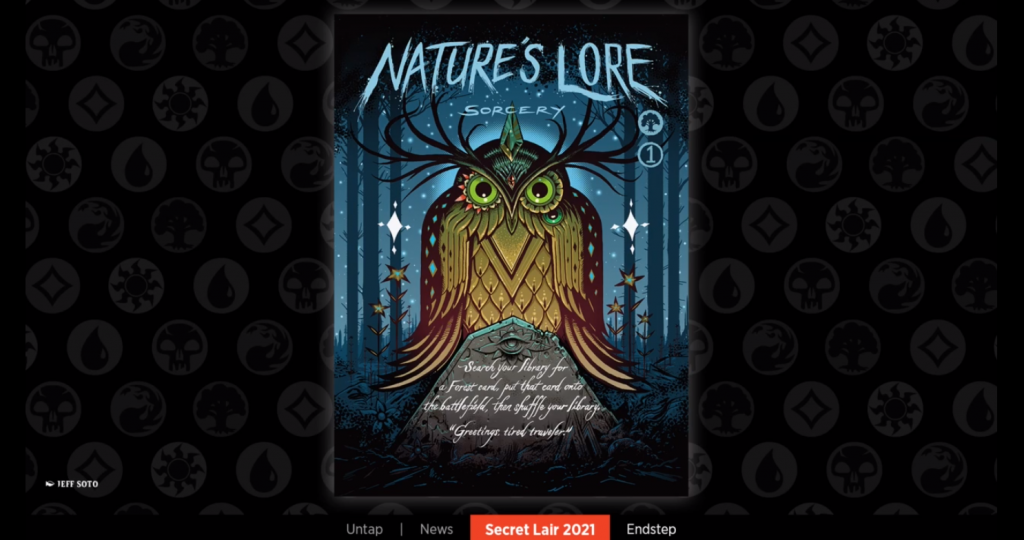 Another drop previewed is Ultimate Edition 2, which will have new art, foil versions of all ten Pathway lands. With six Pathways in Zendikar Rising and four coming in Kaldheim to complete the cycle, the drop will feature different styles for those from each set. Check out the six Pathways from Zendikar Rising using art set in Kaldheim.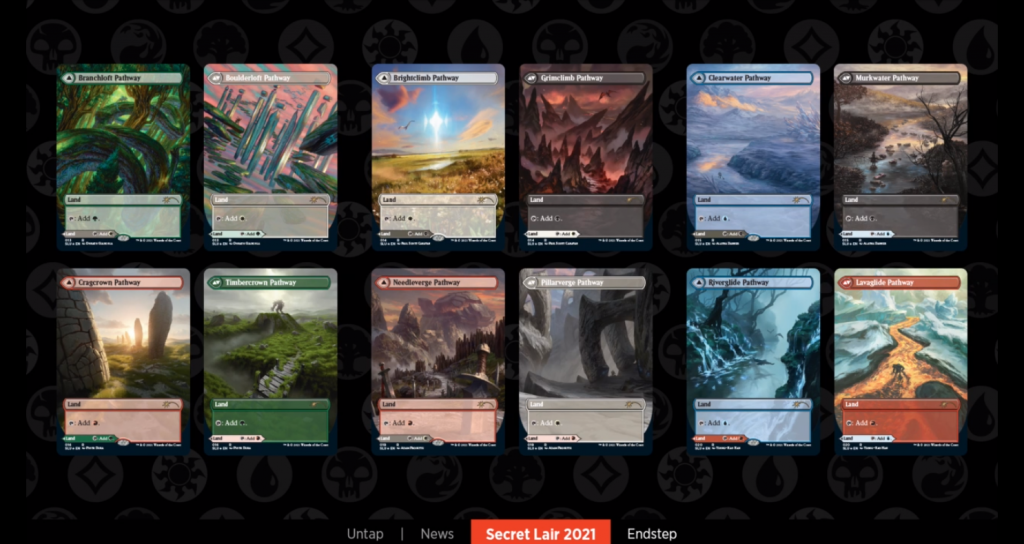 The four new Pathways making their debut in Kaldheim will get art set in Zendikar, allowing players the option to use art from whichever plane they want for each double-faced modal land. This Ultimate Edition drop will have a "substantially" larger print run than the first one.
Other drops hinted at include: Artist Series: Fiona Staples and one dedicated to dinosaurs. Staples is a well-known comic book artist making her first splash in Magic. Heggen noted that Secret Lairs allow for legendary Magic artists to make new art but also let new artist dip their feet into the game. Heggen said the dinosaur drop came from a poll where players got to vote on a choice between dinosaurs and knights, with dinosaurs winning and receiving its own Secret Lair.
Other topics discussed on the show include the packaging for Secret Lairs and the reception of the Walking Dead drop. Heggen said they are looking at new changes and improvements for the packaging, but they haven't finalized anything quite yet. He also addressed concerns from the Walking Dead drop, saying that they are paying close attention to all feedback and that they are aware not everyone was happy with it. He also said that it was the best selling Secret Lair to date, with it reaching the most unique consumers and it being the first Magic cards for many buyers.
Rasmussen, Sunu, and Heggen wrapped the show by previewing an animation of one last piece of new art. Check out the last frame of the animation below.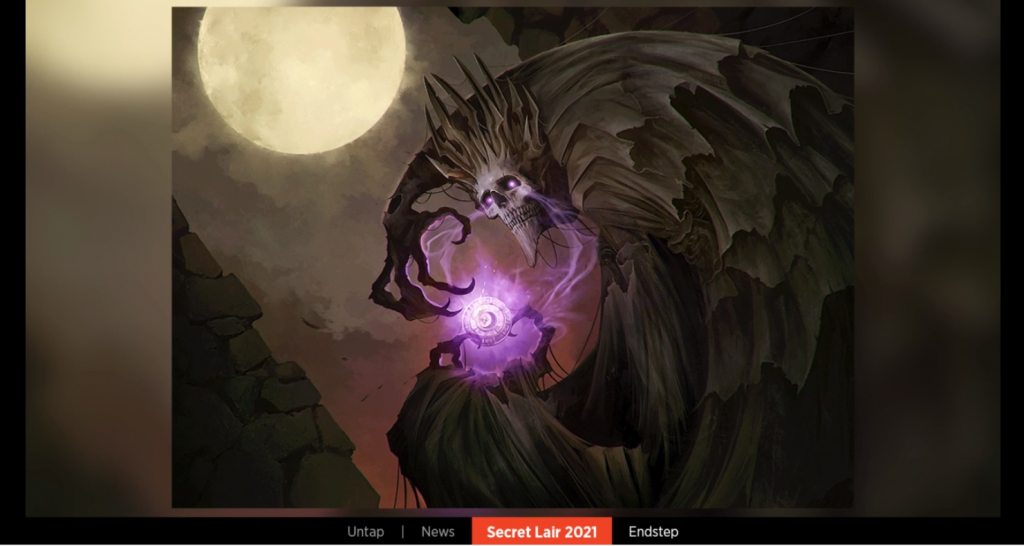 Next week's episode of Weekly MTG will be all about the Artist Series of Secret Lairs and will have special guest Seb McKinnon.