Courtesy of Wizards of the Coast (WotC) and TitanSmash MTG, check out this new, Orzhov rare from Adventures in the Forgotten Realms — Triumphant Adventurer!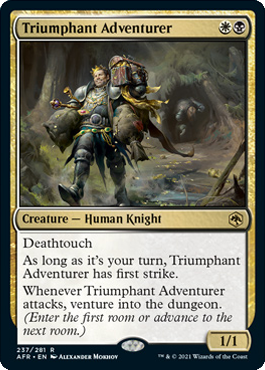 The first aggressively-slanted minion with the new venture mechanic to be previewed so far, Triumphant Adventurer is designed to move you through dungeons quickly and efficiently.
Thanks to the combination of first strike and deathtouch, opposing players will find it difficult to justify a block on Triumphant Adventurer, leaving you free to venture and complete a ton of dungeons.
So what do you think of Triumphant Adventurer? Is this card the start of great things for aggressive venture decks? Let us know what you think in the comments!
Dungeons & Dragons: Adventures in the Forgotten Realms is scheduled for release on July 23. View our official preview gallery.