Gabriel Nicholas won the second Championship Qualifier of Season Two of the SCG Tour Online Saturday with Sultai Ramp.
Quarterfinals
8
Tyler Nightingale
Sultai Ramp
4
Ryuji Murae
Rakdos Sacrifice (Lurrus)
5
Sean Goddard
Temur Adventures
2
Yosuke Iwata
Mardu Winota (Jegantha)
7
Carson Bell
Rakdos Sacrifice (Lurrus)
3
Gabriel Nicholas
Sultai Ramp
6
Koutarou Ishibashi
Sultai Ramp
Creatures (7)
Planeswalkers (9)
Lands (28)
Spells (16) After four more cards were banned from Standard, many players looked toward Temur Adventures or Sultai Ramp as the deck to beat in the new format. Nicholas and many other players, including three more in the Top 8, showed Sultai Ramp was the best. Nicholas carved through the Top 8, only losing one game in the finals, by beating a mirror in the quarterfinals then topping Rakdos Sacrifice (Lurrus) in the semis and finals.
Nicholas cruised to the finals with 2-0 wins over Koutarou Ishibashi and Carson Bell, leaving just Players Tour Online champion Ryuji Murae in his path. Murae took a blazing fast Game 1 with an aggressive start and a few too many lands drawn for Nicholas, but Nicholas took the post-board games with the help of Extinction Event, plenty of removal, and Uro, Titan of Nature's Wrath.
Creatures (25)
Lands (23)
Spells (12) Just over a quarter of the field opted for Sultai Ramp, while Temur Adventures came in next with a bit more than 12 percent. Temur decks didn't lack in numbers, however, as Temur Elementals clocked in with the same amount of players as Temur Adventures, while the next most-played deck was Temur Flash at six percent of the 111-person field. The Top 8 ended up with four copies of Sultai Ramp, two copies of Rakdos Sacrifice (Lurrus), and one copy of Mardu Winota (Jegantha) and Temur Adventures.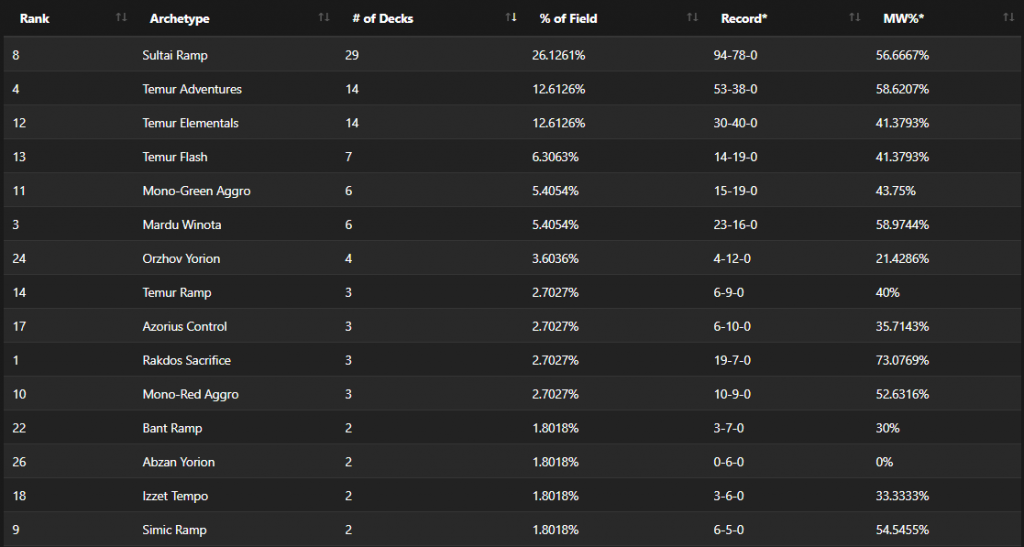 View all the decklists on MTG Melee.