After twelve grueling rounds, the 2020 Grand Finals Top 8 is locked in and filled with world champions, hall-of-famers, Mythic Champions, newcomers to the Sunday stage, and more.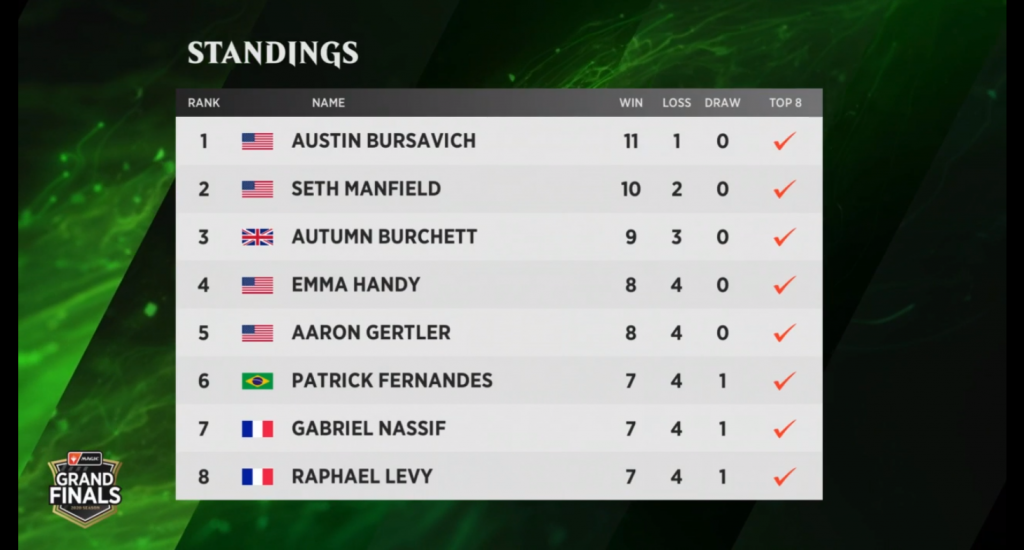 Austin Bursavich, Seth Manfield, and Autumn Burchett were the first three players to secure their spots in the Top 8 with Bursavich earning his eighth match win in Round 9, Manfield doing so in Round 10, and Burchett in Round 11. That left the rest of the field to sort things out in Round 12 with Emma Handy and Aaron Gertler winning their matches while Patrick Fernandez, Gabriel Nassif, and Raphael Levy made it in with intentional draws.
The Top 8 double elimination bracket will play out tomorrow using the Zendikar Rising Standard format. Omnath, Locus of Creation will only be in five of the decks — all being Four-Color Adventures — leaving two copies of Gruul Adventures, and a single copy of Dimir Rogues. Notably, no copies of Four-Color Ramp or Rakdos Midrange made the elimination rounds despite both decks having four pilots.
Four-Color Adventures made up 59.4% of the field and converted to 62.5 percent of the Top 8. Handy and Burchett were two of three players in the event on Gruul Adventures while Manfield was the lone Dimir Rogues player, as well as the only player in the tournament not casting Bonecrusher Giant/Stomp.
Creatures (26)
Lands (26)
Spells (8) Creatures (30)
Lands (20)
Spells (10) Creatures (12)
Lands (21)
Spells (27) Omnath also dominated the Historic portion of the event, with five of the Top 8 players going with Four-Color Ramp, leaving two players on Four-Color Midrange, and one on Jund Sacrifice.
The first round of matches tomorrow will be:
Bursavich (Four-Color Adventures) vs. Levy (Four-Color Adventures)
Manfield (Dimir Rogues) vs. Nassif (Four-Color Adventures)
Burchett (Gruul Adventures) vs. Fernandez (Four-Color Adventures)
Handy (Gruul Adventures) vs. Gertler (Four-Color Adventures)
All matches will be best-of-three until the championship match, which will be best-of-three matches.
View all Standard and Historic decklists from the event.
Coverage of Day 3 and the Top 8 of the 2020 Grand Finals begins at 12 pm ET/9 am PT tomorrow on twitch.tv/magic.