After playing numerous Dominaria United (DMU) drafts, watching streams, investigating data, and losing multiple games to an opposing Turn 4 Sheoldred, the Apocalypse, I wanted to provide some insights on the overperformers and cards that have surprised me in DMU Limited.
Wingmantle Chaplain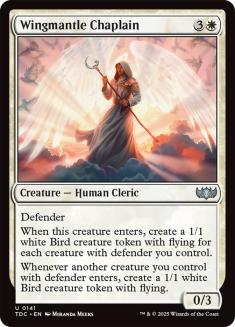 Let's start by addressing the defender in the room, Wingmantle Chaplain. While I certainly knew that the Walls deck was a thing, I actually didn't think that this would turn out to be the Wall of Fame win condition.
I assumed that the Walls deck would be a much slower deck, eventually winning via mill with Coral Colony, or death by green ooze via Blight Pile. Wingmantle Chaplains become quite an unanswerable problem in multiples, and offer an impenetrable shield of Bird corpses with the flying tokens.
There are a couple of fun things you can do with Chaplain as your win condition. One is to bounce your own Chaplain to hand with Tolarian Geyser or Rona's Vortex. Another is Strength of the Coalition, escalating your cute lovebirds into an Alfred Hitchcock horror movie.
Nishoba Brawler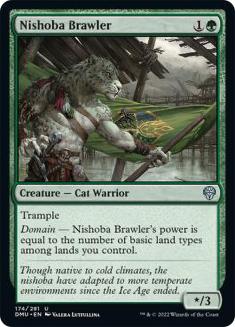 While I knew this Brawler wasn't going to be your average kitty-cat going in, I didn't expect that it would use that expensive scratching post as a weapon to bludgeon everything in its path. The Brawler has the potential to be an attacking 5/3 trampler on Turn 3, while still having two mana up. What format is this again?
Three toughness is a big deal in this set, as there are only two common two-drops with the three-power requirement to challenge this frenzied feline to a brawl. This is one of the strongest uncommons in the set, and requires very little support.
Fires of Victory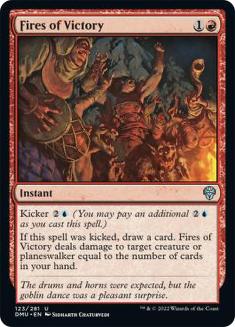 I certainly didn't feel fired up about this card when I read it, nor did I think of any victory being associated with it. I mostly just thought about it being a bad card to draw in the late-game. But, on the other side of that coin, it's a two-mana red burn spell that will likely incinerate pretty much anything in the first five turns and has the potential to draw a card while doing so. Yes, this is a bad card to draw late-game, but the red decks in Dominaria United want to avoid the late game for the most part.
Impulse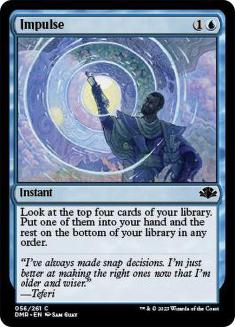 Cards like Impulse vary wildly in value depending on the sets they're in. Curate from Strixhaven comes to mind: a card that looked below average at face value, but turned out to be a great playable in every deck and fantastic if you had a Serpentine Curve.
There are a few reasons why Impulse is looking good in Dominaria United. First, we have the payoffs for casting a spell, like Ghitu Amplifier or Balmor, Battlemage Captain, among many others. Second is the overall speed of the format, with an average of about 9.6 turns in Best-of-One (Bo1), making it one of the slower sets in recent years. In that same vein, aggressive decks are pretty scarce, so you won't typically get too punished for this being your Turn 2 play.
Love Song of Night and Day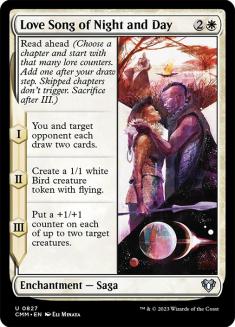 From the time of first reading this card to the present day, night, and day seems like an appropriate analogy. I didn't read the 'read ahead' mechanic when I first saw the card, and completely wrote it off. After reading the mechanic and before playing with it, I thought it seemed fine in something like an Azorius Flyers deck, as it can put out a flyer and pump another evasive threat.
After playing the format a few days, this is simply a good card. I like to think of it as a three-mana 2/2 flyer at worst, but it can do a lot more. The versatility is really the key here, because all three chapters can be relevant, including just starting at Chapter III to make a lethal attack or force your opponent into some bad blocks. If you are on the play, and your opponent doesn't cast a card Turn 1 or 2, you can cast this Turn 3 starting with Chapter I, and they will likely have to discard!
Eerie Soultender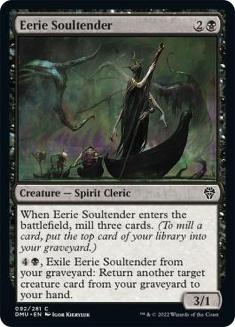 This one isn't too eerie for me, but I know that most others didn't share my views of this being a solid playable. The Soultender currently ranks as the second-highest win-rate black common creature, next to Phyrexian Rager. There actually are some good synergies for this card, including Urborg Repossession, Writhing Necromass, Cult Conscript, or even more copies of Eerie Soultender! With the format being on the slower side, that typically gives you enough time to utilize the Soultender in both life, and death.
It's still early in the format, and I've been having a blast! This is a deep set, and I've been loving the puzzle of finding the synergies and surprises Dominaria United has to offer.