Our final color in the arduous journey of reviewing D&D: Adventures in the Forgotten Realms winds up being one of the weakest. Don't blame me; I would have loved to end this on a high note. No, this lies squarely at the feet of the design team and what to me looks like missed opportunities within several archetypes. Not a great sign for these cards, right?
Golgari continues to confound Wizards of the Coast (WotC). After bungling the color pair in both Kaldheim (Elves sucked) and Zendikar Rising (the bad version of kicker), we're left with the feeble "creatures dying" theme with very few strong payoffs. I've opined about lifegain previously, but don't expect to see any revelations in terms of card quality for that deck here.
(That opining? It's covered in my reviews of white, blue, black, and red. Check them out!)
I'm most curious to see how Simic Ramp plays out, and particularly if there's a deck that can take advantage of blue's desire to venture and crossover. Many repeatable sources of venturing seem mana-hungry (Dungeon Map, Fifty Feet of Rope) so I won't count it out yet. For now, stick to Gruul if you wind up in green and bash hard.
Again: the grading rubric, where your absolute bombs are rated 5.0 and the unplayable, Constructed-only cards are a sad 0.0. A 2.5 is a card you're almost always playing, a card with two grades reflects that it's great when it's in the correct deck, and Sideboard indicates that a card is worthy of consideration in Best-of-Three matches.
Bulette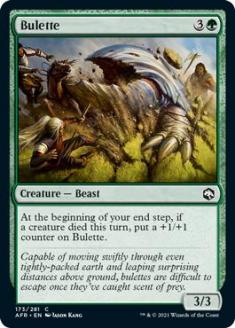 With a check at your end step, you have to ensure a body hitting the floor before casting Bulette to make this a valid Magic card. Unfortunately, the game has to go so long before this becomes the annoying threat you're hoping for, and opponents find answers in long games. This feels like a stretch even in a set filled with Hill Giants trying to go viral.
Grade: 2.0
Bull's Strength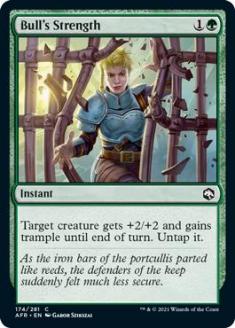 Well, this is nominated for "card I will attack into and regret immediately." Trample when you need it, quasi-removal when you don't. Seems tidy considering what we've seen at instant speed thus far. I'm more interested in this for my Gruul decks than anything, as there are some sizeable threats that need to get a lot of damage over a number of chump blockers I reckon we'll see.
Grade: 2.0
Choose Your Weapon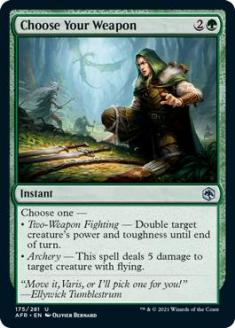 Considering the number of flyers in this set, I think Archery alone is a consideration for a 23rd card. Two-Weapon Fighting, on the other hand, gives you an out when facing a low-to-the-ground aggressive deck. This will play better than you expect and I'm eager to give it a shot. Trust me on this one.
Grade: 2.5
Circle of Dreams Druid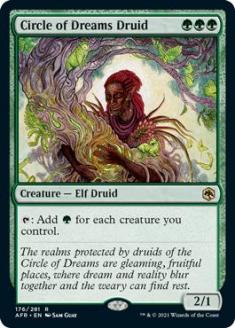 A hard-to-cast creature that's more fragile than a picture frame from Amazon (I've sent back six this pandemic alone)? I love the concept and how powerful this could be, but I also need to acknowledge how good it will be on Turn 4 or 5 when you will usually cast it. Which is "not very."
Grade: 3.0
Circle of the Moon Druid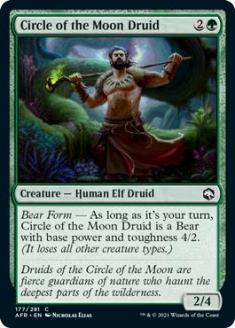 The ultimate "eat a Snickers bar" creature, I worry that you're trading down too often on the attack, so play this mainly for defensive purposes in Simic Ramp instead of trying to Pack tactics it up. A 2/4 looks to be a considerable body in Adventures in the Forgotten Realms and will tide you over until you can start ramping up your flyers and getting more aggressive than an anti-masker in the air.
Grade: 2.0
Compelled Duel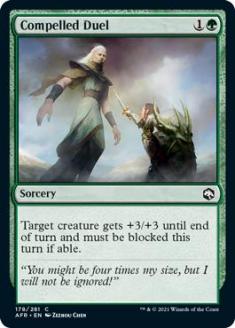 This is not the Edict you're looking for. I expect this to be a creature-heavy format if it plays out as core set-esque as I think, so as soon as the game goes long, you lose the ability to get the blocker you want. Sure, it enables your cards like Bulette, but is that really what you want to be doing?
Grade: 1.5
Dire Wolf Prowler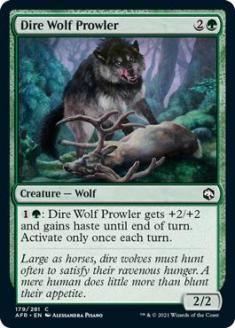 Pack tactics darling Dire Wolf Prowler gives you something to spend mana on, and green often finds itself with an overabundance of mana. Of course, you're paying 2G for the privilege, so you win some, you lose some. I couldn't feel more neutral about a card, which is usually a terrible sign.
Grade: 2.5
Druid Class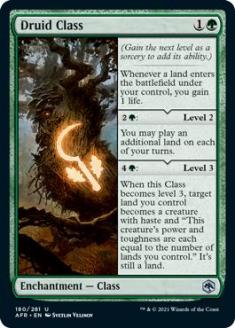 At least help me fetch a land, Druid Class! Level 3 is all I'm interested in, but spending ten mana to get there seems like the only fetch I'm getting here. This is, at bare minimum, a way to consistently gain life for your Selesnya Lifegain decks, but I think it'll be most at home in Simic Ramp, where you may need some help finishing out games.
Grade: 1.5
Ellywick Tumblestrum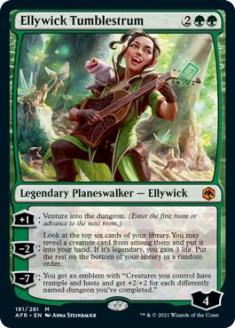 Ellywick Tumblestrum looks eerily like my friend Denise who is also a Bard, but that counts for absolutely nothing. Sorry, Denise. You need to provide your own security before Ellywick can hit the stage and likely want to venture so she can hopefully get at least one encore, as she's as bad as John Lennon at protecting herself. When she's on, though, she rocks, although green isn't the most dedicated venture color. An interesting card paired with black or white, which can help move you through dungeons with more aplomb.
Grade: 3.5
Elturgard Ranger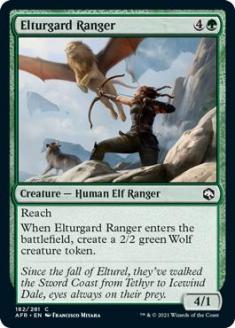 A cool mix of stats here that help defend you against aerial marauders is cool, but I'm more partial to Spiders built like the mom from the Incredibles franchise. My instinct is that you're happy with one per deck, but go-wide strategies will be partial to more with additional bodies on hand. If You Meet in a Tavern winds up underrated, I'll be happy to upgrade this.
Grade: 2.5
Find the Path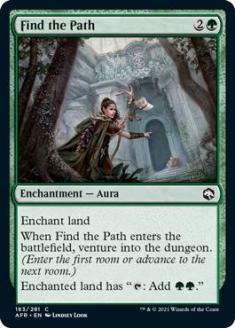 Venture is a fine twist on a ramp staple, while you're happy to accelerate into any number of hulking threats that green give you access to in Adventures in the Forgotten Realms. Whether you want to be venturing in green remains to be seen, however, so I'm docking it a half-point accordingly.
Grade: 2.5
Froghemoth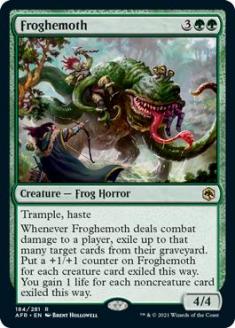 This goofball doesn't come down as the largest threat, but I'm guessing if you can steal an attack, you're feeling pretty good about the leftovers. The exile has negligible value in-and-of-itself, but personal growth is always recommended. Every green deck is happy playing this, but you'll want to make sure you're trading early, so it should play best in Golgari.
Grade: 4.0
Gnoll Hunter
You're going to have to eat your vegetables in this format, and here that's a two-drop that's going to grow with you throughout the game. Conversely, Gnoll Hunter helps you trade early against more aggressive decks or not give up a damage-based trigger when something hits you. It's not a wildly exciting pick, but it's a pick that wins you games.
Grade: 3.0
Green Dragon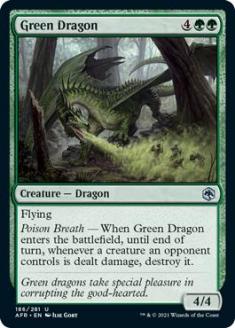 Outside of teaming up with a Tiger-Tribe Hunter, or even worse, Spare Dagger, Green Dragon's effect feels like one of the worst in the cycle. It's one of the most playable given green's access to ramp, but that doesn't make it cool. Not at all.
Grade: 3.0
Hill Giant Herdgorger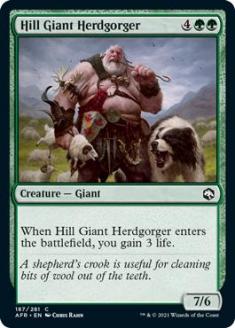 I'm giving HGH the Ravenous Lindwurm bump as a solid stabilizer that will help you survive the aggro waves. The only downside is that your curve should ideally be topped with a cool Dragon or more impactful card, as you can only play so many six-mana-value or higher cards. Lifegain decks are probably the biggest beneficiary of the enters-the-battlefield effect here, but Hill Giant Herdgorger still plays in Simic or Gruul.
Grade: 3.0
Hunter's Mark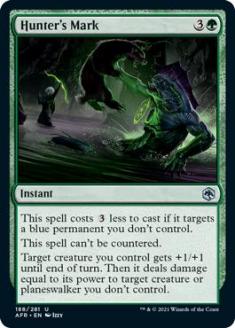 Given the overall quality of removal in Adventures in the Forgotten Realms, I'm a little higher on this Bite effect than I'd typically be. I expect blue to be very strong and cannot wait to cast Hunter's Mark for G, but it's excellent without cost reduction and will occasionally help push you into Pack tactics territory.
Grade: 3.0
Inspiring Bard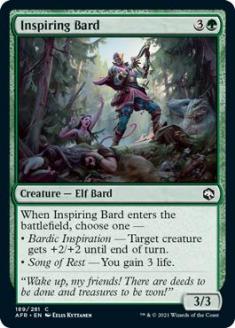 Inspiring Bard is the guy at the party who pulls out the acoustic guitar and can meander through your choice of "Wonderwall" or his favorite Dave Matthews Band B-side. With Celestial Unicorn or Trelessara, Moon Dancer the Song of Rest mode becomes solid, but that's an incredibly narrow case. Bardic Inspiration gives you a sorcery-speed buff that will help you hit your Pack tactics, but there aren't a lot of early plays with PT that I'm that excited about.
Grade: 2.0
Instrument of the Bards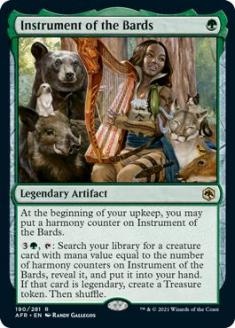 Even in Adventures in the Forgotten Realms, Instrument of the Bards feels slow as heck. I can't imagine waiting for four turns to start fetching relevant creatures, and then needing to essentially stop developing my own strategy to get card advantage. It's a terrible topdeck to boot. For those reasons, I'm out.
Grade: 1.5
Intrepid Outlander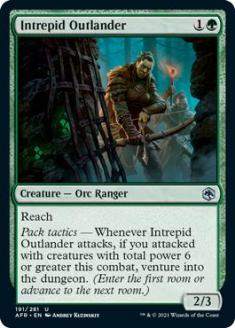 Yes, please. I'm going to the dungeon, and I don't care who wants to stop me. Intrepid Outlander plays well with the middle of the Lost Mine of Phandelver, as you can throw a counter on them or shrink a blocker. Note that here's even more reach, a not-so-subtle hint that flying will be a large part of our games.
Grade: 3.5
Loathsome Troll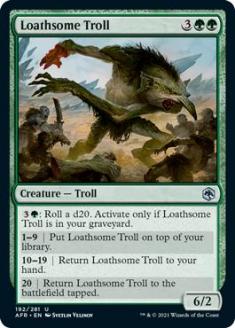 You can only trade down so many times before this stinker starts to drive your opponent up a wall. Consider what your deck is doing with excess mana before considering Loathsome Troll as an auto-include, as this is pricey and will cost you draw steps along the way. At some point, guaranteeing you draw a 6/2 simply won't be enough to pull you back in the game.
Grade: 3.0
Long Rest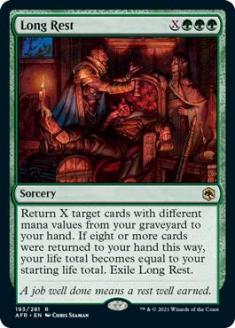 Only against the most controlling of decks do I bring Long Rest in from the sideboard. It's a clunker in your opening hand and at parity is only going to get you back your early losses, cards that aren't usually going to tip the scales for you.
Grade: 0.5
Lurking Roper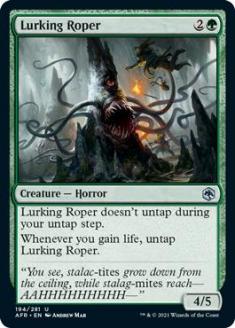 With a steady plan on how you'll be gaining life, Lurking Roper becomes a substantial threat, but that's not worth curving it into an Inspiring Bard to make it all happen. Otherwise, this is a massive blocker that starts untapped, meaning you don't need a single life to gum up a battlefield. Keep in mind that this is one of the bigger payoffs for pursuing lifegain that you'll see at uncommon.
Grade: 3.5
Neverwinter Dryad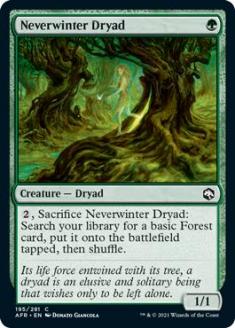 Green is tragically starving for basic ramp in Adventures in the Forgotten Realms, so you're going to play Neverwinter Dryad more often than not. If you've got nothing better to do, it even bravely stands in the way of a must-block creature on your opponent's side before fetching. Remember that this does not help fix for you, restricting you to Forests.
Grade: 2.0
Ochre Jelly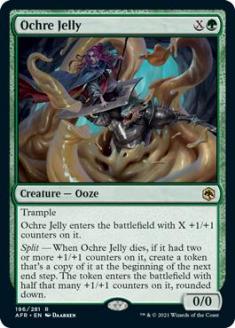 XG creatures finally get a much-needed facelift with a unique concept: Split. Leaving behind a rounded-down Ooze makes this much more palatable than a solo vanilla X. You'll get the most value in Simic Ramp, but you're playing this in any deck with green and splashing gladly with access to Treasure tokens.
Grade: 4.0
Old Gnawbone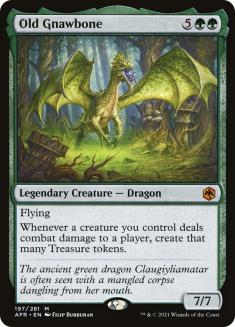 This passive ability feels like it was 1000% a flavor decision instead of anything I should get excited about. Still, I do want to live in a world where paper Magic returns and I get to say "Old Gnawbone" like a grizzled prospector. Anyway, this is a massive flyer even in a set ready for them and gets the bonus of being in a great color to actually cast it.
Grade: 4.0
Owlbear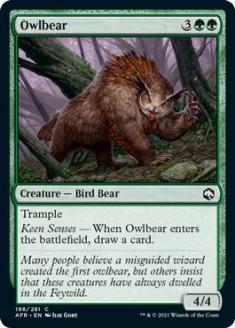 Best green common alert! Owlbear has so much going for it, namely, drawing a card immediately. It tramples over the myriad tokens that they'll throw at it. And it's giving you a kindly "Sup?" wave that lets you know it's glad to see you back at the gym.
Grade: 3.5
Plummet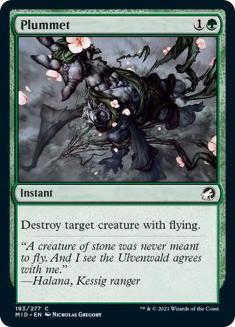 I'm not trying to leave a green draft with fewer than two of these ready for Game 2. Plummet remains the gold standard for flyer removal at a reasonable cost and instant-speed.
Grade: Sideboard
Prosperous Innkeeper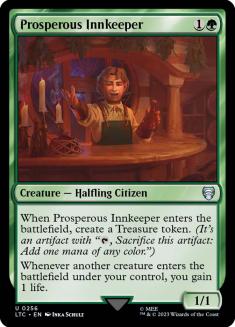 Give me all the life and Treasure tokens, please! As a reasonable way to generate the latter and a consistent way to reap the former, Prosperous Innkeeper checks all the boxes for me while remaining flexible with whatever offshoot you want to pursue. It's not hard to imagine Bud Seeker gaining you from four to six life over the course of a game, especially with strategies that generate tokens.
Grade: 3.5
Purple Worm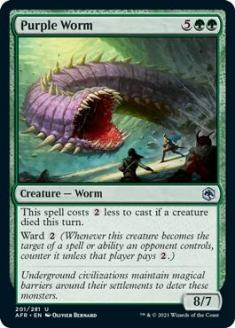 There is a world in which I will cast Find the Path and then a Purple Worm on Turn 4. I will screenshot it, and it will be my pinned Tweet. It takes so little work to make this an 8/7 for 3GG, and at that point, ward is frankly rude. Turn 5 for any green deck becomes a nexus point where you must be concerned with strange attacks. Consider this the bottom of the bottle of tequila because I will make irrational decisions for this Worm. Don't hesitate to build around it.
Grade: 4.0
Ranger Class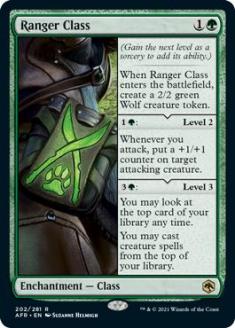 My nominee for Best in Class (is that a dog thing or a school thing?) is Ranger Class. You've got the option for a 3/3 on Turn 3, and then you can Vivien the top of your library starting Turn 4. Unlike a bomb creature, it's very hard to interact with Ranger Class. If this doesn't convince you that maindecking enchantment removal could be a thing, I invite you to meet a Ranger.
Grade: 5.0
Ranger's Longbow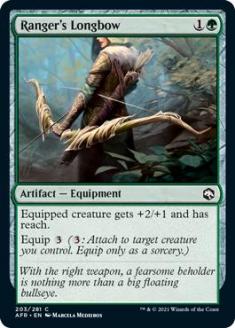 Again with the aggro reach? I certainly don't want Ranger's Longbow in the main and am bringing in Plummet over them once we're sideboarding. This feels like a miss to me.
Grade: 1.0
Scaled Herbalist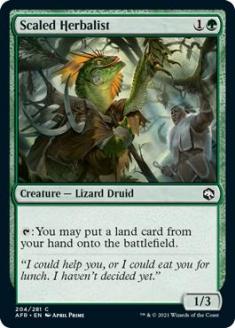 Llanowar Scout was a huge dud in Dominaria, an equally mana-intensive format, so I'm doubling down on my man Scaled Herbalist who knows the herbs. At the end of the day, your hand only contains so many lands before you're left making your regular drops and stuck with a 1/3.
Grade: 1.5
Spoils of the Hunt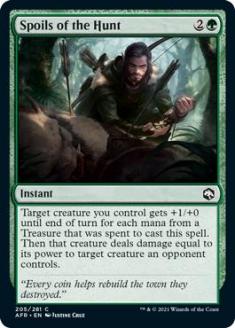 Unexpected bonuses from sacrifices aside, you're always happy to have instant-speed Bites over fights, especially when so many of your opponents will need double blocks to deal with your beefy creatures.
Grade: 3.0
Sylvan Shepherd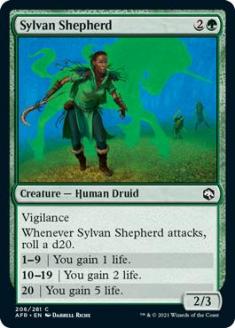 Save Sylvan Shepherd for the most dedicated decks in which lifegain helps you and can find a way to keep this alive consistently. Seems like a lot of work, though, and for only the most moderate of upside. As the fifth-worst way to bolster your life total at common, I can't see this working.
Grade: 1.5
The Tarrasque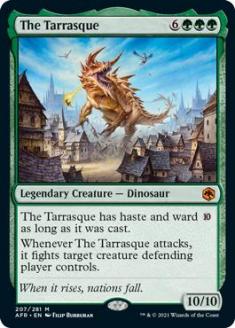 If there were better ramp options, I'd say you were in business. Nine mana means drawing over half of your lands, a feat that is easier said than done. Having triple green in the casting cost eliminates The Tarrasque from being a splash finisher in even the grindiest control decks. That will not stop many of you from trying this. I will keep you in my thoughts and prayers.
Grade: 1.5
Underdark Basilisk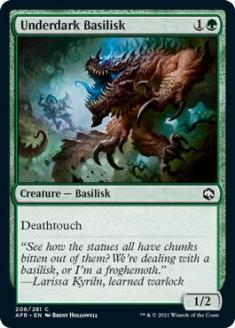 What have they done to my precious baby… Lizards? This feels like an insult to Basilisks everywhere. BasiliskChan is lighting up. Green is doing the some of the least work in terms of buffing creatures (unless you want to play Ranger's Longbow) while skewing pretty aggressive. Underdark Basilisk is a nice roadblock for Simic and enabler for Golgari, but half the archetypes would rather pass.
Grade: 2.5
Varis, Silverymoon Ranger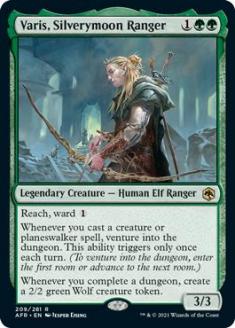 We're venturing, baby! Varis, Silverymoon Ranger does a little bit of everything all of the time, and while you're only getting one trigger per turn, that's enough. Green isn't looking to go wide, so cast another monster and rack up another dungeon, Wolf, and the ire of your opponent.
Grade: 4.5
Wandering Troubadour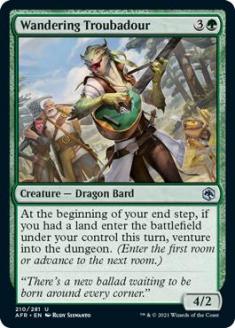 Inspiring Bard watches every one of the Wandering Troubadour's Instagram Stories but never reacts. I don't love that you may only get a couple of triggers off this before they're struck down, or you stop hitting lands, but dungeon scry certainly helps. On the flip side, it trades for a lot of creatures in the format if you absolutely have to on defense, but four damage is a lot for your opponent to deal with on the crack back.
Grade: 3.5
Werewolf Pack Leader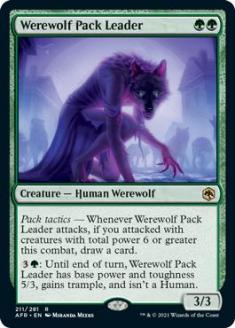 Buff, gets buffer, and can net you cards? Werewolf Pack Leader is a dream two-drop in a format where I think that's going to be a huge selling point. GG can be a little rough, even though you're ideally bashing early and often, but that's my only quibble with this divine creature. May you cast it on-curve.
Grade: 4.0
Wild Shape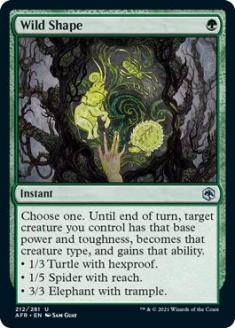 Hexproof is worth a shoulder shrug, but otherwise, Wild Shape feels forced. You also suffer from the Chromium dilemma where saving something after combat is nary an option. I would love this if there were more copies of Ochre Jelly globbing around, but sadly, you're stuck with creatures that already have base stats most of the time.
Grade: 1.5
You Find a Cursed Idol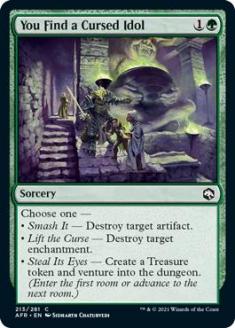 Having Steal Its Eyes as a failsafe when your opponent doesn't have anything worth Disenchanting ain't shabby. Sorcery speed is the only true knock on You Find a Cursed Idol, as there will be times your opponent can drop a Class and get value out of it before you can respond. I could see this being a viable card in the maindeck, but consider it a must-have for your sideboard.
Grade: 2.0
You Happen On a Glade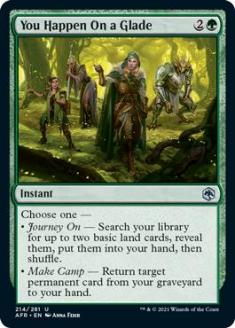 If you wind up in a "play extra lands" deck, then consider You Happen On a Glade highly. Cast Scaled Herbalist Turn 2 and get to six lands by Turn 4. Lands not getting themselves onto the battlefield is the downside here, but you're getting this effect at instant speed. If you're considering a four-color green deck, You Happen On a Glade and some Treasure tokens will be a good base.
Grade: 3.0
You Meet in a Tavern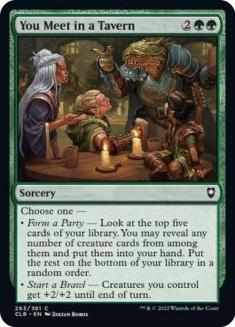 Give me trample on my Overruns or give me death! You need an incredibly dense creature count to truly make You Meet in a Tavern work, as Start a Brawl isn't what I'm looking to do in green with a variety of sizeable threats already at our disposal. If you wind up with the right number of smaller threats, feel free to upgrade this to a fine game-ender.
Grade: 1.5/3.0
Top Commons
Owlbear
Gnoll Hunter
Spoils of the Hunt
Hill Giant Herdgorger
Elturgard Ranger
Coming off a strong showing in Strixhaven, green feels like a dud here for me. It doesn't even enable the four or five-color jank that I like to delve into when making poor-yet-exciting decisions in limited. Loosely supported themes, poor payoffs, and a weak set of commons leave much to be desired. But, please, don't tell the Bards. They look like they're having a fun time.
Next up, our multicolored cards show us why some of these pairings shine, and others have the dull patina of a forgotten era.