When drafting Vintage Cube, I find it very important to establish the identity of the deck you're trying to draft early on. A disjointed deck with a high enough power level can win, but a calculated spread of threats and answers with an appropriate mana curve make it much easier. The best cards in Magic's history in terms of power and consistency are present in every draft, and ideally your deck will be both consistent and powerful in order to compete.
Today I'm going to go over a pivotal Pack 1 Pick 2 decision from a recent draft of the Magic Online (MTGO) Vintage Cube. First take some time to consider what card you would pick and what you would want a deck with that card to look like. Then check out my thoughts on where the various options go and what I picked!
Pack 1, Pick 2
The Picks So Far: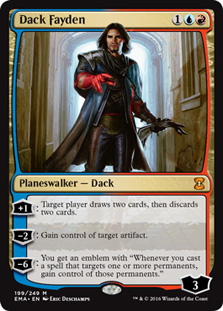 The Pack:
The Pick:
Examining My Options
So What's My Pick?