The Phyrexian reign of terror is upon us and nobody is safe. Planeswalkers who were central to Magic's overarching story for years, clad in impressively resilient plot armor, have fallen into their clutches. There are no slam-dunk planeswalkers in this cast; still, as War of the Spark proved, it only takes one or two success stories to change the game.
The Survivors
Let's start with the holdouts who have avoided compleation (for now…).
Kaya, Intangible Slayer
All forms of Kaya have struggled to make a mark in Constructed. The most competitive Kaya was the cheapest – Kaya, Orzhov Usurper saw some marginal play in larger formats, where there are plenty of graveyard effects and mana curves are so compressed that its -1 ability always had appealing targets.
I expect this Kaya to languish in obscurity at the other end of the spectrum. Seven mana is a tall order for any finisher, even in Standard, and this one doesn't reward you enough for surviving that long. The double white + double black mana cost keeps it off-limits for any existing deck and tough to ramp into for decks that might aim that high.
Koth, Fire of Resistance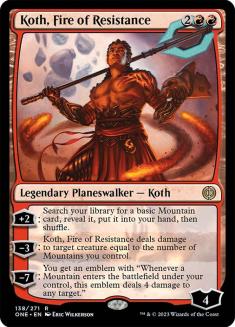 I also have low expectations for the latest Koth. Jaya, Fiery Negotiator is a much more flexible and powerful planeswalker that sees close to zero play, and Koth is much more demanding on your mana.
Kaito, Dancing Shadow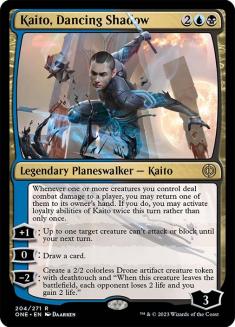 Kaito is a tough card to parse at first glance, but finding the right home for it might be even harder. You can imagine complicated battlefield states in Standard midrange mirrors where this lets you break the game open, but that's what you expect from a four-mana planeswalker. You really want to be able to return an attacker to your hand to double up on the loyalty abilities, but it's unclear what that should be – many of the expendable attackers you can send into combat are tokens that would vanish if returned. Returning something like Corpse Appraiser or Ertai Resurrected for another trigger while powering up Kaito is the dream, but how often will that happen?
The most likely home might be the kind of Dimir Ninja deck that the original Kaito was meant to headline. That never really materialized, and the lack of a mid-game play like this wasn't the issue holding it back, so I don't see that changing soon.
I have higher hopes for the Multiverse's most mysterious traveler:
The Eternal Wanderer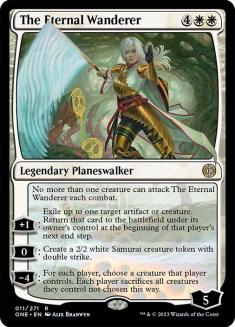 Bigger white midrange decks have been surprisingly popular in recent Standard and this is a promising option for those, despite the competition from cards like Sanctuary Warden. The +1 ability pairs well with small creatures like Spirited Companion or Anointed Peacekeeper, can upgrade Prototypes like Steel Seraph or Combat Thresher, or can shoot down tokens from the ubiquitous Fable of the Mirror-Breaker and Wedding Announcement. In a format where most decks are going wide rather than tall, the static ability makes it very tough for the opponent to kill The Eternal Wanderer in one shot, and the -4 ability can clean up the battlefield while leaving you with two good game pieces.
What if you have no desire to play fair?
Tyvar, Jubilant Brawler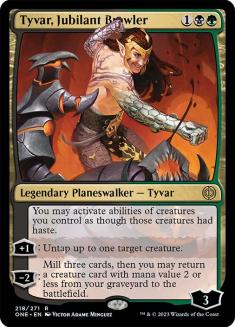 This take on Tyvar is the most exciting card from this batch and has the potential to break into Modern. Like its predecessor, it's strong with mana-producing Elves from the lowly Llanowar Elves to Elvish Archdruid, but there's a limit to how many cards you can play in those decks that aren't Elves themselves, and without a way to keep new cards flowing, you will run out of uses for the mana from those freshly cast Elves.
Creatures (24)
Planeswalkers (5)
Lands (24)
Spells (7)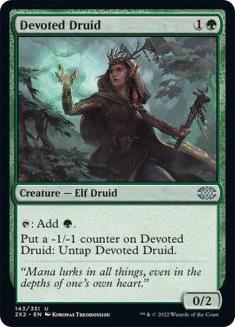 The most intriguing use is alongside Devoted Druid. The Druid + Vizier of Remedies combo has been a fringe strategy in Modern for years, though largely edged out by the strong interaction in Modern Horizons 2. If you're in a race to the finish line, the Druid combo is exceptional – it's no surprise that it flourished during the brief Hogaak, Arisen Necropolis nightmare – but it lacked staying power in longer games.
Recent printings have helped in that regard – Luxior, Giada's Gift setting up Urza's Saga as a combo enabler and backup plan or Extraction Specialist bringing back Druid for Round 2 – but they haven't fixed the problem. Tyvar, like Specialist, can recur Druid, but also crucially threatens to let Druid go off right away. One problem with Druid is that a copy drawn in the mid-game still has to wait a turn to become active (barring some strange scenario involving Postmortem Lunge). Tyvar breaks that barrier. If you don't have Druid at all, Tyvar can even help dig for one – or bring back some other lightning rod for removal, like Stoneforge Mystic.
The Victims
The compleated planeswalkers mark the glorious return of Phyrexian mana (it's safe this time, promise!). Planeswalkers are inherently modal, and this adds another layer to that – each ability now has to be evaluated on how powerful and attainable it is from each possible starting loyalty.
One of the most important criteria for any new planeswalker is how well it plays from behind. That cuts both ways here – you have the option to deploy your planeswalker sooner and add to your battlefield, but if that is how you usually expect to cast it, then the life loss from Phyrexian mana must be accounted for. Azorius Soldiers is a top deck in Standard and aggro is better than it has been in quite some time – losing two life can be a steep cost.
Lukka, Bound to Ruin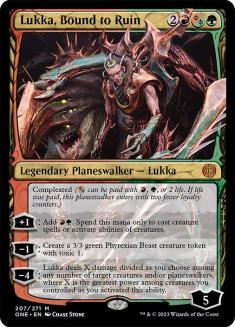 Once a unique and exciting character, Lukka has been corrupted into another riff on the typical Gruul planeswalker template. I don't expect to see much of him anymore, either in Constructed or in the lore – neither the compleated version nor the full version is impressive at its respective price these days.
Jace, the Perfected Mind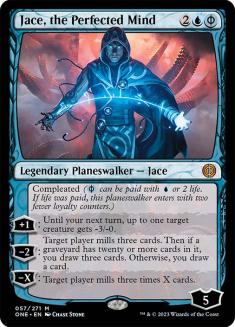 Jace only has one thing on his perfect mind these days – mill. Unfortunately, there isn't the density of mill effects in smaller formats to justify focusing on it so exclusively, and in larger formats like Modern, there are enough stronger mill cards that this doesn't get a seat at the table.
Vraska, Betrayal's Sting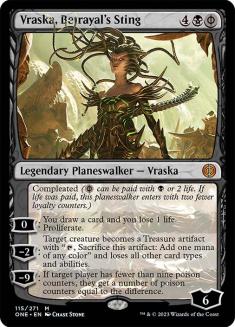 Vraska, Betrayal's String is a very intriguing take on a classic planeswalker model embodied by Ob Nixilis Reignited – add loyalty to draw a card, minus loyalty to destroy a creature, and wave your hands around to win the game somehow with the ultimate. Turning the creature into a Treasure token is notably worse than destroying it outright when every deck has good mana sinks or expensive finishers (such as the many planeswalkers in this set and beyond) and most playable threats leave something behind against one removal spell anyway, so that part of this template is less appealing than before.
The big question for Vraska is how important proliferation ends up being. From the design of the mechanic and the examples we've seen so far, I'm skeptical that toxic will show up as a theme in Standard rather than a handful of otherwise playable cards with toxic making that an afterthought. Luckily, there's no shortage of cards that you can enhance with proliferate – including any of these other planeswalkers that end up making the cut. Just from a quick glance at the slower black decks in current Standard, you can use proliferate to accelerate a Saga like Fable of the Mirror-Breaker to later chapters, give Reckoner Bankbuster more fuel, add to the +1/+1 counters from Raffine or The Wandering Emperor, or give more loyalty to other planeswalkers like Liliana of the Veil and Kaito Shizuki.
Nahiri, the Unforgiving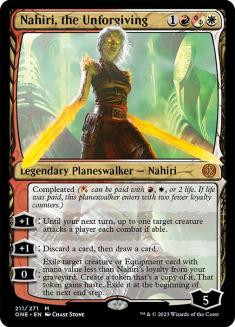 Nahiri, the Unforgiving is the most likely of this batch to make its mark in Modern, imitating Tyvar in returning Devoted Druid with haste for an immediate kill but also making it more tempting to finally splash red in Hammer. A compleated Nahiri as a three-drop can return a discarded or destroyed Colossus Hammer or Shadowspear to pair with your equippers, a Stoneforge Mystic to find the first copy, or a Puresteel Paladin to attach them. The main issue here is that the most threatening removal for Hammer all exiles – Prismatic Ending, Solitude, Leyline Binding – and Nahiri can't help you there.
Nissa, Ascended Animist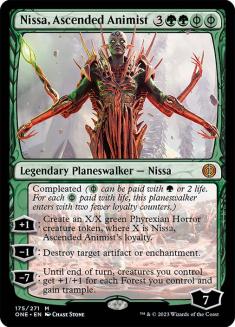 Nissa, Ascended Animist is as compleated as it gets, effectively offering three different planeswalkers each worth considering in their own right. Regular modal spells are a good reference point – I don't think any of the 'modes' is especially compelling by itself, but together they combine for an interesting package.
The five-mana version invites comparisons with all the other five-mana Nissas that graced or terrorized Standard in their time. Nissa, Who Shakes the World set the bar high, and this Nissa falls short at five – lower loyalty, no immediate impact via an attacker with haste, and an eye-watering extra cost of four life that could be lethal against aggro. The -1 Naturalize ability is well-timed in a series of artifact-themed sets and enchantments like Fable of the Mirror-Breaker or Wedding Announcement already dominating Standard – that may be the unique selling point this Nissa sorely needed.
At six or seven mana, you're churning out large threats every turn while gaining loyalty. This isn't inherently stronger than the other end-games available in Standard, but the looming (or immediate, at seven mana) threat of the Overrun ultimate makes Nissa terrifying if you have any prior presence on the battlefield. The need for Forests blunts this a little, as there is a lot of strong, non-typed mana fixing, but the Streets of New Capenna Triomes help there.
In another sense, this Nissa's timing is terrible. Green is less popular in current Standard than it has been in years – even a top-shelf green planeswalker would struggle to find a home given the lack of support – and the context for it is very hostile. Meanwhile, Azorius Soldiers is thrilled if this is your five-drop, and even the black midrange decks can trump a cheap Nissa with Invoke Despair in the same turn cycle, doubling down on your self-inflicted life loss.
Maybe there's some small hope of it cracking a larger format: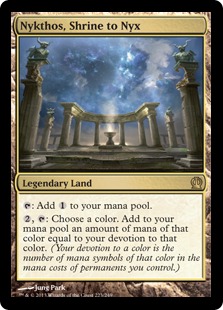 Mono-Green Devotion in Pioneer is mostly solved by now – the last debate is how to use the handful of flex slots in the maindeck, and Nissa, Ascended Animist is a new candidate there. Its biggest flaw is not being a hit for Storm the Festival, and this automatically disqualifies it for some Mono-Green pilots. It's also the worst use of those flex slots against the aggro decks in Pioneer – at least other five-drops like Elder Gargaroth or Skysovereign, Consul Flagship can stabilize the game in return for that hefty investment.
In return, you get a threat that you're happy to ramp into as a five-drop on Turn 3 (helpfully, your Horror tokens from the +1 are big enough to trigger Kiora, Behemoth Beckoner right away) that also scales very well in longer games where the ultimate makes your collection of Elvish Mystics lethal on the spot. This Nissa also cheats the devotion check, as the Phyrexian green mana counts towards devotion to green regardless of how you paid it, turbo-charging your Nykthos turns.
Ultimately, I expect Nissa will fail to make a big impression in Pioneer. I'm glad that Magic has moved past the point where planeswalkers with good rates would define Standard by default, but there are some interesting designs in this bunch that I hope will get a chance to shine somewhere.