Like a bunch of glistening oil-dripping machines invading your home plane, the first of the Phyrexia: All Will Be One previews have hit the streets to rave reviews. In terms of new cards and new mechanics, there's a great deal to process here. I'm going to break down the new legendary creatures we've seen through Tuesday, 17 January in their Commander contexts. In some cases, I'll be discussing them moments after seeing them for the first time.
Since there aren't really enough to look at by color yet, we'll simply run them down alphabetically. While most of the cards here are from the main set, two are from All Will Be One Commander – Ixhel, Scion of Atraxa and Neyali, Suns' Vanguard – and one a Jumpstart booster exclusive.
Elesh Norn, Mother of Machines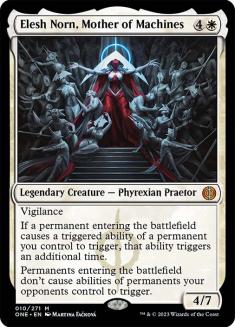 I've already had something to say about Elesh Norn, Mother of Machines—although I'll encourage you to read the entire piece, not just the headline. I had hoped to present a more balanced view of the card than the way it was eventually taken. To allay any fears, the card is not getting banned out of the gate. Assuming it's even more dangerous than I suspected, it would still be several cycles before we'd likely take action.
Remember that, with a few notable exceptions, we on the Commander Rules Committee don't ban cards academically (regardless of what we suspect). We wait until they demonstrate negative impact to the format before taking action. This version of Elesh Norn may be as bad as I suggest in the second half of that previous article, or it might be nothing more than the solid value I discuss in the first half. The major point is that we're going to wait to find out.
Ezuri, Stalker of Spheres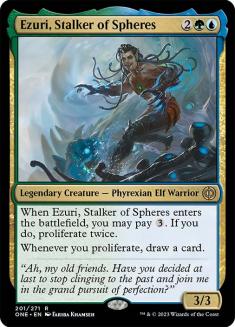 I don't have any trouble with the triggered ability. It seems like an appropriate cost to pay for what you get. While Simic does have some blink, it doesn't have all that much reanimation, so most of the time we'll be also casting this version of Ezuri in order to get its trigger.
The second ability gives me quite a bit of pause. I'm not much a fan of the "<Do what you were going to do anyway>, draw a card" template, especially in Simic, which absolutely doesn't need the boost. It's another example of the difference between a card that's good (which it undoubtably is) and a card that's healthy, at least as it applies to Commander.
Geth, Thane of Contracts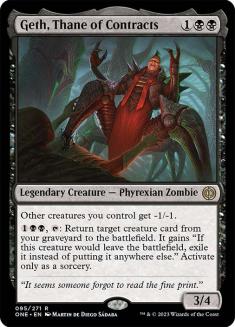 Geth, Thane of Contracts does something that I really like in a way that I'm not fond of. First of all, other creatures we control get -1/-1. Then, for 1BB, we can return a creature card from our graveyard to the battlefield—the super-good part. The annoying part is that we can activate this ability only as a sorcery. The real downside is that if the creature would leave the battlefield, we exile it instead of putting it anywhere else.
While these restrictions don't make me happy, the card might be a little broken otherwise. I'm in full support of the decision to make it this way.
Glissa Sunslayer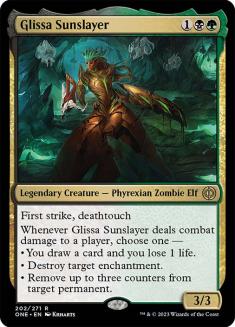 First strike and deathtouch will always be a favorite combination of keyword abilities for me, so this version of Glissa having them tickles the nostalgia bones. The three mode choices for the combat damage trigger turn new Glissa into a more aggressive threat. I'd happily pay one life to draw a card at nearly any point in a Commander game. We'll never want for enchantments to target with the second mode.
The third mode, to remove three counters from a permanent, is likely going to become more relevant than we currently know. Even without seeing the rest of the set, we know there's quite a bit to do with the ability, from killing someone's Spike Weaver to resetting the age counters on our own Glacial Chasm. Note that it doesn't remove (poison) counters from a player. It doesn't scream build-around as much as Glissa, the Traitor, but there's a great deal of play in Glissa Sunslayer, making it an excellent card for the format.
Ixhel, Scion of Atraxa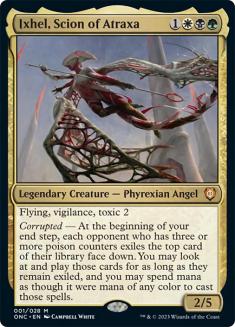 The newest card in the Gonti, Lord of Luxury space, Ixhel, Scion of Atraxa, puts the full Phyrexian into an Angel (a creature type I always forget that OG Atraxa, Praetors' Voice has). As a 2/5 with flying, vigilance, and toxic 2, with a relevant triggered ability, it's definitely a commander for a poison counter strategy—which might have legs beyond just killing players with poison.
At the beginning of our end step, for each opponent with three or more poison counters, we exile the top card of their library face down. We can then play the card for as long as it remains exiled and spend mana of any color to do it, even if Ixhel goes away. Just exiling away our opponents' weapons is good enough. Actually getting to deploy their own things against them is priceless. With this foray into Abzan (okay, it was already there in black), You Did This to Yourself is available in all the colors now.
Jor Kadeen, First Goldwarden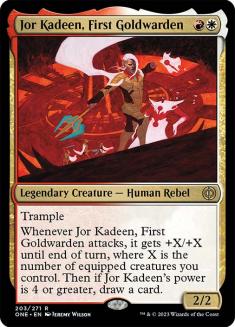 An absolute Equipment-based build-around, Jor Kadeen, First Goldwarden goes places the metalcraft version didn't. It's significantly less expensive to cast, at a mana value of two, opposed to five. Commensurately, its starting power is much lower (by the same ratio, in fact), but it provides more long-term value because it'll draw a card.
While the condition of Jor Kadeen having four power is easy to meet, it's not automatic or inherent, meaning it's not simply generically good. We'll have to do some work—namely equipping creatures—in order to get there. And with all that, we still have to attack in order to gain the value.
Kemba, Kha Enduring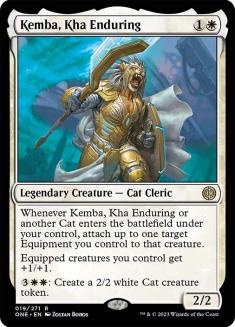 Crowd favorite Kemba is back, bearing some saucy abilities—one triggered, one static, one activated. The triggered ability is the strongest, letting us attach an Equipment to Kemba or any other Cat entering the battlefield (without paying anything). We can avoid the high equip cost on Equipment such as Colossus Hammer or Argentum Armor this way. The static ability is an Anthem, giving equipped creatures we control +1/+1. The activated ability creates a 2/2 Cat (eligible for the triggered ability) for 3WW.
The three abilities on a two-mana 2/2 make it a card to be reckoned with. It can certainly function as the commander for a Cat Equipment deck or slot into a multicolored version of the same, perhaps led by Arahbo, Roar of the World.
Kinzu of the Bleak Coven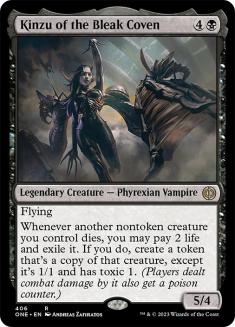 A Jumpstart booster exclusive, Kinzu looks better for 1v1 formats than Commander. When one of our creatures dies, we can exile it and create a token copy, except that it's a 1/1 with toxic 1. Flavorfully, it's great, the visual of the Phyrexian Vampire draining a creature until it's some pestilent little thrall being very strong.
For Commander mechanically, I'd prefer to keep my creatures around in the graveyard so that I can later reanimate them. If you're not interested in doing that, then this splashable 5/4 flyer for five seems pretty reasonable in a Vampire deck or anything else.
Melira, the Living Cure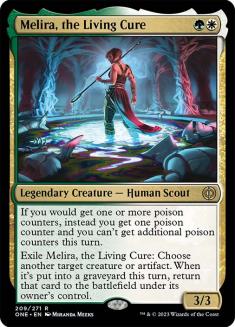 Echoing Melira, Sylvok Outcast, Melira, the Living Cure offers some respite from the otherwise-toxic nature of the post-Phyrexia: All Will Be One hellscape. She'll limit us to getting just one poison counter per turn.
Onto that is stapled a turbo but limited version of Saffi Eriksdotter: exile Melira to target either a creature or artifact; when it's put into a graveyard this turn, we return it to the battlefield under its owner's control. Note that this is kind of awkward to try to do with Oblivion Stone, since it would return the Stone before the ability that blows up everything resolves. Exiling Melira is what keeps the card's ability in check, a choice I suspect that Saffi designed in 2023 (given nearly two decades of hindsight) would have ended up with.
Mondrak, Glory Dominus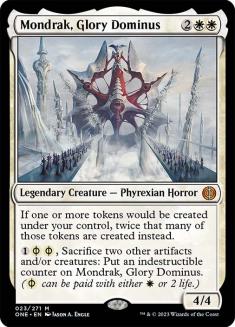 Mondrak is Anointed Procession on a relatively large stick and more. For one generic and two Phyrexian white mana plus sacrificing two artifacts and/or creatures, we can put an indestructible counter on Mondrak. Using the ability doesn't cause Mondrak to tap, so it can be activated multiple times, if for some odd reason you'd want or need to do that—like someone responding to the activation with targeted destruction-based removal. Mono-white can pump out quite some tokens, from Defiler of Faith to Luminarch Ascension and beyond, so Mondrak at the helm of a deck is eminently viable.
Neyali, Suns' Vanguard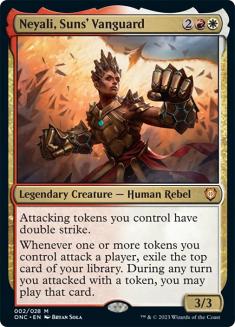 Neyali, Suns' Vanguard is pretty straightforward, giving us a nice twin bonus of our attacking tokens getting double strike and bottling the top card of our library when we attack, giving us the opportunity to play the card on any turn in which we attacked with a token (meaning the current one or any future ones). The triggered ability is slightly limited, which reins in the power of the card to that of less than Pako, Arcane Retriever and Haldan, Avid Arcanist levels—all in all not the worst thing.
Ovika, Enigma Goliath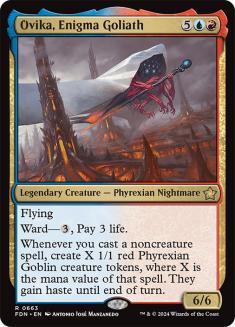 Previewed in the Collecting Phyrexia: All Will Be One article, Ovika, Enigma Goliath is a spell-slinger's champion. With a big, buff, highly protected (ward of three mana and three life) body, it's already dangerous enough, although a little tough to cast at 5UR. After that, it'll create 1/1 red Goblins equal to the mana cost of every noncreature spell we cast.
For one thing, even mana rocks aren't dead draws late game. Every counterspell or control element (save the obvious battlefield sweeper) that we cast increases the size of our army. Add in sacrifice outlets, like Goblin Bombardment for damage, Altar of Dementia for milling, or Phyrexian Altar for mana (not to mention style points), and we have the beginnings of a deck.
Skrelv, Defector Mite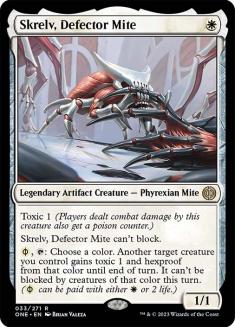 Probably legendary so that we can't have more than one on the battlefield at a time, Skrelv, Defector Mite isn't going to be leading decks anytime soon, but it's going to get jammed into the 99 of a few. A 1/1 for one white, it has toxic 1 and it can't block. Toxic X means that a player dealt combat damage by that creature gets X poison counters in addition to the damage (unlike infect, which just gives poison counters).
The ability is going to lead to some discussions about changing the number of poison counters in Commander. For now, we'll stay at ten, consistent with the normal Magic rules. Skrelv also has the ability to tap for one Phyrexian white mana and give another target creature we control toxic 1 and hexproof from a color of our choice until end of turn. The creature also can't be blocked by creatures of that color this turn. The whole package is a little pseudo-protection that's strong without being busted.
Slobad, Iron Goblin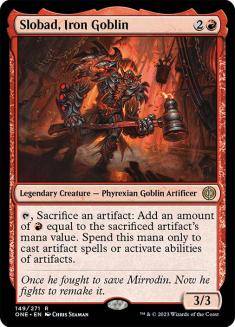 Our larger-than-original Slobad also has a much bigger ability. It sacrifices an artifact to generate that artifact's mana value in red mana, which can only be spent on casting artifact spells or activating artifact abilities.
This seems custom-made to helm an artifact-based deck, especially with some of the cool stuff that came out of The Brothers' War, like Cityscape Leveler or Liberator, Urza's Battlethopter. My favorite thing to sacrifice here would be Spine of Ish Sah, potentially just being able to recast it to nuke another target. Of course, I also suspect that there will be some pretty spicy things from this very set to cast with that mana as well.
More to Come
We're just at the beginning of the previews for Phyrexia: All Will Be One, and what we've covered here today are just the potential commanders. There's quite a bit more on (glistening, oily) tap as we get to the remainder of this first part of this story-closing arc. From what we've seen already, it's going to be pure gas.
Always remember, we have a channel on the Commander RC Discord server dedicated to discussing my articles. I'd love to hear about features that you'd like to see, material you want more coverage on, or even things that you think just aren't working. I'm all ears. Check out our LFG Lobby or just come and talk about what you want. Join nearly 9,000 friends for discussion of not just this piece, but on a wide variety of topics—both Commander-related and not. Hope to see you there!
Visit my Decklist Database to see my Signature Decks, the Chromatic Project, and more!