Excellent news, my friends! Now that we have obtained the information we were seeking from my contact in Baldur's Gate, we can proceed with our quest! However, it seems that our quest is destined to be far more interesting and dangerous than I had anticipated. Once again, a powerful foe stands between us and our objective. Some of you who have joined me on adventures in the past may remember that we have discussed these most dangerous creatures before. We're talking about Dragons, of course! Before we jump to action, let us learn a little more about these creatures.
Dragons have captivated the imaginations of so many people. There are few creatures in the Forgotten Realms that can challenge a young Dragon, let alone one that has been around for centuries. When I reviewed the Chromatic Dragons in my previous article, I was rather disappointed by the fact that there was only one Metallic Dragon, Adult Gold Dragon. [Don't get me wrong, I love Chromatic Dragons, but I felt a little cheated by the lack of Metallic Dragons.] Imagine my excitement when it was revealed that Commander Legends: Battle for Baldur's Gate contained not only Ancient Metallic Dragons but also Gem Dragons, which were recently updated for D&D 5e in Fizban's Treasury of Dragons!
Ancient Metallic Dragons
Ancient Metallic Dragons are among the largest and most powerful beings in the Forgotten Realms. They are also among the most benevolent forces that exist; all Metallic Dragons are good Dragons, unlike their Chromatic cousins. The might and intelligence of these amazing creatures cannot be overstated. A Dragon achieves the title of "Ancient" after it has reached 800 years old. [800 years ago in our world, Genghis Khan was conquering!] Blessed with naturally long life, an Ancient Dragon has fought in countless battles, bested foes beyond number, and has seen kingdoms and empires rise and fall. It has earned its place as one of the movers and shakers of the world and a force for good.
Ancient Gold Dragon
For anyone keeping track, Gold Dragons are my favorite Metallic Dragons. They look regal and cat-like with their whiskers, and their surrounding lore is really neat, as you shall soon see. Gold Dragons are widely regarded as the most powerful Dragons in all the realms and are considered the embodiment of draconic power. Gold Dragons possess two powerful breath weapons, a cone of deadly fire and a breath that would magically weaken their enemies.
Ancient Gold Dragons are counted among the most fair and wise creatures in all the Forgotten Realms. As followers of Bahamut, the god of justice, they dedicate themselves to upholding the virtues of all things righteous and good. They are widely respected for their fairness and wisdom. Gold Dragons can also transform themselves into humanoids or even beasts to better interact with Humans without scaring them. Gold Dragons also tend to be very reserved and seek solitude, especially from other Dragons. As lawful creatures, Gold Dragons follow a strict hierarchy, with the eldest among the Gold Dragons being elected as King (or Queen) of Justice.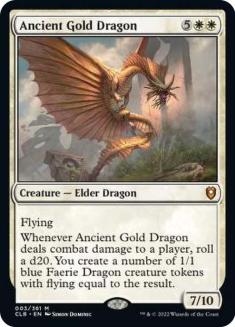 Ancient Gold Dragons are nearly always Lawful Good, and as such white makes perfect sense for the color. It is also an Elder Dragon which has flying [an important determining factor for Jonathan Suarez]. And it is the largest Dragon in terms of toughness among the cycle of Ancient Metallic Dragons. All awesome!
Here's where they lose me: its ability to make blue Faerie Dragon Creature tokens. This is so far off that I am not sure where it came from. Ancient Gold Dragons tend to avoid other Dragons and would find a bunch of wily Faerie Dragons to be particularly vexing. Creating Clue tokens or even Soldier tokens might have made more sense. With that said, I am going to be rather generous with the grade, mostly because it is my favorite Metallic Dragon and the Borderless Ancient Gold Dragon is gorgeous. So regal!
Grade: C
Ancient Silver Dragon
Rare, elusive, and an oddity among Metallic Dragons, Silver Dragons prefer to live with Humans or Elves while in the guise of a humanoid…but with all the haughtiness of a Dragon. They also have a proclivity for the enjoyment of Human dining, an oddity among Metallic Dragons. [Imagine that one neighbor who thinks they are superior to everyone else because they own an air fryer…and is also actually a Dragon.]
Despite their draconic arrogance, Silver Dragons mean well and try to learn from the mortal races. Silver Dragons are astonished with what an ambitious Human can accomplish in what they consider a short lifespan. Applying the long-term, big-picture view of a draconic life along with a Human approach to ambition was a recipe for success for Silver Dragons.
Silver Dragons have two separate breath weapons, a cone of freezing cold or a cone of paralyzing gas. Differing from their Gold brethren, Silver Dragons do not actively seek out evil to destroy. Instead, they help those who seek them out, or they protect the people whom they have made their lives around and act as the village's protector. Silver Dragons hold a deep-seated hatred for their Chromatic Red Dragon cousins, as these foes have a penchant for destruction and cruelty, which puts them in direct conflict with Silver Dragons.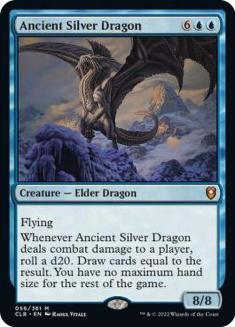 Ancient Silver Dragon is a blue Elder Dragon creature, which makes sense given its affinity for cold. It is also one of the larger and more powerful Ancient Dragons, so its power and toughness are appropriate at 8/8.
Its next ability seems to represent the wisdom the Dragon has honed over centuries of learning from mortals and battling foes. While Silver Dragons are not renowned for their wisdom, as Gold Dragons are, they certainly learn much over their centuries in the world. All in all, I think this card is pretty flavorful, plus the art is great.
Grade: B+
Ancient Brass Dragon
Brass Dragons are arguably the weakest of the Metallic Dragons, though they would likely tell you something different. And tell you they would, at great length, whether you wanted a discussion or not; their love of talking is what Brass Dragons are famous for. Blessed with the gift of gab, Brass Dragons could carry a conversation from the time the sun rose to the time it set and well into the night. We all have that one talkative friend, right? Now imagine if that friend was 800 years old and the size of a small house; how hard would it be to get them to stop talking?
If a Brass Dragon's interest is piqued by a traveler, it will follow them until they engage the Dragon in conversation. Brass Dragons detest combat and much prefer to solve disputes with long-winded words rather than combat. But when combat seems inevitable, Brass Dragons have two powerful breath weapons at their disposal. The first is a powerful line of fire that the Dragon can exhale. The second is a cone of sleeping gas that the Brass Dragon can use to knock out its opponents. The offending party could then find themselves pinned beneath a colossal draconic claw or buried up to their neck until the Dragon's want for small talk was slaked. In fact, nearly every Brass Dragon lair contains a grand conversation hall as the centerpiece of their home.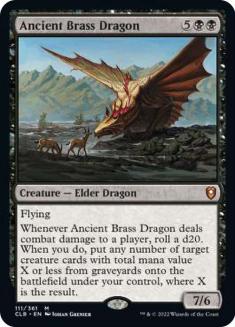 Since I saw this card previewed, I have been waiting to review this one. Elder Dragon with flying is a good choice. But, for me, that is where the good flavor ends. Why on earth is this fire-breathing, desert-dwelling, chatty-Cathy Dragon a black card? If it is supposed to be the weakest of the Metallic Dragons, why is it stronger than the Ancient Copper Dragon and almost as strong as the Ancient Bronze Dragon?
We haven't even gotten to the worst part: why in the world does this card have anything to do with the graveyard? Did the Ancient Brass Dragon's friends all die and so it has to resurrect them so that it has someone to talk to? That's… really dark. Flavor fail for me.
Grade: F
Ancient Copper Dragon
Copper Dragons are known to be incorrigible tricksters, pranksters, and storytellers. They love practical jokes, telling jokes, and riddles of all kinds. While not as talkative as their Brass Dragon brethren, Copper Dragons are very sociable and easygoing (unlike their Gold Dragon kin). Their mood only sours if someone doesn't appreciate their joke, can't understand their riddle, or fails to see the humor of their pranks.
Copper Dragons are fond of bards and will often provide them a space to stay in their lair, providing the bard engages in entertainment and conversation. Copper Dragons value good companions, especially those who understand their humor or possess a quick wit. Their lairs contain many secret passages and false exits and entrances to help protect the Dragon's most treasured possessions. Copper Dragons are miserly even by Dragon standards and jealously guard their hoard from any attempts at theft. Copper Dragons are formidable fighters, especially when defending their hoards from would-be thieves. Their two most powerful weapons are a line of acid breath and a cone of gas that will slow attackers, allowing the Dragon to deal with them more easily.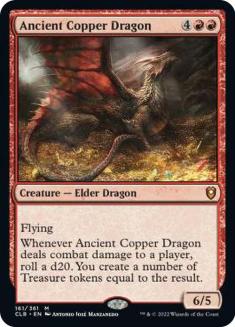 I love this card. It does everything I think an Ancient Dragon should do. It is a big 6/5 creature with flying, and it is even red in hue like a Copper Dragon should be! I only have one minor quibble. Here is a red card that has acid breath. But here is when this card goes from good to great: Ancient Copper Dragon generates a hoard of treasure with every attack, and just look at how proud this one is of its hoard! And how jealously it guards it in the Ancient Copper Dragon Borderless Art. I feel like I should end this section with a joke, but I really like Ancient Copper Dragon and that is no joke!
Grade: A
Ancient Bronze Dragon
Often found in coastal areas up and down the Sword Coast, Bronze Dragons are fascinated by warfare and battles, especially when it comes to taking the fight to evil. Bronze Dragons contain a strong moral compass that drives them to seek out and fight evil. This often leads to them joining or even leading armies of like-minded individuals dedicated to a righteous cause. However, these good Dragons do not relish killing unless absolutely necessary, preferring instead to relocate a foe to a remote location to prevent it from doing any further harm.
When forced to fight, Bronze Dragons have a few options for their breath weapon, including a sizzling line of lighting or a cone of energy to repulse their foes to keep them off balance. When interacting with Humans, Bronze Dragons often disguise themselves as either humanoids or animals. Driven by a self-righteous sense of justice, Bronze Dragons seek to rip tyranny out by the root and end cruelty wherever it is found. They never seek payment for their assistance; exacting justice is payment enough for them.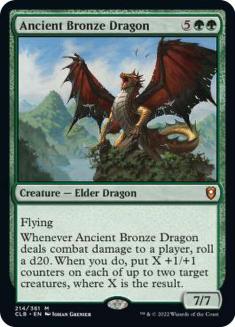 I really like this card too. Not only is the card powerful, a green 7/7 flying creature, it also leads its allies into combat and encourages them by adding +1/+1 counters to them when it successfully deals damage. It has a subtle flavor and I really like the art of the card.
Grade: B
Miirym, Sentinel Wyrm
In the previous D&D crossover set, Adventures in the Forgotten Realms, we received one of each of the Chromatic Dragons along with one named legendary of each of the Chromatic Dragons. In this set, we received only one named Metallic Dragon, and quite frankly it is a good one.
Miirym is a cautionary tale for all Dragons whose lust for treasure grows too great. Nearly 1,500 years ago, Miirym, an already powerful Silver Dragon whose lair was not far from Candlekeep, was intent upon adding the riches contained within the library-fortress to her ever-growing hoard. Miirym invaded Candlekeep, consumed some of its scholars, and destroyed many invaluable and irreplaceable tomes.
Eventually she was confronted by a powerful archmage who cast a spell upon the Dragon, binding her to serve Candlekeep as its protector as atonement for her misdeeds. Sadly, the archmage passed away before Miirym had served her sentence. The magic binding the Dragon was so potent that it existed beyond the death of the archmage and even prolonged the life of Miirym beyond her death.
Miirym was killed in battle protecting Candlekeep from a band of Calishite wizards, but she was resurrected by the potent magics that had once cursed her so long ago. She is doomed to wander the halls of Candlekeep and to serve as its protector for all time. No wizard has been able to undo the powerful magics binding Miirym's soul to the library-fortress. In her current form, the spectral Dragon can easily pass through walls and other solid objects within the fortress; however, the Dragon tends to dwell in the lowest passages of Candlekeep where she awaits to be summoned in times of need when the threat of invasion or pillaging looms.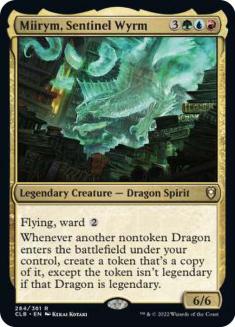 I really want to like this card. It is a big Temur 6/6 flying creature with ward 2. All of this makes sense and fits the flavor, but I am hung up on the fact that it doesn't really have anything to do with penance, books, or defending Candlekeep. I will say that the art looks fantastic: Miirym gliding through the stacks of Candlekeep, a silent sentinel whose watch is eternal.
Grade: B-
Gem Dragons
While Chromatic Dragons leaned towards evil and their Metallic cousins bent towards good, Gem Dragons tend to find themselves leaning more neutral. While some Gem Dragons drifted towards good or evil, most preferred to lean more towards the gray area that exists between good and evil. A unique aspect of Gem Dragons is that they are all psionic, allowing them to communicate with other creatures telepathically, and as the Dragons age, so too do their mental powers. This allows them to cast powerful spells, each unique to the individual type of Dragon, using only the power of thought.
Crystal Dragon
Crystal Dragons are connected to the plane of positive energy, which causes them to be filled with radiant light and life. They are among the friendliest of the Gem Dragons and are often described as nurturing, kind, and optimistic. They eschew combat, preferring to talk or even charm their way out of conflict.
Crystal Dragons are filled with an insatiable curiosity about the world around them, and spend much of their free time stargazing and tracking the movement of the heavenly bodies. Through their studies, they often glimpse omens of events yet to come. As nurturing creatures connected to the plane of positive energy, Crystal Dragons often adopt abandoned eggs or even hatchlings of other Dragons and raise them as their own; in fact, many white Dragons have been raised in the nurturing lair of a Crystal Dragon.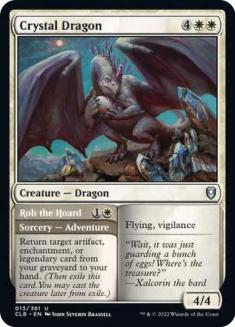 I really like that they have attached the Adventure mechanic to the Gem Dragons of this set, as it adds an opportunity for flavor. It seems odd to me that the Crystal Dragon is the only Dragon that doesn't have an Adventure mechanic representing a breath weapon. The Crystal Dragon is a white 4/4 Dragon with flying and vigilance, which all make sense as they are social Dragons with a tendency towards being nurturing. I like that the Crystal Dragon references the Dragon hoard, which so few Dragons do. I also love the flavor text, which is a subtle nod to the Crystal Dragon's nurturing nature.
"Wait, it was just guarding a bunch of eggs! Where's the treasure?" – Xalcorin the bard
Grade: B-
Sapphire Dragon
Sapphire Dragons are highly strategic, militant, and territorial. When defending their lairs, they prefer to analyze their intruders before resorting to highly effective shock and awe ambush strategies. The pulse from their breath weapon weakens their foes, often incapacitating them in such a way so that they are unable to fight back. Their psionic nature is displayed in their unique crystalline bone structure, as the tips of their horns and tail are separate from their bodies but are held in place by the powerful psychic energy of the Dragon.
Sapphire Dragons keep a watchful eye out for any traces of aberrations from the Far Realm, such as beholders and mind flayers. This causes them to frequently ally with Emerald Dragons due to their kin's innate ability to track these aberrations from the Far Realm. Once they have been informed of the existence of an alien presence, Sapphire Dragons move quickly to destroy any and all presence before the corruption can take root.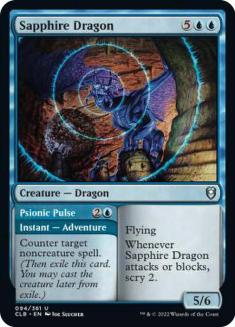 I really like this card a lot. The Psionic Pulse ability is an allusion to the powerful breath weapon of the Sapphire Dragon, and it does a great job stymieing any foes early in the game before the Dragon comes in to finish them off. The Sapphire Dragon is a big blue Dragon, bigger in power and toughness than any of the other Dragons (including the Amethyst Dragon, which is supposed to be the mightiest of the gem Dragons, as we will soon see).
I would have liked to see this Dragon have flash, reflecting the ambush tactics of the Sapphire Dragon. And it is the only Gem Dragon that doesn't have any flavor text–what's up with that?
Grade: B+
Topaz Dragon
Just as Crystal Dragons are connected to the positive energy plane, Topaz Dragons are connected to the negative energy plane. For Topaz Dragons, there is one truth: all that lives and grows is destined to wither and die. Unsurprisingly, Topaz Dragons tend to be a ghastly, dour lot. They enjoy isolation as they find company irksome, and they are often misunderstood and feared by those around them, especially Druids.
While they are not particularly cruel or malevolent, Topaz Dragons view destruction and decay as a part of the natural cycle which clears the way for new growth. A Topaz Dragon accelerates the decomposition to help accelerate the cycle of growth–sometimes consuming a whole countryside to help the process. Topaz Dragons tend to lair near sea coasts or in fetid marshland. They are excellent swimmers and giant squid is among their favorite food. Ironically, Topaz Dragons hate water and will complain at great lengths, often to themselves, about having to get wet to hunt their prey.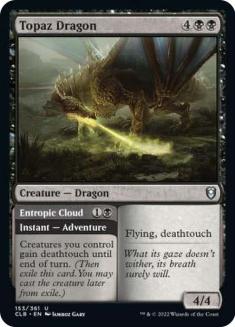 This is what I am talking about! Topaz Dragon is a black Dragon card that uses its "breath weapon" to give creatures deathtouch, and when the Dragon finally enters the battlefield, it also has deathtouch. This card is simply designed yet very flavorful. Topaz Dragon is all about the entropy, decay, and death, even down to the flavor text, which is also fantastic:
"What its gaze doesn't wither, its breath surely will."
Grade: A
Amethyst Dragon
The most powerful of the Gem Dragons, Amethyst Dragons are incredibly psionically gifted and are fascinated with the study of psionics. Amethyst Dragons are able to manipulate the very laws of physics themselves. They are held aloft by psychic power alone rather than their powerful wings. Their ability to manipulate gravity allows them to unleash a powerful cone of pure force and even spit exploding crystals at their foes.
Much like other Gem Dragons, Amethyst Dragons have an interest in studying the worlds outside the material realms, especially the effect of draconic presence and how it echoes across the different realities. Incredibly intelligent, Amethyst Dragons also study the ebb and flow of the axial forces of good, evil, order, and chaos. Like their Sapphire brethren, Amethyst Dragons keep a watchful eye on the interferences of the Far Realm. Mind flayers and other aberrations are anathema to Amethyst Dragons, who actively seek to destroy them. Interestingly, Amethyst Dragons are fascinated by Flumphs; they seem to not only tolerate them, but are quite fond of the strange creatures.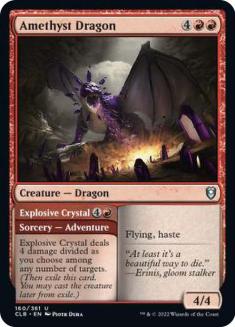 This card is well-designed with flavor in mind. It feels like with each of the Gem Dragons (except for the Crystal Dragon), they used the Adventure mechanic to represent the Dragon's breath weapon, which is really creative. Dragons can't use their breath weapons all the time; they must often wait for them to recharge. Amethyst Dragon has the ability Explosive Crystal, which represents its ability to spit exploding amethyst crystals at its foes. Plus, the flavor text is excellent:
"At least it's a beautiful way to die." – Erinis, gloom stalker
Grade: A
Emerald Dragon
Emerald Dragons are known for their duplicity. These naturally cunning manipulators wield their psionic power through the use of illusions. They can obfuscate their presence to avoid detection when spying on other creatures. While Emerald Dragons are the shyest amongst the Gem Dragons, rarely detected and seldom seen, they are also the most curious of their Gem brethren. Emerald Dragons are able to create a wave of psychic dissonance to disorient foes.
Emerald Dragons collect information–from local superstitions to otherworldly occurrences. They accomplish this by observing from afar or by disguising themselves amidst the local populace. As they are particularly attentive to the comings and goings around them, they notice when things go strange, which is of particular use to their Sapphire brethren. Emerald Dragons seem to have a knack for detecting and tracking the source of an invasion from the Far Realm, often working with a Sapphire Dragon to ensure such an invasion is properly dealt with once and for all.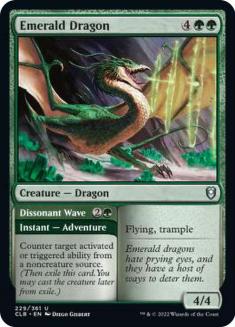 I love how they gave a "counter target ability" spell to a green card! But if any creature was going to have it, I am glad that it was an Emerald Dragon. This dissonant wave is a very flavorful interpretation of the Emerald Dragon's breath weapon. Very clever. The Emerald Dragon's flavor text also exemplifies the secretive nature of the Emerald Dragon:
"Emerald Dragons hate prying eyes, and they have a host of ways to deter them."
Grade: A
Chromatics Revisited…Sort Of
I wanted to briefly express my excitement to see that Chromatic Dragons have returned for Commander Legends: Battle for Baldur's Gate, if only for five cards.
I was particularly excited to get not one, not two, but three red Dragon cards! One of them stood out to me…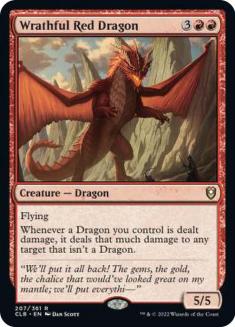 This card has everything going for it. If you hurt it, it is going to hurt you back, possibly tenfold. Red Dragons are amongst the most capricious and vengeful creatures in all the Forgotten Realms. Red Dragons have razed entire villages over a few pilfered coins. To me, this card is the epitome of what it means to be a red Dragon. Look at how it towers over the cowering foes; truly a majestic tyrant. Outstanding art. And the flavor text is perfect:
"We'll put it all back! The gems, the gold, the chalice that would've looked great on my mantle; we'll put everythi–"
One does not often steal from a Red Dragon and live to tell the tale!
Grade: Extra Credit: A+
'Til the Next Adventure!
Well then, adventurers, if you are still up for a possible hunt, we may have a Dragon to catch! Try to get some rest, for tomorrow you must continue your quest, while I must leave the relative safety of Baldur's Gate for destinations unknown. Ensure your equipment is gathered, your wits are about you, and your nerves are steeled. Do not step idly in the city! I have enjoyed our time together once again, heroes, and I do hope that we will see each other again soon!
I hope you enjoyed this article. It was truly a labor of love, as I love Dragons. If you are a Dungeons & Dragons fan like me and want to read more of my musings about dungeons, Dragons, and Game Master advice, check out my blog.
CommandFest Richmond
On the weekend of June 3-5, thousands of Magic: The Gathering fans will converge upon the Greater Richmond Convention Center to celebrate their favorite 100-card format at CommandFest Richmond! Experience Commander Legends: Battle for Baldur's Gate for the first time and meet dozens of fan-favorite Commander personalities and special guests. Register now for the can't-miss Magic: The Gathering event of the year!