We all know that feeling. It's that itch that can only be scratched by sifting through stacks, boxes, and binders of cards, pulling together a pile that's loosely tied together by an idea, or several ideas, that are going to be simply awesome with the right commander at helm! But what if you have that itch but have no idea what commander to build around?
Well, Uncle Bennie is here to help! I've built literally hundreds of Commander decks in paper and written about hundreds more. If you're looking for specific decklists, or a list of card ideas, just type "Bennie Smith" and the commander's name into Google, and chances are pretty good an article I wrote on StarCityGames.com will pop up for you.
But if you're looking for inspiration, I've got some juicy choices for you no matter what your budget is for purchasing new cards! Stroll with me, won't you?
Under $1
We all know Magic can be a really expensive hobby, but luckily for us, there are plenty of great commanders to build around that cost less than a dollar. Here are three that have a decent power level and are a lot of fun.
Yasharn, Implacable Earth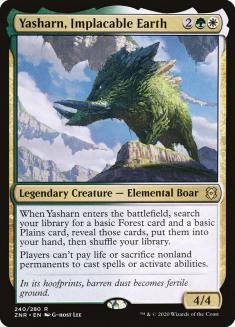 Yasharn, Implacable Earth is particularly good these days when Wizards of the Coast (WotC) has unleashed the Treasure floodgates and nearly every deck has some busted card that makes a bunch of Treasures. "Players can't pay life or sacrifice nonland permanents to cast spells or activate abilities" is a potent ability that shuts down a lot of strategies, and there are powerful creatures and synergies in Selesnya you can run that don't involve sacrificing.
Feldon of the Third Path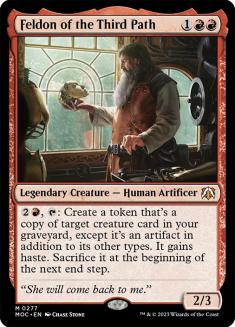 Mono-red has come a long way since the early days of Commander, and there are a lot of fantastic creatures that you can put into a Feldon of the Third Path deck. I've had a Feldon deck for a long time, and it's undergone a lot of changes, which is what I love about it—you can shift the creature base to refresh the play experience.
When I first built Feldon, it had a Goblin and artifact sub-theme since there are a lot of Goblins that have special abilities, including those that relate to artifacts, and the copy that Feldon makes is an artifact (cards such as Goblin Welder and Goblin Trashmaster, for example). You can also go so far as to play cards like Faithless Looting and Big Score to drop giant monsters like Dragons and Eldrazi into the graveyard to copy with Feldon. My current version of Feldon runs Elturel Survivors and Firebolg Flutist that are both reasonable to cast normally, yet also fantastic to copy from the graveyard.
Thryx, the Sudden Storm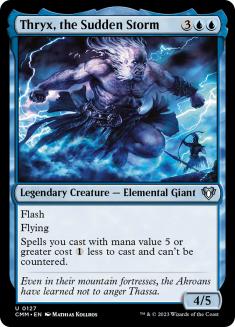 Last, I'd like to recommend Thryx, the Sudden Storm. The flash ability is excellent if you've got a fair number of reactive spells, but don't discount that last ability to discount your more expensive spells and make them uncounterable. To my mind, Commander is at its best when you're playing extravagant, high-mana spells, and Thryx facilitates that. Sublime Epiphany and Shark Typhoon for five? Scourge of Fleets or Chromatic Orrery for six? Yes, please!
Under $5
Zirda, the Dawnwaker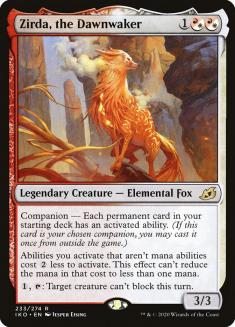 Higher up the budget scale, I'd like to recommend Zirda, the Dawnwaker as your commander! Now, everyone knows Zirda can do busted things with Basalt Monolith or Grim Monolith to generate infinite colorless mana, and that's certainly wild the first time you do it, but let's face it, easy-mode Magic gets boring fast. I'd recommend leaving the Monoliths behind and instead run a lot of cards that nobody plays because the activation cost is too expensive.
I've got just such a Zirda deck built, with a lot of delve into the dungeon cards, as WotC's Studio X made them a bit more expensive than they should have been because they weren't entirely sure how they'd impact Standard. I'm playing Dungeon Decent, Dungeon Map, Immovable Rod, and Fifty Feet of Rope, all of which are pretty good when you shave two mana from their activation costs. Have you ever looked at Dragon Throne of Tarkir longingly, but ultimately passed because of how much mana it costs to get that very first activation? Put it in a Zirda deck and turn that sad face upside down!
Kogla, the Titan Ape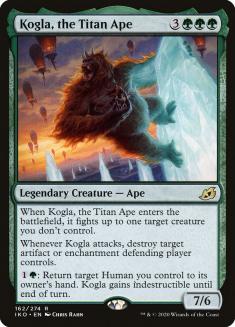 Kogla, the Titan Ape is a fantastic commander for mono-green, letting you take advantage of all of green's awesome land ramp spells like Cultivate and Skyshroud Claim to get Kogla onto the battlefield ahead of time. Kogla's fight ability and attack trigger are flashy and fun, but don't overlook the flavorful activated ability to return a Human to your hand to make it indestructible for the turn. Not only does it help Kogla push past creatures with deathtouch or avoid mass removal like Wrath of God, there are a lot of great Humans you can put in your deck to enable this mode. In particular, it's nice to remember that Eternal Witness and Timeless Witness are Humans that you'd be happy to bounce back to your hand and cast again.
Teysa Karlov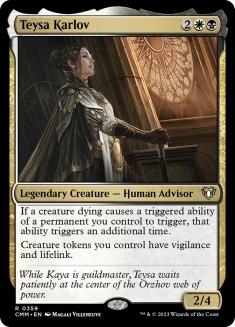 If you'd like to assemble an intricate machine built from numerous interlocking parts, I'd recommend giving Teysa Karlov a look. Orzhov has a bunch of excellent ways to make token creatures such as Bitterblossom and Call the Coppercoats, and giving them vigilance and lifelink is fantastic in Commander. Where it really gets fun is looking at all the cards that have dies triggers and figuring out how to fit them into the deck: new cards like Body Launderer and Life Insurance, and classics like Grim Haruspex, Skullclamp and Zulaport Cutthroat.
Under $10
Ashaya, Soul of the Wild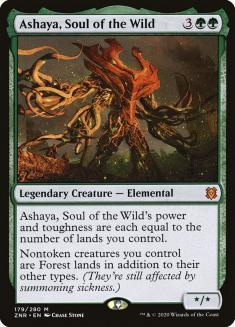 If you hate Cyclonic Rift with a white-hot rage, might I suggest building a deck with Ashaya, Soul of the Wild as your commander? Cyclonic Rift only returns nonland permanents, and with Ashaya on the battlefield, all your creatures are also lands! You can lean even further into this by playing cards like Oblivion Stone yourself, which will destroy all nonland permanents. If Ashaya has piqued your interest, be sure to check out the article I wrote about it.
God-Eternal Oketra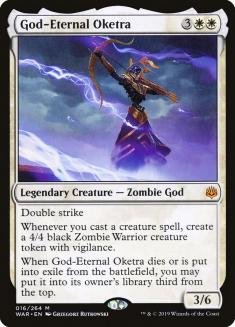 White has gotten a lot of great Commander support from Studio X in recent years, and much of it is creature-based, so God-Eternal Oketra makes a great leader for a mono-white Commander deck. If you have Archivist of Oghma, Deep Gnome Terramancer, and Bennie Bracks, Zoologist and are looking for a place to put them, the Zombie God has your back.
There's something cool about generating large black Zombie Warrior tokens in a mono-white deck, but practically speaking, it's nice to be able to diversify your colors in case a creature attacking you has protection from white (granted by Sword of Hearth and Home, for instance). Whitemane Lion and Stonecloaker are all-stars when Oketra is on the battlefield, churning out an army of Zombie Warriors to terrorize your opponents.
Tevesh Szat, Doom of Fools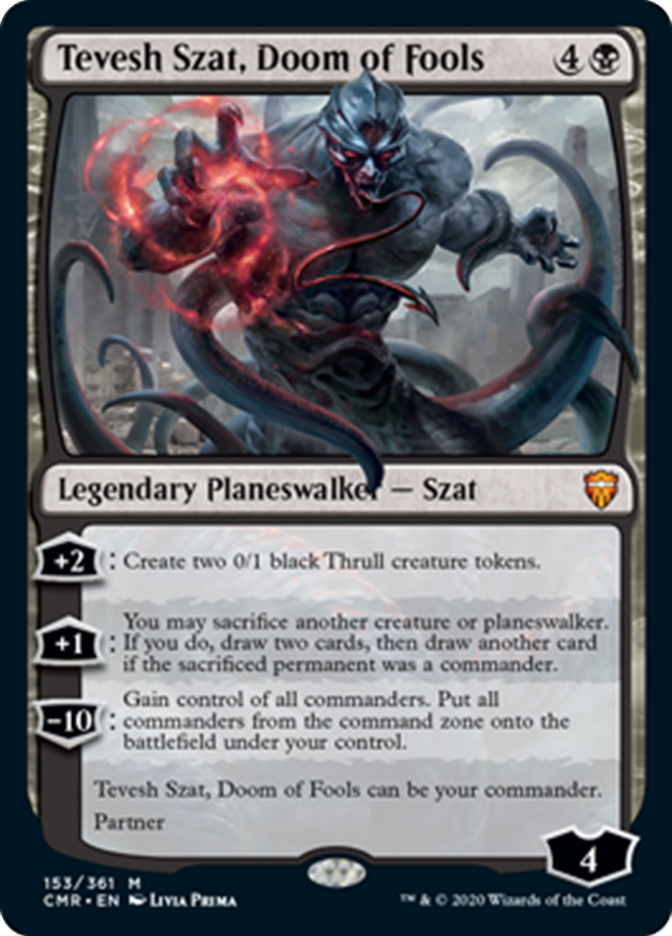 If you don't have a planeswalker as a commander among your decks, might I suggest Tevesh Szat, Doom of Fools? Its two plus abilities are quite nice, either generating Thrulls for chump-blocking duty or as sacrificial fodder, or sacrificing creatures to draw cards. If you happen to have The Chain Veil on the battlefield, you could do both each turn!
Tevesh Szat also has the partner mechanic, so you can choose another card with partner to be co-commanders in the command zone. Personally, I'd choose a cheap commander like Rograkh, Son of Rohgahh or Yoshimaru, Ever Faithful to leverage that +1 ability to sacrifice for an extra card drawn. Don't forget to play Endrek Sahr, Master Breeder to get your maximum Thrull flavor!
Under $20
Aurelia, the Warleader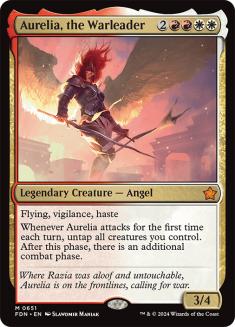 I had an Aurelia, the Warleader deck five years or so back, and it was a lot of fun, but it was clunky and a bit underpowered compared to what other people were playing due to the Boros color combination being the weakest in Commander. Well, folks, those days are long gone, with both red and white getting a sizeable amount of great Commander cards in recent years.
If you own a Smothering Tithe or Dockside Extortionist, you know what they can do in a four-player pod, but we can also point to all-stars like Teferi's Protection, Esper Sentinel, and Akroma's Will in white, and for red there's Jeska's Will, Underworld Breach, and Terror of the Peaks. Recent sets from Kaldheim forward have really juiced Angel tribal with cards like Youthful Valkyrie, Righteous Valkyrie, and Giada, Font of Hope if you want to go that route. Aurelia is superb at attacking and attacking hard, and it's pretty easy to surround yourself with high-quality Boros creatures that want to charge into battle too.
Xenagos, God of Revels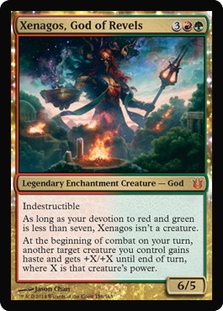 If Gruul is more your speed, may I present Xenagos, God of Revels for your consideration? Getting to double a creature's power and give it haste each turn is fantastic, especially after someone has swept the battlefield with something like Blasphemous Act. Etali, Primal Storm is perfect to cast the turn after Xenagos has hit the battlefield, immediately charging in for twelve and getting that attack trigger. Or how about Elder Gargaroth? Klauth, Unrivaled Ancient? Smash-mouth Gruul can be a lot of fun in Commander.
Dragonlord Dromoka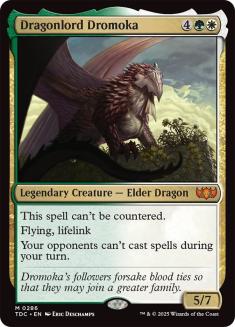 Dragonlord Dromoka has been a fantastic Commander card since it was printed, but in recent years it has become pricey if you didn't already own a copy. Thanks to Double Masters 2022, you can snag one for under $12 now!
What I love about Dromoka is, once it hits the battlefield, it shuts down nearly all shenanigans your opponents might be up to during your turn. Tired of your opponent waiting to cast a spell until they see what you're up to on your own turn? Dragonlord Dromoka says, "Nope."
If you're playing with creature enhancements that are sorcery-speed like Equipment or Auras, it's nice to know they can get attached during your turn without worrying about an instant-speed removal spell from an opponent. Also, Dromoka has a sizeable body with flying, and with lifelink it makes for a fantastic blocker or attacker. There are few cards I like to equip with Blackblade Reforged more than Dragonlord Dromoka!
Maximum Bling
If money is no object, or if your collection is vast and deep, here are suggestions for cards that will get oohs and ahhs from your opponents, while still being fun.
Hazezon Tamar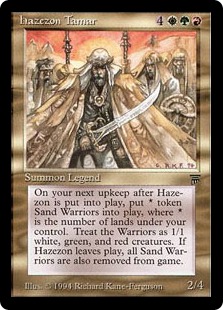 Hazezon Tamar and many of the original multicolor legends from Legends simply look cool with that old-school frame and especially that Richard Kane Ferguson art. The Cabaretti cards from Streets of New Capenna really juice up a token-based strategy like Hazezon and the Sand Warriors suggest, and I could totally see putting Jetmir, Nexus of Revels; Rabble Rousing; and Devilish Valet in the deck. Don't overlook plenty of green land ramp spells; Hazezon is expensive to cast, and the more lands on the battlefield, the better its ability is.
Doran, the Siege Tower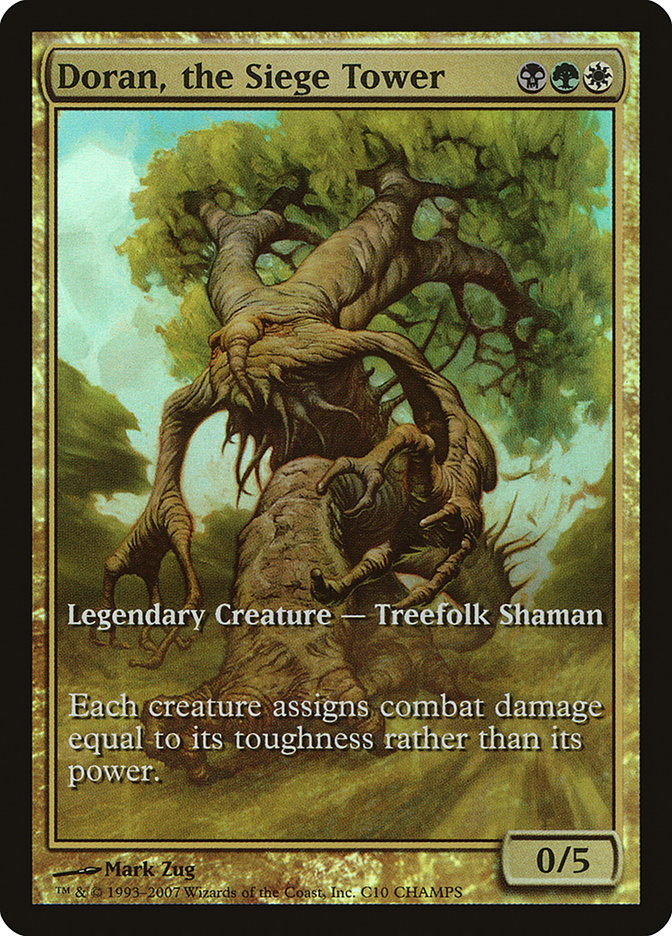 Doran, the Siege Tower is a fun card to build a Commander deck around, but for maximum bling, you'll want to rock that full-art promo from Champs and States in 2007 or so. I came so close to winning one of these back in the day and never got a chance to trade for one, and now it's quite pricey. If you have one of these and don't have it leading a Commander deck, you're missing out! And if you have one that you're not playing and are willing to trade it away, let me know. You can find any number of Doran decklists online (I wrote about mine here in January of this year), but don't leave home without Stoneskin from Commander Legends: Battle for Baldur's Gate—what a combat trick!
Urza, Lord High Artificer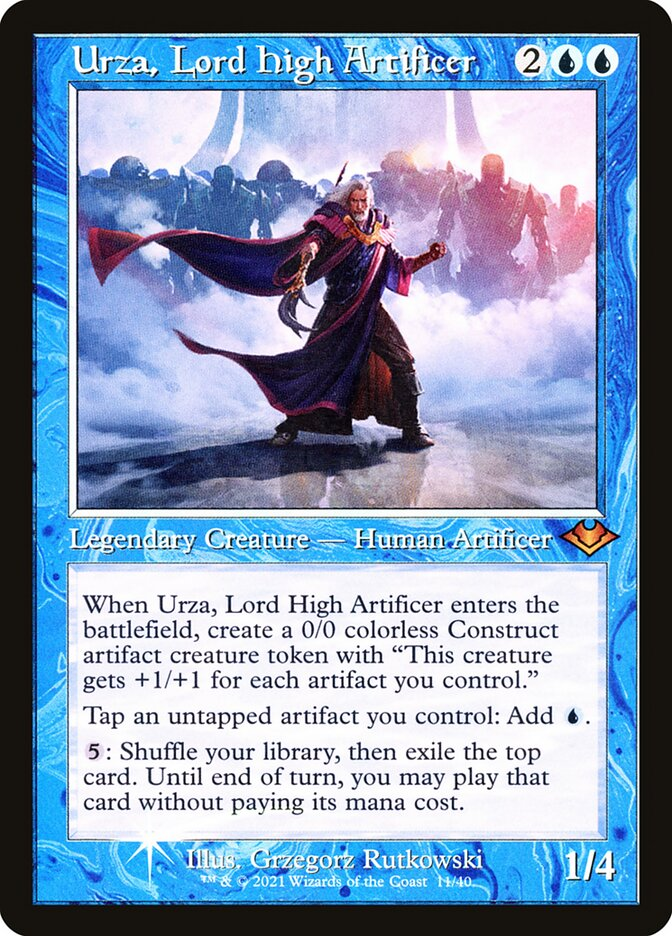 Last up is Urza, Lord High Artificer, and if you happen to have the foil etched timeshifted version from Modern Horizons, you've got to build a deck around it to show it off! The card is inherently powerful, but you can adjust the contents of your 99 to scale for the kind of game you're looking for. The fewer cheap artifacts you play, the less powerful Urza becomes, and I like that its activated ability suggests playing more proactive spells or permanents, rather than the control role that many mono-blue decks tend to lean into.
Did I inspire you to give any of these a try? Which Commanders do you recommend when someone asks for a suggestion? Let me know!
Talk to Me
Do me a solid and follow me on Twitter! I run polls and get conversations started about Commander all the time, so get in on the fun! You can also find my LinkTree on my profile page there with links to all my content.
I'd also love it if you followed my Twitch channel TheCompleteCommander, where I do Commander, Brawl and sometimes other Magic-related streams when I can. If you can't join me live, the videos are available on demand for a few weeks on Twitch, but I also upload them to my YouTube channel. You can also find the lists for my paper decks over on Archidekt if you want to dig into how I put together my own decks and brews.
And lastly, I just want to say: let us love each other and stay healthy and happy.