In recent years, Wizards of the Coast (WotC) has started introducing cards directly into the Modern format via specialty sets. The first two of these sets were Modern Horizons and Modern Horizons 2. The upcoming Lord of the Rings set in 2023 will also be a Modern-legal release. Many older staples were introduced into Modern with these sets, including Vindicate, Lava Dart, and Fact or Fiction. Few of these cards have ended up being played in Modern.
There are still a number of cards that would be interesting in Modern without being broken. In today's article, I'd like to propose ten cards that are not presently Modern-legal and would be positive additions to the format. Here is the list, presented in alphabetical order.
Chain Lightning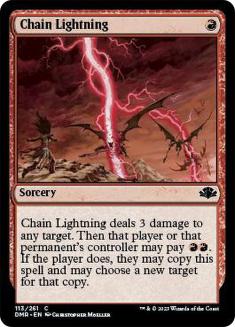 Let's start out with a simple one! Chain Lightning is a staple of Legacy burn decks. In a format that already has Lightning Bolt, Chain Lightning is a redundant burn spell that won't break huge ground. It will be a welcome addition to decks that are going straight to the dome to try to burn out an opponent before the game gets past Turns 3-4. Without Fireblast or Price of Progress in Modern, I think Chain Lightning is a safe addition that would bolster the dedicated Burn strategy.
Gaea's Touch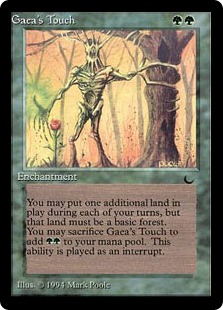 Exploration is probably a bit much for Modern. Gaea's Touch is an oft-forgotten common from The Dark. While it lends itself best to a mono-green strategy due to only allowing extra basic Forest plays, it would be a welcome addition to Enchantress decks due to the second ability – sacrificing for two green mana. WotC has been trying to push the Enchantress archetype in Modern, as with the reprinting of Enchantress's Presence, and this card would shore up both mana and land acceleration for the deck beyond Wild Growth-esque effects.
Hymn to Tourach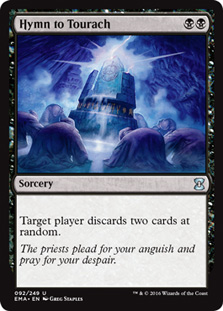 In a format where Thoughtseize is legal, Hymn to Tourach might be a bit too much. WotC has been avoiding random discard effects in Magic in general due to the feel-bad experience of getting two lands yanked out early. I think Modern is in a healthy enough place that this card would be pushing power levels, yet wouldn't be degenerate without Dark Ritual or Necropotence to back it.
Misdirection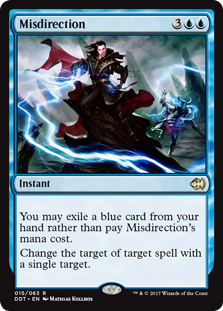 Force of Negation is the closest we're going to get to Force of Will in Modern. Daze is probably over the line as well, so Misdirection is the next best thing. This would be great in a format with Lightning Bolt, Counterspell, Archmage's Charm, and Prismatic Ending. It would even catch the occasional Force of Vigor, assuming your opponent is only hitting one artifact or enchantment.
Mother of Runes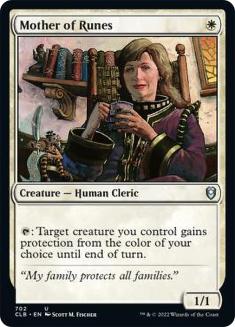 Giver of Runes is seeing some play in Modern, but I don't think Mother of Runes's ability to protect herself is too pushed for a format with a lot of one-mana kill spells. Just like Astral Drift was a little too neutered from Astral Slide, I think Giver of Runes is a little too neutered from Mother of Runes. Let's get the real thing in Modern.
Pernicious Deed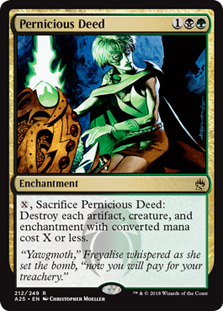 I'm not sure Pernicious Deed would see heavy play. I do think it's an essential part of the Golgari toolbox that is missing from the format. Not only Pernicious Deed a versatile battlefield wipe, it's also a way to deal with creature-lands at instant speed. Vindicate didn't really make the leap to Modern at this time, but Pernicious Deed is a card from Apocalypse that I think would warrant at least sideboard play.
Personal Tutor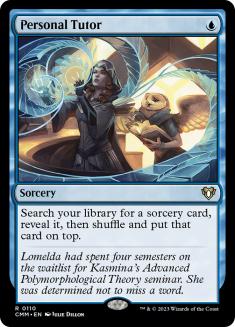 The Mirage block cycle of tutors are too strong for Modern, given their instant speed. So while Enlightened Tutor, Vampiric Tutor, Worldly Tutor and Mystical Tutor are right out, Personal Tutor is probably fair enough. WotC keeps neutering cantrip-level card draw in blue decks, so it'd be harder to abuse Personal Tutor in this format than in Legacy, where Brainstorm is king. Would this be too good for storm decks? Potentially, but I think it would be worth trying.
Psychatog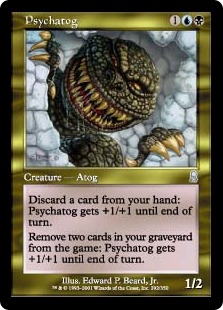 Remember the days when Tarmogoyf was king creature in Modern? Good times, good times! Remember when Psychatog was king creature in Extended? Good times, good times. I once wrote an article pondering what Standard (circa 2006) would look like if Psychatog were legal.
Would Psychatog even be good in Modern at this point? Of all the cards on this list, Psychatog is the card I just want to exist to get an answer to the question. Broken Concentration is no Circular Logic, and I don't see any other madness cards in Dimir colors that would be problematic when paired with Psychatog.
Would Psychatog fit into a delve engine? While the "remove two cards from your graveyard" ability works counter to delve, the discard ability clearly works well to fill a graveyard quickly. Wonder entered the format in Modern Horizons 2, and that's a card that the Psychatog shell used to play. If nothing else, it'd be a good use for Echo of Eons.
Scroll Rack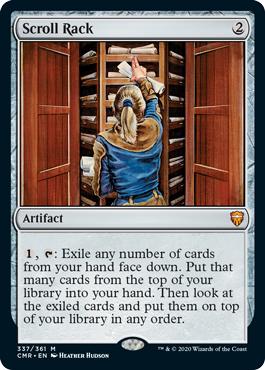 Before there was Sensei's Divining Top, there was Scroll Rack. Scroll Rack avoids the Top problem, in that it can only be activated once a turn. In a format with fetchlands, the ability to cash in your hand for something new (or dig a little deeper) is a huge boon to many decks. Scroll Rack has never been especially unfair and is a really fun card to play with.
Swords to Plowshares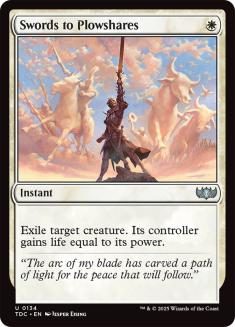 Path to Exile and Prismatic Ending are legal in Modern. It's time to just bring the OG Swords to Plowshares into the format.
What do you think of this list? Join in the discussion on Twitter @StarCityBen!