Courtesy of Ravensburger and Games Radar+, check out the third steel ink-aligned card to be revealed from Disney's upcoming Lorcana TCG — Tinker Bell!
Tinker Bell, from Peter Pan, is a three-cost 2/4 Dreamborn Ally Fairy. She is the third steel ink card previewed up to this point, joining Gantu and Captain Hook.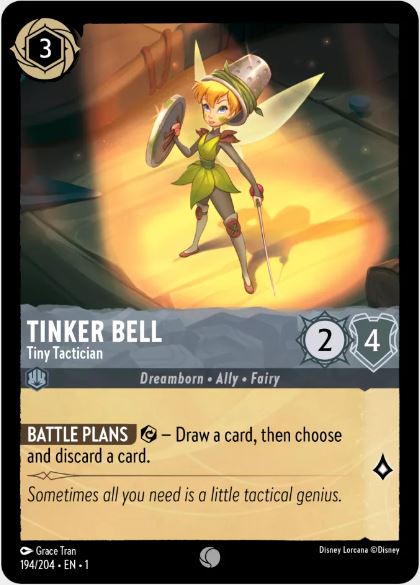 Tinker Bell features an ability called Battle Plans, that functions like looters in Magic: The Gathering. Tap Tinker Bell to draw a card and then discard a card. Tinker Bell appears to be a card that can give your deck consistency when looking for certain pieces while being a decently sized character for three resources.
Tinker Bell also looks to have a different set symbol at the bottom of the card than what we saw on Gantu earlier this week. This symbol is more spherical than the prism-like pentagon found on Gantu. Tinker Bell also shows her symbol is silver, compared to the gold symbol on Gantu, hinting at either a possible common or uncommon rarity for her.

So what do you think of Tinker Bell and her set symbol? Do all the inks have different symbols or do you think it changes based on rarity? Let us know what you think in the comments on Facebook and Twitter.
Lorcana's The First Chapter is scheduled to release on August 18 in local game stores and September 1 for mass-market retail.
If you're just now learning about Lorcana, be sure to read our comprehensive articles below, detailing the game's product lineup, early mechanic information, deckbuilding, and more.