In case you've been under a rock for the past few weeks, you may not know that Star City Games is holding a blow-out weekend chock full of Magic starting this Friday, right here in my hometown of Richmond, Virginia. I've lived in Richmond all my life, and while being married with children and three jobs limits my opportunity to prowl the city streets looking for fun (ah, the privileges of being young with little responsibilities), I am still familiar enough with the area that I thought it might be helpful to provide some tips for getting around for those of you who are not familiar with River City.
Here's a printable map of downtown Richmond with some local attractions. If you don't feel like driving, here are some local cab companies:
Yellow Cab – (804) 222-7300
Veterans Cab – (804) 275-5542
Manhattan Taxi – (804) 643-6791
Public Cab – (804) 909-4441
Allied Central Cab – (804) 266-4008
Oh, and for those of you from out of state who are susceptible to allergies, be forewarned: Richmond's allergens are off the hook right now; tree pollen, grass pollen, and the ever lovable, adorable mold.
Getting Around Town
The key to Richmond is Broad Street. If you keep in mind where Broad Street is at all times, you'll almost never get lost in Richmond. Particularly downtown, in the maze of one-way streets, Broad is the two-way safe haven that gets you where you want to be. It stretches to its eastern-most point in historic Church Hill, and runs west through downtown, out into western Henrico County, and eventually runs all the way to Charlottesville.
Downtown Richmond is laid out like a grid, and if you remember two rules you'll do fine. First, the streets running east-west are "named" (Cary, Main, Franklin, Grace, Broad, Marshall, Clay, Leigh, Jackson), while the streets running north-south are numbered (from 1st Street in mid-town, all the way through 20th Street in Shockoe Bottom). Almost all the streets besides Broad are one-way, so sometimes to get where you need to go you need to drive one block up and then make a few turns to loop around.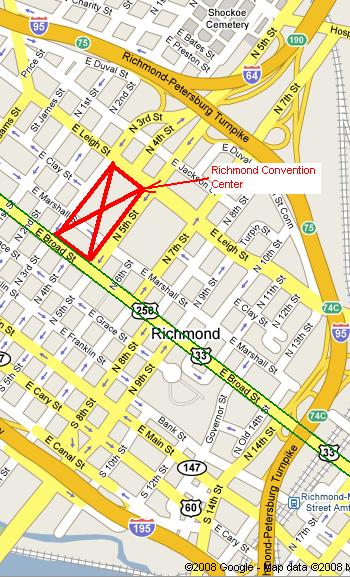 Parking downtown sucks, so carpool to save aggravation (and ridiculously expensive gas). Also keep in mind that meters aren't checked on the weekends unless it says so specifically, so feel free to grab a meter spot.
The Greater Richmond Convention Center (301 North Third Street) is located in Downtown Richmond. Head west on Broad and you'll be going Uptown, past Virginia Commonwealth University (VCU), and eventually out to the West End suburbs in the county. Head east on Broad and you will eventually go down a very steep hill into Shockoe Bottom, and the area to the right/south of Broad (17th, 18th, and 19th Streets) is where there are a plethora of nightclubs and restaurants where you can eat, drink, and be merry.
To the southwest of Shockoe Bottom (and roughly south by southeast of the Convention Center) is Shockoe Slip, a slightly more upscale stretch of restaurants and clubs along a cool cobblestone section of Cary Street.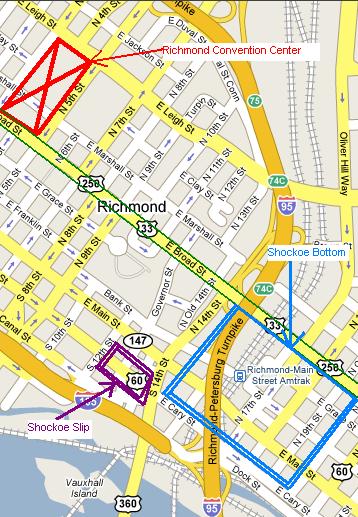 Breakfast / Lunch / Dinner
Some of you are probably going to want pancakes for breakfast at some point this weekend. Unfortunately for I-Hop fans, there's no I-Hop anywhere close to downtown Richmond. Fortunately, there's a great alternative – Aunt Sarah's Pancake House.
Aunt Sarah's Pancake House
4205 W Broad St
6am — 3pm every day
This is less than 4 miles from the Convention Center, probably about a 10-minute drive even with the traffic lights. Head west on Broad Street, Aunt Sarah's will be on the left-hand (south) side of the street. Aunt Sarah's has a great southern flair to it; the morning I proposed to my wife, we had fried catfish and eggs for breakfast here. Sadly, you can't get pancakes at midnight here.
3rd Street Diner
218 E Main St
Closer to the Convention Center (4-5 blocks) is 3rd Street Diner, a great "joint" that does serve breakfast 24 hours a day, every day, but also has good diner fare (including an interesting Greek flair — you can get Gyros, stuffed grape leaves, and spanikopita)… and of course, adult beverages of all sorts. Click on the link and you can find a menu. Once the bars close down this place gets extremely packed by partygoers with the munchies. 3rd Street runs on the western side of the Convention Center, just head south across Broad Street, and the diner will be on the right hand side between Franklin and Main Street. I took The Ferrett here the first time I met him, when he stopped in Richmond on his way to meet with Pete Hoefling in Roanoke.
Penny Lane Pub
421 E Franklin St
A "bit of Liverpool in Richmond… come in for a bite or pint, play darts or pool upstairs. We strive to serve the best in traditional British fare, from Butties to Rolls, from Pies to Fish'N'Chips." Heck, with the dollar taking a beating against the Euro, why go to England at all? (Ducks the inevitable virtual backhand from The Editor) [Hell, I'm with you… I just wonder why on earth anyone would want a bit of Liverpool in Richmond… – Craig, amused.] Just a few blocks from the Convention Center, head south on 3rd Street across Broad Street, take a left onto Franklin Street and it's on your right. I took Ben Bleiweiss and some of the Star City judges here one time after an event and we had a good time.
Five Guys Famous Burgers
931 W Broad St
About a five-minute drive west on Broad Street from the Convention Center, this is on the VCU campus, open 11am-10pm every day. They will be on the left-hand (south) side of Broad. This place makes ridiculously good burgers and their fries are delicious and plentiful. Five Guys is located on a strip of eateries including Extreme Pizza, Coldstone's Creamery (ice cream to die for), Qdoba (burritos), and Tropical Smoothie. Plus, there are always tons of lovely students walking around! Art chix rule!
Nightlife
I imagine most of you will be drafting 'til you drop if you're not playing in the main events or playtesting for the next day, but if you've got the urge to be social later on I figured I'd point out some places of interest.
The National
708 E Broad St 804-612-1900
This is a new music venue I have not yet been able to go see, but I've heard some good things about it. It's very close to the Convention Center at 7th and Broad Street. The shows booked for this weekend include Perpetual Groove (Fri., May. 9th 9:00 PM); Scary Kids Scaring Kids (Sat., May. 10th 6:30 PM); and Disturbed) Sun., May. 11th 7:00 PM). Hmm, checking out their schedule I see GWAR is playing on May 30th… talk about old school…
In Shockoe Bottom
Alley Katz
10 Walnut Alley
(Walnut Alley is off 18th street in Shockoe Bottom.)
Alley Katz has been accommodating local, regional and national acts since 1995, becoming one of the mid-Atlantic's premier live venues. Their spacious club offers a full service kitchen with famous pizza, a downstairs and upstairs bar with couches, tables, chairs and billiards, and atmosphere you would not believe until you come and experience the show for yourself. When Martha and I were still dating we enjoyed coming here for the live music. Oh yeah, and the drinks, lots of drinks…
Have A Nice Day Cafe
11 South 18th Street 804-771-1700
The Have A Nice Day Café experience is powered by music, driven by the DJ, fueled by the crowd and ignited by the staff. Each night at Have A Nice Day Café is a huge, Outrageous Party! The music will be a mix of current music, some Cafe' favorites and the best party music of all time. This used to be a club called The Flood Zone (the James River used to occasionally flood Shockoe Bottom before they put up a flood wall) where The Dave Matthews Band used to play every Wednesday night for 5 bucks and was a much cooler place under private ownership, but I suppose this chain ain't too bad.
Tiki Bob's Cantina
110 North 18th Street 644-9091
Party like it's Spring Break all year long… Tiki Bob's Cantina is Richmond's only non-stop spot for year-round Summer Fun! And, just like spring break, you never know when someone's going to dance on the bar or be a part of the crazy Tiki's events. Open since 2002, with a state of the art sound system, 10 television's playing non-stop sports and favorite movies all night long. My single friends like to prowl here to pick up chicks… just check out the website, haha!
Havana 59
16 N. 17th Street 804-780-2822
Havana '59 is a must-see when you're in Shockoe Bottom. Specializing in Cuban cuisine, this restaurant is the cornerstone of the Bottom's block of fine dining. The menu is seafood heavy, but those who do not enjoy things fishy will love the shredded pork over rice with plantains. It is one of the most delicious items offered. If you're just stopping by for drinks, hang a left at the front door and head to the restaurant's ornate wooden bar. With wide-open spaces, you can check out the ladies (or gents, as the case may be). It's especially good for people-watching on hot summer days, when the outer windows fly open to give the whole place an open-air market feel. Latino music, a lively bar and authentic Cuban cigars beckon visitors from all walks of life. This club is a bit pricey but the ambiance is very cool.
In Shockoe Slip
Richbrau Brewing Co. & Restaurant
1214 East Cary Street 804-644-3018
Richmond's first and largest brewpub serves an extensive upscale yet casual menu seven days a week from lunch till after midnight. The Brewery, known for great hand-crafted beer, also offers four well stocked bars, eleven billiard tables, darts, banquet facilities for 6 to 600, and a dance club.
The Hard Shell
1411 East Cary Street 804-643-2333
Located in downtown Richmond's historic Shockoe Slip, the Hard Shell Restaurant is known to locals as one of the best seafood restaurants in town. The Hard Shell has Richmond's widest variety of fresh and local seafood as well as an extensive raw menu featuring oysters, clams, shrimp, mussels, crab legs, lobster, and much more. The Hard Shell also features such items as filet mignon, prime rib, baby back ribs, and many vegetarian dishes. Reservations are recommended, but not required. Dress is casual.
Toad's Place Richmond 648-8623
140 Virginia Street
Toad's Place Richmond is a total entertainment venue located in Historic Shockoe Slip along the Canal Walk and across from the Turning Basin in Downtown Richmond, Virginia's River District. With a 1,500-person capacity, the three-level music venue boasts a state-of-the-art sound, light and video system, four bars and a full service restaurant with Richmond's largest outdoor patio on the Canal. I've never been here, but a friend of mine who enjoys listening to local and regional bands comes here quite a bit.
Questions?
If you have any more questions about Richmond, post them in the forums and I will do my best to answer them. I'm looking forward to seeing some of you this weekend!
…
So, what the heck do I play?!
This past weekend I did some playtesting, primarily an Elemental/Blink deck and the W/g Bauble Shepherd deck I talked about last week. Bauble Shepherd was underperforming, so I decided to try something wacky and add the Enchanted Evening/Patrician's Scorn combo that Evan Erwin talked about last week:
The deck performed okay against creature decks but folded like a sack of potatoes against counterspells. Which is typical of me – I can generally make creature decks that beats up on other creature decks, but then loses to counterspells (which of course puts me on tilt). I had better hopes for my elemental deck:
I have to say, I love the smooth mana you get from Primal Beyond, Vivid lands and Reflecting Pool. Awesome stuff! This deck does a lot of fun things, but it again struggled against counterspells and also tended to fold up shop to the plethora of Pyroclasms and Firespouts with which people seem to be loading their decks up lately. Deal with the few big boys and the smaller guns struggle to seal the deal.
One thing I did find out in my testing was that Swans of Bryn Argoll is an absolutely ridiculous card. It kept kicking my ass all up and down Midlothian Turnpike. When I went to bed that night I found bird feathers in the most inopportune places. For all the popularity of Red damage-dealing spells, especially of the mass-removal variety, I think you have got to have a non-damaging way of dealing with Swans if you want to have any shot at winning the big show. With that thought percolating in my head all weekend…
… it's time for the percolator… it's time for the percolator…
… I woke up Monday morning thinking about Assassins. Flores had been semi-hot for Scarblade Elite for at least one week, but with the addition of Murderous Recap I'm wondering if we might have a critical mass of Scarblade homicide-chow.
Having a good number of Assassins seems like a decent thing to have in what seems to be a very creature-heavy format. Of course, there are a lot of creatures that just die to Pyroclasm and Firespout.
Sigh.
Of course, I love the color combination of Black and Green, and I love creatures with comes-into-play abilities, so maybe I'll go with a Mannequin deck this time?
Isn't it awesome that they printed some really great Ouphes finally? I always thought "Summon Ouphe" just sounded funny, but sadly the previous Ouphes had always been so lame that there's never been an opportunity to actually say it in a tournament setting. Unfortunately for me, the Magic gods have not been kind to me in Shadowmoor singles, so I've gotten one playable Dusk Urchins and one foil Dusk Urchins (I don't play with foil cards). Anybody need a foil Dusk Urchins for his or her collection?
At any rate, the idea of using Makeshift Mannequin to reuse the Urchins, Finks, and Redcaps (along with Cloudthresher or, heck, Tarmogoyf) just sounds like a dynamite good time!
Lastly, I had one other idea I would have loved to explore if I could acquire the cards:
The idea is a turn 1 mana critter, followed by a turn 2 three-drop and then ride that baby to victory, clearing away blockers and countering anyone trying to stop you. Ohran Viper and Augury Adept make nice Ophidians, feeding you cards while also dealing damage (and giving life with the Adept). Spawnwrithe seems like it would get out of hand in a hurry if you keep stealing tempo, though I'm not sure if a 2/2 for three mana is going to cut it.
By the way, seems to me that they should make an Ophidian Ouphe, don't you think?
For this list, I'm short 2 Adepts, 3 Spawnwrithes and 1 Sower.
I'm also currently brewing up a Doran list with Order of Whiteclay, but it still looks too awful yet to share — is Forge[/author]-Tender"]Burrenton [author name="Forge"]Forge[/author]-Tender worth running maindeck? Hopefully I'll have something to run in the grinders Friday afternoon/evening that works and I can get some practice in before the big show on Saturday.
I still don't know what to play… I'm not in a panic… GAH!
Take care!
Bennie
starcitygeezer AT gmail DOT com