When I wrote my last article, I had not seen the Grand Prix results from Europe or that week's Flores report. The Flores report had RDW as the most popular Top 8 deck, but had Mind's Desire as taking the most slots. RDW didn't qualify a single player from the PTQs or win the GP. No surprises there. In the GP, just making the Top 8 is good enough, so congrats to Petr Nahodil for qualifying. The GP actually went to a control deck, and that makes a certain amount of sense. If you have byes and all the good players are playing combination decks, it's a fine gamble to try and pick them off with good old Psychatog. Some concepts can just never be properly killed, and with the Affinity deck in the Top 8 lacking Cabal Therapy he was able to overcome it when it had some subpar draws.
America: A New Birth of Freedom

One can only hope that this is what is going on, and a new generation is rising up. Clearly the old guys aren't getting it done. Here's the statistic of the year: The Americans in the Top 8 of an American GP had a total of two Pro Tour points. Count them, two. That's lifetime. Yes, we could have had Antonio DeRosa or Justin Gary or (Canadian) Jeff Cunningham but we didn't. Either this format is beyond awful, which it isn't, or American pros are beyond awful, which they are. You guys ought to be ashamed of yourselves. Meanwhile, there's the real possibility that the reason the top wasn't dominated by what I consider the best decks played by the best players is that we don't have best players anymore. Ouch.
Paint it Black and Green, Call it a Rock

Rock won the Grand Prix, don't I feel embarrassed? Actually, no, I don't. These things happen, I suppose. Would I even dream of running it if I was interested in running something. Oh my lord, not in a million years. There were two Rocks in the Top 8, and they were actually quite different. The one that won is legitimately Rock. I've been out of it for a while, so I'm still having a hard time accepting that this deck can be any good without main decking Duress. I suppose I should just stop asking so many questions, but that wouldn't be me. Looking at the deck, it's a bunch of guys. Sure, it has some neat tricks involving recursing Cabal Therapy and Dust Bowl and it has Pernicious Deed in it, but it's just a bunch of guys. In my world, more damning words are rarely spoken, but I have to live in the here and now.
As an old Rock player, my thoughts on his list may or may not be useful. I like Justin Gary's inclusion of Wasteland into the deck given the rest of the modern configuration and I think that if this is the approach you want to take then only one Recurring Nightmare doesn't seem like enough and I'm having a hard time not buying at least one Duress or not having four after sideboarding no matter how much I'm informed that maindecking four would be bad. Do we really need four Wall of Blossoms? The Wall is an odd card, because it's bad in multiples but people either run a lot or none because it comes down to whether the player likes the card or not. If there's one card that my instincts say is missing from the sideboard it would be a Tsabo's Decree but it's probably just too slow. This build does seem to be good at what it does – it is what it is. I have no real problem with any of his choices and won't be offering an alternate list other than to note that four Walls is too many no matter how much you like the card.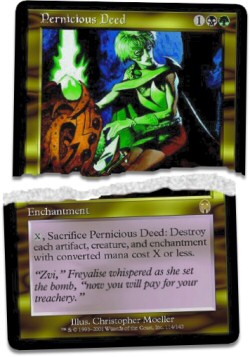 Grant Struck's deck is something else. I don't think he should run Vampiric Tutor, because that is not what the deck is about. He wants to bash your skull in before you can recover from the initial discard and/or pose you a problem creature that you cannot solve and I think Vampiric just gets in the way as well as making the deck run singletons that don't do much for the deck. I say lose Eternal Witness, lose Vampiric Tutor, lose Cranial Extraction and lose Pernicious Deed. That's right, I said it. Deed should be a sideboard card for this build. In their place, give me four Troll Ascetic, four Elves, four Rancor, a fourth Mesmeric Fiend, the fourth creature removal spell and the second Sword of Fire and Ice. The deck now does what it was meant to do, and either it works or it doesn't.
9 Forest

6 Swamp

4 Llanowar Wastes

2 Treetop Village

1 City of Brass
4 Wild Mongrel

4 Birds of Paradise

4 Llanowar Elves

4 Troll Ascetic

4 Mesmeric Fiend

4 Call of the Herd
4 Cabal Therapy

4 Rancor

2 Diabolic Edict

2 Smother

2 Sword of Fire and Ice
Sideboard

4 Duress

4 Engineered Plague

3 Naturalize

2 Pernicious Deed

1 Sword of Fire and Ice

1 Smother
That setup lets you take out whichever part of your deck is bad and lean on the part that is good without trying to get cute. If you want to emphasize the discard, you can do that. If discard is bad, Fiend comes out easily to give you what you do best. Rather than wasting time on stuff like Extraction you do what you do best. I mean sure, you could go for lots of Extractions after sideboarding if you were so inclined but that seems like misdirected effort.
Cephalid Life and Aluren

I'm going to be honest and say that I don't know enough to properly find the correct build of Cephalid Life. From what I know I can highly recommend that Top 8 build, as it seems to do everything right. For the Aluren deck, I know more and I can say with confidence that I love what he's done with the place.
Goblins, Goblins Everywhere

This may seem like a strange statement, but shame on America for letting Ripley and McCall make Top 8 with those decks. I have nothing against them, and I'm sure they're swell guys, but come on people. Goblins? I suppose what might have happened was that the reaction to all the best decks being combination decks created an opening where there are good builds of decks that can't stop the Red men. This makes me a sad panda and probably makes my roommate Seth Burn very, very happy. But when I look at these decklists, I don't see any way for them to stand up to the good stuff.
Gush-a-Tog

It's all your fault! If Psychatog hadn't made a miraculous recovery there never would have been anything to worry about. Oh, how I hate that evil grin. As much as I hate to say this sort of thing, I like Putnam's build a lot, but I'm not so sure about the sideboard. This list shows an appalling lack of concern for winning a long game if the Accumulated Knowledge win is taken away from you by an opponent who can answer in kind. You're not exactly dead in the water, but you have no tools either. That doesn't matter enough to force a response, I suppose, but right now I'd suspect it of being more important than Energy Flux. The facts on the ground are the facts on the ground and Foil helps answer all the obvious concerns about the first few turns of no action.
That brings us to the main attraction, which of course is Sneak Attack:
4 Dwarven Ruins

4 Sandstone Needle

3 Crystal Vein

3 City of Traitors

4 Mountain
4 Dragon Tyrant

3 Symbiotic Wurm

1 Serra Avatar

4 Rorix Bladewing

2 Crater Hellion
4 Through the Breach

4 Chrome Mox

4 Blazing Shoal

4 Gamble

4 Desperate Ritual

4 Seething Song

4 Sneak Attack
Sideboard

4 Pyrostatic Pillar

4 Defense Grid

2 Final Fortune

1 Cave-In

3 Serra Avatar

1 Duplicant
I love this deck. It goldfishes better than any other deck in the format and it is more consistent than it looks. I do have a few notes.
Four Mountains? Amateur!
Just kidding, Fujita, but I do have more doubts about Mountain than any other card in the deck. That's the Zvi way, trying to figure out why you would waste perfectly good copies of Crystal Vein and City of Traitors. That's an easy change to make. Also, one of the other Mountains should be Shinka, the Bloodsoaked Keep for Rorix Bladewing. Never accuse me of messing around. If you're worried about Wasteland, good worry but it's a little late to do something about it now. The good news is that 18 lands is about right as long as there isn't that much attack on your mana base that can happen in time.
Crater Hellion's Role

There is something strange going on here, because the wrong number of Hellions are being used. I don't know if it's too many or not enough, that would depend on the decks you expect to face, but two main and none board must be incorrect. Hellion is a situational creature, because it doesn't do all that much damage but can wipe their board. That's useful for Serra Avatar, but that was never the "A" plan for this deck and when you board in Avatar you board out Hellion. There are matchups were Hellion is an amazing creature for you, and others where he's the worst, so logically if he's so good that you start more than one then you should want more in the sideboard. From what I've seen, Cave-In does not belong there ahead of Hellion because you're already pitching so many red cards. I'd be inclined to maindeck one Hellion and two Serra Avatar and put two Hellions in the board in the place of Avatar and Cave-In. I'm not sure what I'd cut for the fourth, because all the other cards seem vital at this point. I'd be inclined to go with four Symbiotic Wurm and one Serra Avatar if I could make room in the sideboard. I have a suspicion on that, but that will come later.
Defense Grid and Final Fortune

Defense Grid is a natural for this deck, but after that how do you keep up the pressure on a Blue deck? It's especially tough against a deck running Foil, which is all but ancient doom, but you need to be able to take advantage of them tapping out to counter Grid or cast an instant and to do that you need to install the fear of Final Fortune into them. You also want to use it to go for lightning fast wins with the knowledge that time is almost never on your side. I don't think these cards can be touched and a case can be made for Fortune number three with four Chrome Mox to get rid of a second copy.
Pyrostatic Pillar: Does it belong?

I suspect the answer is no. At first glance the card fits right in because you don't have to cast many spells to win and you have a lot of giant ones. The problem is that the Pillar does a sane amount of damage. Who let sane into the building? Not me! Sane is almost as bad as fair. The Pillar may seem unfair, but I don't like the number of spells before they're in serious trouble. Perhaps I'm underestimating it against Desire but I think just bringing in Serra Avatar and Final Fortune should be fine. Those also aren't the decks I'd be inclined to fear. I like my chances.
Proposed Build:

4 Dwarven Ruins

4 Sandstone Needle

4 Crystal Vein

4 City of Traitors

1 Mountain

1 Shinka, the Bloodsoaked Keep
4 Dragon Tyrant

4 Symbiotic Wurm

1 Serra Avatar

4 Rorix Bladewing

1 Crater Hellion
4 Through the Breach

4 Chrome Mox

4 Blazing Shoal

4 Gamble

4 Desperate Ritual

4 Seething Song

4 Sneak Attack
Sideboard

1 Mountain

4 Defense Grid

3 Final Fortune

3 Crater Hellion

3 Serra Avatar

1 Duplicant
As you can see, I like the original build a lot. These are minor tweaks built around the theory that you can do without Pillar. Note that if you're not American, your world may well be smart enough that those are good enough reasons to use Pillar.
Where Does That Leave Us?

Sneak Attack has to be considered a new top level threat, which should be clear to anyone who explores just how the deck works and how it stacks up. It also gives you the chance to jump on a bandwagon and play the hot new deck instead of the old boring deck, which should make the last few weeks more fun and by forcing your opponents to learn a new matchup you have a shot to take them out of their house at least a little. If you don't have a deck you want to stick with, I recommend making the leap. If you're already settled in, that's different. It's late and I know just how much work it is to switch especially if you don't have the cards. In the meantime, I'm more or less done with Extended because all hopes that it would be other than a royal mess have proved highly unfounded. Next week will be something completely different.
And Your Little Dog, Too!

Ding dong the witch is dead. Which old witch? The wicked witch, Affinity. At least it's dead in Standard and contained in Extended. When killing a witch, it is often wise to take no chances so no chances were taken. They treated Affinity like Rasputin because like me, they didn't trust the deck one bit and I can't blame them. In principle I couldn't agree more, and I have now read Aaron's article that details Affinity making a comeback despite losing the artifact lands. When you ban a card, decks get to replace it with another which often lets them continue on, the most recent example being Cranial Plating for Skullclamp. The theory was that other cards might take their place and you had to be sure. The artifact lands can't be replaced no matter how much you like Chrome Mox and Paradise Mantle and I have no fear of what would happen without them especially if you include Darksteel Citadel. Those who are complaining about Arcbound Ravager have a point, but if the card wasn't unplayable then they didn't solve the problem. So suck it up, everyone. I'd much rather they go overboard then miss the boat. There seems like there should be a difference and there is no need to quibble over minor details.
I look forward to the new Standard, and I would warn anyone who thinks that Tooth and Nail will take over that the tools are most certainly around to deal with that problem now that everyone has eight extra sideboard slots. However, anyone who isn't reflexively keeping a close eye on the other top Mirrodin block deck needs to wake up and smell the nine mana.
Before I move on, one more note. Having Affinity around was not fun. It was no fun at all. At first it was cool… for about a week. Then it was highly uncool. By the end I hated Affinity, and I don't want to kid myself. A large part of the reason I was able to walk away from the game for six months, and have no desire to compete in it again, is because of Affinity. If I'd thought it would have made a difference I would have sent Aaron one more depressing e-mail to add to his list. I appreciate that soon The Lorax and all of his friends can come back.
Not that I won't try to build an Affinity deck anyway. Just out of curiosity, you know? Knowing that Wizards came close until they banned Disciple makes me think I've got a shot, especially if I start being ignored. I'm thinking Steelshaper's Gift, and I'll report back if I find anything.
You Be The Judge

The question is whether Mistform Ultimus, Lost in Thought and Waste Away are artifacts. Oh, they're not? My mistake. A lot of people thought I didn't realize this, or had committed a typo. Instead, I chose to list other cards that I found funny in their slots. It seems my attempt at deadpan humor failed, so memo to everyone. It wasn't a mistake, it just wasn't the best idea. Let's face it, comedy is hard and not every joke sticks to the wall but I'm not about to stop trying. The legitimate corrections I have for my magicthegathering.com article are: Cranial Plating is headgear (and the best one), a Scythe is not a sword (so amend the title of that list), and I've been informed that the Sensei's Divining Top is the pick over Imi Statue.
Requests that I do similar lists for the other five colors have been made, but this was a ton of work and one on one of the colors would be even more. Convincing me to do it again might not be so easy.