Another day, another forty cards. Today we delve into the Timeshifted colors of Black and Red with a Land chaser. Like White and Blue, the Timeshifted cards in the two removal colors add elements these colors haven't seen recently and which many players thought were gone for good. Which cards should you focus on in your deckbuilding forays and which ones should you likely ignore? Follow me, Indy! I know de way!
Avatar of Woe
Keanu here (so dubbed because when it came out, Keanu was popular and Avatar of Whoa… was vaguely amusing) is the second best reanimation target in the format (unless you have some nifty way to break Tidespout Tyrant) next to Akroma. (All of which cost eight mana.) Like Visara, Avatar is huge, evasive, and kills creatures turn after turn. Also observe that it has a butt of five, making it just large enough to survive in today's removal environment. There's no obviously good way to make Avatar easy to cast (ten creatures is still a lot), but if you can cheat Avatar into play, it's still awesome. If you can't cheat it into play, however, it's too expensive to put into a deck.
Rating: ***
Bad Moon
Bad Moon has this weird sort of vibe where it makes aggressive Black cards better and a surfeit of good aggressive Black cards makes Bad Moon better. If there aren't good beaters to go along with it, you won't play it because it doesn't have any direct effect on the board. If there are enough good men to make it worthwhile, however, watch out. Bad Moon aggro is a traditionally strong strategy, but the men that power such strategies are still out there in the ether, waiting to be revealed. Expect this to become relevant in another set or so.
Rating: ****
Conspiracy
This didn't see much play the first time around, which is weird, considering that if there were an actual conspiracy, you'd expect the card behind it to get some action. Or maybe the real conspiracy is that this was never supposed to see play and therefore it was a success. As far as conspiracies go, this one is particularly uninteresting. Conspiracies involving Diebold, on the other hand…
Rating: *
Darkness
A Black Fog!? Hey, it worked in Blazing Saddles.
Rating: *
Dauthi Slayer
A 2/2 shadow for two mana that forces you to be aggressive, Dauthi Slayer is a very good reason to look at Bad Moon and aggro Black in general. I've summed up the aggressive Black cards in the environment thus far and concluded that it's probably just better to run some Boros deck instead. I haven't playtested the decks enough to know if this opinion is precisely correct, but as a deckbuilder there just isn't enough there to excite me.
Rating: ***
Evil Eye of Orms-by-Gore
I stated in the Black review how much love I have for old Evil Eye. Back in the day, he saw some minor play in Black decks that packed mass removal effects where he could act as a sturdy blocker and finisher. These days Black doesn't really have mass removal effects, which hurts his case to see play.
Rating: **
Faceless Butcher
Butcher's best trait was his ability to kill a Roar of the Wurm token dead without any worry of whether or not your opponent would kill your Butcher and bring the creature back. Nothing as large as Roar tokens immediately come to mind, but its flashback cousin Call of the Herd is back and should see plenty of play, thus there will be elephants that need to disappear, quietly. That is exactly what the Butcher is good for. Also keep in mind that some people used Astral Slide-type effects to remove real creatures from the game by Sliding out the Butcher with his comes-into-play trigger on the stack, making his leaves-play trigger resolve first and thus killing some creatures quite dead. This works with instant bounce as well, so keep it in mind as you ponder forward into this brave new format.
Rating: ***
Funeral Charm
There are formats where this has seen play because at least two of its three abilities are often relevant. With all the good one-toughness creatures running around (including opposing Dark Confidants — die Bobby, die!), this could be another one of those times. It will never be powerful, but it will often be good enough, and sometimes that's just what the doctor ordered. We're eight days in and I'm running out of trite clichés to keep things lively…
Rating: ***
Sengir Autocrat
While not utter crap on his own, Sengir Autocrat actually enters the realm of "possibly playable" with Bad Moon around. The four mana you spend on him yields six power worth of creatures, an admirable number. I mean yeah, obviously there are any number of cards that you'd rather be using in this slot, but I was trying to be nice. I even put on my fake smile.
Rating: **
Shadow Guildmage
Much like Desert, Shadow Guildmage is harmless at first blush, but when you add up how many creatures in the format he affects outright, you realize that he's nothing short of awesome. The fact that he's Black means he kills Soltari Priests by his lonesome, and in fact wipes most shadow creatures like a giant flashlight. Also observe that his attentions can be directed at the dome of your opponent as well, and that his second ability will occasionally protect a vital creature from removal, and realize you have a full-fledged all-star.
Rating: ****
Soul Collector
It makes me sad that some of my favorite Magic art ever is on a creature that never quite gets there. We all wanted Soul Collector to work the first time around, but the some of the parts never quite equals playable. You either get a flying 3/4 for five mana with a cool ability that your opponent can work around, or you get the surprise element of an unmorphed creature for BBB. That's a heavy toll to pay for an undersized body, even with the coolness of what she does. Maybe Bad Moon will push her over the top?
Rating: **
Stupor
The best discard spell short of Rise/Fall, and it's easier to cast. We're either a straight Black pinpoint spell or a Boseiju, Who Shelters All away from making life completely miserable for control players at will. Then again, with Rise/Fall, Stupor, Persecute and the new varied goods in Time Spiral Black, maybe it will be enough. Somehow I doubt it…
Rating: ***
Swamp Mosquito
Shh, don't tell anyone, but they snuck poison counters back into the game. I wasn't going to mention it either, but hey… IT'S FREAKING POISON. It's just not any good… yet.
Rating: *
Twisted Abomination
We didn't know quite how good T Bizomb was in a format that was dominated by the likes of Eternal Dragon (nice promo, by the way). Now that the super-awesome recursive Plains-cycling rare is not in the way, Abomination has a chance to shine, and I anticipate he'll do just that.
Rating: ***
Uncle Istvan
I'm not going to say that Uncle Istvan is terrible because you really shouldn't talk about crazy Rasputin-looking fellows with large axes in that fashion. I will point out that he is a four-mana 1/3 with BBB as part of his mana cost. Then I will quietly slip away and hope not to further disturb the nice old man.
Rating: *
Undead Warchief
The first time around, Undead Warchief barely made a dent in Block Constructed and he had an entire tribe of undead minions around to try and make him work. This time… notsomuch.
Rating: **
Undertaker
Black now has a busty madness suite available and it needs reasonable discard outlets. Undertaker is fragile, but perfectly reasonable, and it has good synergy with cards like Twisted Abomination plus it gives Black decks yet another way to get reanimation targets out of their hand and into the graveyard. As a human spellshaper, it isn't going to win any tribal awards, but it's good value if you need the effects.
Rating: **
Withered Wretch
There are a couple of reprints that look like they are here to keep the dredge menace in check. In terms of price to cost ratio, Wretch is exceptional. He fits in fine with the Black Aggro theme, dispatches graveyard Angels of Wrath before they get rowdy, plus he happens to be a zombie should that turn out to be convenient for you. The casting cost makes it almost impossible to use outside of Mono-Black, but if you can afford him, he's the best at what he does.
Rating: ***
Black gets another solid reanimation target, archetype cornerstone Bad Moon, swampcycling, and a number of roleplayers good enough that you won't feel guilty playing them maindeck. Like White's Timeshifted cards, Black makes up for a mediocre set of new cards with exceptional depth in its Timeshifted run.
Red
Avalanche Riders
Of all the reprints, Darwin is probably the one that makes me most nervous. Too much burn can be dealt with, but too much land destruction can ruin a format like nothing else. Unlike many of you, I have quite a bit of faith in the talents of Brian Schneider, Devin Low, Smiley Sottosanti, and Coach Forsythe, but even so… there's a lot of good LD out there and if they missed something, we'll all pay for it. Darwin is good because he's a Stone Rain that still gets in a beat, even if you choose not to pay his echo cost on the next upkeep.
Rating: ****
Browbeat
We tried to make this work a few years ago with Ensnaring Bridge and a bunch of burn spells. There's no Bridge this time around, but there's more good burn than ever before. Oddly enough, instead of making the card finally work, it probably just invalidates it because unlike the other burn spells, Browbeat only has one target and one purpose.
Rating: **
Disintegrate
This might be the best card possible to open in draft, and it's none too shabby in Constructed either. Fireball is better overall, and Demonfire's hellbent currently trumps this, but somewhere in the future we'll be glad Disintegrate has reported and is ready for duty.
Rating: ***
Desolation Giant
If I remember correctly, like most rares in Invasion Block, this saw at least some play in Block Constructed, but was quickly outclassed by the glory of Dromar and Desolation Angel. Expect more of the same this time around — he wants to be good enough, but just never is.
Rating: *
Dragonstorm
Putting Dragonstorm at three stars seems absurd. It costs nine, for f***'s sake… nobody plays with craptastic Timmy cards like this. Then again, Bogardan Hellkite means you need this and three other spells to trigger it for lethal. If you only get two other spells on the turn (like say… Seething Song and Lotus Bloom), then you hit your opponent for 15 with three flying 5/5s still in play. Like most combo decks, there's a good chance this one will be inconsistent and frustrating at times, but unlike at almost any previous point in its history, Dragonstorm might just be good enough to win now.
Rating: ***
Dragon Whelp
Dragon Whelp was a fan favorite when it was legal to see play. For four mana and firebreathing kickbacks every turn, you got a 5/3 flier. Note that this was in a land of Lightning Bolts and Incinerates, so the Whelp was used to getting fried by something other than his own bluster. As much as I and everyone else I remember playing with loves him, I get the sense that (like most old creatures), he's outclassed in this day and age. I'm hedging my bets here though and maintaining hope he'll be good in Block, just like his cousin Furnace Whelp.
Rating: **
Eron the Relentless
A 5/2 with haste for five mana isn't bad, but usually you get trample along with the fragile backside. In Eron's case, you get a very expensive regeneration cost. Unless the board is clear on his first turn in play, you likely aren't attacking with him, which negates the haste. With that new light shed on Eron's prowess, he doesn't quite seem worth it anymore, does he?
Rating: *
Fire Whip
With the preponderance of burn, this becomes unnecessary for any Constructed deck.
Rating: *
Fiery Temper
The current environment is a pyromaniac's wet dream. There's so much good burn that you probably can't fit more than half of it into a deck. Fiery Temper in particular goes well with much of the card drawing in the format because it involves discarding as well. The new Looter loves a Fiery Temper, and it fits in well with the Black madness theme too. In short, Fiery Temper is good, plays nice with two of the best colors in the format, and is just one more fireball on top of the already critical mass of flames in new Standard.
Rating: ***
Goblin Snowman
This wins the award for cheesiest reprint. I think it comes with a free twinkie, though I'm not sure how they fit it in the booster pack.
Rating: *
Kobold Taskmaster
Hey, Kher Keep produces kobolds! With Kobold Taskmaster, you can make them 1/1s instead of 0/1s. Isn't that exciting!?!
Rating: *
Orcish Librarian
This is a combo card, plain and simple. It gives you a deep dig into your library and one that is useable every turn. It will be for people smarter than me to break.
Rating: **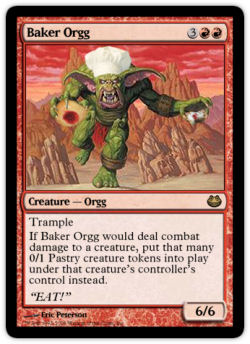 Orgg
There are some cards that have to prove they are not terrible before they get any extra love. Orgg is one such creature.
Rating: *
Pandemonium
With Dragonstorm, Orcish Librarian, and now Pandemonium, Red is the new color of combo. Without some killer combo elements, Pandemonium is just a "win more" card, though it maintains some value because it targets both players and creatures. The last time this was something more, Saproling Burst was the driving engine. These days nothing like that exists, though with cards like Bad Moon and Skeletal Vampire together you can uh… do eight?
Rating: **
Suq'Ata Lancer
Goblin Chariot with perks is a lot better than just Goblin Chariot. It takes a 3/3 to just trade with the Lancer, and while he still dies to any sort of Shock effect, he's also a good aggressive creature, something Red is in need of in these trying times.
Rating: ***
Tribal Flames
Maximizing Tribal Flames is easier now than it ever was in Invasion Block. Five damage for two mana, even at sorcery speed, is absurd. To illustrate my point, some players went out of their way to play this last Extended season, so why would you choose to pass it up now? As if Red needed even more amazing burn.
Rating: ****
Uthden Troll
Twelve years later, the picture still makes me laugh. Fat troll is resilient and a solid value for the cost, but are decks going to need his services? I don't think they will, a regenerating Gray Ogre doesn't have a place in the modern world, especially with Sudden Shock available.
Rating: **
Wildfire Emissary
A 2/4 for four, even with protection from White and a pumpable front side, isn't worth much unless you specifically require his services. It's less valuable now than in years past because all the damned White creatures have evasion that goes right past my main efreet here.
Rating: **
Red gets some mediocre creatures, multiple potential combo pieces, three more strong burn spells and Avalanche Riders. We'll probably grow to hate at least one of those cards in the next two years… we just don't quite know which one yet.
Land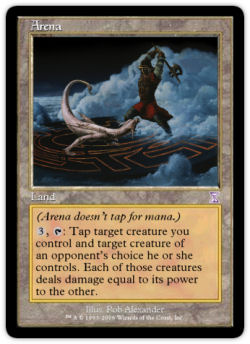 Arena
Allow me to add one line of text to Arena:
"This land does not tap for mana."
That is all.
Rating: *
Desert
On the surface, Desert seems immediately bad. Doing a single damage to a creature after it deals damage is crap, right? Wrong. Play a few games with this card against aggressive decks and you'll realize exactly how good it is and exactly how much damage it saves you in the long-run. It's a land that kills every one-drop in the format repeatedly, for free. And it still produces mana. A first turn Desert keeps any number of common aggressive drops at home, including Dark Confidant, Magus of the Scroll, Savannah Lions, Looter Il-Kor, Flying Men, Drifter il-Dal, Llanowar Elves, Icatian Javelineers, and birdy friend Suntail Hawk, etc. Aggressive decks want their one-mana creatures to get busy, and the early damage from such creatures matters. Desert is a prophylactic for that entire strategy.
Rating: ****
Gemstone Mine
In any normal format Gemstone Mine is merely good. It comes into play, does its thing to shore up sketchy manabases, and then disappears to either be recycled via Crucible of Worlds or goes to the great land bin in the sky. In a format with bouncelands, however, Gemstone Mine is insane. A reusable, no-cost City of Brass is basically the best land imaginable, and if you get five uses out of the Mine, you've officially broken the system.
Rating: ****
Pendelhaven
I noted in the Green review that I thought this land is actually quite good, and my opinion since then hasn't changed. For no significant drawback, you have the ability to turn 1/1s into more significant attackers or blockers. When you don't need it, you still have a Forest, and even the ability comes without any mana cost. The effect isn't huge, but these are the incremental bonuses upon which great Magic is built.
Besides, who could hate a card with art done by the immortal Brian Wackwitz?
Rating: ***
Safe Haven
Safe Haven is cute because it allows you to get double use out of your comes-into-play effects or to simply save creatures from removal/damage in combat. It's on the cusp of overcoming its total inability to produce mana, but never quite does it. Then again, here I'm a little optimistic that some enterprising deckbuilder can overcome the drawback and still make this work.
Rating: **
Three of the lands R&D Timeshifted are really good and will see regular play in at least Standard and Block. Gemstone Mine and Desert even have a chance to see play in Extended, should any decks desire their particular effects. The other two lands are both interesting, but will likely be sunk because they don't actually make any mana…
See you tomorrow!
Teddy Card Game
[email protected]