I'm going to start this week with ten goldfish draws with Tsuyoshi Fujita's Sneak Attack deck from Grand Prix: Seattle. Last week, Zvi said that Sneaky Go goldfishes best among the decks of the current format… I decided to see just how good "best" is.
If you've been living under a Sandstone Needle or some other rock recently and don't know what I'm talking about, here is Fujita's Top 8 deck. I'm pretty sure he's the best deck designer in the world right now, so probably you should pay attention.
4 Dwarven Ruins

4 Sandstone Needle

3 Crystal Vein

3 City of Traitors

4 Mountain
4 Dragon Tyrant

3 Symbiotic Wurm

1 Serra Avatar

4 Rorix Bladewing

2 Crater Hellion
4 Through the Breach

4 Chrome Mox

4 Blazing Shoal

4 Gamble

4 Desperate Ritual

4 Seething Song

4 Sneak Attack
Sideboard

4 Pyrostatic Pillar

4 Defense Grid

2 Final Fortune

1 Cave-In

3 Serra Avatar

1 Duplicant
Tsuyoshi's Ten Tests

Draw #1

Chrome Mox

Desperate Ritual

Sneak Attack

Sneak Attack

Dwarven Ruins

Sandstone Needle

Sandstone Needle
I decided to keep this draw. It's a little dodgy with no threat, but a million mana and redundant Sneak Attack means that it has decent resistance but can come back from at least one Counterspell or even vomit on a Mana Leak with all that Desperate Ritual and double land action (Tsuyoshi lost to Psychatog in the Seattle quarters). Also, with Sneak Attack very likely coming down post haste, the deck is in primo topdeck mode. It probably has to draw two threats, but most of the work is already done.
As it happens, I drew into the Tyrant and easily won turn 4 with the good old Shivan Dragon mechanic.
Draw #2

Symbiotic Wurm

Blazing Shoal

Blazing Shoal

Gamble

Serra Avatar

Dwarven Ruins

Dwarven Ruins
Even with Gamble, this draw is a mess.
Mulligan Draw

Blazing Shoal

Rorix Bladewing

Seething Song

Dwarven Ruins

Mountain

Sandstone Needle
This draw isn't very exciting, for Sneak Attack anyway, but it still gives you a fast Rorix. A Crystal Vein or City of Traitors would have made a four turn goldfish, but this one had to settle for turn 5.
Draw #3

Rorix Bladewing

Seething Song

Sneak Attack

Sneak Attack

Sandstone Needle

Sandstone Needle

Crystal Vein
This one is very similar to Draw #1 but also has a threat. As is often the case with decks this explosive, one card can make all the difference. You might think I'm referring to Rorix Bladewing as a card that makes Draw #3 that much better than Draw #1 but I actually ripped Gamble on turn 2, successfully discarded the redundant Sneak Attack and came over with Serra Avatar. Gee Gee turn 3.
Draw #4

Chrome Mox

Blazing Shoal

Rorix Bladewing

Sneak Attack

Through the Breach

Crystal Vein

Sandstone Needle
This draw is a pretty obvious keeper. Its turn sequence went like this:
Turn 1: Play Sandstone Needle.
Turn 2: rip Dragon Tyrant (how lucky). Play Crystal Vein; sacrifice Crystal Vein for 2; tap Sandstone Needle for RR (sum RR2). Play Sneak Attack. Play Chrome Mox; imprint Through the Breach. Put Dragon Tyrant into play with haste; attack. Prior to damage, play Blazing Shoal targeting Dragon Tyrant, discarding Rorix Bladewing.
Like I said before, "how lucky."
Draw #5

Chrome Mox

Blazing Shoal

Dragon Tyrant

Dragon Tyrant

Seething Song

Mountain

Sandstone Needle
This one is very close to being an absurd draw… but that one card is the difference between a turn 2 kill and an unplayable pile of steaming dung. Mulligan.
Desperate Ritual

Dragon Tyrant

Gamble

Crystal Vein

Mountain

Sandstone Needle
As combo decks with no card drawing don't tend to mulligan to five or fewer cards very well, I risked this draw, but, again, a bad Gamble would make it unplayable. Gamble got Sneak Attack (discarding Sandstone Needle), which set up a third turn Sneaky Dragon Tyrant for 12. Not another man showed up until turn 9, meaning almost any deck could have successfully raced.
Draw #6

Chrome Mox

Blazing Shoal

Desperate Ritual

Dragon Tyrant

Gamble

City of Traitors

Dwarven Ruins
On turn 2, I lost the Sneak Attack I Gambled for to Gamble (that's why they call it a Gamble, natch). So of course I ripped Through the Breach and won easily on turn 3.
Draw #7

Chrome Mox

Symbiotic Wurm

Crater Hellion

Dragon Tyrant

Gamble

Sneak Attack

Dwarven Ruins
I obviously kept this one, though, again, it was a Gamble. Though I successfully found City of Traitors, setting up Sneak Attack and a big bash care of Symbiotic Wurm, the goldfish kill didn't occur until turn 4 because of the interaction between tiny 1/1 tokens and Crater Hellion (stupid Gamble stole my Dragon).
Draw #8

Chrome Mox

Desperate Ritual

Desperate Ritual

Gamble

Dwarven Ruins

Mountain

Sandstone Needle
Clearly unplayable.
Crater Hellion

Dragon Tyrant

Gamble

Through the Breach

Crystal Vein

Sandstone Needle
I found this draw also terrible. It can't even really Gamble into a good hand without blowing all it's lands. Subsequent mulligans were, shall we say, "worse." Remember last Friday? Think "white spot on a black field."
Draw #9

Blazing Shoal

Desperate Ritual

Rorix Bladewing

Rorix Bladewing

Sneak Attack

City of Traitors

Mountain
Though not very exciting for this deck, Draw #9 still yielded a very workmanlike turn 4 kill (i.e. par to Reanimator's fastest "no help" combo kill), with lots of wiggle room for screwups like me.
Draw #10

Crater Hellion

Rorix Bladewing

Sandstone Needle

Seething Song

City of Traitors

Dwarven Ruins

Dwarven Ruins



I was pretty miffed by the end of the ten that I didn't get a single turn 1 kill, but hey, you can't argue with turn 2 Rorix Bladewing.
Before we continue, I just want to note that these ten test draws were the first time I laid hand (or mouse, to be more accurate) to Fujita's latest creation. I'm sure I could have done things better, especially on the dicey draws, and that there is a lot of skill – or at least awareness of one's own deck, and maturity, and level-headedness – in choosing mulligans (in a real match, you have to worry about keeping certain hands against a deck that has a fundamental turn of, say, four). If and when I test this deck more, and more seriously, I'm sure that experience will aggregate and I'll get a little better at those things. But for the purposes of this exercise, it's clear that the Sneaky Go deck is extremely powerful and fast. As far as blunt objects, I think it's probably the best choice in Extended. The main reason that people play Aluren is that it's a little faster than Mind's Desire in a more-or-less non-interactive race (at least game one), and that it automatically out-classes straight up Life. Aluren is not as consistent or resilient as Desire, doesn't pack the same kind of "regular deck" power, or recover from disruption as well… But Aluren's speediness is nevertheless attractive when you don't expect the opponent to be shooting back (or first). As far as I can tell, it's been replaced.
… Which brings us to the point of this article. Last week, Teddy Cardgame asked me to talk about how I would pick a deck for this format. This week, I did him one better and talked to some very smart people who aren't me.
The Limit of Skill

I roomed with Mike Turian this past weekend at PT Atlanta. Mike is among Magic's true great ones, a genius of forty-card formats, recognized as probably the first to "break" Team Draft, and one of the many CMU alumni to graduate from PT to R&D. I first met Mike during the Mirage Block PTQ season back in the summer of 1997 (when I was still young). Team CMU really stepped out that season, with Erik Lauer taking second at the Toronto Grand Prix and Mike winning a million PTQs before placing in the Toronto elimination rounds himself (their team's performance at the subsequent Pro Tour wasn't shabby, either). Now to give you an idea of the kind of guy Mike was even back then, in a format defined by Man-o'-War and Memory Lapse, ultimately dominated by Ophidian and Voldalian Illusionist, Mike consistently made Top 8 with a deck based on Striped Bears, Mistmoon Griffin, and Scalebane's Elite.
You probably know that Mike went from being a strong PTQ player to Pro Tour great; the crown jewel of his career being the champion's title at New York 2000. As recently as last year's Mirrodin Block, Mike won a Grand Prix and placed in consecutive Limited PT Top 8s, having mastered yet another draft format. Imagine my surprise, upon asking Mike what deck he would play in this, the most diverse Extended (Constructed?) format of all time: "U/G Tradewind."
Blue
/
Green
Tradewind [Rider]?
What?!?
It's not just that my gut reaction was that U/G Tradewind is an under-powered deck in the current environment (who knows? who's tested it?), it's that I the deck doesn't play to [what I assumed to be] Mike's skills. Turian is an admirable beatdown player, known for winning attrition wars and sliding his early game attack under the clunky bombs of the opponent's more expensive mana costs. Eric Taylor has said that Mike's perfect beatdown comes from the ability to read his opponents correctly, from knowing when he can risk an attack, correctly assessing if the opponent will call his bluff. You know those nail-biters you lose by one or two life points? Mike has become a GP and PT Champion by winning exactly those games. He does things in real matches with real opponents that you just can't teach in an online strategy article. [Mike also wins a lot of poker games with those same skills. – Knut, who thinks Turian – in addition to being a swell guy – is one of the great untapped strategic resources in the game] So how does a deck like U/G Tradewind take advantage of this rare skill?
The short answer is that it doesn't. This Extended format is ultimately defined by combo decks. When we say it's incredibly diverse, or that there are 25 different viable decks, the reason is that there are so many viable COMBO decks. We have Desire, Aluren, Sneak Attack, and Cephalid Brunch; we have Life, other Life, Teen Titans and Reanimator; we have Intruder Alarm, control Welder, and Food Chain. At the end of the day, we might have some dozen discrete combo decks… but they have much more in common than the decks at the opposite end of the spectrum. Playing against Food Chain and Aluren is probably closer than playing against Red Deck Wins or Goblins, or even Rock and Macey Beats. Food Chain is maybe a hair faster than Aluren and Aluren is infinite rather than finite, but the latter distinction only matters if you are Life or Aluren yourself. Both decks are creature based combo decks that rely on a green enchantment to create a critical mass of spells in a single turn. Thematically, they are much more similar than a mono-Red Deck with Jackal Pup and reach with a Cursed Scroll endgame and a mono-Red tribal mechanics deck based on card advantage and haste with almost no reach.
At the PTQ level, playing combo decks perfectly doesn't give a master like Mike much advantage. An inexperienced amateur who knows all the timing tricks and has practiced every night can play a solitaire deck against another solitaire deck to a level very close to that of a Pro Tour champ. If you are a talented amateur striving for your first blue envelope, maybe that means that you should choose a powerful combo deck to crash against the breakers of all the other talented amateurs in the room. But if you are a highly skilled player who thinks that he will genuinely play better than all of his opponents, you have to look to your advantages elsewhere.


U/G Tradewind is under-represented.


U/G Tradewind, even if it is not as explosive as some other decks, still plays powerful threats, answers, and manipulation.


Most importantly, U/G Tradewind can force the opponent to interact in ways he is not prepared to interact.
In the car ride back to the airport, I found myself crammed into a taxi with Mike Clair, newlyweds Pat Sullivan and Kate Stavola, and the deceptively tall Steve Sadin. Sadin pointed out, after we got in our usual row, that Mike and I have the same argument every car ride. It always comes down to player skill, deck choice, and card interaction over the course of a PTQ.
Pat, a criminally under-rated theorist, commented that he would never play a combo deck if he wanted to win a PTQ. "The biggest mistake you can make if you are genuinely better than your opponent going into a match is to take player interaction out of the equation. I can pilot Red Deck Wins into a matchup that looks like 35% on paper and win every time, because I can make my opponent screw up. Plus, when I end a turn with Goblin Cadets tapped, I feel very satisfied."
On his way to a recent PTQ Top 8, Pat defeated two Dempsey Temporary Solution players in the Swiss. Though Wisconsin players claim that they pray to the gods of cheese for the RDW matchup round after round, Pat's eight Jackal Pups, face down Firecats, and most importantly, highly interactive sideboard cards like Tangle Wire allowed him to pummel players who had the advantage on the numbers. Many players relied on their faster goldfish turns and didn't know what to do when faced with a resource pinch, others had no idea how to cope with a faster beatdown under pressure, and still others didn't quite get it that their sideboard cards were irrelevant.
Look back at the ten goldfish draws I took with Fujita's deck at the top of the page. How many of those draws become unplayable if the opponent has a Wasteland? How many can race with even a turn 2 Rorix Bladewing if there are a couple of threats and a Tangle Wire on the other side of the board? What is the essence of interaction, and why do players like Trey Van Cleave, Grand Prix winners, masters of the highest level of amateur Magic, swear by flexible threat decks?
"That's Just Disruption"

Many pundits point to interactive Magic and try to say that it all boils down to "disruption," whatever that means. I think that the secret of interacting correctly is all about card advantage, relies on skills very closely related to the mulligan. This first dawned on me maybe seven years ago when I lost in the finals of a Type II tournament playing CMU Blue 1997. My opening hand was something like this:
Counterspell

Counterspell

Forbid

Rainbow Efreet

Whispers of the Muse

Island

Quicksand
On the draw, this hand is marginal. Most players wouldn't even consider shipping it, especially in a deck with up to 30 land after board. You've probably already figured out that I ended up crapping out on land, losing to either Dan O'Mahoney-Schwartz or Scott McCord (I don't recall which as I lost to both of them over the course of the tournament and they were both playing Survival).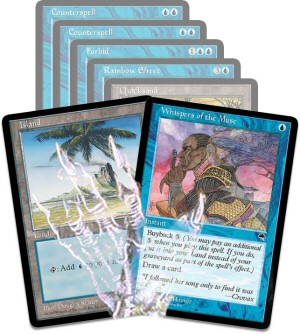 PatrickJ, then not just a close friend but my constant deck collaborator, said that this was a very poor hand to keep. It's a skill tester because it has not just land and spells, but is potentially quite juicy. It's two Islands away from being quite awesome, in fact. The secret, though, is that It's Already A Six Card Hand… At Best. CMU Blue 1997 only played one Rainbow Efreet. It was the kind of card you never wanted to draw until you had established a ton of mana and could comfortably tap six or even eight Islands and still have enough Blue to defend yourself. Worse than the single Island / two mana draw with a Whispers is that Quicksand Has To Fight River Boa. It's not even a two-land hand because, against a deck that will go long with Volrath's Stronghold at some point, that Quicksand is already spoken for.
At the end of the day, this is not merely a two-land, but arguably two-card hand. Island and Whispers of the Muse are just about the only relevant cardboard. You can't play any of the counters without another Island, Rainbow Efreet is a blank, and Quicksand, while it can technically tap for mana, can't actually help cast anything here without a lot of help (and ultimately has more important work to do).
Your goal, when playing interactive Magic, is to turn the opponent's grip into a hand like this one.
When we were testing RDW on The Rock prior to GP: Boston, the same thing would happen every game. RDW would come out with a clock and The Rock would have 100 relevant answers. Unfortunately, all those answers would cost three or more mana. A Wasteland or a Rishadan Port (or both!) would put The Rock in a position where it basically had a zero-card hand. At some point, after playing four or five more lands, The Rock's hand would suddenly "activate" and it would be a game… a game where one player had less than 10 or less life to start. This is a lesson in Virtual Card Advantage: when you can't cast your spells, it's not that different from drawing blanks. The principle that punishes drawing the wrong main-deck hate card is the same one that makes land destruction so challenging to play against. You draw cards and they don't do anything, or at least they don't do anything NOW, or inside the window you need them to work before you lose, and it's like you drew no card at all.
Let's look at the hands I mulliganed in the Fujita test, above:
Draw #2

Symbiotic Wurm

Blazing Shoal

Blazing Shoal

Gamble

Serra Avatar

Dwarven Ruins

Dwarven Ruins
Draw #5

Chrome Mox

Blazing Shoal

Dragon Tyrant

Dragon Tyrant

Seething Song

Mountain

Sandstone Needle
Draw #8

Chrome Mox

Desperate Ritual

Desperate Ritual

Gamble

Dwarven Ruins

Mountain

Sandstone Needle
Why did these seven card hands not make the cut?
Draw #2 is clunky and slow and needs to get lucky. The only thing you can do with this hand is play Dwarven Ruins, Gamble for Sneak Attack, hope you don't lose the Sneak Attack, and then draw into more lands. Somewhere around turn 3-4 you might hit someone. To be honest, it might be lethal. But a lot of things have to go your way in order to even get a relevant play inside a relevant window. Any opponent with anything, from a counter to a Cabal Therapy to a mana control land, is going to beat you.
Draw #5 is one Sneak Attack away from a turn 2 kill. As it is, it has zero relevant plays. A corollary to this is that if it had a Sneak Attack, a Duress would turn it into unplayable mush.
Draw #8 has no threats. Some players would try to draw into either an enabler or a threat. It might even be reasonable to Gamble for Rorix… but that this deck is capable of such better draws, I chose to ship this one as it does nothing on its face.
How about this draw, that I kept?
Draw #1

Chrome Mox

Desperate Ritual

Sneak Attack

Sneak Attack

Dwarven Ruins

Sandstone Needle

Sandstone Needle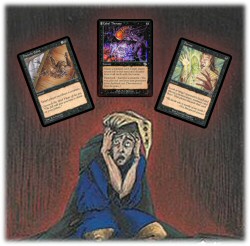 If you lead with Sandstone Needle, how difficult is it for an opponent to blindly call "Sneak Attack" with his Cabal Therapy? To make it more explicit, what do you think your chances are of beating a sealed deck with a Sandstone Needle in play and the following hand going into turn 2?
Chrome Mox

Desperate Ritual

Dwarven Ruins

Sandstone Needle



I thought as much.
Draw #10

Crater Hellion

Rorix Bladewing

Sandstone Needle

Seething Song

City of Traitors

Dwarven Ruins

Dwarven Ruins
All this draw does is make a turn 2 Rorix Bladewing. That's pretty good. What does a single Diabolic Edict do to this "all in"?
A lot of people wonder at the ability of decks like The Rock, and to a lesser extent, Psychatog, to compete in an Extended where drawing three cards for one card and fourth turn kills are commonplace. The secret is that a well-placed one-for-one actually generates a huge amount of virtual card advantage, ends up being a four- or even five-for-one. A single Cabal Therapy doesn't just trade for a Sneak Attack or two, it reduces a five card hand to no cards at all. However – and this is important – as vulnerable as a combo deck might be in terms of virtual card advantage, drawing the right card off the top can immediately re-activate a hand and transform it into a one-turn clock. The rise in Macey Rock and fast kill control decks like Gush Psychatog address this element of combo: they are able to win fast enough that the opponent has a limited window to topdeck back into a win.
No offense to those other barns, but please vote for GP MILWAUKEE 2002 CHAMPION Eric "Danger" Taylor.
LOVE,

MIKE