Hana Kami seems to offer by far the biggest opportunity to blow the entire format wide open, but doing that isn't easy. By putting Hana Kami and Soulless Revival into your deck, you have given yourself a way to cast any arcane spell you like as many times as you choose given enough mana. That comes at a remarkably small cost if both cards are strong on their own, and neither is that bad. Hana Kami gives you a one-drop to defend against rushes and trades at least for a spell that you need, and Soulless Revival will at least get back a creature. This does however require both creatures and arcane spells that are worth getting back and the time necessary to perform such operations. This leads Hana Kami strategies to the great divide. Do you try to play a real deck, or do you go for the cheap victory?
Option 1: Reality

In this case, the bulk of your deck is going to look a lot like a deck posted earlier by Quentin Martin:
Gifts

1 Myojin of the Night's Reach

1 Ink-Eyes, Servant of the Oni

2 Kokusho, the Evening Standard

2 Kodama of the North Tree

1 Meloku the Clouded Mirror

1 Hana Kami

4 Sakura Tribe Elder

4 Kodama's Reach

2 Cranial Extraction

3 Gifts Ungiven

4 Hideous Laughter

2 Sickening Shoal

1 Swallowing Plague

1 Horobi's Whisper

2 Wear Away

1 Soulless Revival

1 Stir the Grave

3 Sensei's Divining Top
1 Okina, Temple to the Grandfathers

1 Shizo, Death's Storehouse

1 Island

4 Tendo Ice Bridge

9 Forest

8 Swamp
I'm not saying that I care for this build, because I don't, but this would be a good example of the types of things people are trying. There are various legends, there are various arcane spells. The engine is there but it is not the focus. Rather than focus on the choices here, some of which I think are incorrect, notice that this is more like a Legend deck with a card advantage engine built into it than it is a deck with the focus on Hana Kami. Rarely will you go crazy. For those who say "all right, wise guy, then show us how to build this right" you have a fine point and I would start by not running four Hideous Laughter, probably not using a second Wear Away and running all four Sickening Shoal and Gifts Ungiven. I also find it hard to believe that the one Ethereal Haze is bad. That's before doing any of the true fine tuning work. However I find the second choice more interesting because it is the most obvious way to blow things wide open… and no one seems to be talking much about it. I set out to find the reason.
Option 2: The Grand Illusion, or The Art of the Blank

The above deck has an engine but it plays the game fair. It casts creatures and removal spells and otherwise attempts to kill its opponent and gain advantage. It would be much better not play that type of game. If you use Ethereal Haze as your arcane spell that you're bringing back every turn then you can fog a creature based opponent into oblivion. That seems like a Good Idea™ given most people seem to be dealing damage to you almost completely with creatures. Also note that if they are not using creatures as their attack (there are no major hybrids out there, although if you run into a Red deck of the type that would maindeck Ishi-Ishi, you're going to get your clock cleaned with approaches like this and you know it) then a lot of their deck is geared towards creature defense.
The problem in each matchup is a small number of cards that can break your strategy down. In the entire format there are not many, but they are all potentially deadly. Samurai of the Pale Curtain prevents your recursion. Hokori, Dust Drinker will take away the mana you need to do the recursion. Cranial Extraction will remove the recursion from your deck. Nezumi Graverobber will remove it from your graveyard. Two of the Myojin can kill your land or your hand. Kokusho, the Evening Star could potentially drain you out and the master Yamabushi can do it faster. Night of Soul's Betrayal will shut off Hana Kami and without the Kami you don't have a way to remove it without drawing the Wear Away. The worst part is that the White deck will be able to protect those cards with many other cards if you try to use removal spells. If people have The Fear, justified or otherwise, Reito Lantern becomes a potential issue as do several other similar panic buttons.
The question is, can you punch through the few cards you fear with a single build of the maindeck? The goal is to impale your opponent on his plan of attack. If he plans to attack you with men, you will isolate the few cards that can stop your plan and then go into recursion mode. If he plans a spell battle, then you're better equipped for it than he could ever hope to be and will get there firstest with the mostest – because only a small number of your cards can't help you fight this war.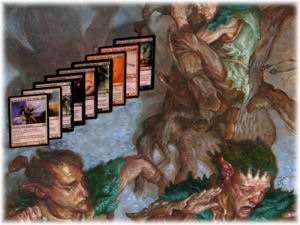 Let's look again at that list of cards that you fear and that make at least some sense in a mainstream maindeck:
Samurai of the Pale Curtain (SPC)

Hokori, Dust Drinker

Nezumi Graverobber

Cranial Extraction

Kokusho, the Evening Star

Myojin of Infinite Rage

Myojin of Night's Reach

Kumano, Master Yamabushi
It is possible to face the first two or the second two at the same time, and you might face a total of seven threat cards not counting Kokusho. More than that would seem unlikely, with the nightmare scenario being four Time of Need, a target that can kill you and four Cranial Extractions. It will only get worse than that if this deck becomes good enough to force players to adjust their maindecks. At that point things are clearly working and you can adjust from there. Kokusho is a long-term problem. The goal now is to knock out those other cards before they ruin your day and help stop Kokusho and the Myojin in time later on. Only Cranial Extraction is instant death if you use redundant copies of your key cards, but the other three don't give you much time if you're under other pressure. The first thought is obvious: If you only fear one card, that's an ideal time to use Cranial Extraction to take it out. It isn't like you don't know where the problem is going to come from. I can tell you by the time I get to four mana what the biggest threat to me is. If they chose not to run it, that's fine too. If you name Cranial Extraction against snakes and miss, then it's not so bad. Now all you need to worry about are the Myojin. If you know that you're not up against Extraction you can jump ahead to something else. Note that discard other than Cranial Extraction is unlikely to defeat you due to your redundant copies of the key cards.
Winning the race to Cranial Extraction will be key to your plans for victory. If nothing else, they could name Cranial Extraction and then it will be very hard to win the game without winning it on the ground at some point. That's not acceptable. Getting there first means either countering Extraction, accelerating to Extraction, removing theirs from their hand or having better odds of drawing it. The first option is not available and the second is not worthy beyond Sakura-Tribe Elder which both sides will have. Discard is the last effective option and only pinpoint discard will do anything. That leaves Distress and Psychic Spear, and with the mana base in question only Spear can be taken seriously. The other big advantage you have is that maindecks do not tend to include four copies of Cranial Extraction. There are matchups where the card has little or no effect on who will win. If you play three or four copies with the ability to manipulate into one with Gifts Ungiven, those aren't bad odds. You can manipulate your odds with Sensei's Divining Top and other such tricks, and they can do the same to you. I actually distrust the Top for this deck, although it may end up being correct. Your mana is being used intensively and it pays to pack redundant copies of everything, so it will be hard to convince me to invest mana and space in the Top.
For this method to be for real, the deck will need to be running the following:
24 Land
4 Sakura-Tribe Elder

4 Kodama's Reach

4 Hana Kami

4 Soulless Revival

1 Stir the Grave

4 Ethereal Haze

4 Gifts Ungiven
Those are the forty-nine that draw you the engine, pollute your soul and keep the country from winning the war. They're the evil seven by seven. That doesn't mean you cannot cut down, but I want someone to prove first that I have to. With the remaining eleven slots, I have several tasks:
1. Win the Cranial Extraction war.
2. Remove or prevent the creatures that can ruin your day quickly.
3. In case of a nightmare Extraction, leave yourself a path to victory whatever they name if you can.
4. Guard against other win conditions that aren't vulnerable to Ethereal Haze.
All three tasks only have eleven slots so you'll need to make them count. Task one is going to be fought by Cranial Extraction and Psychic Spear. If you want an advantage over the other decks with Extraction you'll need at least four slots. Task two is up to some combination of Hideous Laughter, Horobi's Whisper and Sickening Shoal. Other cards don't make sense. Final Judgment is the only spell that has the potential to buy you serious time and it can punish players who don't think they have to hold back, but it's not like you can hope to hold off the rampaging hordes for long. Those hordes are going to get you if they can make it through the Haze. Skipping ahead to number four, your primary concern is direct damage or Dampen Thought. Enchantments you obviously can deal with via Wear Away, Dampen Thought helps you set up and can be taken out with Spear and Extraction, while a single Vital Surge is your best burn defense. Candle's Glow is best described as cute, and should be restricted to sideboard duty at most.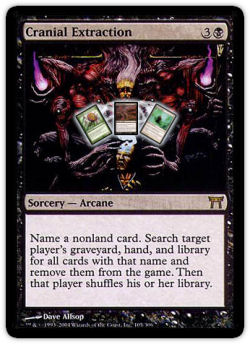 The tricky question is number three. What will they choose to extract? There are three choices that I see people making: Soulless Revival, Hana Kami and Ethereal Haze. If they name Ethereal Haze, you can no longer fog with this build but they don't know that you don't have a Kami of False Hope (which you can do the same thing with more mana) plus they leave you with a dangerous engine. The other two choices are far better. Hana Kami is mostly harmless without Soulless Revival, and Soulless Revival is mostly harmless without Hana Kami. The correct choice is Soulless Revival if they know how your deck must be built. At this point your life is on the clock, but you will often have several turns where they can't get through. You can try to burn your way through but playing a Mountain is the last thing you need given you require the other four. That leaves Dampen Thought, and you'd be hoping that you could burn through their deck before the Haze runs out. It also has the added advantage of finishing the game within a reasonable time frame. You have enough time to play one game once they've been Extracted, and if you get to the point where this is an issue you've won game one but the worry is that they will manipulate you into a situation where only they have time to win game three. One copy of Dampen Thought solves those worries but it would prefer to be a Black card. If you're looking for a route to victory in a reasonable time frame, Kokusho can do that. If necessary, kill him off repeatedly and Soulless Revival him back.
So with eleven slots you get some combination of:
Dampen Thought and/or Kokusho, the Evening Star (0 to 1)

Sickening Shoal, Horobi's Whisper and/or Hideous Laughter (3 to 8)

Wear Away (0 to 1)

Vital Surge (0 to 1)

Cranial Extraction and Psychic Spear (3 to 8)
For now, I'll assume that all three singletons are necessary. There are good reasons for all of them and you can search them out. That means you can get two additional cards to go with the basics. This would be a build that gives up on Spear as something you can't afford for space reasons:
4 Sakura-Tribe Elder

4 Kodama's Reach

4 Hana Kami

4 Soulless Revival

1 Stir the Grave

4 Ethereal Haze

4 Gifts Ungiven

1 Vital Surge

1 Wear Away

3 Sickening Shoal

2 Hideous Laughter

4 Cranial Extraction
2 Island

4 Tendo Ice Bridge

11 Forest

5 Swamp

3 Plains
All right, that build has issues. I admit it. It doesn't have Psychic Spear and that card was serving several important purposes. You don't have enough of either form of defense. I admit those things too. What it does do are several things that other builds can't. You can use the extra copies of Soulless Revival and Hana Kami to build up your mana base. Playing redundant copies of your cards makes it easier to assemble the engine and to buy yourself time, or to take a turn to Extract by throwing an extra Hana Kami or Ethereal Haze into the mix. The sideboard has a number of ways to go, with the most basic choice being whether to include a transformation back into the hybrid.
Let's look at some of the matchups:
White Weenie

If they have SPC but not Hokori, they have to play it and protect it while keeping in mind that their clock is not that strong. Given how you can use Sakura-Tribe Elder and Hana Kami early to frustrate Umezawa's Jitte and in general gain a little time, you would have to fizzle to lose against anything but SPC. There should be time to cast Cranial Extraction the moment you have it, and with redundant cards in your hand it's not that much trouble to make it part of Gifts Ungiven and manipulate it into your hand. Now they have to protect against Hideous Laughter and Sickening Shoal, which is going to be in direct conflict with getting the clock in fast and getting in under Cranial Extraction. Given that they only have a ten-card window in which to play and protect SPC and have a decent chance of failing to stop the removal spell, they may not get walked over but neither will you.
Looking at their sideboards, you'll have to fight through Hokori as well but there's nothing else for them to do to you. They would have to play cards that are impractical and don't mix with their strategies. That gives you an opening to sideboard out some of your cards for true removal and Psychic Spear. Psychic Spear will allow you to take out Hokori, see what their threats are to you right now and will almost always hit something along the way. It should take some testing to find the right mix of these cards but I know which side I want to be on. You can pull Vital Surge out for one slot, then the issue becomes now many Cranial Extractions you want and whether disruption is worth weakening the engine a little. Taking out the Wear Away isn't as big a gamble as it looks like it is because the cards that could prevent you from winning that it stops should also stop you from getting the Wear Away into your hand with Gifts Ungiven. Without that trick having the answer available is meaningless.
White/Red

This matchup is a dream for you. Their clock isn't awful but it also isn't going to get there in time against a normal draw. Cranial Extraction goes for Hokori, and because of the legend theme they don't have SPC. After that the only thing you fear is a double Yosei locking you down if you're low enough on life to die to that, and you can protect against that by using either Vital Surge to put your life total out of reach or by holding a Plains or Tendo Ice Bridge in your hand when you can and of course eventually using the second Extraction to take him out. Either way, their sideboard won't be anything to fear unless they do something dedicated but in general they are harmless. You don't even have to use Extraction aggressively.
Snakes

Their main plan of attack will fail, but they do have cards that can make your life hell and you won't know which ones. A loyal scout will be a good friend but the thing to keep in mind is that your fear is not that they'll kill you before you can set up but that they'll take you out with some bomb or a Cranial Extraction. Direct your attention in those directions first. Once you've confirmed they no longer can Extract you and know what they can take you out with, they need to force you into recursion mode quickly to buy themselves the time to build up to something like Myojin of Infinite Rage or some other potential nightmare. If they don't force the Haze then you'll get back Extraction instead. After sideboarding you know that what you fear are spells or men that act as spells and not men that need to be killed, so you'll go down on removal to better fight that war. If they're using Kodama's Reach, that lets you use Psychic Spear to shut off the quick Cranial Extraction without worrying too much about a miss on turn two. Sideboarding does not change things much on their end except to make sure they have what you fear they might have in game one.
B/G/u Legends

Game one is easy on the ground as they give you plenty of time, but they do have two cards that worry you in Cranial Extraction and Night of Soul's Betrayal. Their other creature removal is dead and yours works like a charm. If you get Extraction off twice the game is over, and you shouldn't need to focus on anything else. Their sideboard risks presenting you with Graverobber and they can suddenly put up a fight in the Extraction war. You can commit yourself to winning that war at all costs or you can try to go into hybrid mode. Depending on how good their sideboard is games two and three can be difficult as they are fighting you using many of the same cards.
Hybrid Mirror

They may have a card with your name written on it but it is unlikely to matter too much. Whoever casts Cranial Extraction first should win game one, them by shutting you down and you by preventing them from doing it to you. Game two is far more complicated since both decks are in essentially the same position.
Arcane Splice

It should be no trouble to get to name Ire of Kaminari and then double back for Glacial Ray and Dampen Thought ending the game.
W/G/u Control

They could have literally nothing that can kill you. Or they might be relying on one card you can easily stop. If they have Black it gets harder.
You will get free passes from some decks that can only look on in horror. You will get other matchups where you look on in just as much horror. There will be others where it is a fair fight, but all of these have something in common. None of them let you play Magic, and none of them depend on you. Your job is to present to them a problem and their deck needs to provide them an answer. There is not much room for the opponent to make mistakes and most errors in their designs won't be exploited. Would I want to face such a deck in a block tournament? No I would not. Would I want to play it? I wouldn't want that either, at least not right now. If nothing else this is going to be the dumbest card for card mirror of all time. Whoever casts the first Cranial Extraction names Cranial Extraction and ends the game. Then there's the issue of time, which is not going to be pretty and is even worse given the format for Philadelphia where draws are death even during Day 2, but people have a clear reason not to scoop it up.
That brings us back to option one.
Option 1 Revisited: Mix 'em and match 'em

1 Myojin of Night's Reach

1 Ink-Eyes, Servant of the Oni

2 Kokusho, the Evening Star

2 Kodama of the North Tree

1 Meloku the Clouded Mirror

1 Hana Kami

4 Sakura Tribe Elder

4 Kodama's Reach

3 Cranial Extraction

4 Gifts Ungiven

3 Hideous Laughter

4 Sickening Shoal

1 Horobi's Whisper

1 Wear Away

1 Soulless Revival

1 Stir the Grave

1 Ethereal Haze

1 Sensei's Divining Top
1 Okina, Temple to the Grandfathers

1 Shizo, Death's Storehouse

1 Island

4 Tendo Ice Bridge

9 Forest

7 Swamp

1 Plains
That takes the list Given and extracts all of the things that I feel simply have to change. Things can be taken from there, but now at least I have a list I can look at without constantly itching to make lots of changes. The problem with Haze here is the same problem as before, only less extreme. You have to commit to it in order to make it work. If you start using Haze to stay alive, you start needing it more and more. It's not as bad a stopgap measure as it looks, since a random arcane spell on the cheap can be worth a card even if there's nothing to Haze. You only turn to this plan if you can be confident it is safe or it is clear that there are no other options… but that will happen more often than you might think. The sideboard would then have a different land to swap out for the Plains.
Now comes the difficult part of the job, where I have to admit my limitations. I want to refine the best possible decklist for option one, but this problem is far more complex. When you're building control as a degenerate engine as in option two, the needs of what you are doing constrain your freedom of action. Combining that with the limited card pool allowed me to pull together the way the deck had to run. The key is that then I could easily analyze every possible matchup because I don't have to fight a war in the trenches. I can isolate the components of my opponents' deck that I care about without worrying about the rest or knowing his list. With option one that is not true. Things quickly get murky and this turns into the type of deck that only can be refined with a lot of work. Therefore I will say right now that I am not trying to present the best possible list. I've chosen what the final deck I will be working on is, and this is not it. I hope to bring it to all of you later this week in time for the Tour.
The problem is that no matter how cute you want to try and get with the engine, it will all still come down to swinging the big spells at each other. I don't like this type of approach because I feel that you're not all that good at swinging them. They're not out in enough force and something feels amiss. This block is simpler than it looks. Mana is developed with various snakes and Kodama's Reach. Players come out slinging Meloku, Kodama, Kokusho, Sosuke's Summons, Umezawa's Jitte, Godo, Hokori, Ink-Eyes. They then back that up with the few spells that can reinforce or fight those cards effectively. The primary conflict comes from the desire to get as many of the best cards as you can working together effectively. Once you get away from that core, you need to take the game to an unfair playing field. That would work if there weren't cards like Cranial Extraction and Hokori waiting to stop you. There are. Because of that, you're focused back in on yourself. I could be giving up too easily in terms of what it is possible, but due to my limited schedule and working conditions I have run out of time. I hope to come back one more time to deal with whatever else I can, but I don't have the resources to make this deck work. If it does work, it will be the hardest deck to build and play properly in the format. Whichever form it might take, don't forget about the flower in the room.
Last Minute Post Script

Rarely do I write anything on an emergency basis, but I felt the need to get the word out on this one as soon as possible. I received six copies of an e-mail from DCI rewards, as did Seth Burn, asking us to bring our collections to PT Philadelphia. I am begging you, whatever you do, Do Not Do This. Leave the cards home. Even if you were planning on bringing the cards anyway, if you're anything but a professional trader, leave your cards home. If you are a pro, hire extra security. If this is real, it is the dumbest idea ever. Cards will be vanishing from the halls of Philadelphia faster than you can possibly imagine. If it's fake, then someone hacked in to get your cards there. Either way, sit this one out. If you believe nothing else I have to say today, believe that.