Yusssss! Arcbound Ravager is gone from the format! Now I can cut all of the artifact removal from my Beacon of Creation deck! I shall be unstoppable!
Wait, what's that you just played? Are you equipping something to your flyer?
Uh-oh.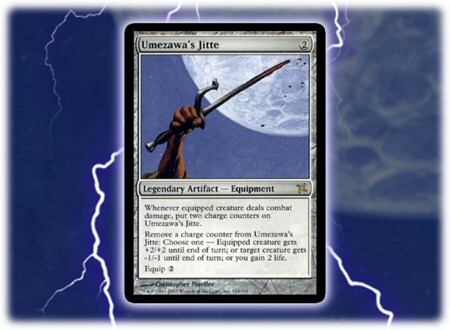 Yes, kids, any reports you may have read regarding the death of artifacts have been greatly exaggerated. There's still at least one that will give you nightmares on the eve of Regionals.
Fearless Leader Ted Knutson was actually the first to point this out to me, but it immediately became obvious in testing: the Jitte is not all that different than Skullclamp. Both artifacts take a resource that are normally static – creatures for the Clamp, combat damage in the Jitte case – and allow you to change them into other things.
I think almost anybody would prefer to have Skullclamp, since extra cards are preferable to anything else you'd like to have in the game. Jitte makes up for its inadequacies in that area by giving you your choice of prizes for your expenditure. What's more, two of those three things are effects which White, the color of great cheap creatures and equipment, cannot normally obtain on its own (targeted removal and power-pumping). So, the first deck I designed for the new Standard was inspired by a simple quote from Mr. Editor Man:
"Welcome to Ze White Weeniez"

4 Lantern Kami

4 Suntail Hawk

4 Tundra Wolves

4 Leonin Skyhunter

3 Samurai of the Pale Curtain

2 Skyhunter Skirmirsher
4 Aether Vial

4 Steelshaper's Gift

4 Raise the Alarm

2 Umezawa's Jitte

2 Sword of Fire and Ice

3 Glorious Anthem
4 Chrome Mox

16 Plains
Sideboard:

4 Terashi's Grasp

4 Terashi's Verdict

4 Auriok Champion

2 Worship

1 Leonin Bola
The Tundra Wolves are ridiculous tech that I saw in, of all places, a local Friday Night Magic event. The idea of running the Wolves over Isamaru or Savannah Lions is that first strike becomes an amazing weapon with an equipped Jitte. That goes double for Skyhunter Skirmisher (puns, derf), who becomes lethal shockingly fast with a Swiss Army Knife in hand.
And yes, I did consider Auriok Glavemaster, but only briefly. You really want guys who have useful abilities even if they are not equipped. The majority of the creature set focuses on fliers for that reason. Even with a charged-up Jitte, cards such as Honden of Life's Web and Beacon of Creation can make a game run longer than you'd like. The only non-fliers have a high amount of utility: Raise the Alarm is practically a built-in two-for-one, and Samurai of the Pale Curtain is a hoser for Eternal Witness, who may well be the very best card in the post-Affinity format.
The Terashi's Grasp in the board is mainly for Vedalken Shackles; as I explained in Super Vision, White Weenie is sorely lacking in good ways to deal with that troublesome artifact. Auriok Champion plus Worship seemed like the best way to beat Red decks, but we'll see how that shaped out in a minute. You see, when testing this deck, I wanted to put it up against a natural enemy. Fortunately, I had another archetype deck sitting around, built even before Ted and I had that Jitte conversation:
"Looks Like I Might Be Running Ze Hearth Kamiz"

3 Arc-Slogger

2 Kumano, Master Yamabushi

4 Furnace Whelp

4 Hearth Kami

4 Slith Firewalker

4 Genju of the Spires
4 Pyrite Spellbomb

4 Volcanic Hammer

4 Magma Jet

3 Fireball
24 Mountain
Sideboard:

4 Molten Rain

4 Stone Rain

3 Boil

4 Shatter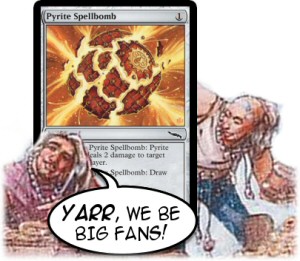 The build is not very complicated; just play the most efficient burn spells you can come up with. Where the Mirrodin Block decks might have had Blinkmoth Nexus, here instead Genju of the Spires picks up the slack with its longer staying power. Pyrite Spellbomb was going to see play no matter what, since it cycles in control matchups, but here it has the added bonus of stopping the Worship plan post-sideboard.
The post-board plan is based on this logic: your infinite removal is good against all aggro decks. So, the only matchup you have to board for is control, and the best way to win against them is to take them at the kneecaps with land destruction. Am I sure that will work? No. Unless you want to do my homework for me, you'll have to wait for me to test that plan. But I can't imagine what would work better.
I threw these two decks at each other for ten games each pre-board and post-board. At first I thought this matchup was going to be a complete blowout in favor of the weenies, as that deck won the first four pre-board games in a row. But as often happens with control decks, the first few games are a fine proving ground to realize what correct play is and what mistakes are to be avoided.
I was not consistently playing the Red deck liked it was the control deck in this matchup, when of course it is, without question. As I realized what I was doing wrong – using Magma Jets too early for the scry, overvaluing hands with Slith Firewalker – the Red deck staged a furious comeback to even the pre-board games at 5-5. Remember: I am not saying that these decks go 50% in this matchup. I hate using percentages in these sorts of articles, especially with such a small number of games. I am simply saying that in these given ten games, the record was 5-5.


The post-board games favored the Red deck from the get-go, as the Red deck had answers for all of the aggro deck's best cards: Shatter for the equipment and Pyrite Spellbomb for the Auriok Champions. The White deck could not boast similar answers for Arc-Slogger and Kumano, and it also fell victim to its iffy mana base, Parising to five in two of the games which it lost without a fight. But Glorious Anthem + Raise the Alarm was enough to keep the matchup close: a 6-4 record in favor of the Mountain dwellers.
I quickly learned that the Red deck was misbuilt. In particular, Fireball is no better than mediocre. The best play I made with it was to answer a turn 1 Tundra Wolves with one point of direct damage. In most later turns, the sorcery speed and mana-intensiveness of Fireball makes it impossible to beat either Glorious Anthem or Jitte. Almost anything would be better; if you were anticipating an aggro-heavy field you could run Flamebreak, but even Shock would be better against aggro than Fireball. Then there is the Firewalker, who is not great against aggro (or against other Red decks). He may need to move to the sideboard.
From the White deck's side, the Skirmishers and Samurai seemed unnecessarily fancy. In most games it won, throwing down a bunch of vanilla men and a Glorious Anthem was more than enough to put the Red deck on its heels. In particular, the White deck won almost every game in which multiple Anthems resolved. The only creature whose abilities mattered was Auriok Champion, who grants so much life gain that even if you're in a matchup where protection from color is irrelevant, he's still maindeck-worthy.
Also, the White deck's anti-Red sideboarding plan seems to be a failure. Worship will succeed only against people who don't run Spellbombs, but of course I have so many fans that by this evening the no-Spellbomb group will be absolutely nobody (yeah, I wish). So, it's probably better to go with a different idea versus Red decks. Shining Shoal is not the answer, because you'll almost never have a sizable X, but Test of Faith is almost as good. If you can resolve a Champion with Test backup, it will be very difficult for Red decks to beat you. Soooooo…
The New Builds

White Weenie v1.5

4 Lantern Kami

4 Suntail Hawk

4 Tundra Wolves

4 Leonin Skyhunter

4 Auriok Champion
4 Aether Vial

4 Steelshaper's Gift

2 Umezawa's Jitte

2 Sword of Fire and Ice

4 Glorious Anthem

4 Raise the Alarm



4 Chrome Mox

16 Plains



Sideboard:

4 Terashi's Grasp

4 Samurai of the Pale Curtain

4 Test of Faith

2 Skyhunter Skirmisher

1 Leonin Bola
That just seems a lot tighter than my test list. There's no need to play around with Skyhunter Skirmisher in game 1; just bring him in against removal-light decks which have few good answers for a flying double striker (Tooth and Nail, say). Samurai of the Pale Curtain hangs out in the sideboard, just praying that his good friend Eternal Witness will make an appearance across the table. The Leonin Bola was my idea against the mirror, but I have not had a chance to test that matchup at all, so I can't say for sure that it's correct.
Next!
Red Deck Mildly Irritates v1.5

3 Arc-Slogger

2 Kumano, Master Yamabushi

4 Hearth Kami

4 Furnace Whelp

3 Genju of the Spires
4 Shock

4 Pyrite Spellbomb

4 Volcanic Hammer

4 Magma Jet

4 Molten Rain
24 Mountain



Sideboard:

4 Stone Rain

4 Slith Firewalker

4 Shatter

3 Boil
The underwhelming Slith and Fireball are replaced with the model of damage efficiency in Shock, and the disruptive Molten Rain. I went down to three Genju of the Spires because I rarely, if ever, wanted two copies; if your best play is to tap so low as to activate two of them, you are probably in serious trouble. All other numbers of creatures and burn spells remain the same (and in case you were wondering, the 3/2 Slogger/Kumano split is how you avoid being owned by Cranial Extraction).
I considered all number of burn spells instead of Molten Rain, and I'm still kicking around the various three-mana possibilities, from Yamabushi's Flame to Flamebreak to Barbed Lightning. But it's not like the entire format will be White Weenie decks; you're going to run into people against whom land destruction is your best possible strategy. And when you do face those people, you'll sideboard into a Ponza-esque deck that just wants to blow up lands long enough to get a Slith Firewalker loaded up with counters.
Alternative Builds
These are not the only two ways you can build these decks, of course. I wanted to test the most stereotypical lists, since it's my first article on this format, but I did at least consider alternate contructions. For example, there's at least one non-equipment artifact that I'd like to see White Weenie try to break:
White Weenie v0.5: Stick Boy

4 Lantern Kami

4 Suntail Hawk

4 Tundra Wolves

4 Leonin Skyhunter

4 Auriok Champion

3 Samurai of the Pale Curtain
4 Isochron Scepter

4 Raise the Alarm

4 Test of Faith

4 Glorious Anthem
4 Chrome Mox

17 Plains
Sideboard:

4 Terashi's Verdict

4 Terashi's Grasp

4 Steelshaper's Gift

3 Umezawa's Jitte
Red deck lost a large majority of the test matches when it had a burn-light draw and simply could not deal with Raise the Alarm + Glorious Anthem. So imagine how great that would be with infinite Raise the Alarms! Test of Faith on a Scepter is not quite as exciting, but it does make blocking a very poor proposition for the opponent, which sometimes is all you need. And, post-boarding, you can change into a Jitte deck if you think that would favor you in the matchup.
However, this deck lost out in the sweepstakes for the same reason I never played Scepter Chant in Extended or considered a Blue/Red Scepter + Glacial Ray deck for the new format: if your opponent has an answer to the Scepter, you have simply wasted two cards for no good reason. This deck is already playing Chrome Mox, I didn't want to deal with even more card disadvantage.
Red Deck v0.5: Blow S*** Up

3 Arc-Slogger

2 Kumano, Master Yamabushi

4 Solemn Simulacrum

4 Furnace Whelp
2 Talisman of Impluse

2 Talisman of Dominance

4 Guardian Idol
4 Pyrite Spellbomb

4 Shock

4 Magma Jet

4 Shrapnel Blast
19 Mountain

4 Blinkmoth Nexus
Sideboard:

4 Vulshok War-boar

4 Shatter

2 Boil

5 Unfilled Slots
The big decision that I had to make very early on with the Red Deck in this article was, "Shrapnel Blast or no?" In the end I thought "no," because I figured I would have to run four Talismans and four Guardian Idols, slots which could be put to better use in a non-Blasting Red Deck. But I was close enough to "yes" to assemble this build and give it two-thirds of a sideboard. This deck is much less of a control deck than my test list was. It's more like a combo deck: either you deal enough extraneous damage to Blast the opponent out, or you don't. The only comment I would make on the unfinished sideboard is that Vulshok War-Boar is the nut high against decks not running Wrath of God or Black targeted removal. [Power Piggy! – Knut, who misses the War Boar]
Until next time, here's to remembering that even if you don't play the VS system, Geordie Tait is a god amongst men.
The article written while listening to Mos Def's "Black on Both Sides."
mm underscore young at yahoo dot com
Later.