As I sit here digesting all of the sweet potato latkes, cran-applesauce, and Manischewitz-brined turkey that my family had for Thanksgivukkah, I'm reminded of all of the things that I'm thankful for: a supportive family, a network of wonderful friends and loved ones, ninth-pick multicolored uncommons in Theros Draft . . . the list goes on and on. As we head into December from November, remember that 'tis not only the season for boughs of holly that approaches but also the season of the StarCityGames.com Invitational. And it's in a city that I think we're all pretty thankful for: Las Vegas, Nevada!
But just before we board for Sin City, there's one more weekend of Open Series and Classic Series action to battle through! StarCityGames.com makes its triumphant return to the Bay Area for #SCGOAK in Oakland, California, while in the Midwest the Classic Series rolls into my old stomping grounds (where I'm currently typing this article whilst digesting copious amounts of pumpkin kugel) in Columbus, Ohio for #SCGCOL!
Let's start with the headlining event this weekend, the Open Series in Oakland, which will be held at the Oakland Convention Center: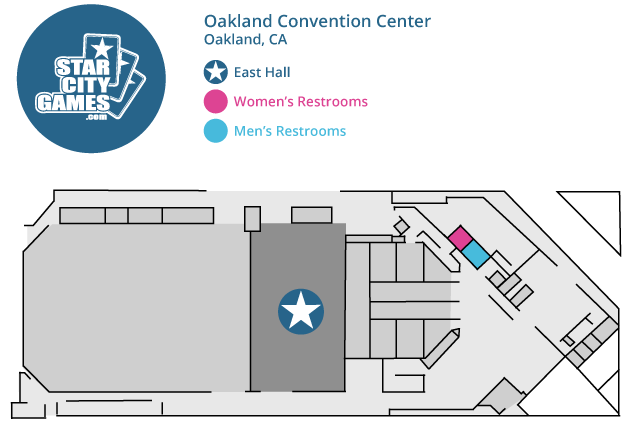 The venue is attached to the Marriott Oakland City Center, making travel accomodations a breeze! And given its idyllic downtown location, it's going to be tough to top in terms of how easy it is to forage for food in the area.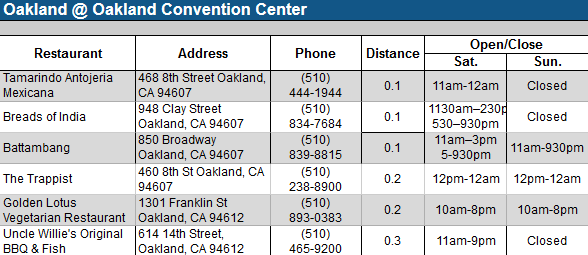 It's time for the patent-pending Open Series preview article travel alert!
As we reach the end of the year, cities and municipalities around the globe are decking the halls and putting up community trees and the like. Amongst other celebrations, parades to welcome the holidays are also popular, and one such cavalcade will march right on down the street in Oakland this weekend!
The Fourteenth Annual Oakland's Children's Holiday Parade will take place on Saturday, December 7 at 2 PM, and there are going to be some road closures associated with getting the event off smoothly. For locals who planned to use the trains to get into the area, AC Transit lines will also be affected. The official notice, with a list of streets affected, has been included below. For more information, visit OaklandHolidayParade.com.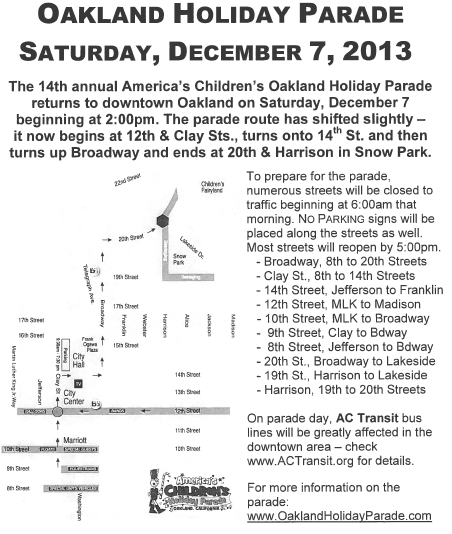 Joining us in Cali will be a wonderful Magic card alterist named Daniel Smith! Working hard to bring you the highest-quality tournament-legal alters available as well as amazing third party MTG accessories, Elite Alters aims to be your one-stop shop for all your alteration needs. For more information, to see cards currently available, or to inquire about commissions, please visit Elite Alters' Facebook page.
An Open Series event without live Magic coverage on @SCGLive is like Thanksgivukkah without a Menorkey, and nobody wants that! Thankfully, Cedric Phillips and Patrick Sullivan have taken some time out of their busy schedules being the Stadler and Waldorf of the National Basketball Association to be our cohosts this weekend! Joining them will be good friend and one of my mentors at the Event Coverage Coordinator position Glenn Jones, who is moving on at the end of 2013. I wish Glenn the best, and he's going to put on a great show in Oakland. Be sure to get him to sign all of your Secluded Glens this weekend!
The hashtag for this event is #SCGOAK, and by following that hashtag on whatever social media site you choose, you'll be able to keep tabs on the event right from your laptop or handheld device. For those of you on site, you can also use @SCGPairings to avoid the logjams up by the pairings boards for the latest information on what you need to get to your seats on time.
Across the purple mountains majesties and fruited plains of our great country, another major Magic event will be in full swing as well: the Classic Series in Columbus, Ohio on Saturday!
Before Evan Erwin dug me out of obscurity to do this job I love so much, I lived in the capital of Ohio, so I know just how competitive big Magic tournaments in this area can be. And I also know how nice it is to play in a fabulous venue like the Greater Columbus Convention Center: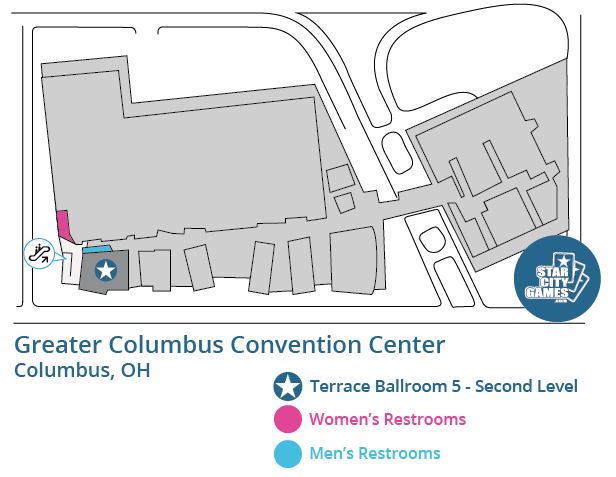 If there's a better food situation for a Magic tournament, I challenge you to find it! The North Market is a block away, offering some of the best local produce and meals money can buy. Just north is The Short North, Columbus' bustling cultural district with tons of bakeries, eateries, and diners. It's a veritable cornucopia of options!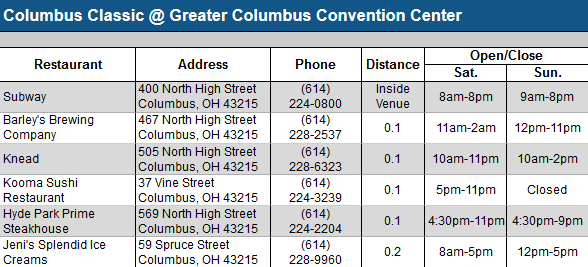 Columbus will also welcome a brace of talented Magic alterists when StarCityGames.com drops by for a visit on Saturday!
Lindsay Burley will be selling and creating her unique brand of 3D cards, tokens, painted alters, and custom playmats! Take a look at her work on her website, and then stop by and check out these awesome cards!
Blake Meade will be selling and taking orders for altered cards and custom playmats at this event! Check out some of his work on his blog and like his Facebook page!
Well, that's all for me for this week folks. If you'll excuse me, I have some leftover challah-apple stuffing and pecan rugelach to get to before anyone else gets to them. See you on the Open Series!
And as always, good luck, have fun, and happy holidays!
Video and Coverage Content Associate and Social Media Jive Turkey for StarCityGames.com