This weekend the StarCityGames.com Open Series is back on the road to this December's Invitational in Las Vegas! First stop: at Stan Lee's Comikaze in Los Angeles, California! Started in 2011 by the comic book legend himself, Stan Lee's Comikaze has blossomed into a huge pop culture, sci-fi, comics, horror, video games, and (for the last two years) Magic: the Gathering event. Thousands of people are expected to attend the festivities, with hundreds of artists and vendors as well as celebrities lining the convention halls.
But let's redouble our focus back on competitive Magic, shall we?
Last week, we had a star-studded Top 8 in #SCGINVI that included three SCG Versus video stars, two former StarCityGames.com Invitational champions, and one each of the following: a member of the Magic Hall of Fame, a former Player of the Year, and a future Wizards of the Coast Magic R&D member. In the end the top overall seed and my former MADE coach Brad Nelson took down the whole shebang, defeating William 'Huey' Jensen in an exciting final. His finished proved that Sneak and Show is a force to be reckoned with in Legacy, Naya Control has what it takes to be a player in Standard, and it's looking like it might be 2010 all over again with how Brad has been playing in recent months.
This week on the Left Coast, it's back to the Grindstone as the Pacific time zone gets a taste of Open Series drama at the Los Angeles Convention Center: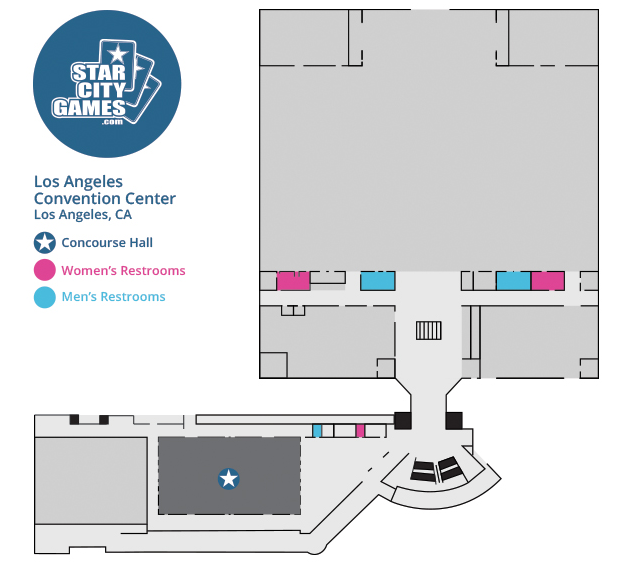 Travel alert!
As I mentioned, this event is likely to attract thousands. Want me to be more specific? Okay, well: last year in only its second year of existence it attracted forty-five thousand people. That means traffic, parking, and walking congestion will be issues to deal with. Plan ahead!
Speaking of plan ahead: time travel alert!
No, not 'time travel' like Doctor Who (though I imagine some number of Whovians will be weaving in and out of the venue). I mean that the whole state of California and most of the United States will be time traveling an hour… for Daylight Savings time! This Sunday, November 3 at 2:00am is 'Fall Back' time, meaning you'll get an extra hour of sleep in between days. Particularly useful for Standard Open Top 4 competitors, who I'm sure will use the extra sixty minutes of sleep to their advantage.
The venue is right next to LA Live and within a stone's throw of several restaurants in the area, not to mention the various food-peddling buggies that arise when conventions come to town.

Joining us at the hectic event will be Magic artist Jeff Miracola and alterist Daniel Smith!
Jeff Miracola has been a freelance artist since 1993 and his work appears on such notable Magic cards as Bouncing Beebles, Bubbling Beebles, Donate, Firespout, Firestorm, Frantic Search, Manamorphose, Propaganda, Sek'Kuar, Deathkeeper, Sterling Grove, Thrashing Wumpus and Wipe Away. You won't want to miss an opportunity to get your limited-edition Mars Attacks paraphernalia (which he has in stock) signed as well!
Working hard to bring you the highest-quality and most tournament-legal alters available, as well as amazing third-party Magic accessories, Daniel Smith of Elite Alters aims to be your one-stop shop for all your customization needs. For more information about what altered cards are and their tournament legality, as well as see what cards are currently available, visit them at www.facebook.com/elitealters.
And it's once again for the Thelma and Louise of the Open Series to reunite, as Cedric Phillips and Patrick Sullivan join forces once more to drive the 1966 blue Thunderbird convertible of excellent coverage into the Grand Canyon of @SCGLive! Glenn Jones will costar as Detective Hal Slocumb, hellbent on keeping the pair in line… Okay, not the best metaphor, but you get the point. The trio will deliver the trademark class and quality you expect from SCGLive all weekend long! Follow all the action using hashtag #SCGLA, and get round-by-round pairings by following @SCGPairings as well.
Good luck, have fun, and Excelsior!
@MoxReuby
Video and Coverage Content Associate and Social Media Superhero for StarCityGames.com