While many of the game's best players will be traveling to the Land of Eire in the next week or so for preparations for Pro Tour Theros in Dublin, Ireland, still more will be making the trip to the land of (Lake) Erie this weekend for the StarCityGames.com Open Series in Cleveland, Ohio! Last weekend we crowned our very first Theros Standard Open winner, Philip Bertorelli, as well as our Theros Team Sealed Champions: New Jersey Invitational winner Erik Smith, Pro Tour stalwart and leading planeswalker in the USA (in terms of Planeswalker Points) Gerard Fabiano, and fellow New Jersey native and rising star Curtis Sheu. It was a great weekend of Magic, and we're ready for more!
As a side note, the "B seat," also known as the "captain's chair" in team Magic events, for our Team Sealed Champions thus far have included Hall of Fame member elect William Jensen, Pro Tour winner Kyle Rose, and Pro Tour Top 8 competitor and Grand Prix Philadelphia 2008 winner Gerard Fabiano. That's quite the list, and it speaks to the skill needed in the various Limited formats.
But that's enough of the past. Let's look forward to this weekend in Cleveland, where our home will be the Cleveland Convention Center: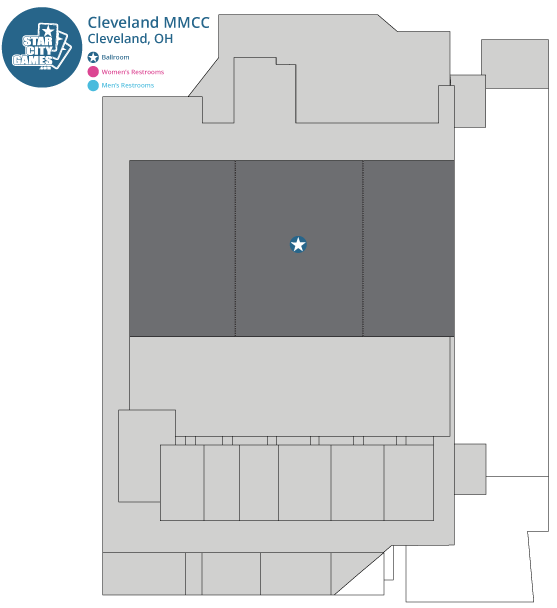 Travel alert!
This weekend The Rock and Roll Hall of Fame is the home base for the Rock 'n' Roll Marathon Series, which means lots of marathoners, half-marathoners, mini-marathoners, traffic, a show by singer Gavin McGraw at the finish line, and local bands positioned almost every mile of the run. The Rock 'n' Roll Half Marathon is playing heavily to the city's love for music . . . but not really playing into our hands as tournament organizer. The Health and Fitness Expo in Hall B of the Cleveland Convention Center right down the hall from the Open Series means there will be lots of foot traffic both inside and outside the venue.
Be forewarned! Make sure to allow extra time for getting to and from the site and expect road closures and delays. I suggest that you do so for every event, but this is one event where you absolutely positively should preregister. You'll be glad you did.
For more information on the event, see this article by Zachary Lewis from the Cleveland Plain Dealer. You can also visit the official race website here.
Fortunately, the festival atmosphere also brings all manner of street vendors and food trucks, so you'll have no trouble at all finding a quick nosh. If a brick-and-mortar building is more your style, check out some of the other food options nearby: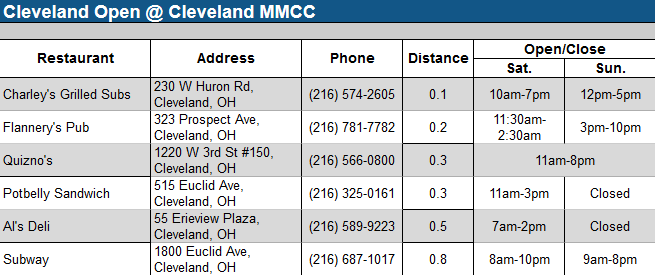 And while music is the beat by which the city of Cleveland typically operates, our two alterists are quite the visual artistic presence as well!
Immersa Designs, the brainchild of Dale Marsh, is a burgeoning source of hand-painted Magic card alterations and three-dimensional counters (life, poison, storm count, etc.). Be sure to visit the Immersa Designs Facebook page!
Jeremiah Schmidt and his wife Nikki are known for their creative playmats and alters featuring many different artistic styles. Check out their work on their Facebook page!
And who has the rhythm and stage presence to keep the beat behind the mic and in front of the cameras for SCGLive this weekend? Why, that would be our fearless leader Cedric Phillips, who is taking a quick trip back to his hometown of Cleveland to visit some family and commentate on some Magic before joining me in Ireland, alongside famed deck designer and Magic writing pioneer Adrian Sullivan in the booth! Modern master Glenn Jones will be providing support from the Sideboard and bringing you deck techs and analysis from the new Theros-infused formats. Follow @SCGLive on Twitter, use the hashtag #SCGCLE on social media, and check out @SCGPairings to see the latest pairings and standings from the tournament.
Good luck, have fun, and rock on!
Video and Coverage Content Associate and Social Media Lead Guitar for StarCityGames.com