Legends. Heroes. Monsters. Ordeals. Quests. Conquests. All of these will be a part of every Magic player's journey come this fall's Theros expansion—and many are already a part of every Magic player's tournament life! And this weekend is no different, as the Open Series forces competitors to take on their own version of Hercules' Dodekathon in Magic combat at the StatCityGames.com Standard and Legacy Opens in Baltimore, Maryland!
The Baltimore Convention Center will be our home away from home this weekend, in the heart of Baltimore's beautiful inner harbor: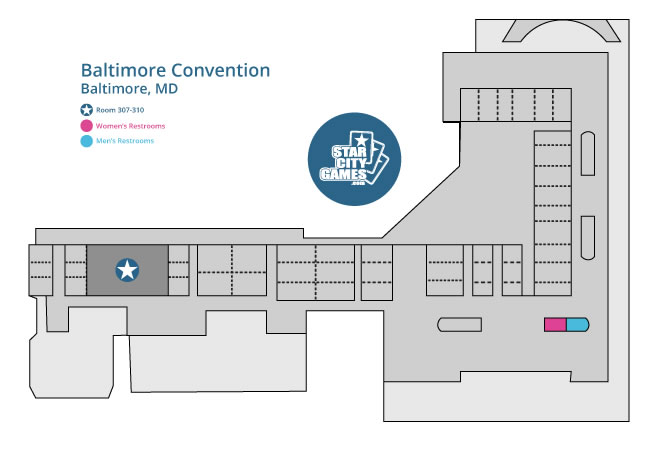 We've hosted many events at the Baltimore Convention Center, including the Invitational that notable Goblin Wizard Max Tietze won in 2012. It's located right smack dab in the middle of Baltimore, down the street from the world famous Phillips' Seafood, not to be confused with Cedric Phillips' Seafood, which I highly recommend. I've gotten crabs from Phillips' before, and I plan on getting them there again! Once more, not to be confused with Cedric Phillips' Seafood.
Oh my . . .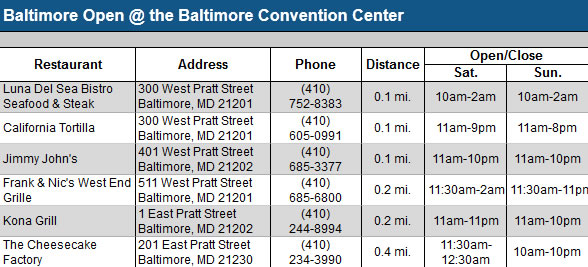 What follows is very important for people attending the StarCityGames.com Open Series in Baltimore.
The Grand Prix of Baltimore is August 30 through Sept 1, just one week after the Open Series takes place. And while the term "Grand Prix" typically brings visions of two-day, thousand-plus-person events to Magic players' minds, in this case it's an actual Grand Prix. As in open wheel Le Mans racing. What's more is that the track is not only in downtown Baltimore proper—it actually goes around the Convention Center! Here's a map of the track I found on the event's website: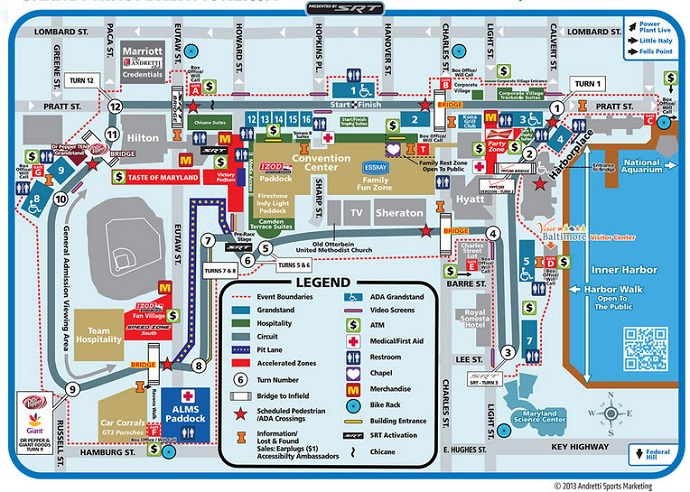 Prior to the race, the Baltimore City Department of Transportation will be constructing walls, grand stands, and other things needed to make it all work. The Inner Harbor near the Convention Center is already partially set up for it, and that means there are fans areas and vendors being set up, pit road is being installed, and fences and tires will be lining the streets and sometimes invading the lanes. Traffic will get a little hectic during high volume times, and parking may be less than plentiful.
All of this adds up to a simple bottom line. Plan for the delays ahead of time! No matter where you are coming from, set aside at least an extra half an hour to get to the site. We wouldn't want anyone to be late for (or worse, miss) the event because of being caught in a backup where Turn 7 will be. Be sure to check out the traffic maps* and the Grand Prix of Baltimore website** for details on your specific route. Also, preregistration is open until midnight Eastern on Friday, August 23 and is an excellent time saver.
*http://www.abc2news.com/dpp/news/region/baltimore_city/how-to-get-around-the-grand-prix-traffic
**http://www.grandprixofbaltimore.com/
But once you're on site, you'll be able to play in all of the Magic and World of Warcraft TCG events you can handle! Wait, WoW TCG?! Since when? Well, actually, this weekend!
Starting with the Open Series in Baltimore, each StarCityGames.com Open Series stop now features a number of World of Warcraft TCG events, which includes side events all weekend long and the exclusive World of Warcraft TCG Core Circuit tournament on Sunday! The World of Warcraft TCG Core Circuit tournament is unique to the StarCityGames.com Open Series and offers $400 in cash prizes, exclusive playmats, and World of Warcraft TCG Loot Cards redeemable for special items in the World of Warcraft MMORPG! Come be a part of the fun!
I would be remiss if I didn't at least mention the National Aquarium half a block away from the site. It features the world's largest indoor waterfall in the Australia exhibit, an enourmous Ray pool, a dolphin show, and a rainforest exhibit on the top floor in the iconic glass pyramid roof. I grew up in Maryland; my family had a membership to the National Aquarium until I moved away, and I love it. It's a beautiful facility, and I suggest that you take the opportunity to visit if you happen to bomb out early either day.
Moving on, the Open Series proudly presents three Magic alterists at the Open Series in Baltimore!
Based out of Baltimore, Ashley Jordan is the artist behind Alternate Dimensions Card Alters and Designs. She features handpainted Magic: The Gathering partial and full art card alters. Be sure to visit her website!
Long-time fantasy and comic book artist Chris King will also be in attendance! You can see examples of Chris King's alters and place custom orders on his website.
Lindsay Burley will be selling and creating her unique brand of 3-D cards and tokens, painted alters, and custom playmats! Check out her work on her website, then stop by and check out these awesome cards!
And what commentary duo has the godlike grit, the monstrous heroism, and the, shall we say, Anax and Cymede to commentate on the gruesome gladiatorial Arena known as the Open Series this weekend? Why, it's none other than our very own commentary duo especiale: podcasting icon and Sharkweeksman Joey Pasco and StarCityGames.com Online Content Coordinator and owner of Cedric Phillips' Seafood Cedric Phillips! They will be broadcasting the action alongside the entire @SCGLive team from the Charm City all weekend long, so be sure to tune in to our Twitch.tv stream. You can also keep abreast of all the goings-on using the Twitter hashtag #SCGBALT and see up-to-date pairings by following @SCGPairings.
Good luck, have fun, and vanquish your foes!
Video and Coverage Content Associate and Social Media Hero for StarCityGames.com