Pete Hoefling and I drove to Ohio this past summer to attend the Origins convention in Columbus – Origins being one of the largest gaming conventions in the United States each year. We were working the StarCityGames.com booth when Ted Knutson, the fine editor of this site, Came by and let me know that Mike Guptil was pissed at me.
Mike heads up Professional Events Services (or PES) [link to http://www.professional-events.com/], the premier gaming tournament organizer in the United States. Each year, PES runs hundreds of Magic, Yu-Gi-Oh, and Vs. events throughout the United States, from the pre-release to the Pro Circuit level. Mike is also a fine human being – he treats everyone with an even-handed respect, has a great sense of humor, and is lucky enough to be married to the lovely Denise Guptil.
So why was Mike so angry with me? Ted had let him know that I was a hardcore Yankees fan. Absolutely, I am. My family is steeped in the Yankee tradition – from my Grandfather Arthur during the post-WW II years to my father through the Mickey Mantle/Yogi Berra/Yankee dynasty of the 50's and early 60's, to the first games I ever watched – starting with Dave Righetti's no-hitter on the Fourth of July in 1983. I hadn't ever really watched a baseball game before then, as I was only eight years old. I remember my dad being really excited about the game, and he called me into the living room to watch the game. I climbed onto the tan sofa next to my dad, and he explained to me everything that was going on – I had a lot of questions about the game, and he patiently answer them all.
That game grew into games of catch in the streets outside my house, and my love of New York Yankees baseball. I would go to sleep at night with the television on at the foot of my bed, fighting to stay awake during the 7th and 8th innings of Yankees night games – as much as I wanted to keep my eyes open to watch Don Mattingly and Willie Randolph and Pags and Dave Winfield, I could only awake the next day to find the scores in the morning Newsday over a bowl of cereal at breakfast. Those Yankees teams of the 80's never did quite as well as I hoped, but I had faith, which was rewarded with the new generation of Yankees in the 90's – Derek Jeter, Bernie Williams, Mariano Rivera, Andy Petite, Roger Clemens, and so many others.
Mike Guptil took issue with my team loyalty, as he was one of the misminded fellows who rooted for that perennial rival of the Yankees, the Boston Red Sucks. Sorry, Boston Red Sox. When I finally cornered Mike on the convention floor, our conversation went a little something like this.
Me: "Mike, I hear you're a Red Sox fan?"
Mike: "Get away from, me I'm not talking to you."
Me: "Why, because we always win and you always suck?"
Mike: "That's it, go ahead and root for evil. It just proves that you're not worth talking to."
The Yankees and the Sox were in a heat for the American East lead during those early summer months, but eventually the Yankees pulled far, far ahead. Then, in September, the Red Sox went on a tear, and came back from a dozen games out to close the gap to under five games. Boston came into New York for a three game series starting Friday, September 17th – a game in which Boston won 3-2. Mike e-mailed me to rub the Boston victory in my face. Over the next two games, the Yankees proceeded to destroy the Sox by scores of 14-4 and 11-1.
From: Ben Bleiweiss

To: Michael Guptil

Sent: Monday, September 20, 2004 1:25 PM

Subject: Yankees v. Sox
I liked games 2 & 3 much better.
Ben
From: Michael Guptil

To: Ben Bleiweiss

Sent: Thursday, September 23, 2004 7:34 PM

Subject: Re: Yankees v. Sox
You would. Anyone who is evil and godless and going straight to hell would.
Going to see Red in Fenway this weekend Ben….
Of course, the Yankees beat the Sox on September the 24th at Fenway Park, and though the Red Sox won the next two, Mike got to see true Yankee dominance firsthand. The Yankees ended up winning the division, and the two rivals faced off for the now-legendary ALCS playoffs. The Yankees raced to a quick 3-0 lead including a 19-8 drubbing of the Sox in game three of the series. Things looked bleary for Boston, as no team in MLB history had ever come back in a best of seven series to win that contest.
From: Ben Bleiweiss

To: Michael Guptil

Sent: Thursday, October 14, 2004 1:00 PM

Subject: Re: Yankees v. Sox
Question:
Who
Is
Your
Daddy
Because today is Mike's Guptil's birthday (HAPPY BIRTHDAY MIKE!), I've deleted the e-mail where he says to me "we'll get you next year." Some devoted Red Sox fan he was – ready to give up after those first three games! Unfortunately, history will show that the Yankees could not finish out that series and had one of the biggest collapses in sports history by dropping four straight to the Red Sox.
From: Michael Guptil

To: Ben Bleiweiss

Sent: Tuesday, October 19, 2004 12:00 AM

Subject: Re: Yankees v. Sox
Big Papi is.
See ya in NYC…
From: Ben Bleiweiss

To: Michael Guptil

Sent: Tuesday, October 19, 2004 9:28 AM

Subject: Re: Yankees v. Sox
I'm looking forward to Curt Schilling's last major league start, you know, after he ruins his leg completely tonight…
– Ben
From: Michael Guptil

To: Ben Bleiweiss

Sent: Wednesday, October 20, 2004 1:11 AM

Subject: Re: Yankees v. Sox
See you tomorrow Ben.
From: Ben Bleiweiss

To: Michael Guptil

Sent: Wednesday, October 20, 2004 9:07 AM

Subject: Re: Yankees v. Sox
Depending on the outcome of the game, you might never see me again. SIGH
From: Michael Guptil

To: Ben Bleiweiss

Sent: Thursday, October 21, 2004 1:50 AM

Subject: Re: Yankees v. Sox
Watch any good games tonight?
This was written right after the Red Sox completed their four game comeback to knock the Yankees out of their spot in the World Series. When I got into work the next day, I found several faxes waiting for me at our fax machine. They included a memo from the "Red Sox Nation" wishing me a happy holiday at camp Chokealot (or something like that) and a ton of cut outs from Boston.com including "Who's your Papi" and "I believe".
From: Ben Bleiweiss

To: Michael Guptil

Sent: Thursday, October 21, 2004 9:50 AM

Subject: Re: Yankees v. Sox
Oh, I'mma gonna get you for that fax!
– Ben
From: Michael Guptil

To: Ben Bleiweiss

Sent: Thursday, October 21, 2004 12:25 PM

Subject: Re: Yankees v. Sox
You know, I had been planning that for sooooo long. Thank god the Sox won, so I could enjoy the moment!
I BELIEVE!
Irony has many faces. A perfect example of irony is this comment by Mike – he had been "planning that for sooooo long." I immediately messaged Ted, my editor who had gotten me into this mess in the first place, and pasted Mike's e-mail into the message window the a small addendum. "He doesn't have a clue, does he?"
For several months, ever since that fateful meeting between Yankee fan and Red Sox fan in Columbus Ohio, I had been plotting and planning something truly monumental for Mike Guptil. It would be a reminder of all things Yankees while also being a reminder of how, throughout baseball history, the Yankees had owned the Red Sox time and time again.
To start this project, I discreetly contacted Denise Guptil, Mike's lovely better half. She slipped me two pieces of vital information – Mike's birthdate (November 3rd) and Mike's shirt size. I immediately set out to order the one piece of clothing Mike would ever want to wear – an official Major League Boston Red Sox jersey. Now, Mike's a big guy, and it wasn't easy finding an official jersey in Dave Wells size. Let's just be polite and say that it took me a week of looking to find a uniform in a size that had more X's than a hardcore porn flick.
Next, I contacted the photoshop master himself, the man known only as Yawgatog. As you may recall, we were partners in crime on a certain Brian Kibler Bingo Board [link to http://www.starcitygames.com/php/news/expandnews.php?Article=7970]. This time around, I sent him some very specific images I wanted produced. He came through in spades.
The final step was putting the images on the uniform. Below are the six images on the jersey, along with the finished product as modeled by former StarCityGames.com employee Henry Balthis. Mike, you have no idea that this is coming and I can only say to you Happy Birthday – your week of waiting on that fax was trumped by my months of care and preparation of this uniform for your birthday. The jersey was sent UPS overnight to your house, and should be arriving today. Treasure this jersey always and remember that despite this brief blip on the baseball radar YANKEES RULE, RED SOX SUCK, AND WE ARE YOUR DADDIES!
Love,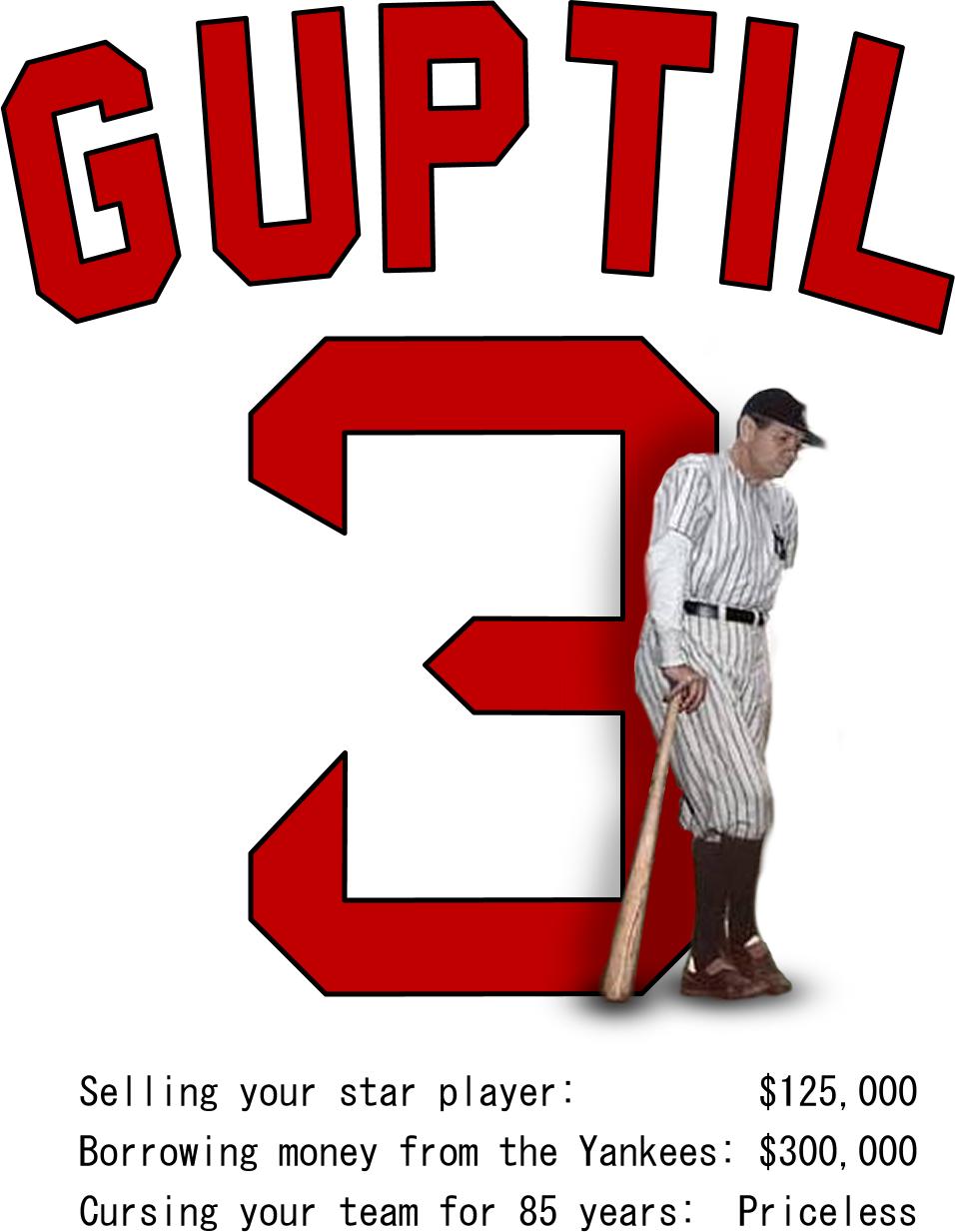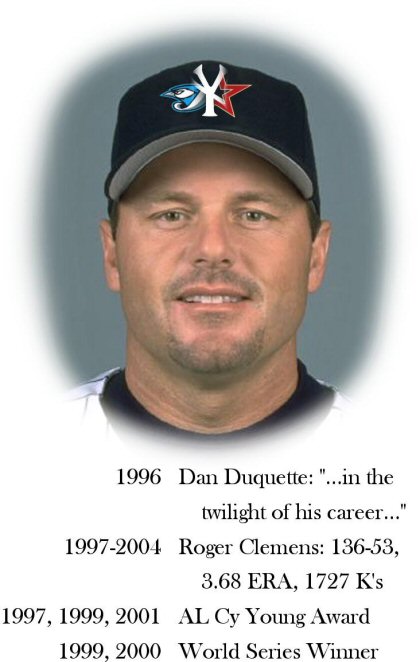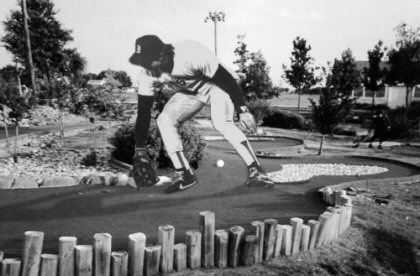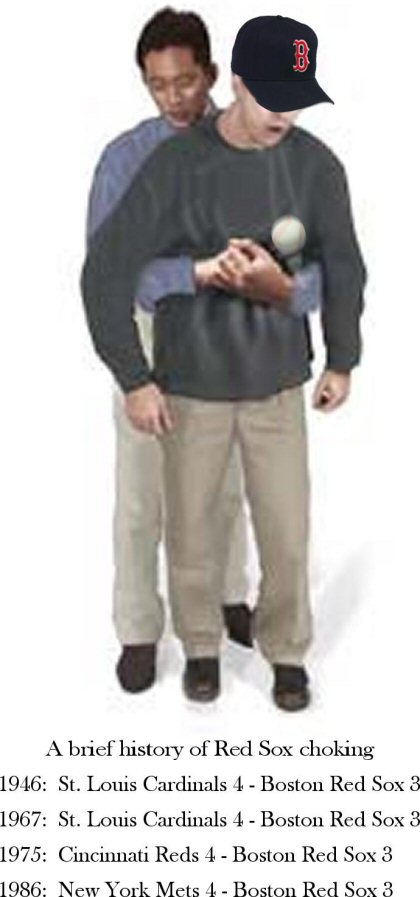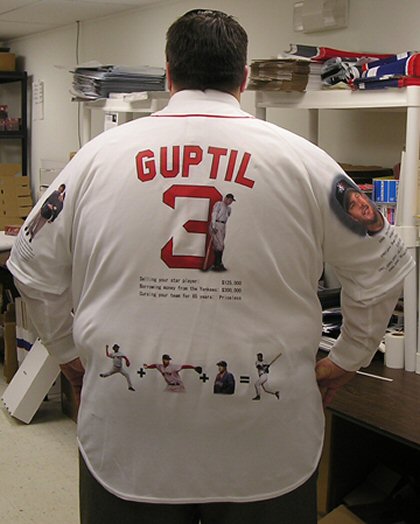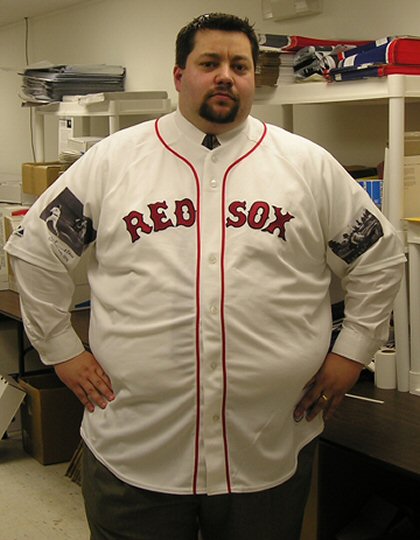 Ben can be reached at [email protected] . Thank you to everyone who has written me during this column's absence. I'll hopefully be returning soon – write to Mail us at https://sales.starcitygames.com/contactus/contactform.php?emailid=2 demanding more Blog Fanatic today! If George Steinbrenner somehow makes his way to this article, I want to thank you very much, Mr. Steinbrenner, for the decades of fine Yankees tradition you've brought to me and my family.