Self-Care
In one of the few lines I remember from Atlas Shrugged, lights at night are likened to "a handful of gold coins flung upon the prairie."
On my morning flight into Nevada, the towns shone like silver dollars instead, with Las Vegas the jackpot at the end.
I'd been to Las Vegas once before, in 2014 during my "Invacational," but I hadn't stayed for long, and certainly not overnight. I'd also been there in winter, rather than summer.
All this is to say that I messed up my trip at the start.
Oh, to be sure, I thought I was taking care of myself. But with all the moving about I was doing helping set up the Magic Art Show, my standard fluid intake wasn't nearly enough, and a few hours in, I was literally on the floor with leg cramps.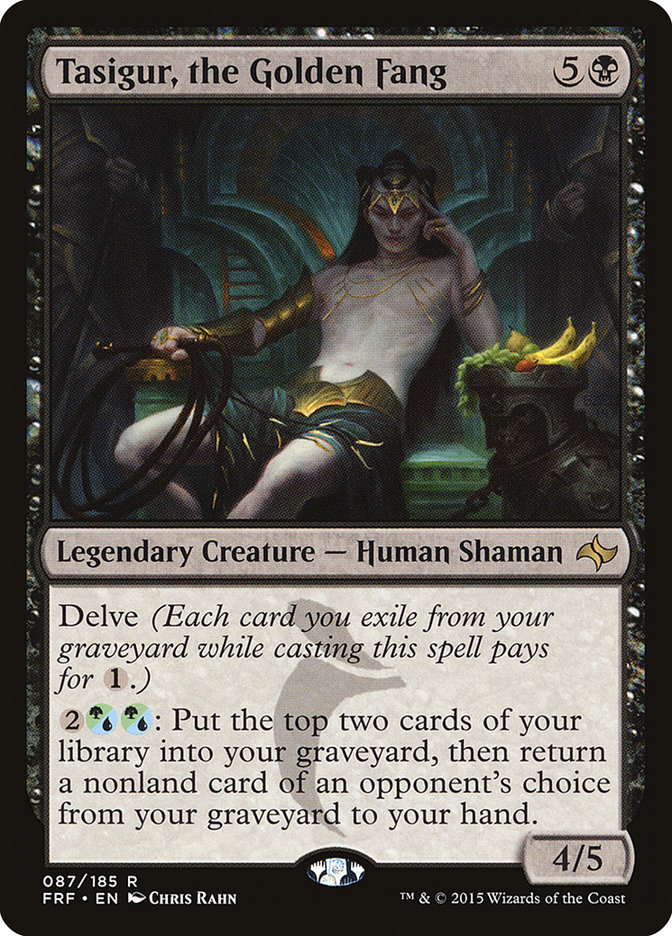 "Bananas are a good source of potassium, you know…"
On top of that, the light walking routine I'd added to my days before Grand Prix Las Vegas wasn't nearly enough preparation. I went from "basically sedentary" to "a bit of walking around the neighborhood" to "considerable motion" in just under a week, and like an overenthusiastic novice exerciser, I promptly pulled something in my right foot. Even now, it isn't as it should be.
All those articles about taking care of yourself at a Magic tournament? They're mostly right. They mean well. But some lessons have to be re-learned.
Legacy
I played All Spells, the same archetype I'd rocked in my last Legacy event. The situation was relatively simple. If I faced a deck without Force of Will and it wasn't another deck with the Turn 1 Fun (like Belcher or Tin Fins), I was a massive favorite. If I faced another Turn 1 Fun deck, it was a coin flip. Decks with Force of Will? Time to curl up in a ball (as much as the legs I was hobbling around on would curl up) and cry ugly.
I faced one non-Turn 1, non-Force of Will deck all tournament. I faced four Force of Will decks. I dropped at 2-4.
Funny how these things work out.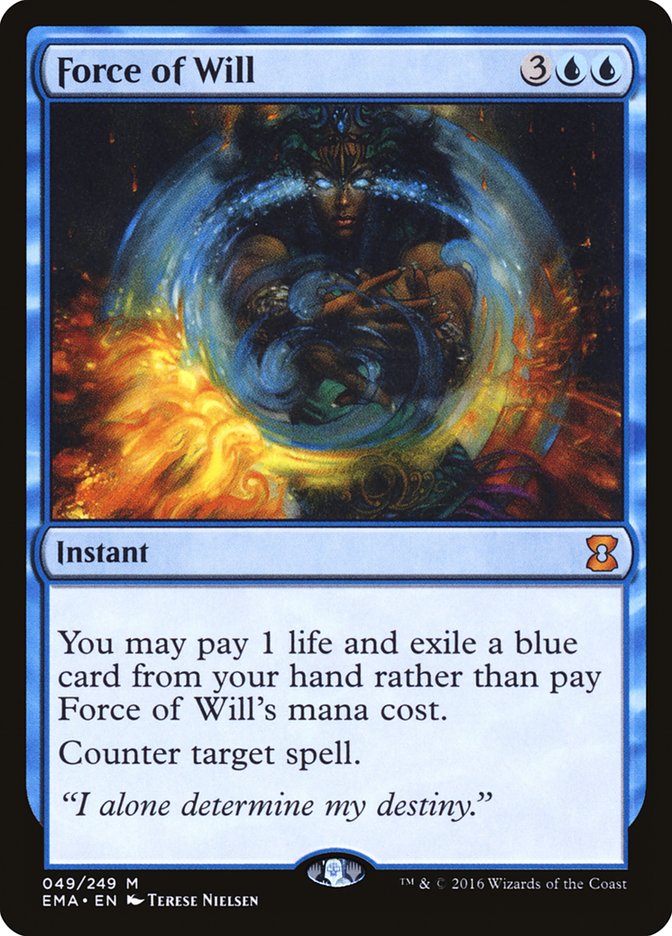 I was not and am not disappointed by my record; I knew the risks going in. I am disappointed that I let my hurting body turn me into a grump. If you saw me at GP Vegas, you didn't see the best me, and I'm sorry about that.
Hugs
I'm not the most touchy-feely person on earth, but at GP Vegas, I hugged (at the other person's offer, of course!) two individuals to whom I am not related. It was the first time I'd hugged a non-relative in more than a year, and as far as multiple people in the same short stretch of time go…I don't think that had happened since I moved to Roanoke.
I'm still not "a hugger," but for them, it was okay.
Mono-Fail
In theory, the Las Vegas Monorail should be amazing. In practice, not so much.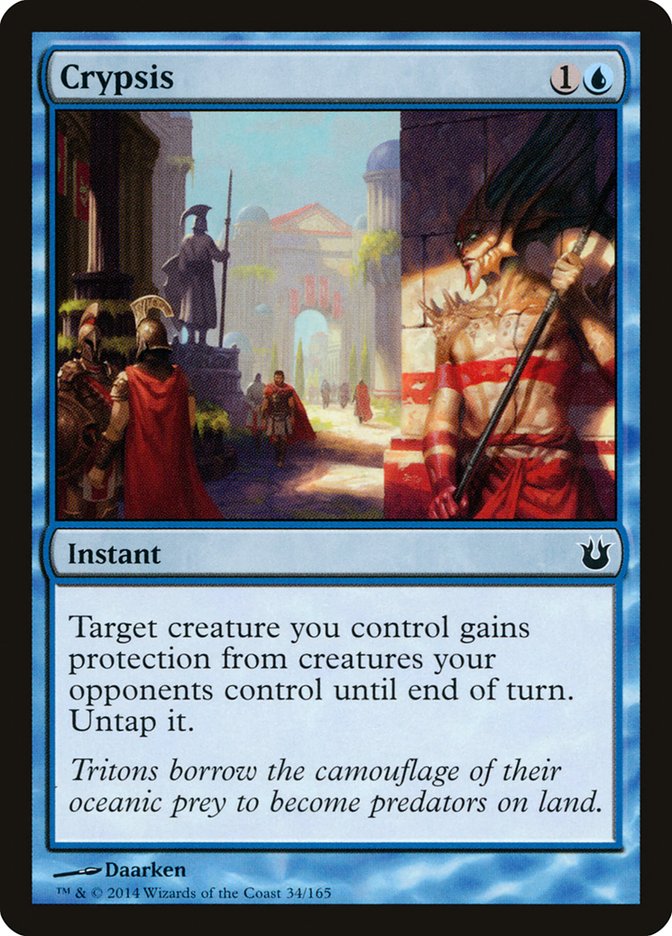 Platforms are in awkward places relative to their surroundings. (How do you hide a 550-foot-tall Ferris wheel less than a block away from a station? The Las Vegas Monorail pulled off the trick.) Walking even the short distance from the station to a nearby casino's air conditioning was a chore in the Nevada summer heat.
For someone spending Friday as I did, going up and down the Strip and sampling various attractions, the Monorail should've been a no-brainer. Instead, I ended up regretting my day pass purchase because I still had to use taxis to get places.
Oh, and the vending machine that distributes those day passes? It gives out Susan B. Anthony dollars as change. In a city where tips are king, that's a total disaster. Two-dollar bill? You're a baller. Two dollar coins that look like two quarters? That's how you get a massage therapist at the Venetian huffing "Don't bother" at you.
From now on, I'm rating "good idea, bad execution" Magic cards in terms of Las Vegas Monorails.
Ties
Years before Todd Stevens led the Team Dapper takeover of Magic, I was "The Guy in the Tie" in the North Texas scene. I may not have been good, but I was memorable!
Before leaving for Las Vegas, I took a poll on which necktie I should wear, and the Ingles Buchan wool Clan Sutherland weathered tartan tie won. But I knew going into Las Vegas that I wanted to leave with another necktie, my designated souvenir of a great trip.
I found myself an orange one at a Strip boutique. Solid color, virtually unadorned, which is how I like them anymore; let the hue do the talking. I haven't decided if I'm going to wear it to the SCG Season One Invitational, but it's on the shortlist.
Art
There were plenty of impressive artworks on display at the Magic Art Show.
Mine wasn't one of them.
In a convention room-turned-gallery full of stunning panoramic landscapes, planeswalker portraits, and cool concept art, I contributed a preparatory drawing for Roar of the Kha, a virtually forgotten uncommon from Mirrodin. Go…me?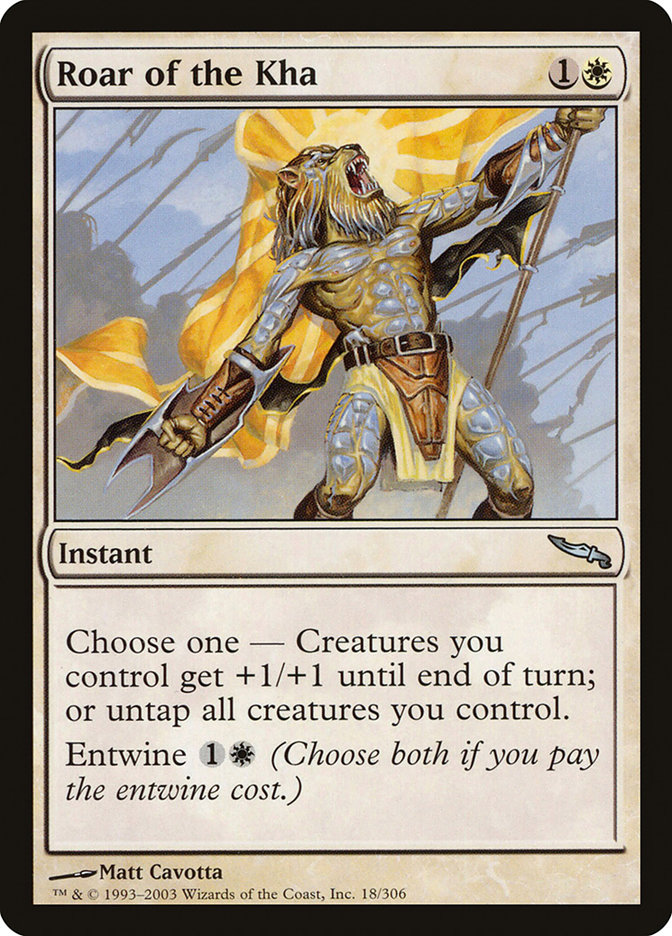 But it was there, and people stared. And now my Matt Cavotta drawing is on its way back home to me, ready to go back on the screws in the wall that once held a smoke detector.
It's not much, but it's mine, and I'm glad I chose to fly to Las Vegas to see it in the show.
People
I don't get out much. I like it that way most of the time. Some folks thrive on people-people-people; I get drained.
Except for the times when people-people-people make me feel alive.
Mike Linnemann's enthusiasm for art is infectious and energizing. He's the one I interacted with the most, in part because I stayed with him for my time in Las Vegas. I had a tremendous time meeting people, even when I was hurting and failing to keep it under wraps.
And then there were the people who were excited to meet me. I'm glad for all of them, and all of you reading. Magic is pointless without the people.
Toast
On Thursday night I found myself at Benihana for dinner and a show. I was the stranger seated at a table for eight, and as recently as a few years ago that would've turned me into walking wallpaper. But as I went up to the group, who had gathered to celebrate a lady's birthday, I told myself, "They're not here to judge you. They're here to have a good time. Help them."
And so I smiled, and laughed at jokes that may or may not have been funny, and declined with a polite "doctor's orders" when I was offered a shot. I sang along to the birthday song. And when one gentleman mentioned going to the Electric Daisy Carnival the next day and how he'd stretched for the ticket, I said the first thing that popped into my mind: the flavor text to Live Fast.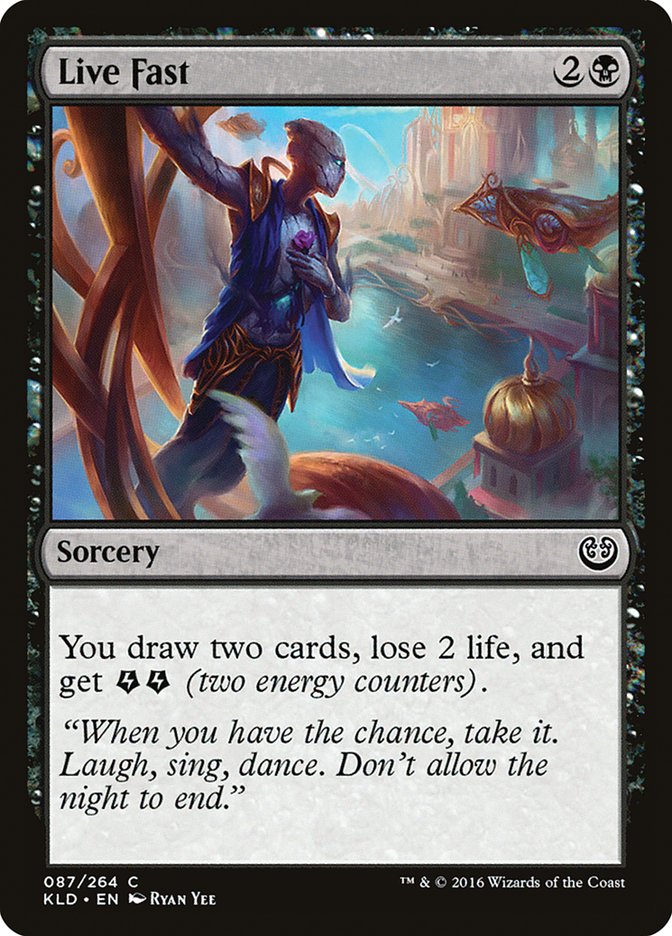 "You know what it is!" He grinned. "I like you, man."
And so on Friday, as I traveled the Strip and met person after person dressed for the festival, I repeated the benediction.
Laugh, sing, dance. Don't allow the night to end.
#1
The only thing to get at In-N-Out Burger, if you don't live somewhere you can get it every day.
Then again, I'm a bit of a heretic. No veggies, no spread.
Dinosaurs and Pirates in a setting whose name evokes Ixtapa and Aztlan? I can only hope Vraska is ready to turn some conquistadorks into stone. I'm getting echoes of Zendikar (before it went all cosmic horror), dusted with gold like El Dorado.
Dominaria
We're going back to where it all began in 2018. If Time Spiral block was post-apocalyptic, will the new Dominaria with its time rifts healed be "post-post-apocalyptic"? I've always liked storytelling that rebuilds, such as the first third of A Canticle for Leibowitz, and it'd be really cool to see Magic's take.
Answer
If you haven't yet solved the puzzle from my last article, stop now! Go look at the puzzle and take your crack at it before coming back to this one.
After the Teferi's Puzzle Box, I have the answer key.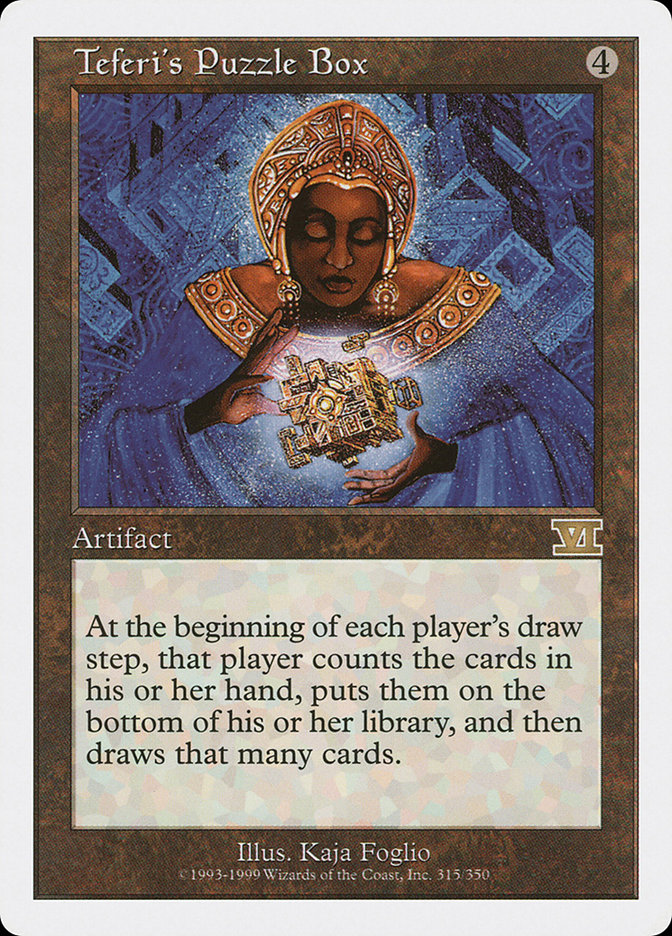 Ready? Good. Here we go.
To recap briefly, I presented a series of nouns and challenged the reader to find the one adjective that turns all of them into Magic card names, as of Amonkhet.
Arynx, Automaton, Crocodile, Evil, Informant, Jackals, Nightstalker, Predators, Skirge: Lurking
Mining, Urge: Aggressive
Augmentation, Inversion: Strange
Island, Storm: Tropical
Angel, Guardian, Wake: Luminous
Cadet, Construct: Eager
Arrogance, Poet, Slip: Tragic
Angel, Hero, Pariah, Soul, Thoughts: Tormented
Giant, Revolutionary: Enraged
Assassin, Decree, Falcon, Herbalist, Trooper: Royal
Rays, Will: Oppressive
Alchemy, Crypt, Lore, Orchard, Ritual: Forbidden
Frost, Harvest: Early
Dodge, Looter, Maneuver: Artful
Crawler, Nautilus, Sliver: Crystalline
Deceiver, Judgment, Justice, Mentor, Mercy, Scrutiny, Sustenance: Harsh
Firebeast, Ghoul, Monstrosity, Powder, Rider: Ashen
Assassin, Throng: Notorious
Hope, Seacliff: Soaring
Angel, Disciple, Giant, Servant, Soul: Wayward
Bolt, Pummeler: Electrostatic
Assault, Dead, Hunter, Rats, Skaabs: Relentless
And then I put a great big bold warning:
This section only!
In other words, the "rule" you discover in this section applies to Part 1 only.
Now, read the full answer list down, and notice the acrostic that appears in the first letters:
Lurking
Aggressive
Strange
Tropical
Luminous
Eager
Tragic
Tormented
Enraged
Royal
Oppressive
Forbidden
Early
Artful
Crystalline
Harsh
Ashen
Notorious
Soaring
Wayward
Electrostatic
Relentless
"Last letter of each answer." That gives…geelsrcddlenylehnsgdcs.
Seems awfully obscure. What does Part 2 yield?
Centaur, Spirit, Witch: Accursed
Licid, Wurm: Tempting
Anthem, Charge, End: Glorious
Experiment, Skills: Madcap
Dragon, Kirin, Leech, Mage, Potion, Wall: Alabaster
Gorgers, Harpy, Souleater: Insatiable
Fists, Myr: Leaden
Entrance, Rescue, Reversal: Dramatic
Journey, Outburst: Otherworldly
Missionaries, Tracker, Tribe: Tireless
Deceiver, Giant, Oppressor: Callous
Battlement, Estate, Tomb: Overgrown
Fiend, Orb, Sliver, Trance: Mesmeric
Once again, I offered a warning:
This section has some trickier answers mixed in. Treat it as completely separate from the other part; only a few of the lessons you've learned will carry over.
But if you did carry over a few of the lessons…
…you got this:
Accursed
Tempting
Glorious
Madcap
Alabaster
Insatiable
Leaden
Dramatic
Otherworldly
Tireless
Callous
Overgrown
Mesmeric
And, of course, I left this note on the end…
And when you think you've solved everything, send me a message, if you're feeling charitable. — JDB
Which means that the true solution to the puzzle was…
And while a number of you did, the first person to e-mail that address was a gentleman with the first name of Mike. (Last name: not Linnemann.)
And what did Mike win?
Well, let's look back at what I wrote:
There's a prize for the first person to solve it, though you won't win it.
Also:
And when you know you've solved everything, send me a message, if you're feeling charitable.
The prize was in fact a $25 donation to charity, with Mike deciding where it should go. He chose a local sports nonprofit, Spencer Community Boosters Incorporated, and that's where the money went!
Not two minutes later, another fellow, Ethan, also came up with the ultimate solution. I extended the same offer to him, and he chose the World Wildlife Fund.
I hope you enjoyed the puzzle. Until next time!