Going into the Players' Championship last year, I essentially had one foot out the door.
I had finished college and been teaching at a private school for a year, and I hated it. When the 2015 school year ended, I began looking for jobs in games and game design, and was winding down my Magic year getting ready for my second Players' Championship. It would likely be my last serious Magic event for a while; real life was calling, and it was time to find myself a job that I actually liked.
Then this happened.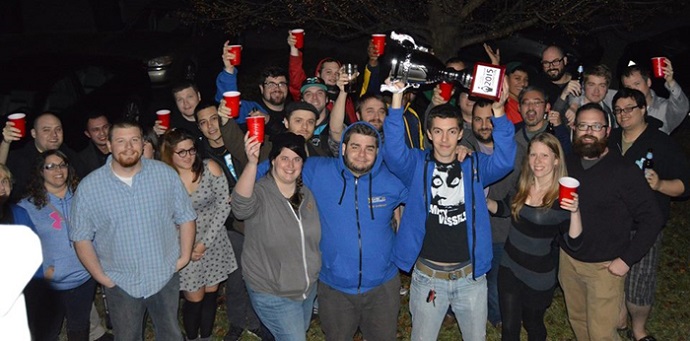 While not technically a photo from 2016, it would go on to define my 2016 more than anything else.
Well, almost anything else.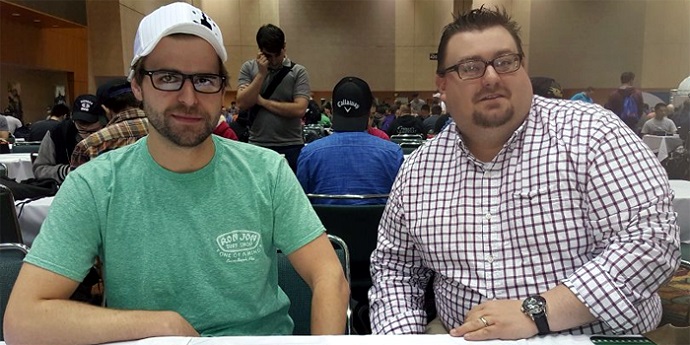 They may not look familiar, as they've only been able to come to a few events, but these are Frank Pendl and Rick Medtiz, the founders and owners of Team MGG. Long-time local Magic players with not a lot of time to play anymore, they came to me late last year with an idea. They wanted to start a serious Magic: The Gathering eSports team, complete with sponsors, a website, coaching services, and more. The idea was that high-level players are a valuable commodity in our community and they weren't being marketed well enough or properly.
I told them it sounded interesting, but I had a Players' Championship to focus on and that I'd talk to them after the holidays.
The rest is history.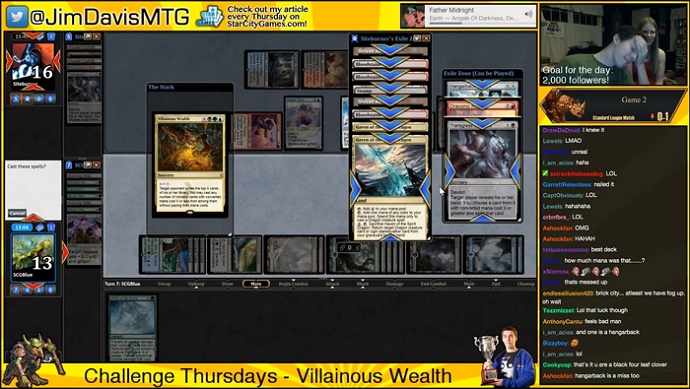 Frank and Rick's pitch was very appealing, and after the increased visibility I was getting from my Players' Champs win, it seemed like a good time to strike.
A big impetus for my foray into the idea of a being a "full-time career Magic player," however, was not just the team but Twitch.tv. I messed around with a few streams during the holidays in 2015 and I found it both enjoyable and successful.
This laid the groundwork for my 2016:
Stream as much as possible, with the goal of turning it into a solid revenue stream
Make the team the best it can be while hitting every event on the SCG Tour in 2016
Get as many players from the team to join me at the 2016 Players' Champs as possible
Keep writing articles for the best Magic website on the planet
Secure as many business partners for Team MGG as possible to grow both the team and Magic as a whole
Continue looking for more ways a professional in the field of Magic can make money (coaching, etc.) that is independent of prize money

In order to make Magic into a proper and realistic job, it was extremely important to find ways to make money that were independent of results/prize money. A great example of the groundwork for this is golf pros. They play tournaments on the weekends, but during the week they spend their time at their home course coaching, running seminars, and doing promotional work.

From one foot out the door to head, shoulders, knees, and toes in it, I was all-in for the year.

I'm thankful the year has gone so well, and while not all my goals have been achieved, it's been a great first step.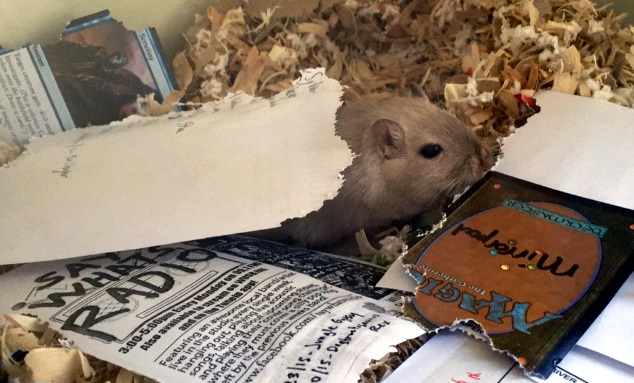 Of course, I couldn't mention the stream with mentioning our beloved stream mascot Giroux.
Giroux, named after Philadelphia Flyers captain Claude Giroux who was on my fantasy hockey team when I got him, would hang out behind me when I streamed. He was so popular I had to get him his own webcam, and when he passed away a few months ago he died the most famous gerbil in the entire world. Seriously, look it up. Aside from tabloid falsehoods and cartoon gerbils, no single gerbil has reached as many people as little Giroux.
On stream I called my shot that at the #SCGINVI in Atlanta that I was going to win and make a Giroux Pact Rat token, and while I may have come up a little short, I've got something in the works anyway. Keep an eye out!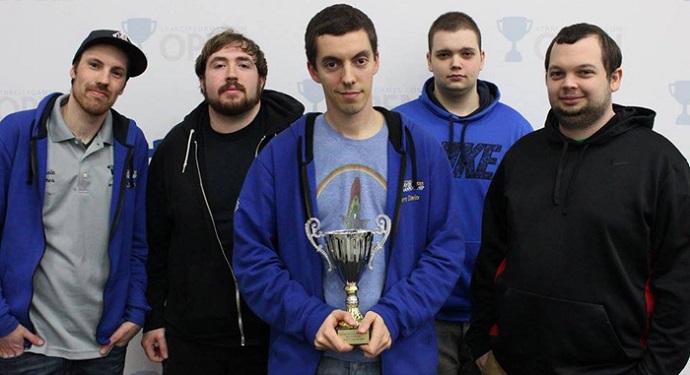 With the team idea fully a go, it was time to put together a roster and handle all the logistics of setting up a team. We set our launch date for #SCGMKE on April 30th but had already started to work together when #SCGBALT had rolled around.
To say it was a success was an understatement.
Our Bant Company deck we worked very hard on was the best deck I've ever played Week 1 of a format; it felt like we were playing Modern and everyone else was playing Standard. Both Kevin Jones and Dan Jessup were also making deep runs with the deck, but being paired against each other, followed by a lost win-and-in for Dan, put them both just on the outside looking in. Still, having three of five players come in first, tenth, and eleventh was quite the start for our budding team.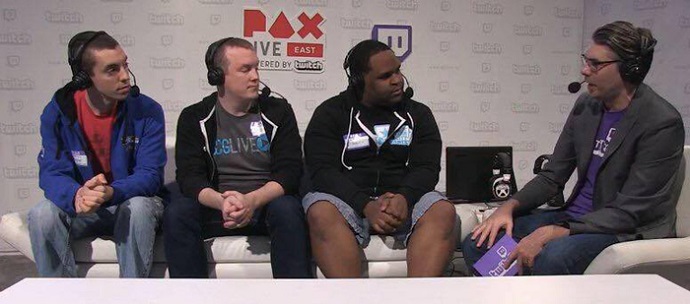 Around this time, Cedric had asked me if I would like to go to PAX East for a promotional appearance at the Twitch booth. An opportunity to go to my first PAX East with two SCG buddies, promote SCG and my brand, and have a great time? Sign me up!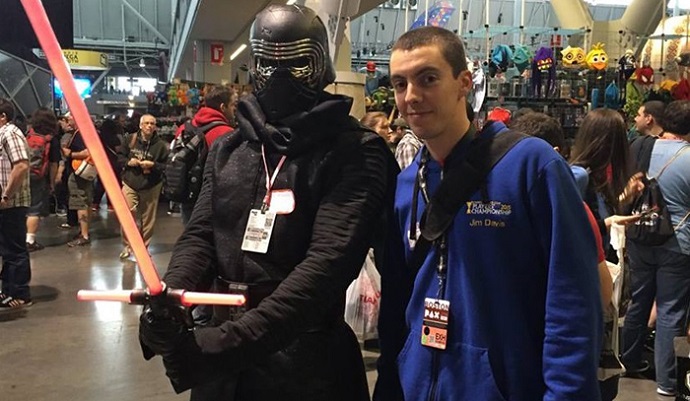 I even made some friends!
PAX East was an amazing event and I must attend it again. It was also very cool that Twitch was so into Magic and that they were very interested in growing beyond traditional console and computer games.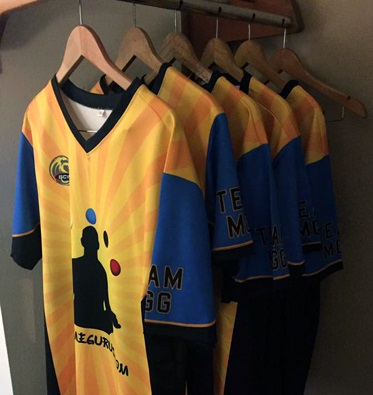 With streaming rolling and everything going great on the SCG Tour, it was finally time to unveil Team MGG.
While #SCGMKE was not our best event results-wise, there was an air of excitement in the room as people began to notice the bright yellow jerseys and what was happening. It was always our goal to take a step forward in Magic and it certainly felt like it was working. It's hard not to sound pompous, but without Team MGG, I doubt Wizards of the Coast puts its players at the World Magic Cup in jerseys. Having an effect on the game at its highest levels makes all the hard work feel validated.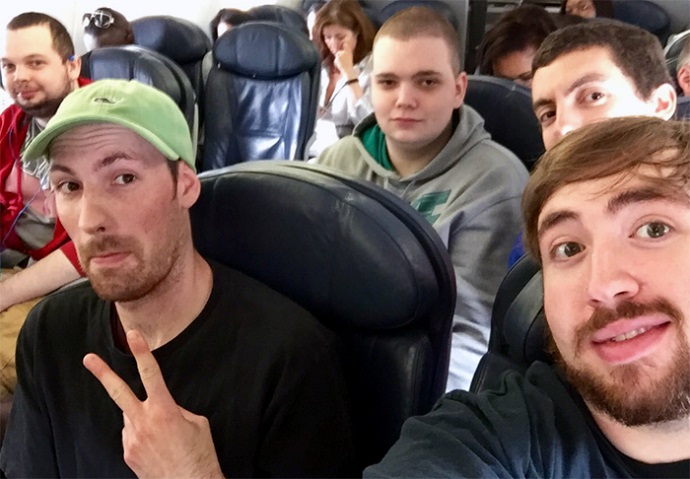 From that point on, it was business as usual.
Dan, Andrew, Pete, Kevin, and I would pile into an airplane or car every other weekend on our way to the next SCG Tour stop, and thankfully success was not too far behind.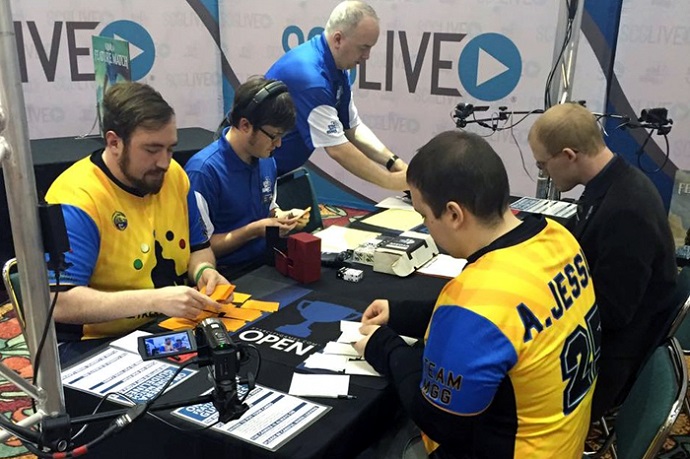 Indianapolis was Team MGG's coming-out party, and it went better than we could have ever imagined. Pete Ingram would meet Andrew Jessup in the finals – an all-Team MGG finals.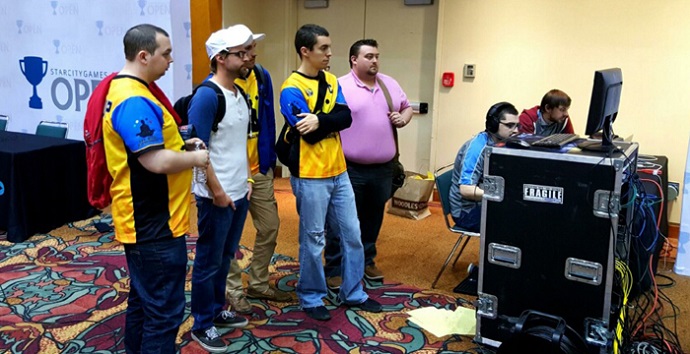 Even better was that this was the first event that Frank and Rick were able to travel to. Here they are with the rest of the team, watching the coverage computer while Pete and Andrew battle across the room.
This was the event where the true strength of being a team really shone through. It was a rough event for me, as I played the same deck as Pete but caught a few rough breaks and didn't make Day 2. As I was playing in the Legacy Classic on Sunday however, my head was still in the main event with Pete and Andrew. Even playing my Top 8 match of the Classic, my only real concern was to see how they were doing.
Being on a team with friends meant that as long as a member of the team was still alive in the tournament, it felt like I was alive too. Magic is a tough game, and it is very possible to have a weekend where you pick a good deck and play well but still go 2-3 drop. Having five chances to do well instead of one evens things out much better. Being invested in each other also meant that our preparation was much more inspired.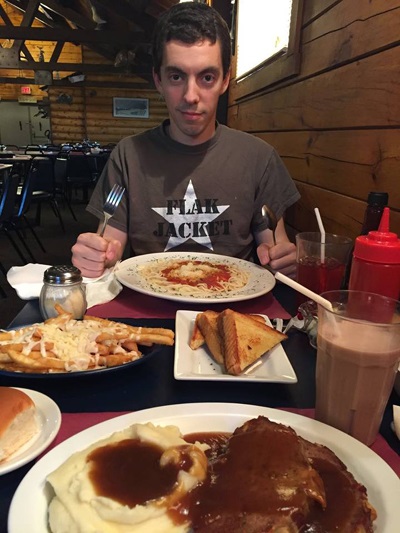 What? A man's gotta eat!
The only plus side to the long car rides is stopping at cool local eateries, like this small diner in rural Pennsylvania.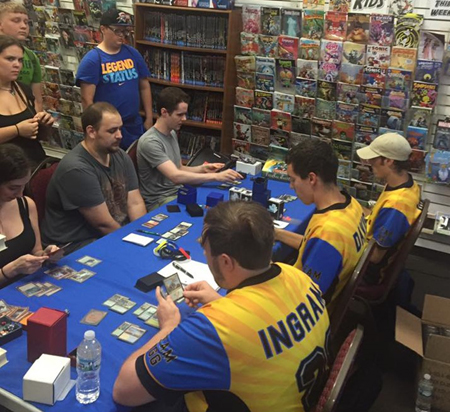 One of the most successful and exciting thing that Team MGG has done outside of just doing well in events has been our spellslinging events.
We will often show up to the cities that host SCG Tour stops a day early and hook up with a local game store in the area to come down for a two- to three-hour visit to spellsling. Spellslinging basically means that players can challenge any of use to a game of Standard, Modern, or Legacy (or any other format if they have two decks). If they win, they get a BCW deckbox and a shirt that says "I Beat a Guru!"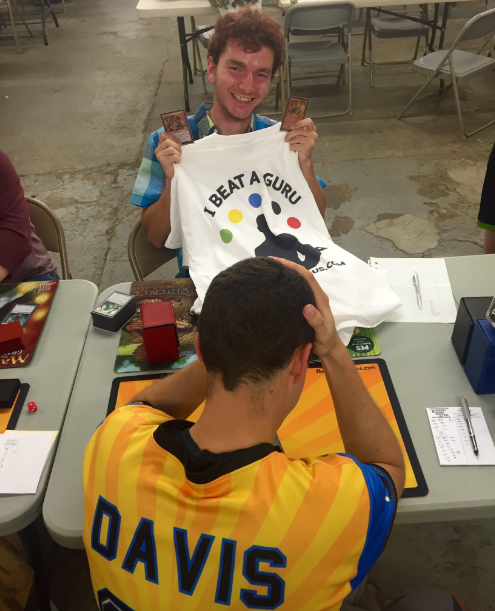 Spellslinging has been both a wild success and a ton of fun, and has led to a lot of great moments. Here I am after getting crushed by a Legacy Goblin deck… oh, the irony!
These sorts of community-building efforts are very important to Team MGG and Magic as a whole and are a net positive for everyone involved. The players get a chance to play against us and win free swag in a relaxed and familiar environment, the stores get to see an influx of players who may have never visited their store before, and our partners get great visibility as their products are on display.

Our partners have been very good to us this year, and I'm very happy that we've had a wonderful two-way street that has been very beneficial to both sides. I can only hope that these sorts of partnerships are the wave of the future for Magic, which can help grow the game as a whole.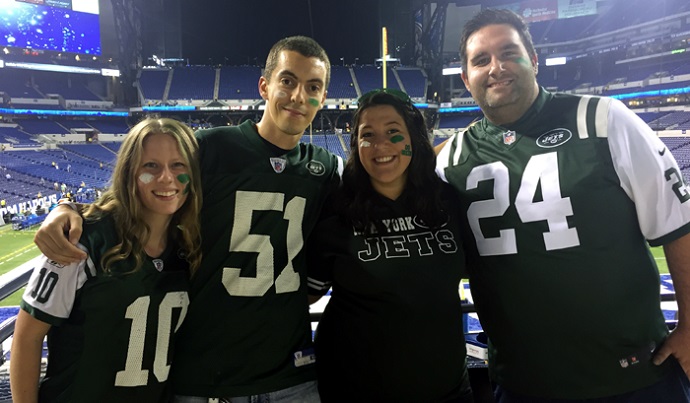 Of course, one of the great things about traveling is, you know, travelling!
I've gotten to see a large number of awesome cities and sights this year, and I always make it a point to try and get out enjoy whatever city I'm currently in. Some detractors to the tournament Magic grind like to poke fun and say things like "Play the Game, See the Convention Centers!" But travel, like most things, really is what you make of it.
One of my favorite things to do on trips is to try to find time to see local sporting events in the cities I visit, and I've been fortunate enough to see the New York Rangers, Knicks, and Jets all play outside of New York.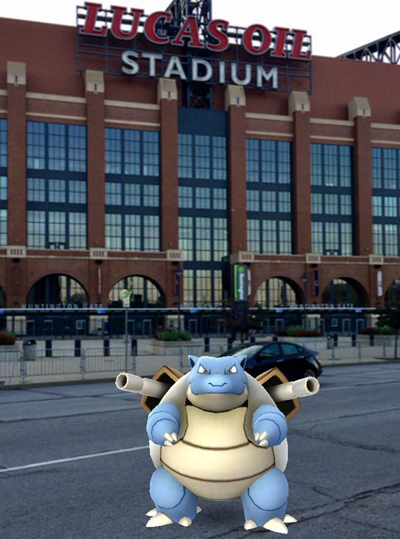 "Play the Game, Catch Rare Pokemon!" also works as a slogan.
Was up early on a Monday getting ready to go to the airport when this bad boy popped up. I guess he missed the game.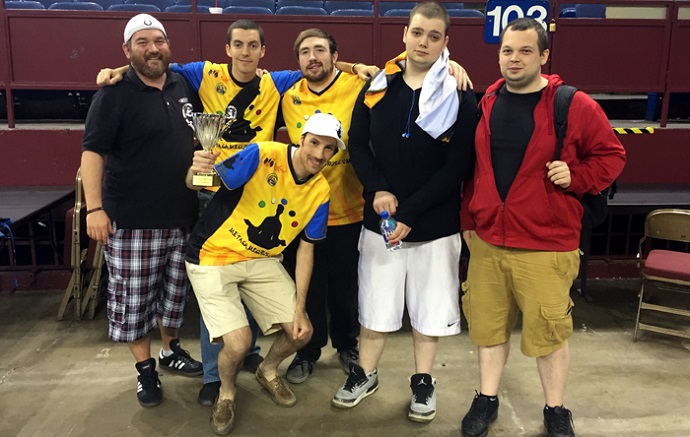 Thankfully success would continue to find us, and #SCGDAL was our most successful event this year.
Events in the Dallas/Fort Worth area are always very large, and this one was no different. Over 1,000 players showed up to play Modern, and at the end of it all Team MGG had run the event over. Pete, Kevin, Andrew, and I all made the Top 8 of the event, with Dan following up with a very respectable Top 32.
In the end we had another Team MGG finals, with Kevin Jones finally taking down the title. We ended up finishing first, second, fourth, seventh, and 31st, which is quite the showing for a five-man team at a thousand-person event. This was certainly the high point of the year for the team.
Also pictured here is Rick Kivett, our BCW Supplies rep. Rick almost feels like he's part of the team at this point, as he has been with us at almost every event. Rick has been instrumental at setting up our spellslinging events and helping to ensure an excellent level of communication with BCW. Thanks for being awesome, Rick!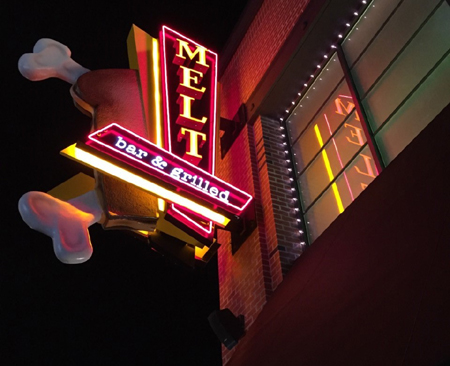 Speaking of awesome and great food, this is Melt.
There are five Melt locations in Ohio.
I've eaten at Melt at least ten times this year.
Life is great.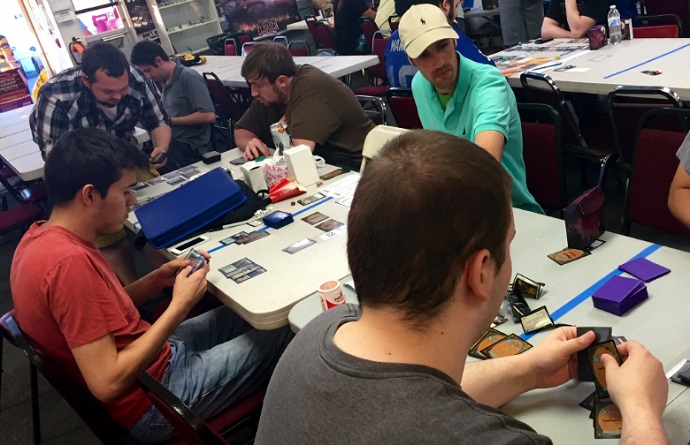 It's a great cycle, really. Travel to events, eat great food, come home and prepare for events. This testing was in preparation for new Standard at #SCGCOL, which Dan made Top 8 at.
More notable, though, is that this would be Pete's last event with the team.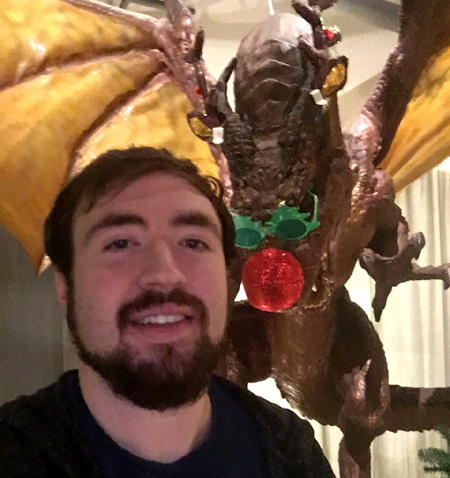 Kicking Pete off the team was one of the most enjoyable things I've done as team captain. How can anyone possibly tolerate someone who, upon getting into a hotel room for the start of a trip, does all of these things in order:
Turns the AC down to 58 degrees
Takes off their pants
Puts on a hoodie with the hood up
Gets into a bed under the covers
Complains about how hot it is
Plays Hearthstone on their phone
Kicking Pete off the team was an easy choice.
…
Okay maybe I'm kidding.
In all seriousness, Pete landed a dream job working at Wizards of the Coast R&D and I couldn't be happier for him. We knew it was a possibility when he signed on to the team, and in his short time with the team, he made quite the mark. We miss Pete but wish him all the best at Wizards!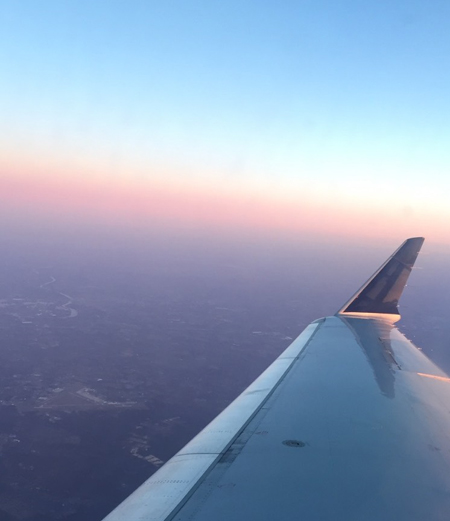 Oh, I'm on a plane again.
Where are we going this time again?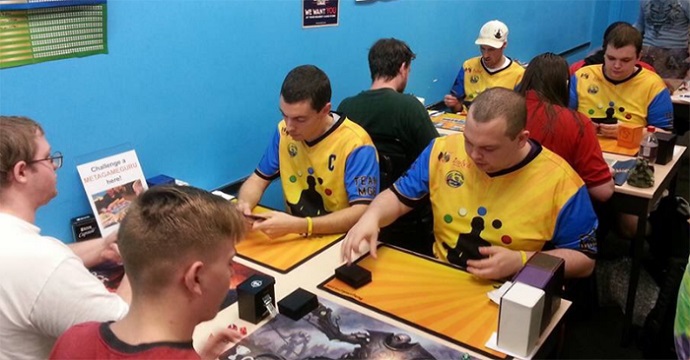 Another event, another great spellslinging event.
While Pete is certainly missed, we kept right on rolling as a four-piece. We had a lot of close calls and near misses in the latter part of the year, but peaks and valleys are to be expected in a long year. We can't have an all-Team MGG finals at every event.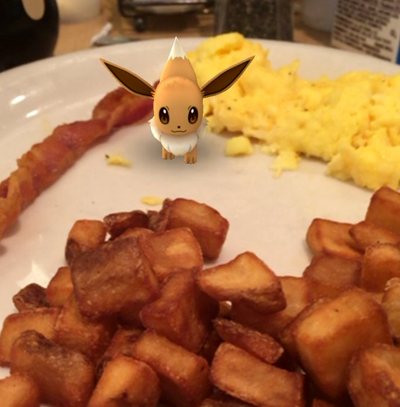 Hey Eevee, that's my hotel breakfast, not yours.
Get your own.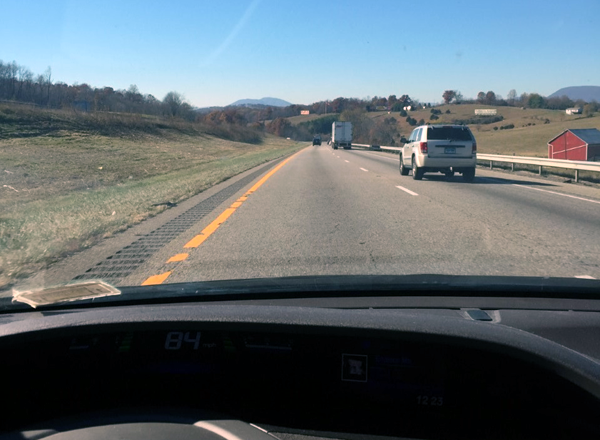 What's that? Oh, we're back on the road again.
Airline travel is certainly preferable to driving most of the time, but sometimes tickets are expensive and it's time to buckle down and drive.
I really enjoy listening to audiobooks on long drives, as I am the primary driver, and have listened to both The Fellowship of the Ring and The Two Towers so far this year. They're super-well-done with music, sound effects, and great voices. It's like listening to a movie.
They're great!
Also, Dan Jessup hates them, which somehow makes them even more pleasurable.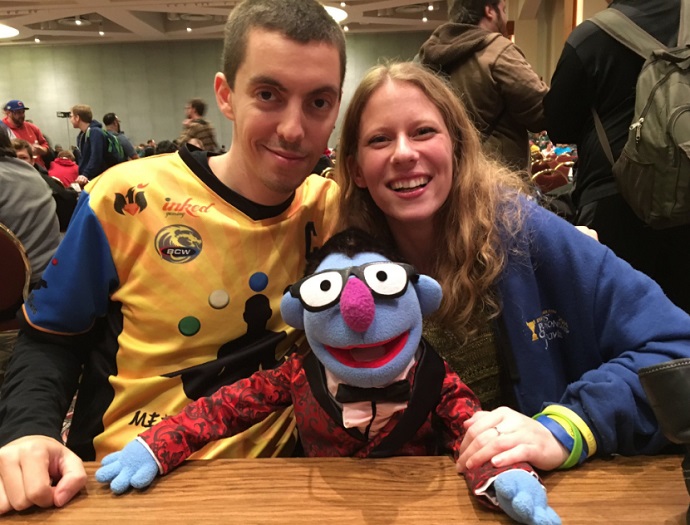 Occasionally Nicole is able to sneak away for a tournament as well, and she lost a heartbreaker last-round win-and-in for Day 2 at #SCGMKE. It sucks she doesn't get to play more, as she really has a natural aptitude for the game and games in general. Even in very limited playing time, she's got eight IQ Top 8s and an Invitational Day 2 under her belt.
Oh, and we got to meet Melvin the Muppet!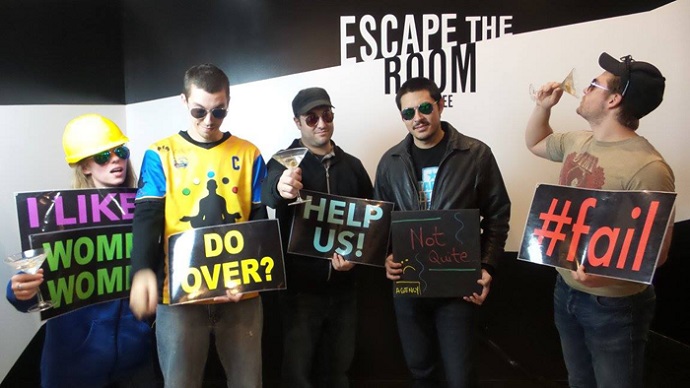 The best thing about trips really is the after-hours events, though.
In Milwaukee we ate at a spy-themed restaurant called The Safe House, and afterwards we booked a slot at Escape the Room Milwaukee. The five of us solved almost every clue in the "most difficult" ten-person room in the place, but the one clue we missed was a frustrating one. Still, it's awesome having friends all over the country and getting to see them all the time.

Two weeks ago was the #SCGINVI in Atlanta, and it was filled with both success and good times. Even if I hadn't made Top 4 of the event, the trip was still a blast full of awesome food and good times.
I think this is one of the most important takeaways from tournament Magic. Sometimes you do great, sometimes you do awful, but it's so important to just enjoy each and every trip for what it is. If you go to every event feeling like it was a failure or a waste of time if you do poorly, you're doing it very wrong. Not only will it negatively affect your results, but you're going to be unhappy pretty much all the time and burn out very soon.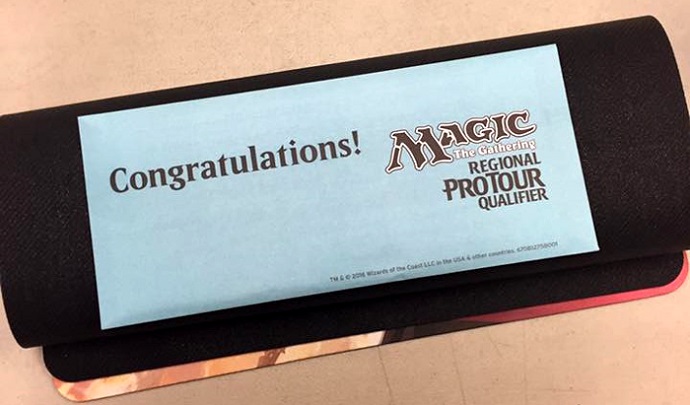 Our most recent photo comes from last weekend and it is certainly a success story. After two RPTQs where I lost in the Top 8, I was finally able to emerge with the blue envelope.
Now I get to dust off my passport, as I'm headed to Dublin, Ireland for my first Pro Tour in a few years!
What a great way to end the year!
Good thing there's no more events left and I can just relax and have a nice Christmas at home!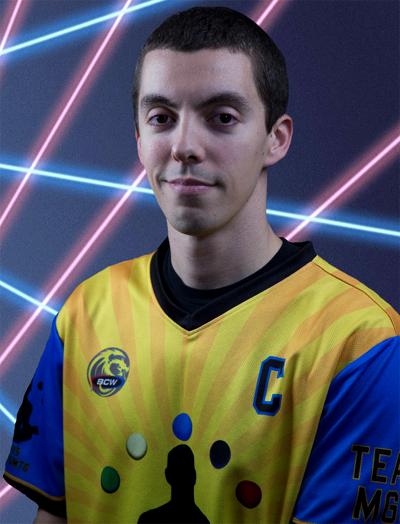 What a relaxing and stress-free time to be alive!