Sealed gets a bad reputation. I've yet to attend a Sealed event where I don't hear multiple people blame their losses on "a bad pool" in between each and every round.
Sealed is hard. Some pools are better than others, but almost every pool is salvageable. It's rare to come across a pool that cannot make a reasonable deck. Sometimes you don't have the bombs, but you can still build a consistent gameplan and play good and honest Magic. As an anecdote, my Sealed deck at Grand Prix New Jersey had zero rares, but I still took it to a respectable 7-2 record.
The build process is crucial to success in Sealed, as any mistake you make stays with you for the whole day. And you only have 30 minutes to find the best possible solution.
Optimizing Your Time
With only 30 minutes to work with, it's paramount that you use your time wisely.
Before Grand Prix New Jersey, I built many pools with Adrian Sullivan. We laid out the cards by color and it clicked: looking at individual colors doesn't help you as much as it usually does in Ravnica Allegiance. It's all about gold cards and mana, since those together enable your most powerful decks. But looking at just the gold cards doesn't tell you the full story of the pool either. With this in mind, we devised a way to lay out your pool at the beginning of build to maximize digesting the possible builds of the pool, tailored to the most common color pairs.
Follow these steps:
1. Sort your pool by color.

2. Look at your rares to check for bombs that will pull you strongly to a guild.

3. Make a pile of unplayables and put them away.

4. Put the gates and gates matters cards at the top of your table.

5. Lay out each color, from left to right, in the following order with a good amount of space between the columns: red, green, blue, white, black.

6. Take your gold cards and place them in between their respective colors (e.g. Put the Gruul cards in the space between the red and green cards).

7. Place artifacts and the Rakdos gold cards in the bottom leftover space.

8. Take a minute to digest your pool.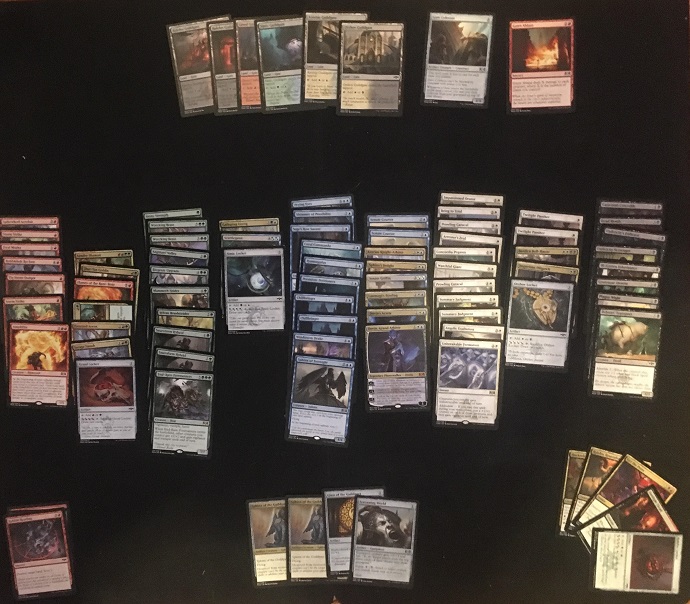 Above is a real Sealed pool laid out in the way described above. In less than a minute, this allows you to imagine what every possible archetype looks like. Furthermore, you can see if any three-color decks emerge. Both Esper and Temur are very common builds in Sealed, and this layout lets you look at both of those decks naturally. It's why it's important to lay out the cards in the color order I described. This does mean that Rakdos is harder to picture than the other archetypes, so make sure you don't forget about it and still consider it.
Once you've had a minute or two to digest this pool, build the obvious deck! I cannot stress this enough. One of the biggest mistakes I see players make during Sealed build is to skip building the obvious deck that jumps out of the pool – Azorius in the pool above – because they can just get back to it. They'll spend lots of time trying to find some super powerful deck hidden in the pool, try and figure out an archetype that might be there, but they aren't sure.
The problem with this mentality is that, if you approach sealed this way, you don't have anything to compare your decks to. Having a baseline is important. It lets you quickly dismiss or approve an idea or archetype as worth your time. If the deck looks worse than the obvious build, you should just move on.
I built the above deck very quickly from looking at the layout. I didn't spend time tuning this deck. Maybe it's better splashing some black cards? Maybe it has too much top end? Maybe the Angelic Exaltation is too cute with the current creature count? None of those questions need answers this second. Get the build to 23 cards, but don't worry about the nuances. The important thing is that I have a picture in mind of what looks like a very good Azorius deck. And now I can spend the remaining time building all of the other archetypes and asking myself, "Is this deck better than that Azorius fliers deck?"
If I don't find a better deck, I can go back to looking at the above Azorius deck, tune it, and submit my decklist. I timed the process, starting with a sorted Sealed pool, and it took around six minutes to lay out all the cards, digest the pool, and build the obvious deck. This leaves a bit less than twenty minutes – leaving five minutes to register the deck – to look at other builds. Furthermore, since the cards were already sorted with the proper colors, it took a second to scoop up the cards and start building either Orzhov or any variant of Temur. It took me less than ten minutes to lay out four other decks and determine that they didn't compare to the Azorius deck above. Having that frame of reference was extremely useful for this process.
This pool wasn't particularly difficult, as the density of Azorius gold cards really pushed towards that color combination. Sometimes your pool will have tension between multiple guilds. But build those decks first before you move on to trying something else!
Quick Sealed Tips
1. Ravnica Allegiance Sealed is a draw format. So many decks are slow that the probability of getting beaten down early is small. The matches are very attrition-based and every card matters.
2. Play Esper if you can. I think Esper is the best color combination in draft, but it's exacerbated in Sealed. At Grand Prix New Jersey, I remember seeing more and more Esper decks as I ran further into the tournament and moved to the top tables. It has the best common gold cards and lots of removal and evasion, which is the best recipe for success in this Sealed format. Don't force it. If you have a good Gruul deck, go for it! But mediocre Esper decks always play out better than I expect, so don't dismiss it if there are no rares. My deck at the Grand Prix didn't have any rares either!
3. Ill-Gotten Inheritance is one of the top commons for Sealed. I will splash it and try to play it if I open the card. Games frequently go longer than ten turns in this format and stalls are common. You still sideboard it out against green decks that hit hard, but I haven't seen those decks be all that common.
4. If you need more playables, it's perfectly fine to start Expose to Daylight. There are a lot of important targets.
5. Build a second deck. I've seen a lot of cases where you can sideboard into a different deck in this format because the Guildgates give you such flexibility. If your best deck is Gruul but its weakness is to deathtouch creatures and good removal spells, have an Azorius fliers deck in your back pocket to sideboard into!