GenCon has been and gone. It was another unsuccessful weekend in the life of Cedric Phillips, but a good time overall. I had the opportunity to play some decks that I hadn't had the chance to play before, and I got to meet some really nice people. Here is a recap of the weekend:
Thursday, August 5th
I woke up at 7am, unable to sleep and ready to game. One thing that I hate about GenCon is how long one must stand in line to obtain their badge. With my beauty sleep ending so early, I decided to prepare to stand in line quite early in the morning. Fortunately for me, there wasn't much of a line, and I was able to obtain my badge after only about ten minutes or so. What a relief!
After securing my badge, I realized that it was eight in the morning and events were not yet open. I decided to check out the convention for a while before the Exhibit Hall opened up at 10am. Once the Exhibit Hall opened up, all hell broke loose.
People were flooding in from everywhere. I remember when I used to get hyped up for when the Exhibit Hall opened up for the first time, but I no longer have that in me. Instead, I am old and grumpy and get frustrated when people bump shoulders into me. But there was a silver lining while trying to get through this sea of people: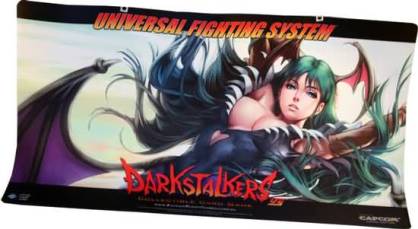 I like playmats more than most people, even though I don't play on one very often anymore. After laying my eyes on this playmat, it made me want to break back into my old habit.
If you didn't know, I'm a pretty big fighting game fan. I'm an especially big fan of Darkstalkers, and was always saddened that it never became a more popular series. All of the characters were really cool, but Morrigan, Felicia, and BB Hood are really the only characters that people see in video games anymore (mostly the Marvel vs. Capcom series). There are plenty of other sickos in the Darkstalkers series: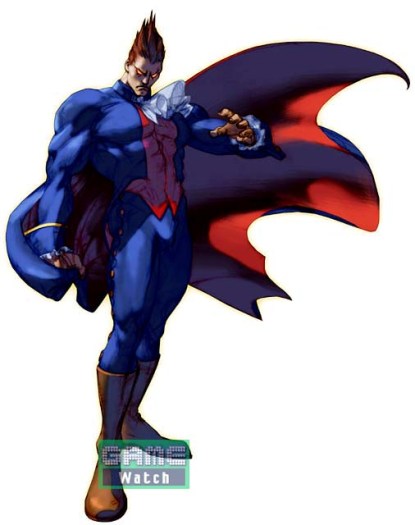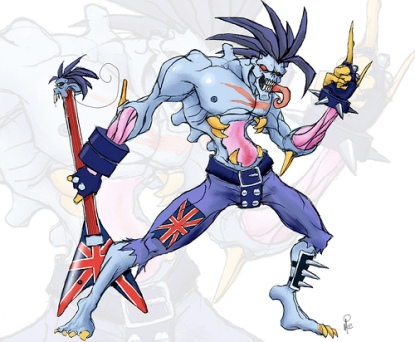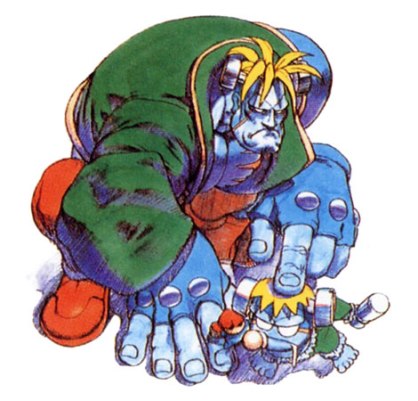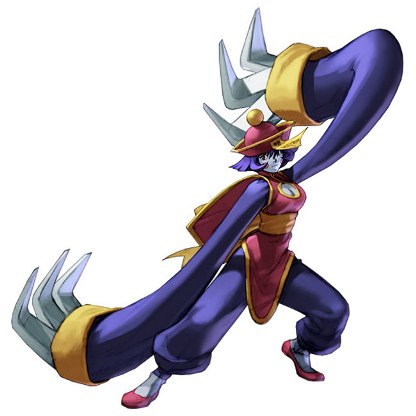 But don't worry. This story does not have a happy ending. As I tried to purchase the playmat, I was informed that it was going to run me $43. There was a sign in front of the playmats that said $14.99, but those were for the flags right above it.
Now, I find the term "expensive" to be relative. If I want something, I am going to buy it, but I couldn't justify paying $43 for this playmat. It was really awesome, but I just couldn't do it. I decided to play it safe for the first time in my life and would try to eBay it when I got home (which I have since done, for half the price).
The rest of the day was spent playing Pyromancer's Ascension in win-a-box queues to prepare for the Midwest Master Series. Many had asked me how I felt about the deck, and I'll tell you the same thing I told them:
1) The deck is unbeatable when Pyromancer Ascension is online.
2) There are games where you donk around and don't actually do anything.
3) Getting Pyromancer Ascension destroyed is vomit-inducing.
4) Foresee is better than Treasure Hunt.
5) Spreading Seas is pretty bad.
6) The deck is powerful but inconsistent.
Playing in the win-a-box queues led me to question my plan for the Midwest Master Series. I kept playing more and more queues, and I didn't like how hard I was working to win my games. There was a match against a mediocre Mono-Green deck in which I struggled to win two of the three games. It was then that it finally hit me.
It actually slapped me in the face.
Why in the hell am I not just playing Jund?
I know! I know! I am the guy who hates Jund. I am the only pure person left. I've never sleeved up Sprouting Thrinax before. I've never cast a turn 2 Putrid Leech. And I've never had any desire to cast Blightning.
But this weekend was different. I don't know why it was, but it was. I wasn't in the mood to play Turboland at all (probably burnt myself out on MTGO), and nothing else interested me. It was time to see how it felt to be the bad guy.
Let me tell you…
It never felt so good to be so bad.
Friday, August 6th
With a Jund deck in hand, I started winning boxes. A lot of boxes. I lost one match over nine hours of gaming with Jund. And what was my loss to?
The mirror!
A few things led to my decision to play Jund all day Friday:
1) Jund beats the crap out of all these cute decks people play. Jund is already one of the best decks in the format, but for the decks that people play in win-a-box tournaments, it is even better. Nonsense like Mono-Green and who knows what else just get crushed by Bloodbraid Elf.
2) Stephen King has been smashing with Jund all season long. My buddy from Maryland has lost in the finals of three PTQs this season with Jund. Recently, he lost in Rockville, Maryland in the finals to Naya. Then, the very next week, he lost in the finals of the Grand Prix: Columbus Sunday PTQ to Mythic. I respect Stephen's opinion quite a bit, and after watching him and Owen Turtenwald pile up results all season long, I decided to jump ship for a day or two.
Before you ask, yes Turboland is still very good. It is my Nationals front-runner. I simply needed a weekend off from that brain-melting deck.
Friday was a great day. I won a bunch of boxes, cast Putrid Leech on turn 2 a lot, and watched Owen win Vintage Championships. Congrats to Owen once again!
Saturday, August 7th
Saturday was the day in which I tried to do something completely ridiculous. The schedule for Saturday was highly annoying. The Legacy Championship was at 10am, the PTQ was at 11am, and the Midwest Master Series (the reason I was there) was at 5pm. I really wanted to play in Legacy Champs, so I decided to try and mize. If the tournament was seven rounds, I would be able to go 5-0, double draw during the first rounds of the Midwest Master Series, and then figure out what to do during the Top 8 once I got there.
Turns out it is pretty tough to be in two places at once!
I chose Goblins in the Legacy Championship as it was a pretty fast deck that I was incredibly familiar with. Round 1, I lost to Enchantress in three very close games. With a loss, my plan went up in smoke. After that loss, I decided to sign up for another win-a-box tournament. Because I was the first one in the queue, I decided to try and double queue in the Legacy Championship and win-a-box queue. In my mind, I would win my round in Legacy, and then my win-a-box queue would fire. Pretty smart, right?
What ended up happening is that my opponent killed me turn 2 in game 2 (turn 1 Dark Depths, turn 2 Tropical Island, Crop Rotation his Tropical Island for Urborg, Tomb of Yawgmoth, cast Vampire Hexmage), and as we were shuffling up for game 3, I heard the following:
"Cedric Phillips! Your win-a-box tournament is waiting on you. Please come to the front of the stage."
I burst out in laughter at my attempt to double queue in real life, conceded to my opponent in the Legacy tournament (an incredibly nice guy, by the way), and got the ol' Jund deck back out.
I won a few boxes to kill time before the Midwest Master Series began. Owen and I worked on our Jund list, but I decided against his proposed changes due to how well I was doing with Stephen's list:
Creatures (13)
Planeswalkers (2)
Lands (27)
Spells (18) So, with how I have been running this year post Grand Prix: Oakland, it should come as no surprise that I went 0-2 rather quickly, while Owen lost in the finals. Both of my losses were to UW Control, a matchup that I felt was favorable due to how Wafo-Tapa's list was constructed.
Turns out my two opponents had other ideas, as they had Spreading Seas, Sphinx of Jwar Isle, Celestial Purge, Flashfreeze, Condemn, and God knows what else. During the games, it felt like their decklists were built just to beat me!
Just to be clear, I know that UW Control can have access to all of those cards, but I didn't expect the hate to be so dramatic, due to how many different decks there are in the format.
After my nice crash and burn in the Midwest Master Series, I reluctantly headed to Fogo De Chao with Ben Swartz and Jeff Rabovsky. I say "reluctantly" because I don't really like Fogo De Chao all that much.
I find Fogo De Chao to be more of an experience than about eating good food. The food is fine, but it isn't anything special. Most of the meat isn't seasoned well, and while it's cool watching people bring meat on sticks to each table, it grows old quickly when the food isn't that good and the price tag is around $60 after tip. I've had good times at Fogo De Chao, but there are millions of restaurants that are better, and I don't expect to go back for a while.
I especially won't be back because I lost "The Game" heads up to Ben for a cool $110. Great day, right?
Oh, it got worse.
After Owen locked up another Top 8, a group of us headed to the local strip club. It was nice seeing the O-Dawg tip back a few too many, but the strip club was the nut low. The details aren't fit for print, but the long and short of it, as politically correct as possible, is…
1) The selection was below average
2) The best available wasn't into gentleman
I retired around 4am, sober and unsatisfied. Maybe Sunday would be better?
Sunday, August 8th
I arrived at the convention center just in time to see Owen lose in the finals of the Midwest Master Series to Sam Black. With no more win-a-box queues firing, I said my goodbyes and rode home with Timothy J Aten.
It may seem like I didn't have any fun, but I did. I'd just like to, well , win a match that matters for the first time in months. My preparation has been good, and I feel like I am playing well (outside of the PTQ in Louisville with Turboland), but I just can't seem to bring down the big W. Maybe my cold streak will end at Nationals?
I sure do hope so!
Until next time…