an Open at the end of November
and immediately made a return to the Top 8 of a Legacy Classic. A year later, Andersen had put up arguably the best year on the SCG Tour
®
in 2015 and set out a plan to go to every Open in 2016 as part of a team.
As Andersen returned to competitive Magic, he tried to keep it an escape and an opportunity to see the friends he made over a decade of playing the game. But he quickly returned to success by kicking off 2015 by making the Top 8 of the first Open of 2015 with a Four-Color Soul of Theros deck he worked on with Kent Ketter. He followed that up with a PTQ win the next weekend with the same deck and made Top 16 of the Legacy Open in Indianapolis, his hometown, to wrap up the month of January.
While he was putting up results, Andersen still didn't push all-in on Magic quite yet. That would take a Top 4 finish in the Season One Invitational in Richmond at the end of March and an 11-5 record at Pro Tour Dragons of Tarkir a couple of weeks later, a mark good enough for 36th place. From there, Andersen was back.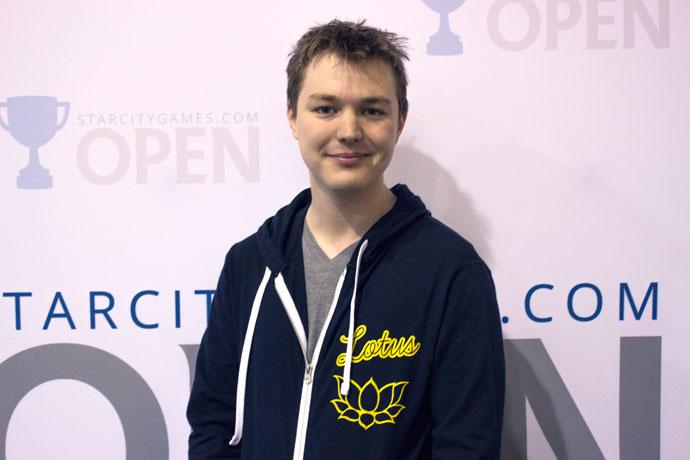 Chris Andersen
"At that point, I wasn't trying to qualify for anything or have a set goal. I just went with friends to have fun for a weekend like any other player, but then I just kept winning," Andersen said. "I thought, if I keep winning, I should invest more into the game, and kind of got back into it on accident. Then I started looking into making a Players' Championship run."
Andersen added another Open Top 16 at the end of April in Cleveland, but he was still far out from reaching even the Top 32 of the points leaderboard for 2015. Things changed in the summer, however, as Andersen found G/R Devotion and played it to three straight Standard Open Top 8s in Indianapolis, Baltimore, and Chicago. Suddenly he was in contention, but with just under two seasons remaining in the year, he wasn't sure if making the Players' Championship was a realistic goal.
Making the Players' Championship as an at-large points earner would be tough for someone who didn't make the jump until the middle of July. Andersen was also at the disadvantage of living in an area without an abundance of IQs to supplement his push with additional points. The system didn't offer him much help, and other regions offered players far more IQs to make up ground on off weekends or even during the week. Undeterred, Andersen talked with Chris VanMeter to see if it was still possible to make it despite the obstacles. They concluded that it would be incredibly difficult, but still possible.
Even if he didn't qualify for the Players' Championship, Andersen was thinking long-term. Playing every Open for the rest of the year would gain attention while giving him a shot and allowing him to play Magic in front of thousands of viewers on Twitch every week.
"I didn't think I was too far behind. It was possible to catch up, but it would be really tough," Andersen said. "CVM told me that even if I didn't qualify, I'd be a known name by the end of the year and open up more possibilities. I wasn't really doing anything else, so I decided to go for it. Looking at it now, I got to meet all kinds of great people and have an eye-opening experience."
Some of those great people he met were the Kiefer family. As Andersen tore through Day 1 at the Standard Open in Baltimore, he lost two games. One of them was in Round 3 against ten-year-old Quinn Kiefer. Quinn is the youngest of three brothers from Denver who travel to Magic events with their family. Quinn, Jack, and Lucas were all playing in Baltimore as their mother, Jennifer, watched from the aisles. Quinn quickly befriended Andersen and made a habit to check in with him after each round. Quinn got to watch Andersen blow through the Swiss and reach the finals before falling to Andrew Boswell in the finals.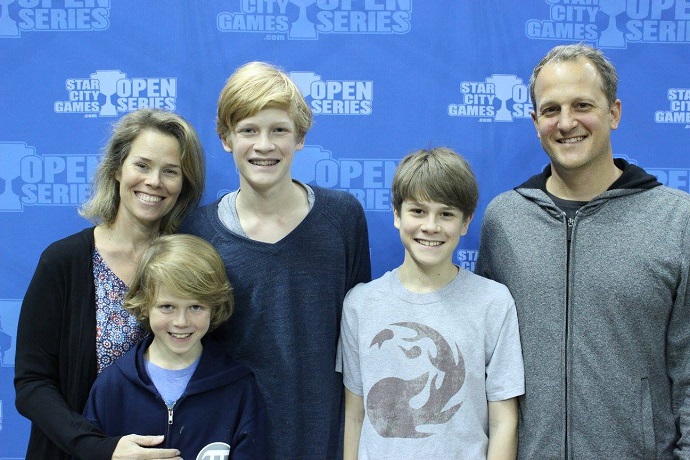 The Kiefer family. (From left: Jennifer, Quinn, Lucas, Jack, Jason)
Andersen got to know the Kiefer family more at a Modern Open in Dallas later in the year. There, Andersen watched all three brothers make Day 2 and go deep into the event as Lucas finished ninth and Jack made Top 64. After the Open, Andersen went to dinner with the whole family, including father Jason, and they helped push him into starting teaching Magic lessons, an idea he'd had for a while.
The family kept in touch for the next month as Andersen worked with the brothers online, and the Kiefers even welcomed him to their home for the Open in Denver. Andersen won the Modern Classic that weekend with Lucas's physical copy of Burn (the high schooler had midterms to study for) as he continued his push for the Players' Championship. He evened tested with the brothers for the Season Four Invitational, where all of them were qualified, and he had worked his way into position to have a chance to make the Players' Championship.
"It's really cool watching them accomplish things. They are so smart, I don't even know how much I am teaching them and really helping them," Andersen said. "If they keep playing they are going to be household names in a few years. Jack is thirteen and just [went 5-1 on] Day 2 of a Limited Grand Prix (Vancouver). They are really enthusiastic about the game, and so are their parents. Just imagine what they could accomplish five years from now."
Ultimately, Andersen's push for the Players' Championship fell short as he stumbled at the Invitational and couldn't reach Day 2. Andersen ended the year with six Open Top 8s, an Invitational Top 8, a Modern Classic win, two StarCityGames.com State Championship titles, and more Top 16 finishes than you can count on one hand. No player had more Top 8s and Top 16s on the SCG Tour® in 2015, and following his Top 8 in Chicago, Andersen's average finish in Opens was a single-digit number.
To put up those numbers and not be in the Players' Championship had to be frustrating, but Andersen didn't let it show. There were no Twitter rants or social media meltdowns. He simply looked toward 2016 and the new SCG Tour® structure that didn't have IQs award points. His case was one of many that led the reworking of the SCG Tour® and its new SCG Points system that put a greater emphasis on Open Weekends.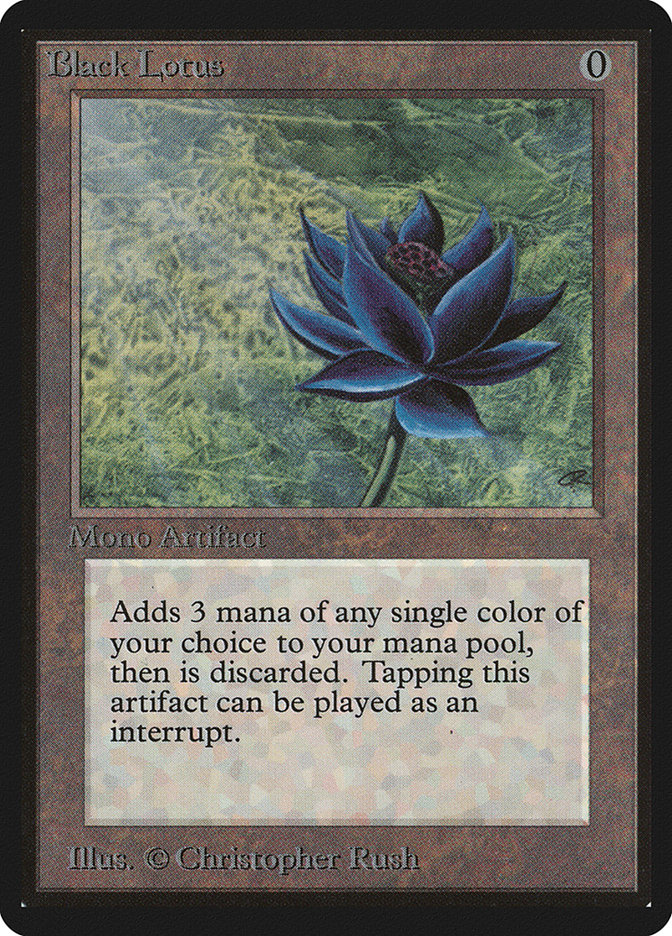 While Andersen's chances to qualify for the Players' Championship diminished as Season Four went on, he starting working on a project for the SCG Tour® in 2016. To go along with his Magic lessons, Andersen was focused on making the new year better, not just for him but for a handful of other players. Andersen had seen firsthand the power of testing and working with a team while preparing for Pro Tours and wanted to bring that atmosphere to the SCG Tour®.
On January 1, Andersen unveiled Team Lotus, a team set out specifically to put as many people as possible into the 2016 Players' Championship. The team consists of players he's worked and traveled with, including Andrew Tenjum, Ketter, Jacob Baugh, Devin Koepke, Robert Graves, E McKenzie, Christopher O'Bryant, and Jessy Hefner.
"Honestly, I was pretty frustrated at the end of the year, but I wanted to come back in 2016 and not only take one slot in the Players' Championship, but take like four or five slots," Andersen said. "The only way to do that is to build a team. I know Cedric [Phillips] wants to make the SCG Tour® bigger and I have faith in him to do it and I want to be part of the growth. Building a team would be an excellent way to ride that train."
The players on Team Lotus are no strangers to success on the SCG Tour® and have the stats to back it up. Team Lotus's roster has a collective 46 Open Top 8s, four Open wins, and four Invitational Top 8s. On top of that, the team is coming off its strongest showing, the Standard Open in Columbus, where Baugh took home the trophy, Tenjum made Top 8, and Ketter and Hefner made Top 32. While Andersen hasn't quite replicated the success he had to start 2015, his team is doing quite well. Team Lotus already has an Open win, a Classic win, multiple Classic Top 8s, and two players in the Player of the Year Leaderboard Top 16, including Tenjum as No. 2 and Baugh as No. 11.
"If you told me at the beginning of the year that either I could do well or my team could, but not both, I'd snap off my team," Andersen said. "I knew the guys that I put together are some of the best players on the Tour and know they are capable of crushing it. We got off to a slow start, but some of that comes from the pressure and all the eyes looking at us. Now the chemistry is flowing and we've we figured out a better system and are rolling."
While Team Lotus has spearheaded the push for organized preparation on the SCG Tour®, it isn't the only team to pop up this year. Nerd Rage Gaming, a team based out of Chicago, includes players from across the country, from Joe Lossett in California and Caleb Scherer in Missouri, to Andrew Boswell in New York. The newest team to form is Disciples of Bolas, consisting of players from North Carolina and led by Ali Aintrazi, including SCG Tour® regulars like Joseph Herrera and Emma Handy, to name a few. Rumor has it that a New York-based team is in the works as well.
Andersen and Ketter both see the future of the SCG Tour® centering around teams, similar to the dominance of teams on the Pro Tour circuit. On top of improved and streamlined testing, they see it as an even more enjoyable way to play Magic as well.
"The important thing to note is what we have done so far isn't anything spectacular. We just put together a group of friends that like to play and travel to events and want to get better. Nothing is stopping a group of people from getting together and doing the same thing we've done with Team Lotus," Andersen said. "I've had some of the most fun going to events in my life over this past month. When you are dead in a tournament, your tournament is over, but when you're part of a team, now you get to root for your teammates and that can be more fun than playing a lot of times. Having that experience make events better, and once a lot of people see it, I think it will catch on like wildfire."
Ketter, an Army veteran, has thoroughly enjoyed the team process and shines in his role in developing and refining testing processes. His previous work with Andersen on the Four-Color Soul deck let him know he wanted to be part of the team early on after seeing his teammate's drive and work ethic. Though his team's results from Columbus show the team's potential, he echoed Andersen's sentiment about more than just winning games of Magic.
"The amount of joy I have playing Magic with friends is worth more than all the prize checks," Ketter said. "The SCG Tour® shows people teams are not built on the talent you have, but the bond you share and the work you put in. While I have no idea if people will see teams in that way, I think if they do, they will realize the Magic as a Gathering is much better than just Magic with no one."