Hello everybody, and welcome to another edition of the Grand Prix Miami blog. Today is Friday, and a week
from now Grand Prix Miami will be underway! The main event starts Saturday, but there'll be plenty of fun Friday at the Miami Beach Convention Center!
$20 Sealed Spectaculars!
If you like value, Friday's $20 Sealed Spectaculars are for you, and you'll have three chances to participate in one; 11AM, 1PM, and 3PM. Everyone who enters a $20 Sealed Spectacular will receive six packs, with which to construct their decks: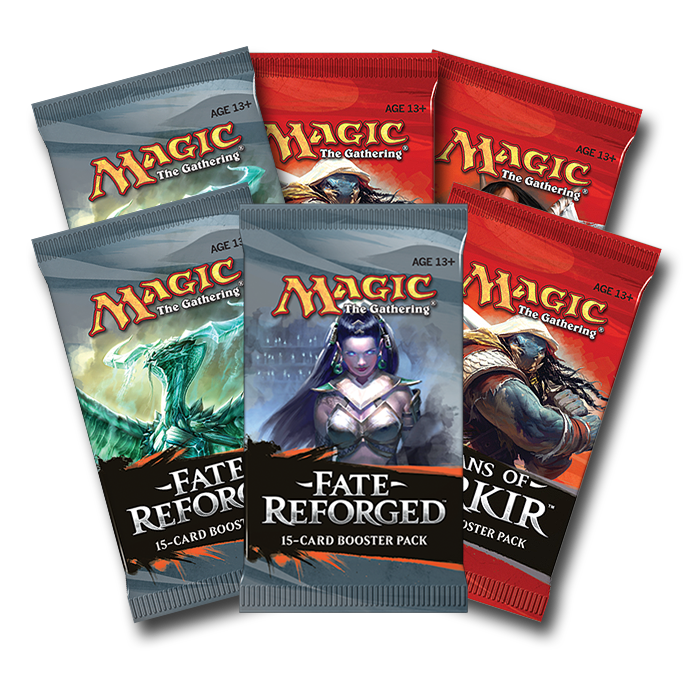 In addition, all participants also receive an exclusive GP Miami Mardu Scout pin and have the opportunity to win loads of SCG Prize Wall tickets!
The value runs high, as these events are spaced far enough apart that if your build and first round don't go well, you still have time to play in another.
These four-round events have prizes for everyone with at least two wins! Take advantage of your three chances to play on Friday!
Foiled Again!
This popular event is your chance to play three rounds of Khans of Tarkir/Fate Reforged Sealed Deck on Friday night with prizes guaranteed for each player
in each round! At the start of each round, each match will get 30 SCG Prize Wall tickets and a random Friday Night Magic promotional foil card. The winner
of these matches gets 20 SCG Prize Wall tickets and the foil, while the other player still walks away with 10 SCG Prize Wall tickets.
With three rounds of Swiss you have three chances to win foils. Come battle on Friday night!
BBD vs CVM LIVE!
Do you love the StarCityGames.com VS Series? So do we! So much so that we're bringing you the action LIVE at Grand Prix Miami! Meet stars Brian Braun-Duin
and Chris VanMeter as they battle with Standard decks in front of a live audience. Follow the action onSCGLive or attend the event in person to root for #TeamBBD or #TeamCVM in the feature match
area!
But that's not all, of course. We have Grand Prix Trials, Challenges, and more happening on Friday. Want to know more? Check out the full event schedule or join me here on Monday where I go over not only Friday's Challenges and
Side Events, but the entire weekend's schedule of festivities!