Hopefully by now we've been all Prereleased out in our efforts to hit the new cards as hard as possible as often as possible. My life is pretty strange
these days, and much like how Drew Levin has found he has to step away through the November elections, I basically don't have weekends between now and
November 4th – but I was able to catch a midnight Prerelease in between my far-too-busy Friday and my still-too-busy Saturday… and if I'd known
I'd be helping you with your flavor-filled Abzan deck beforehand, I would have asked for them as my prerelease pack. Instead, since I am generally lacking
time these days and thus under-researched the new set compared to my typical level of obsessive focus, I felt the only thing I could do wrong during
deckbuilding was express an incorrect preference for clans – so I told them to surprise me and ended up Sultai instead. I built a sweet little number
focusing on two-for-ones and powering up a few expensive delve cards, and I did, in fact, manage to out-draw my opponents, out-two-for-one them, and wreck them with ten-mana delve cards on my way to going undefeated and become Khal of my local gaming store.
That's how it works, right? There are five wedge-colored khalasars and, like Drogo, if you go undefeated in many battles you become a Khal… right? The
"Game of Thrones" theme is strong here, so it's going to take me forever to be convinced otherwise… as I try to figure out which legendary creature maps
to which Game of Thrones character because I am a nerd.
The Abzan clan with their famed endurance reminds me very strongly of House Stark, and you would be hard-pressed to convince me that their words are not
"Winter is Coming." Anafenza, the Foremost reminds me of Robb Stark for no particularly strong reason I can point to – there is no 2/2 Wolf token that tags
along, for example, it's just that Robb's battle plans of using careful strategy and long-term planning fits very well with the +1/+1 counter assist that
Anafenza passes out (and there is no real correlation to the exile clause – unless you want to decide that that makes Anafenza Jon Snow instead, because
you have to be sure to leave no body behind when you're beyond the Wall).
Having tied into that side of the theme more strongly than my Prerelease experience with the Abzan – one of my opponents played the clan, and I
didn't find it a particularly challenging experience to defeat them because all of my set-up two-for-ones appeared and started to chain together, and card
advantage is still a better way to outlast an opponent than the actual outlast ability. I get the feel only at times, since there is that conflict between
counters-matter and token generation, and that split has shown itself here as well. My solution to it here is to cut the enablers and deepen both strains,
but your mileage may vary – I am building here assuming that things will change more over time, and that mostly you're looking to make some
reasonably-cheap improvements in order to find the deck's real identity and hone in on it. You said you wanted to keep to low-budget cards barring a few
exceptions, so there are only four cards at the $5-or-more mark despite the fact that I don't usually find myself shying away from those marks, and that
kept the deck to about $60 as you try out new things and figure out what matters most to the Abzan Clan.
(Rule #1: no weddings.)
(Rule #2: NO. WEDDINGS.)
Let's start with your mana and go on from there, since I still see some cheap improvements we can make that will help smooth the deck's early game and make
sure you can cast your commander on turn 3 every game, as that is the most critical first step we can make with this deck – I see it as reasonably
beatdown, and thus, it needs to concern itself with the early game and building pressure, so we need to have a reasonable number of nonbasic lands, even
though we don't need to go all-out by adding the three Return to Ravnica shocklands and as many fetchlands as makes sense to add to the deck. I
consider this an excellent time of opportunity for Commander players to capitalize upon – the Return to Ravnica cycle of shocklands are about to
rotate out of Standard, so they are going to be at their lowest price point since the format became widely adopted, and the Khanslaught fetchlands are
excellent alongside them and help provide a whole lot of access at an affordable price. Shock/fetch manabases are very sturdy, and it's worth investing in
one of each over the next few months, if not more, but I won't wedge this in here just because I think it's important – fixing the bulk of the deck is
going to cost us $60, but fixing a few dual lands would easily eat up just that much again for four cards, so you can note "I think this is a really good
idea" and maybe get around to it sometime as it best suits you.
That said, here were my changes:
Out: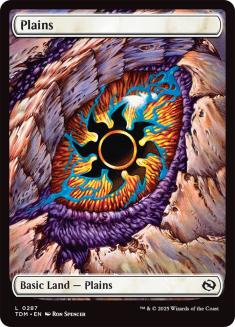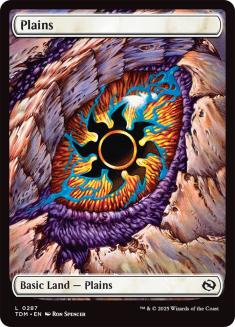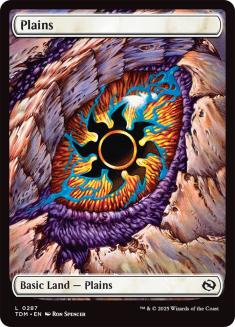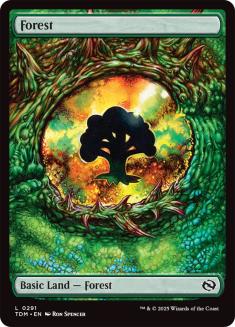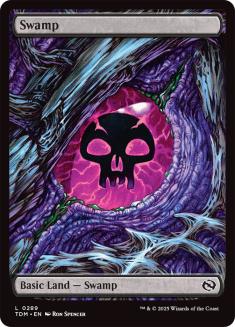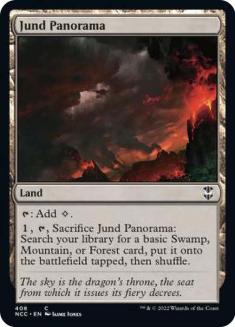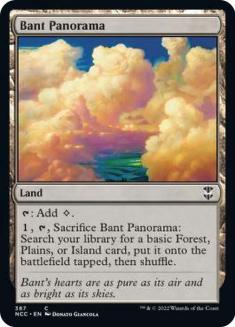 Rather than play the complete-the-cycle game here with the Shards of Alara Panoramas – Naya Panorama fixes your mana just as well as Bant Panorama does – I decided to cut all of them because Panoramas are not that good at mana fixing, and we have access to a better cycle instead at a very low price point. (We actually have access to multiple – the Guildgates and now the new cycle of Refuges that includes both allied and enemy colors – but when you've got to make your three-drop on time, we don't want too many lands coming into play tapped.)
In: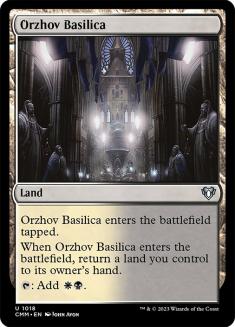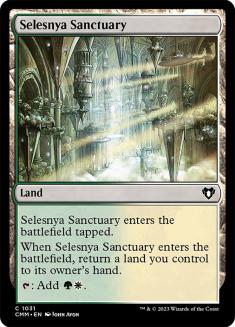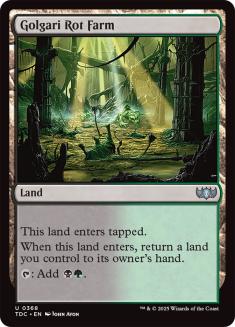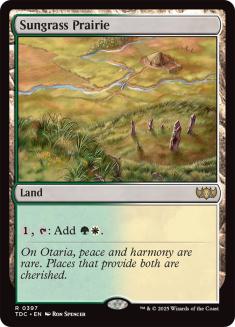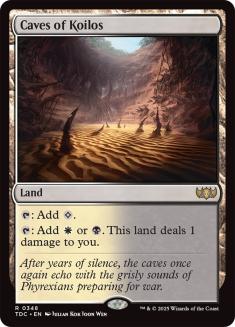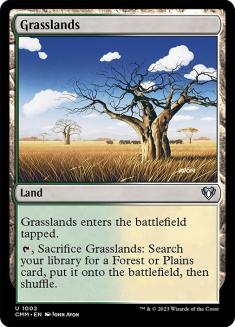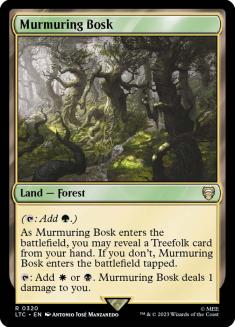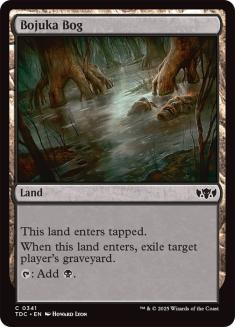 While I would like a little more fixing, this is a good point to build it towards, I understand other Commander players – Sheldon, especially – prefer to have a bit more in the way of basics in
their decks than I tend towards, so we won't push on too hard here and are really just investing a little bit in drawing your right colors on-time and more
smoothly. A Panorama might as well be a land that comes into play tapped, given how it requires using your entire second turn to get colored mana in time
for Anafenza, so I figured we might as well go all the way and add the Ravnica bouncelands in their place.
Moving on to the artifacts, you have three Signets and I have three cuts… I just don't consider the Signets to be reliable mana, and it's even worse when
you're an aggressive deck, because the Wrath that you're already worrying about may be prone to take out your mana rocks too, meaning you lose even more cards in the exchange and have even further to catch up before you're back on your feet again. With those three out, I'm just
going to make two replacements, and we're going to keep them in the same spirit as the Signets if not actually the same – I think Wayfarer's
Bauble and Expedition Map would be great fits here, even though most people will look at you funny for playing the Bauble in a green deck, and we can save
that vacated slot for adding another creature to our team later. (And no, it's not Sakura-Tribe Elder, because that wouldn't really be different than this
section, and thus, worth pushing off till later. There would be literally zero suspense in that, and I am not of the opinion that you have to cram
Sakura-Tribe Elder in every green deck just because it's great.)
Moving on to the spells, I am interested in making cuts here specifically because I don't think you have enough creatures – and some of your token-making
spells aren't making enough – or at least good enough – tokens that they're better than a different creature card might be.
Out: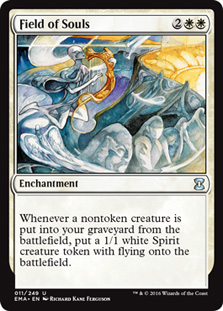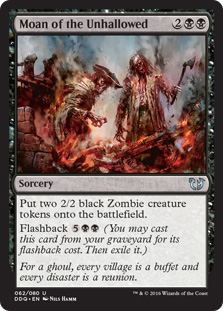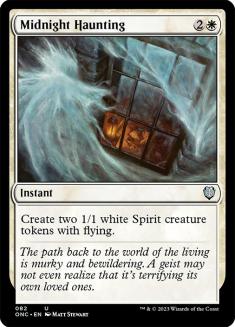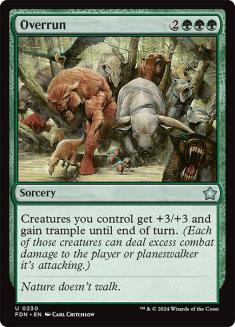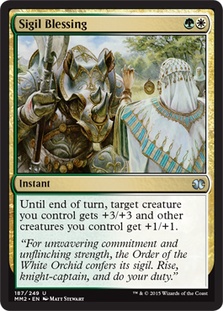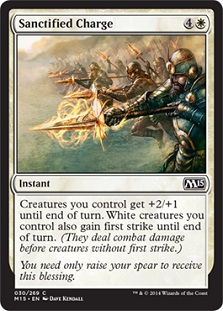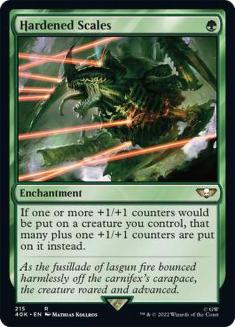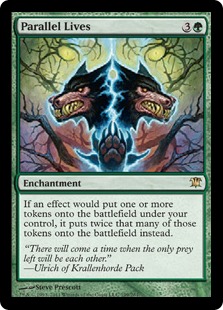 I think Hardened Scales and Parallel Lives will work well in a more dedicated Doubling Season deck, but I just don't see this deck being that deck or close enough to it that we wouldn't be better off replacing them with a stronger card that has a higher impact immediately – while understandably Mirari's Wake may be at too high of a power level for what your deck is trying to accomplish, there are still second-best solutions like Dictate of Heliod that would surely be worthy of consideration and have an immediate impact rather than grind out small edges in the longer-term games. After that, we're cutting the weakest pump spells and the worst token makers, as we can do better than them at a reasonable price thanks to the plethora of options these three colors provide us.
In: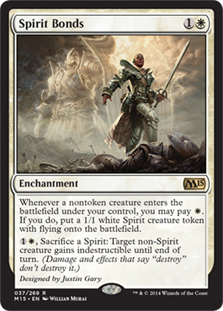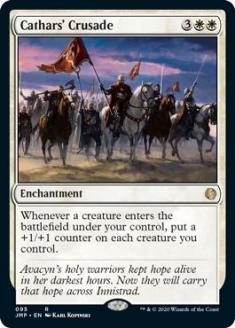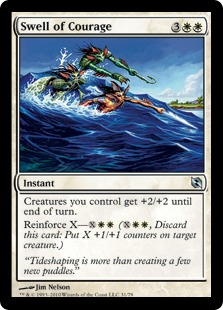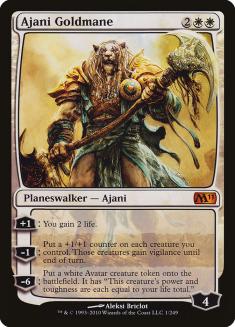 Swell of Courage could have been Dictate of Heliod, but instead of worrying over having a long-lasting effect, I decided to play around with the reinforce side of the card and see what happens – I've been pretty big on that particular ability lately, and it gives you a much more dangerous side of the card in the later stages of the game when you have enough mana to make a surprise reinforce of your commander lethal in just a swing or two. Cathars' Crusade is on the rough side of the line as far as power level is concerned – it's really high-powered in this deck, since there are a lot of token creatures and a good number of +1/+1 counter synergies in the deck as well – but I figured it would be good to see it thrive in this deck and better to have it than the far more boring Mirari's Wake that otherwise suggests itself strongly. Spirit Bonds is to my mind the 'better' version of Field of Souls, since it gives you the tokens up-front and also lets you use those tokens to save your key token-making creatures; it strongly suggested itself for both of its sides given your adherence to the clan's "Out-grind them all" flavor, and I expect it to do very well here. Ajani and Archangel are obviously very strong cards, and both have more than proven themselves by now, hopefully enough to be worth the top two price tags in this deck as I felt they synergized too well with the deck's plan to exclude them
Out: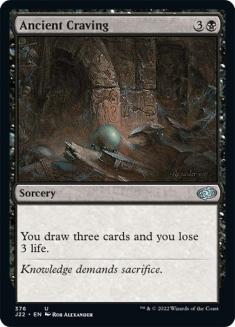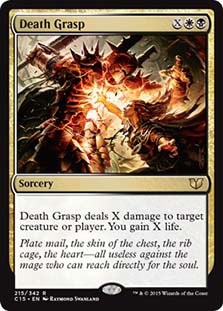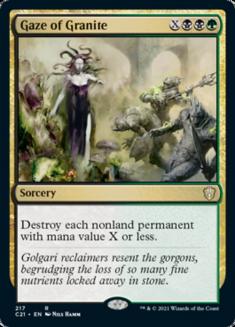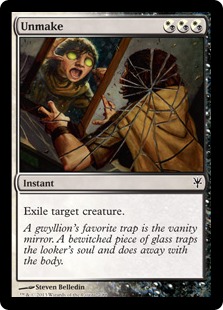 In: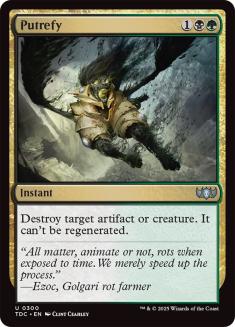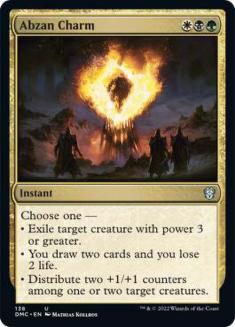 There is no better way to embrace your clan than to rock the appropriate Charm, and we're replacing Unmake's no-nonsense exile ability with a situational one… and two other modes in addition, either of which could be particularly useful over the course of a game. I particularly disliked Gaze of Granite in this deck since no matter what it would kill your entire token army and figured that we could get to the top of the mana curve every great once in a while despite this deck not playing a whole lot of ramp or card drawing; you have enough, and we're adding a bit more, so that nine mana shouldn't be impossible in the very late stages of the game, and thus, In Garruk's Wake would be a live card enough of the time to include it.
And from here on out, everything else added is a creature, so we'll move on to that section next and make our cuts – we have six slots unfilled and four cards I don't think really fit here, so that's going to give us room for ten new friends to fill the token-building and creature-pumping side of the deck back up again.
Out: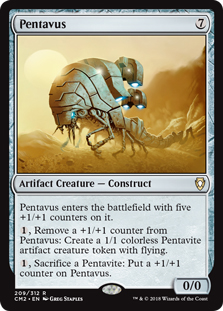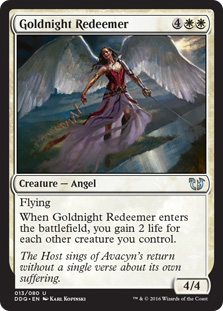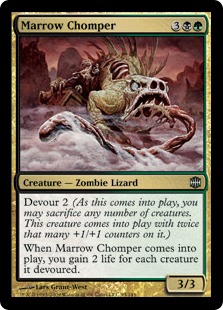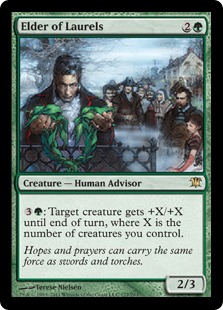 Pentavus costs a little too much for the effect and was mostly capitalizing on the "double the +1/+1 counter" cards anyway to really be worthwhile in this deck since you needed not just seven mana but a whole lot more besides to pump out a token army or really use the free-blocks-every-turn trick that Pentavus can pull off if you try to. The other three just didn't do enough to impress me, and I felt the replacements were a better fit:
In: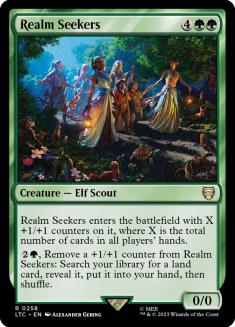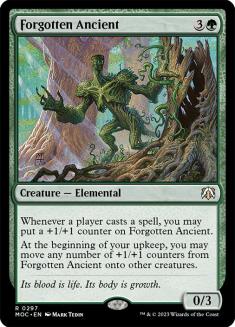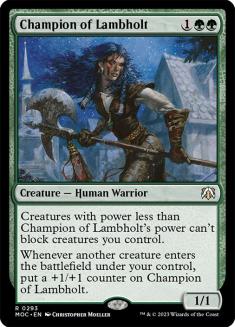 The Guildmage is especially good with token creatures to sacrifice for real creatures, but we can expect to have only limited access to our own graveyard here thanks to Anafenza's second ability… we shouldn't have a whole lot of targets there, if things are going right, but it also has the ability to pass out counters in addition to playing a recursion game, so this is a solid addition later in the game that fits the "Outlast" theme as well as the mechanical sides of the deck we're playing with. The other four play with +1/+1 counters to some degree – Champion makes your team harder to block, and both Fertilid and Realm Seekers can turn Anafenza's attacks into a free land for you, instead of just free damage. Forgotten Ancient turbo-charges your other counters-matters cards – and it does so far more aggressively than Hardened Scales would, turning all players' spells into a permanent size bonus distributed as you see fit in subsequent turns rather than sitting on the table having a small effect over a very long time-scale. We want to get big and beat down, and we want to do it now.
In: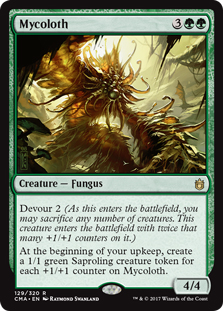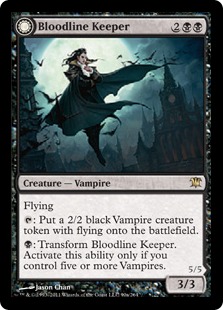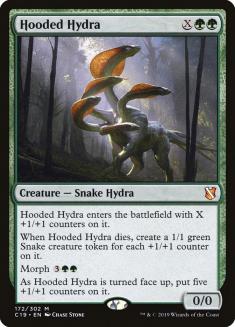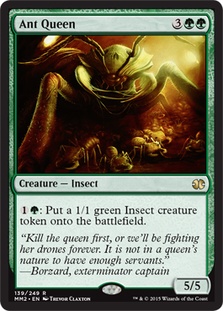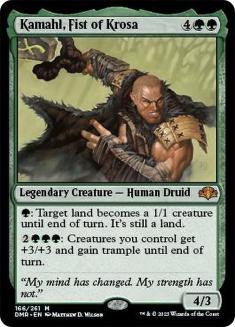 Here we're supplementing the existing squad of token generators, plus replacing that Overrun with a creature-based Overrun that also applies
pressure to opponents that want to sweep your board – the threat of losing a whole bunch of their lands for doing so is very credible and will help keep
your threats on the board where they belong. I'm excited to try Hooded Hydra out (and doubt anyone will be able to guess what your Morph creature is,
despite it being very obviously in-theme in hindsight) and have put Bloodline Keeper to very good work in token-based decks before, so I'm excited to add
him here as well despite being the only Vampire on the team (…besides Sorin, that is). And Ant Queen seems like one you've just managed to overlook when
throwing your token-generating squad together, and adding it here corrects for not finding it while flipping through your token-generating Commander cards.
I'd rather make tokens than gain life any day, so it should come as no surprise that I cut Marrow Chomper for Mycoloth; the payout is much higher even with
just a small bit of Devouring going on, and it's intersecting in that fun overlap of your two themes, with both the counters and the tokens mattering –
sure, it's likely to die before it can do anything too crazy because your opponents won't suffer it to live especially long, but that it works so
well with the rest of your cards means that it should have a good amount of play even without having to devour a lot of things since you can power it up
after-the-fact too.
Putting it all together, we get the following:
As always, for participating in this week's edition of Dear Azami you will receive a $20 coupon to the StarCityGames.com Store, and that coupon
should go a very long way with this deck since the total price across twenty-eight cards is $62. 53 – you said keep it on a pretty tight budget so I did,
and that coupon alone covers a third of the changes. I would suggest picking up Khanslaught fetchlands and your Return to Ravnica dual lands as well, just
in general principle, and all five of the allied-color fetchlands could potentially go in this deck and get you a real dual land, which I think would be
better than your average painland and certainly better than Grasslands, though a Windswept Heath that comes into play tapped is still pretty
Windswept Heath-like (and thus we're not talking about an either-or consideration here).
We've hit a sweet spot of hitting all your key notes with solid cards here, but the mana fixing could be stronger after making a reasonably small but
worthwhile investment – I think every Commander player should be taking the opportunity right now to make sure they have at least one of each dual and
allied fetchland since they'll always be awesome and the price will never be lower – and there are some other cards, like Vigor, that I would have
considered if not for the budget concerns telling us not to go off suggesting $20 cards.
(Also: holy crap, who knew that the price of Vigor had gotten so high? Commander players and our well-loved staples, the prices can be downright
fascinating sometimes. Winding Canyons has more than quadrupled in price since I started writing Dear Azami… oh, and yes, adding a copy of that
land would also be good here if you're growing past your budget later on.)
Priced out individually, here is what all of our changes would cost you:
With Khans of Tarkir hitting stores on Friday, we're all going to get our chance to play all of these delightful new goodies – what other cards are you all excited to try out in 99-card land? We know Standard is going to be completely shaken up, just by rotating out Return to Ravnica Block and its long-since-boring Pack Rats and Sphinx's Revelations, and Modern is undergoing some slow seismic shifts as well as the implication of having five fetchlands rather than ten is surely percolating around the system. Even Legacy is affected, just by reprinting the Onslaught fetchlands and making them significantly more accessible to that crowd – an effect we, too, get to enjoy if we want it (and I, for one, embrace this momentary Golden Age). But what other new commanders intrigue you to build around? We've had only a very few tri-color enemy-wedge commanders for so long, and now we have some new ones to work with and more gold cards and mana fixing to boot while we're at it.
If you're rocking a new Khans commander, feel free to send in your deck using the submission link below, or tell us more about it in the forums!
Want to submit a deck for consideration to Dear Azami? We're always accepting deck submissions to consider for use in a future article, like Joel's Muzzio, Visionary Architect deck or Chance's Roon of the Hidden Realm deck. Only one deck submission will be chosen per article, but being selected for the next edition of Dear Azami includes not just deck advice but also a $20 coupon to StarCityGames.com!
Email us a deck submission using this link here!
Like what you've seen? Feel free to explore more of Dear Azami here, in the Article Archives! Feel free to follow Sean on Facebook… sometimes there are extra surprises and bonus content to be found over on his Facebook Fan Page, as well as previews of the next week's column at the end of the week!