So we're less than 24 hours away from the doors opening for Grand Prix Richmond! We currently have 3,918 players registered for the event (+376 from yesterday). We have a hard cap of 5,000 spots for Grand Prix Richmond, so please – preregister now! I'd hate for you to wait until Friday to show up on site, and we've already run out of registration slots for the event!
There have been some frequently asked questions about this event. Let me jump right in and answer them!
Does it cost anything to enter the event hall?

No! If you are coming to Grand Prix Richmond to spectate, trade, play casually, or just hang out – there is no charge! We only charge money for playing in events (such as side events or the main tournament). Bring your friends and family members, and we'll show them all a good time!
I've preregistered for the event. Where do I check in?

Friday: We will have seven lines dedicated to checking in players!
Line #1: The VIP Line. This will be located inside the event hall, at the main event stage.
Line #2: The Sign-up line. If we have any slots available at noon tomorrow, this is the line for people who have not preregistered to sign-up for Grand Prix Richmond. This will also be located at the main event stage. Please note that tournament entry must be paid with cash if you are registering on-site.
Lines #3-#7: The five Preregistration Check-in lines. These will be located directly outside of the main event hall, and are for non-VIP people who have preregistered for Grand Prix Richmond.
Saturday: All check-in and registration for the main event will happen at the event stage in the event hall.
When do I get my Registration Rewards?

You get them at the time you check-in at one of the above lines (Noon-1 a.m. Friday, Doors-open to 9:50 a.m. Saturday). If you were Player 3,600 – 5,000 to sign up for Grand Prix Richmond, you will be mailed your Eternal Witness playmat after the event (as detailed here).
I don't have a DCI number/don't remember my DCI number. What should I do?

If this is your first Magic tournament, you'll need a DCI number to play in Grand Prix Richmond. These are free, and you will be able to sign up for your DCI number at the same time that you check-in for the tournament! If you need us to look up your DCI number, we will also be able to do that for you when you check-in for the event!
What happens if I preregistered and cannot attend Grand Prix Richmond?

If you do not show up for Grand Prix Richmond, we will issue you a full refund on your registration fees sometime next week (please give us a couple days to get back in the office from the Grand Prix!)
When do I turn in my decklist?

If you have a sleep-in special, you can turn in your decklist one of two ways:
1) E-mail your decklist to [email protected]. Your decklist must be received by 9:59 a.m. on Saturday. If you send multiple copies of your decklist (IE, submit it Friday night, and then resubmit a new copy with a couple of different sideboard cards), the last *FULL* decklist received at [email protected] will be the one used for the tournament. (So if you are swapping 2x Naturalize for 2x Disenchant, e-mail us the new list with all 75 cards, don't just send an e-mail with "Swap 2x Naturalize for 2x Disenchant" – we will disregard these changes for your official decklist.)
2) Turn in your decklist at the time you check-in for the event.
If you do not have a sleep-in special, your decklist will be collected at the player meeting prior to the start of the first round of the Grand Prix. Please make sure it is filled out in its entirety; judges will come around to collect your decklists during the player meeting!
What's the Grand Prix waiver?

All participants in the Grand Prix must sign a publicity waiver in order to play in the event.
If you have the sleep-in special, we will collect your signed waiver at the 11:15, 12:15 or 1:15 (depending on number of byes you have) check-in meeting.
If you do not have a sleep-in special, we will collect your signed waiver at the start of the player meeting, at the same time that we collect your decklist for the event.
What happens if I already have a Sleep-In Special or VIP Package, and I win another one from a Minimaster or Grinder?

We will refund you the cost of the Sleep-in Special or VIP package at the VIP Station located at the main event stage!
How are Minimaster sign-ups going to work?

At the time that you check-in for the tournament (between noon and 2pm on Friday), we will immediately enroll you for a Minimaster tournament. As soon as we have 32 players, that Minimaster flight will begin.
As long as you are in line by 2 p.m., you will be able to play in a Minimaster flight (even if it takes past 2 p.m. to get you to the front of the line to check-in)!
Can I play with the Promo Batterskull?

By all means, yes!
Where can I find pairings for each round?

We will have pairings posted in two ways for Grand Prix Richmond:
1) There will be multiple physical copies of the pairings for each round of each flight around the tournament hall.
2) We will tweet the pairings for each round of each flight to #gprichmond (from @scgpairings)
Is there still space available for the TPF or MDF sealed deck events?

Sorry, but the Time Spiral/Planar Chaos/Future Sight event sold out within three minutes of registration opening, and the Mirrodin/Darksteel/Fifth Dawn event sold out shortly afterwards.
I do want to address a bug we encountered with our registration software. Due to a rush of signups all at once, the TPF event allowed 45 people to register for the event (as opposed to the 32 cap we had announced). To make sure that these extra 13 people have a great experience at Grand Prix Richmond, we're proud to announce SCG has purchased the additional product to allow these 13 people to play in this event, and had them overnighted to us!
Got any good restaurant recommendations?

I was contacted overnight by Richmond resident and SCG Baltimore Champion Zach Jesse. Here's his guide to dining around the convention center in Richmond!
Richmond Dining Guide

Zach Jesse here. In every man's life, there comes a moment when he realizes that the moment is his to seize, potentially changing the lives of hundreds, perhaps thousands, of people. For me, this moment is now.
Unlike the rest of you poor schlubs, I have the enviable position (at least insofar as this Grand Prix is concerned) of living literally a few short blocks away from the Greater Richmond Convention Center. While the rest of you are spending hours traveling and parking in order to attend this epic Magic tournament, I will be enjoying a nice croissant or scone, leisurely strolling to the venue. If I had a Segway or pair of stilts to illustrate how comically close I live to the game site, I would use them to travel there.
I've come bearing the greatest gift of all: the gift of knowledge. Specifically, since I know Magic players are notorious for liking tasty post-tournament food, I figured I could offer my services and suggest a few of my favorite places near the site. As it turns out, many of the best restaurants in Richmond are (in my opinion) located a short walk from the tournament. Note, that there are more restaurants nearby than the ones I'm listing off; you can always partake of Subway or DaVinci's Pizza. These are directed toward the mildly sophisticated wizard-gourmand.
Overall, I'd heartily recommend almost all of the restaurants here. The prices will vary, but most are in the $10-$20 range for entrees. If that's too pricey, there are Chipotles, Five Guys, etc. near the VCU campus.
Lucy's
404 N 2nd St
(804) 562-1444

Lucy's is brand new (i.e., it opened in late December I believe) and is easily the favorite new restaurant of my wife and I. One caveat: I have only been there for lunch, so I can't comment on their dinner menu. I hope, however, that my lunch experience would translate to their dinner menu as well. Lucy's serves down-home fare and has home-made everything. They pickle their own pickles for goodness sake. For the experimental, I recommend their "faux-meatballs" and/or their home-made French fries. Also, if you plan on going there, be alert as it's easy to miss the entrance.
Max's
305 Brook Rd
(804) 225-0400

Like Lucy's, Max's is relatively new; however, other than their recent vintage and high praise (from me), they're quite dissimilar. Max's has a Belgian/French focus to its menu serving somewhat more exotic fare than the rest of the places listed, although the finicky eater can always enjoy their hamburger or salad. Max's has some absurd French fries and, in traditional Belgian style, serves them with a medley of mayonnaise-esque sauces. For partakers of liquid refreshment, they have an extensive beer and wine list. Of all the restaurants here, Max's strikes me as the spot most able to accommodate a large group, although I'd try and call ahead to make sure they have room.
Comfort
200 W Broad St
(804) 780-0004

Do you like Comfort food? Obviously go here. This was once top-dog of the Richmond restaurant scene, although it's losing its crown to the aforementioned restaurants in my opinion. Nonetheless, this place has delicious southern food; I recommend the fried okra. If my father were here, he'd have me mention that they have a good whiskey bar.
Tarrant's
1 W Broad St
(804) 225-0035

Tarrant's has a great lunch menu. Its dinner menu is a bit pricey for what you get in my opinion, but my wife insists that it's a "sexy" dinner restaurant, although I have no idea what that means. Perhaps if you've taken a date to the Grand Prix, Tarrant's would be the ideal place to go afterwards.
Saison
23 W Marshall St
(804) 269-3689

I used to hate the restaurant that once stood in this space. About two years ago, a truck literally ran into the restaurant, demolishing it, and Saison rose from the ashes. I won't lie. Saison is small. It also has a seasonal menu, so I can't recommend it's current food selection. When I have gone, however, it's been stellar albeit a bit eclectic. They use a lot of nouns that I don't recognize on their menu, but they always taste good.
Thai Corner
327 N 2nd St
(804) 343-2009

NOTE: Thai Corner is only open for lunch (until 3 I believe), so don't dilly dally if you want to eat there. As the name suggests, they serve thai food, which, if you're like me, you love. I'm not sure I need to mention more here.
Pasture
416 E Grace St
(804) 780-0416

Pasture is a little more upscale than Comfort, but owned by the same folks that run Comfort and, unsurprisingly, the menu is similar. The food is all from local farms. I recommend their steaks and/or hamburgers.
Gibson's Grill
700 E Broad St
(804) 644-2637

I've only had one experience with Gibson's Grill, and it was a mixed one, but I mention it because it's very close and I would be remiss if I didn't. The food, I thought, was excellent. I ate lunch there with my mother and wife, however, both of whom felt the décor/atmosphere was deplorable. If that type of thing gets under your skin, maybe stay away? I think it's basically bar food: hamburgers, chicken tenders, etc.
Mama J's
415 N 1st St
(804) 225-7449

Like many of the options, Mama J's features comfort food, in particular fried chicken and fish. Mama J's is also a cheaper option than most of the other suggestions here, at least as far as dinner is concerned. I've had mixed experiences with Mama J's. It has fallen short on occasion, but not enough for me to completely discount it.
Blacksheep
901 W Marshall St
(804) 648-1300

I hesitated including Blacksheep in this list as it's a bit farther away than the other suggestions here. While still "walkable"—it's less than a mile via foot—if you don't want to brave the hike or drive, I wouldn't suggest this. For those that do, good on ya. Blacksheep is a New Orleans-inspired restaurant with a rather eclectic menu that rotates seasonally save for the gigantic sandwiches it offers. Seriously, Google image search "Blacksheep Richmond." It's been featured on multiple cooking and travel channels, which should come as no surprise for people who eat there.
-Zach
---
Ben here again! I'll be at the information booth along with StarCityGames.com President Pete Hoefling from noon to 8 p.m. Friday, so please stop by and say hi, ask questions, or get hugs from me!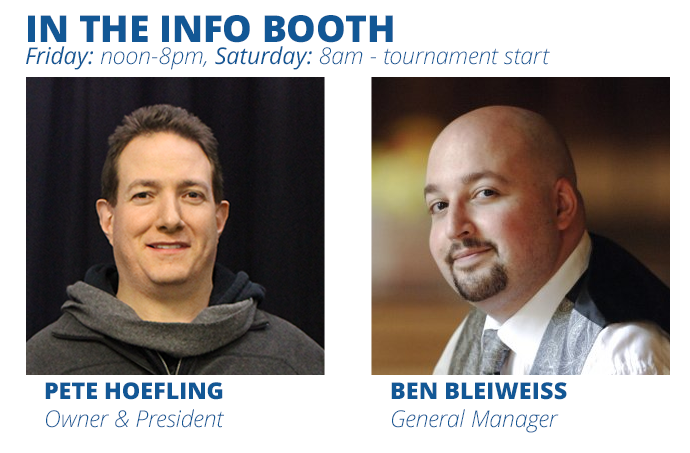 I'll be live-blogging about Grand Prix Richmond to /r/magictcg all day tomorrow, so check out my post there tomorrow for up-to-the-minute news from the floor of the Grand Prix!