Welcome to the first installment of the Grand Prix London countdown blog! This series of blogs will go over anything and everything concerning Grand Prix London and will let you hear from people here at StarCityGames about how the event will go down.
Do you hear that? That's the hype train coming down the track for the first event across the pond ever hosted by StarCityGames! This first blog will give you the rundown in London, detailing what's up with Registration Rewards, Guests of Honor, and more. We've heard from many Europeans asking for an event overseas and now is the time! Let's hit the highlights:
With Grand Prix London marking the first time we're hosting a Premier-level event outside the United States, we're pulling out all the stops. First and foremost, Grand Prix London is taking place at the world-famous ExCel London Exhibition and Convention Centre! This event is going to be huge and there will be plenty of space to accommodate everyone that wants to play.
Along with our Guests of Honor, which will be detailed below, there's an artist alley packed full with six talented individuals. Other special guests include Rich Hagon, hosting his famous traveling game show, visiting cosplay artist Aranel Cosplay, and all five StarCityGames.com VS Series stars: Brad Nelson, Todd Anderson, Tom Ross, Brian Braun-Duin, and Chris VanMeter! The VS Series stars will host a Standard-format seminar on Friday at 2PM until 3:30PM, followed by a meet-and-greet from 5PM to 9PM where you can get your Grand Prix London exclusive VS Series tokens featuring all five players signed and personalized!
London is an epic city, and the event site is located close to two major airports to keep traveling easy. There's plenty of public transportation, a variety of places to stay, and great dining options available as well. Check out all the options for lodging and transportation here!
Chandra Playmat And Registration Rewards
While I'm going to break down all of the awesome Registration Rewards tomorrow, I have to touch on the amazing playmat and sleeves with art by Aleksi Briclot. Grand Prix London's exclusive playmat showcases Chandra in all her fiery glory. This playmat is free to all players at Grand Prix London and for those not interested in the main event, the playmat is also part of our Three Day Infinite Challenge Badge package!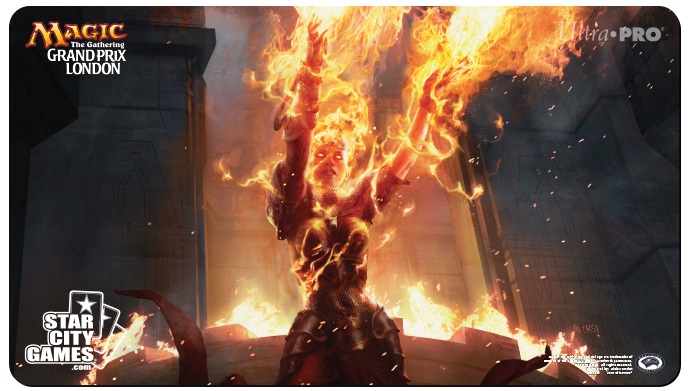 The Registration Rewards also include packs of 80ct Ultra Pro sleeves featuring Chandra and the Grand Prix London logo found nowhere else!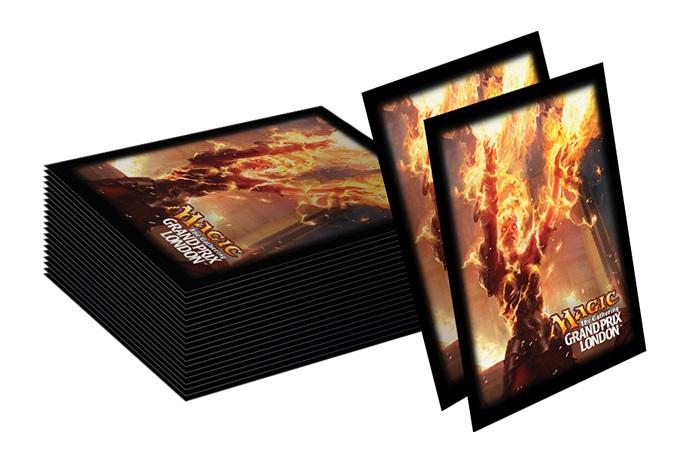 We'll go over all of these and the rest of the Registration Rewards tomorrow.
Guests Of Honor
What's better than one Guest of Honor? Two, of course! Grand Prix London will play host to both John Avon and Aleksi Briclot! Avon is known for his atmospheric landscapes and striking scenes with some of the most beloved land art in the game. From his lands both basic and nonbasic, Explore, Maelstrom Pulse, and the Planar Chaos Charm cycle, John Avon is an incredible artist who we are thrilled to host.
Briclot is a Planeswalker master, illustrating Gideon Jura, Tezzeret, Agent of Bolas, Ajani Goldmane, Vraska the Unseen, Sarkhan Unbroken and many more. Briclot's work with planeswalkers can be seen on Grand Prix London's Chandra playmat, sleeves, and collectable pin. Along with his planeswalkers, Briclot has illustrated Primeval Titan, Thoughtseize (Lorwyn), Angel of Serenity, Demonic Pact, and Quicken just to name a few.
Standard Spotlight
Grand Prix London is only two weeks away! With Open Series events and Pro Tour Magic Origins shaping up the new metagame, what new archetypes will impact this Grand Prix the most? We'll find out!
Much More To Come!
Grand Prix London has too much going on to cover in just one post, so be on the lookout for more in the coming days! We'll be covering Registration Rewards, side events, special guests and artists, introducing the judge and event staff, attractions and sightseeing, and more!
Join me tomorrow as I break down all the Registration Rewards for the different registration tiers!