This Saturday will signal the arrival of one of the most thrilling Standard environments in years. I was terrible the last time a multicolored set rolled into rotation and yet the Blue/Black Ankh of Mishra/Parallax Tide deck I played at
that early tournament remains one of my favorite decks of all time. While it's a little early to tell whether or not Ravnica will be as good as Invasion was, word on the street says that it is incredibly popular and selling like hot cakes.
I personally have been testing decks for weeks. In fact, I haven't worked this hard on (nor had as much fun with) Standard since Regionals two years ago when I played an early version of W/G control that Flores designed and that Kibler and Bill Stead would later pilot to U.S. Nationals Top 8 berths. That's why I find it odd that I wasn't sure I was even going to attend States until about 3PM on Monday when Ticketmaster officially flipped me the bird and said there was no way I was getting tickets through them to see any World Series games in Chicago. This was in spite of getting in their ticket queues online exactly as the tickets went on sale and having friends help out. Apparently, I still have 8 and 15 minutes remaining until they process my order for tickets… oh well, at least States should be fun and if I scrub out I'll get home in plenty of time to watch game 1.
Speaking of States, I recently told friends at Wizards that this format seems great right now and the only thing that would make it better would be not having to deal with Umezawa's Jitte in nearly every deck. It's almost a good thing I didn't get Sox tickets. If I had, I'd miss out on my favorite tournament of the year and one that is no longer overshadowed by the specter of Mirrodin Block cards. Anyway, enough with the preamble – this would be the part of the article where I start telling you the stuff you need to know.
If you are like me, you can't get "Sugar, We're Goin' Down" by Fall Out Boy out of your head lately, so you may as well hit the play button one more time before we get started. If you prefer more bass in your face, try Rihanna's "'Pon the Replay" if you aren't sick of it already or Missy Elliot's "The Rain".
7 Things You Absolutely Must Know About the 2005 Championships
1) WW/r Decks Will be the Most Popular Archetype at States

I'm assume that you already knew this since I said it on Wednesday of last week and then Flores reiterated it on MagictheGathering.com on Thursday. If our buffoonish opinions aren't enough for you, sales show that cards from this particular archetype are dramatically outpacing all the other guilds combined. White Weenie splash Red will be the most popular deck at States and probably by a large degree.
The deck I posted in White Blood Cells_ was admittedly not ready for primetime and some of the design elements I was testing have been invalidated by metagame shifts and the fact that certain cards were just bad. For example, decks are aware of Suppression Field and are able to work around it reasonably well. The answer to "Jitte or Anthem?" is actually "Both!" The answer to "Shock or Char" is still in favor of Shock in my opinion. Flores disagrees, but what else is new? To be fair however, some of his other suggestions have already been incorporated in the deck, so go with what you are comfortable with. And I was a little testy about things last week and I apologize.
The lesson learned? Post the most aggressive version you have first and then work from there.
For those who frequent the forums, I posted an updated decklist on Friday and it hasn't changed much since then. If I were dead set on running a pure aggro deck Saturday, this would be what I'd play:
Creatures

4 Lantern Kami

3 Isamaru, Hound of Konda

4 Suntail Hawk

4 Leonin Skyhunter

4 Hand of Honor

2 Skyknight Legionnaire
Spells

4 Glorious Anthem

4 Lightning Helix

4 Shock

4 Umezawa's Jitte

1 Char
Lands

12 Plains

4 Sacred Foundry

4 Forge[/author]"]Battlefield [author name="Forge"]Forge[/author]

2 Mountain
Yep, those are Mountains. I hate them, but the Red spells you are currently playing are good enough to warrant them. A lot of builds I've seen lately leave the Legionnaires out in favor of 3-4 Chars, but I feel like you need twenty or more men in this deck. It takes men to pick up a Jitte and make it useful and it takes men to validate the fact that you are playing Glorious Anthems. It also takes men to rebuild from mass removal. Some crazy folks have been dropping to 21 lands in their builds, but I dislike mana screw enough that I won't risk it, especially since some of the cards you run out of your sideboard increase your curve.
Regardless of your personal preference (and I think at this point that's a lot of what the maindeck tweaks are) the deck is really obnoxious and will be everywhere on Saturday. It's clearly the deck to beat, which also means that every deck out there will be ready for you, making winning that much tougher. That's where the sideboard comes in. Tragically, I moved on from this deck on Saturday because (as always) I really dislike running the most played deck, and I wasn't able to finalize the sideboard slots before testing other things. I'll give you the quick list of notes I had before I picked up other decks and presumably y'all can help each other finalize things in the forums.


I know I want artifact and enchantment removal. I would prefer to have that at instant speed, but I would also like not to pay four mana to get that.


I'm pretty sure I want some amount of Promise of Bunrei in the sideboard. I am now less sure I want Hokori.


Bathe in Light has received mixed reviews from friends. Obviously you are still running more copies of Char in the board.


Apparently no one has been testing Boros Fury Shield except me, but I still rather like it. Almost everyone agrees Suppression Field still deserves slots, but no one agrees about Devouring Light (it has been good in testing) and Pithing Needle (spotty, but great when it matters).


Beer goggles from too much playtesting may be kicking in… when did Paladin en-Vec start looking like Cindy Crawford?
I decided to take a look at some of our forums on this particular deck to see if anyone out there had posted a good sideboard, but after ten pages of searching I came to realize that no one else was really sure what to run either. Oh well.
One final note: last week I was reasonably certain that the framework I posted would certainly be the most popular version of this archetype, but since Flores posted Fiorillo's build on MTG.com, that probably changed things. I'm guessing there will be a relatively even split down the middle, though MTG.com certainly gets a few more readers than we do, so your tournament may end up overrun in Boros.
2) Contrary to Popular Opinion, Hypnotic Specter is Not the Most Annoying Creature in the Format

Technically the most annoying creature is whatever one is holding an unanswered Umezawa's Jitte, but I'm not going for cheesy technicalities today. Hyppie is probably the second most annoying/critical creature in the environment and certainly gets the nod if you are playing a pure control deck against it, but the most annoying creature is actually Hand of Honor. Confused? Allow me to explain.
When the metagame skews heavily towards aggro as this one is doing, it's natural for a sub-group of players (and usually pretty good ones at that) to put both feet into the "Control" camp and not look back. This typically involves playing Wrath of God in whatever the strongest Wrath deck happens to be at the time. There's just one problem with that idea: All the Wrath decks seem pretty bad. I've tested against all sorts of random Wrath decks in the last two weeks and none of them have much card advantage, nor do they have great finishers, so you just play out your threats, disrupt them a bit, and win with superior card quality or some sort of draw engine. Not a single one of them can win a counter war, which makes them sitting ducks for the Blue control decks.
So where do the good players go if they can't play Wraths? Gifts is one option, and Mono-Blue is another, but from time to time there has been a third option in Blue/Black. These decks often skew to control by using Black removal to kill things, plus discard and counterspells to protect threats of their own and there are a lot of tools available that would almost make these decks good. There's just one problem… unless you play a large number of Threads of Loyalty straight up, you lose to Hand of Honor. He picks up a Jitte, you can't kill him, the Jitte gets counters and suddenly you have to draw an out to the pointy stick or you are sunk. Glorious Anthem is a turn faster than Hideous Laughter and there isn't really another Black removal spell that touches him (quickly) so you either have to steal the little man or you lose to him. I'm not saying Hand of Honor is broken – he's not. He just happens to dramatically complicate life for any player running Black for removal, and right now that's an awful lot of people. Thus he gets my vote for most annoying creature in the format.
Of course, this just touches a larger issue that was swept under the rug during Block season because Gifts Ungiven was so dominant, which is: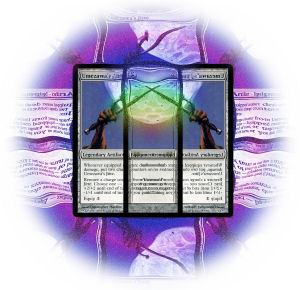 3) Umezawa's Jitte is Warping the Environment

I think most players who have tested understand this one, but the whole "Jitte War" has become frustrating to work (and design decks) around. If Wizards publishes the decklist data as the have done in the past, we'll have a definitive answer to the conundrum, but I'm reasonably certain this prediction will be on target when the data comes out: Umezawa's Jitte will be present in 50-60% of the Top 8 decks at Champs. It could be more, but for the time being I'm going to remain conservative.
Now to give you a benchmark, at Regionals 2003 Skullclamp was in 75% of the Top 8 decks and Ravager Affinity comprised 56% of the Top 8. We all remember what happened to those fine friends, don't we?
The thing is, R&D is aware of how much playing against Jitte sucks. There was a collective sigh of relief in Philadelphia when the Jitte decks were kept in check, and thankfully the Block PTQ season continued the trend. Unfortunately I think this weekend and the loss of general artifact hate from Mirrodin will reveal just how stupid Jitte really is, as every aggressive deck has to run four of them, if only to counter their opponent's Jittes and give them their own "I win" factor. The control decks either have to run four as well or they have to run a full boat of Pithing Needles to keep it in check.
My biggest complaint about Jitte overall is that it lowers the skill level required for the game. Any time a Jitte is involved in combat between two aggro decks, the side without the Jitte loses. Period. This is especially true if it happens more than once. Once the counters hit, your little combat tricks don't matter anymore. Burn becomes irrelevant because they can just pump the creature's toughness. Defensive creature pump becomes practically irrelevant because they can just kill the creature in response or pump their own creature beyond yours. Racing is now impractical because Jitte gains you life. It's like Skullclamp was, except we've traded pure card advantage for board control and instead of ruining the Control vs. Aggro matchups, you are now ruining the Aggro vs. Aggro and Aggro vs. Aggro Control matchups, while the Control decks aren't very happy about the damned thing either.
Does it deserve a banning? I like to let the data determine that, so I'll wait until the decklists are published to give my final word. My guess is that if it looks like a pig, sounds like a pig, and flies like a pig, it might just be a pig. Then again, I could be wrong. In my opinion, there's a distinct possibility that Worlds in Yokohama this year will be the last time we see Toshiro's Point Stick in the Standard environment (though to be fair, I don't expect it will be nearly as dominant there as it will be at States).
Oh, and to bring this back to the topic at hand, you absolutely must have at least four answers to this card (and probably more) in your deck this weekend or you should plan to lose.
4) Black/Green Will Be the Second Most Popular Color Combo.

People have been swearing these decks aren't good. I'm not so sure that's true, but regardless of what you or I may think, these colors will see play together on Saturday. The only question is: in what form? Some B/G decks I've seen are just mana acceleration and good stuff. Other B/G decks try to abuse the dredge mechanic to its fullest and create a little graveyard-centric engine. Still others are mostly Mono-Black Aggro with a hint of Green in the bouquet that smells like Putrefy. Sassy!
Here's what we do know: All of them are running Hypnotic Specter and Putrefy. Most of them are running some flavor of bird/elf. Most are also running Last Gasp/Rend Flesh. After that, it's up in the air. A couple might even run crazy stuff like Greater Good, Mindslicer, and Nantuko Husk. Whatever they look like, they will definitely be present in decent numbers on Saturday and even if they aren't that good, you should be aware of them.
5) When all is said and done, control decks will still end up as the "best decks" in the environment, but aggro can be pretty darned good.

Look, y'all wanted White Weenie to be good again. You had to work a different color in there for it to happen, but I'd say that after the last six months, you should feel like your wish has been granted. I'm not sure how many times you have to get burnt out by Lightning Helix before this deck gets old, but I'm guessing the honeymoon period between players and WW/r will be shorter than Renee Zellwegger's marriage to Kenny Chesney.
That said, White Weenie is still beatable if you are tuned for it. I'm not sure how Gifts will do this weekend (partially because I don't know how many players will opt to run it and partially because I'm not sure how it handles a more diverse metagame when the Pros aren't the pilots), but it stands to reason that once the metagame is known, Gifts can be tuned to beat it. Flores's Blue deck is once again very strong and I think you'll see some new form of control deck that no one has written about yet rise to the top of the standings on Saturday as well. That deck will see more play once the decklist is out there.
I'd also like to note that we're a W/B or W/U dual land away from having some really busty control decks that get access to Wrath of God as well. I, for one, welcome our new multicolored masters.
Anyway, here is my what my rather opaque crystal ball has to say about what will see on Saturday. (It's so cloudy it looks like someone took it to an Amsterdam marijuana bar and left it near a hookah for six months. Anybody got a rag?)
| | |
| --- | --- |
| Archetype | % of Field |
| White Weenie/Red | 23 |
| Black/Green | 12 |
| Mono-Blue Control | 10 |
| | 8 |
| Mono-Black Aggro/splash x | 8 |
| Other WW Decks | 5 |
| Control Decks with Silly Names | 7 |
| Decent Rogue Decks | 7 |
| Bad Decks | 20 |
Here's the caveat: The +/- on this one is something like 5-7%. First of all, it's Champs, so the last two categories could comprise 40 percent of the field or they could comprise 20. The rest of the numbers are proportional based on how many crazy rogues show up to your tournament, and it's always possible I completely screwed the pooch on this one and have totally lead you astray. If that happens (it hasn't yet, but I'm going to fall on my face eventually), I apologize.
In this breakdown, White Weenie decks are running a bit above one out of every four decks. I don't think they'll quite hit one in three, but 30% is certainly possible. After that you get Black/Green decks and a pair of control decks, plus the rest of the aggro. All of these are decks you've probably seen or heard of online, so while you might not know the exact builds, you at least had some exposure.
For those of you wondering, Control Decks With Silly Names refers to Magic League's "Fungus Fire" decks and similar strains of Red/White board control. As with all decks developed by the online leagues, your mileage on this one may vary, but apparently it has done quite well and has gained some respect in certain corners. It's really difficult to determine exactly how widespread the acceptance of this deck actually is, but I'll post the decklist and a link to their forums down the page a bit.
6) Sideboard Cards You Might Consider

I'll start this one with two words that you may or may not already know, but which can make a stunning difference in matchup percentages post-sideboard: Needle Storm. If you are running a Green deck, Needle Storm seems significantly better than almost any other mass removal spell out there at helping the White Weenie matchup. I love Arashi more than most ("Arashi, uncounterable. Girls think sexy!"), but he costs a good chunk to channel and he costs more to channel under a Suppression Field. As for the Storm, it does more damage than Pyroclasm and is actually capable of killing things with a Glorious Anthem on the board. Yes, it's a little specific in its use, but nearly every single decklist has (rightly) overloaded on fliers at this point, so you still hit about 80% of their animals. It's also a potential out against Meloku the Clouded Horde, but decks that run him also run counterspells. Good luck with that. (For the record, the Portal version of this card seems incredibly pimp if you are into that sort of thing).
Persecute/Distress

We all know Cranial Extraction is out there and most people who own them seem to want to play them, if for no other reason than they paid one beeellion dollars for them, so why not? I submit to you that Persecute is often a more devastating card. Even though much of the format has gone gold, you are hitting nearly as many cards because by naming White, you hit Lightning Helix, Switfblades, and Legionnaires as well. Many of the decks out there are susceptible right now and earning three or four-to-one card advantage can be huge. As for Distress, sometimes you need more pinpoint options, and this little Coercion is the fastest good discard spell in the game right now.
Ivory Mask

No more burn to my face? No Cranial Extractions? No Cruel Edicts? No more milling target player's library? The uses for this one are many, varied, and surprisingly effective.
Jester's Cap

Your deck isn't playing Black but you still want to cause problems for combo decks? Let this Ice Age classic help you out.
Sowing Salt

You may not have noticed it, but there are a lot of non-basic lands running around right now. Sowing Salt hampers like… oh… pretty much every deck in the format.
Wildfire decks exist. I don't know if they are any good, but they are out there and if you are a big fan of keeping that land you worked so hard to put into play, keep this in mind.
This is a Bleiweiss suggestion that I threw out at first and then reconsidered because I try to be open-minded like that. My opinion is that he's just going to get burned, but at least that keeps it out of your face for a bit longer. Whole pondering it further, I realized that Trophy Hunter (which is absolutely stupid against some decks in Ravnica Limited) could have potential as well. Keep me posted if you like either of these. (And yes, Suppression Field hits both of these as well.)
Dark Heart of the Wood

This is esternaefil's (from the SCG Forums) Gifts Ungiven tech that goes a long way towards stopping you from getting burned out after you have blunted the initial weenie rush. It seems like a decent one-of that combos well with Life from the Loam.
Other non-obvious mentionables: Reverence, Samurai of the Pale Curtain, Jane Curtain, Circle of Protection: Black, Bill Murray, versatile graveyard removal.
7) Options for the Rogues

The original forums for Fungus Fires from the Magic-League tournaments can be found here. Apparently this also spawned a thread on our own forums, which can be found here. The decklist itself looks like this:
2 Mountain

2 Plains

2 Karplusan Forest

2 Brushland

3 Forge[/author]"]Battlefield [author name="Forge"]Forge[/author]

4 Sacred Foundry

4 Temple Garden

4 Vitu-Ghazi, the City-Tree



4 Wrath of God

3 Pyroclasm

4 Lightning Helix

4 Yamabushi's Flame

3 Char

2 Flames of the Blood Hand

1 Hidetsugu's Second Rite

3 Seed Spark

4 Devouring Light

2 Shard Phoenix

4 Faith's Fetters

3 Sunforger
Sideboard:

1 Pyroclasm

2 Kumano, Master Yamabushi

1 Seed Spark

4 Ivory Mask

4 Scour

3 Reverence
The question all of you want to know is: Is it any good? I honestly don't know. The decks I've been testing seem to have a pretty decent matchup against this deck, but that might just be a personal quirk. What I do know is that Wrath of God is strong in this format. So is Lightning Helix. Devouring Light is some good too. Can this deck win before it loses? Is the manabase as sketchy in play as it appears on paper? Are the White Sox going to win the World Series? You tell me. At this point, I'd say this is only an option for traditional control players who really miss Astral Slide and haven't been able to develop a good Wildfire list, or who have worked on this decklist for weeks and really like it.
The other deck I'd seriously pay attention to if you wanted to go rogue is the same one I touted as important when I first started looking at this format: Enchantment decks. Good Form is a rough choice at the moment because the combination of fliers and burn in White Weenie decks destroys you. The Honden decks don't seem completely terrible though, and you can definitely find a sweet spot in the metagame if you choose to play it, because most people are worried about getting rid of a specific piece of equipment than a suite of legendary shrines. Chris Romeo is an advocate of this approach and for once he seems to like the deck he was working on, so maybe there's something there.
8) What Are YOU Playing? What's the best deck?

I now know what deck I'll be running on Saturday, but I have to get permission to post it from Seth Burn before I tell you. If he says yes, there's a decent chance I'll write a short article about it for tomorrow. If not, then I'll fill you in on my trials and tribulations some time next week. Let's just say it's a bit off the beaten path for now and leave it at that. [Late Edit: Seth himself should be writing about it tomorrow. – Knut] As for the best deck, it might just be Mono-Blue Control again. I'm looking forward to writing a post-Champs analysis article that tries to figure that out.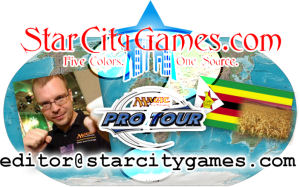 An Announcement

Next week I am "doing the Daily" as we like to say around here, and on Friday I'm going to do a one-shot of Ask the Editor. Just like last time, you kids can ask me whatever you like and I promise to give you an answer to your inquiries. If there is anything you want to know about me, StarCityGames.com, Magic, traveling the world, the Pro Tour, the price of grain in Zimbabwe or anything else, let me hear it by submitting it via e-mail to Mail us at https://sales.starcitygames.com/contactus/contactform.php?emailid=2. Forum questions will not be accepted because I can't organize them efficiently. Additionally, next week is a Pro Tour week and I have to hop a plane to Los Angeles on Thursday, so all questions need to be in by 12:01AM Monday morning.
Speaking of "hop a plane," I may be slightly harder to get a hold of than normal in November. I have vacation planned that month and trips to such far off places as Australia, Japan, and mainland China for Magic-related events.
The Kitchen Sink

As with last time, feel free to comment on what you read here in the forums, but also do me the courtesy of briefly acknowledging the other 11 pages of text.
For those of you intrigued by advertisements for Papa John's new pan pizza, don't be. The new sauce is okay, but the crust sucks and it gets soggy when left in the fridge. If you can enjoy your pizza cold, what good is it?
Prior to 2005, in my 29 years of fandom the White Sox had never won a single postseason series. Now after 46 years they are finally in the World Series, and thankfully I will still be in the country to watch it, even if it goes a full seven games.
For those who care about these things, yes, last Saturday gives me just one more reason to hate USC. What a game. Reggie Bush will absolutely be the number one pick in the draft whatever year he decides to leave school. I watched Barry Sanders when he was in college, and Marshall Faulk when he was, and Bush is more exciting than either of them. He's like a bigger, more durable Michael Vick.
Someone put me in their will recently and I'm still working on exactly how to respond. I'm thinking, "Thank you, but I still hope you don't die soon" conveys the proper message.
If you aren't watching The Colbert Report on Comedy Central, you are missing some of the most scathingly funny TV since… well, since The Daily Show, actually, but this is one notch beyond that. If you don't know what I am talking about but still find yourself intrigued, click ze link.
Speaking of television, Rome is amazing and HBO is rerunning the series from the beginning starting next Monday. If you haven't seen it and you have HBO, I highly recommend you tune in. Aside from Rome and sports, I'm basically watching no TV these days, choosing instead to fill my hours with working out, work, reading and writing. It is possible that I'm losing touch with humanity.
While castigating me for my use of Chinaman last week (I meant it quite literally and he pointed out that it has been previously used as a racial slur), the formerly infamous Tim Wu also claimed that we no long post cheesecake on our site. This is certainly not true, though these days it is mostly confined to Chris Romeo articles and whims. However, since I originated this trend (supposedly at the expense of whatever integrity I previously had), I felt I too needed to do my part to make sure you know that certain writers on StarCityGames.com still love boobs.
Where exactly do we sign up to kiss Charlize Theron's butt, because I want in.
This one is for Sheldon, who leaves soon for his honeymoon in Tuscany. I've known it was quite the peach for some time, but I'm now of the opinion that Jessica Biel may have the best posterior in Hollywood. *bites fist* This is her opinion of that opinion.
Because I know you all love Jessica Alba, I give you this.
The Psilons chose their weapons well. Seriously, if Grace Park was this hot on the series, your TV would explode.
You cannot stop J. Lo's ass. Apparently it cannot even be contained. I asked BDM his opinion as to whether this was a photoshop or not. He enlisted his wife's expert physical trainer opinion and they both say it's real. I'm not sure if that's true, but if it is I think I'm a little afraid.
Kiera Knightley looks positively naughty in this dress. Just wow.
Rene Russo is the Dick Clark of the current generation. I wonder what she gave the devil to look that good at fifty-freakin-one-years old.
When exactly did this happen? Will it continue? Do I have to take back all the mean things I said before? She had fat ankles!
Nathan Xaxson has demanded more diversity in the cheesecake. I'm guessing that he wants more minorities available for oggling, so I have to ask: Do zombies count? How about lifesize f***ing muppets? God, I miss Dragon Con.
That's about all I have time for today, since I have other articles to edit, a week worth of Dailies to write, and more playtesting to do this weekend. Best of luck to all of you this weekend, and I hope what we've had to say about the new format over the last four weeks proves useful to you.
Teddy Card Game

Mail us at https://sales.starcitygames.com/contactus/contactform.php?emailid=2