I plan on playing at States this year, however considering how expensive the new lands are I'm not sure if it's even worth trying to construct a deck. My dream would be to play Battle of Wits however I think that would probably be impossible.
The theme for this week's deck challenge is control. Now while I do love control decks, I was hoping to work on a deck with 4 Elves of the Deep Shadow and 4 Hypnotic Specters in it, sadly I cannot. There are many viable control decks that can exist, but before we look into that lets try and figure out what the meta-game at states will look like this year.
Now I think the new set is cool, but I don't think there are too many overwhelmingly powerful cards in the set. Dark Confidant probably stands out the most a this point, but that's about it. The set gives us a lot of staple cards like the new lands and such, but I'm not sure how many bombs there are. With this as the case the likelihood of a devastating new deck popping up at this year's states is unlikely. The odds are you'll see variants of CoK block classics.
The BG aggressive deck seems interesting but other than Hypnotic Specter it doesn't have much disruption. RW agro seems like a strong contender with cards like Sunforger and Lightning Helix to compliment an already solid white base given to us in Champions. The odds are that this along with white weenie will make up the majority of aggressive decks at states. Both decks have more speed and aggressiveness than BG and have a stronger creature base.
Combo decks will likely be underrepresented mostly because I can't think of any off the top of my head. Besides, it's states and people generally won't break anything for States.
That leaves us with control. Now the obvious choice for control decks has to go to last seasons's king, Gifts Control. It was the most dominant deck in the block season and it should continue its rain well into standard season. The main reason for this is that there is not a card in the format that is as consistently powerful as Gifts Ungiven. The cards gives the deck all the tools it needs to battle control decks as well as creature decks. With Gifts being the obvious candidate, I chose to skip it and let someone else write about it. What's the fun in writing about a deck like Gifts?
Another option for a control deck people have available to them is mono blue jushi control. Antonio DeRosa won the second to last GP of the season with the deck so it's proven to be a solid deck. My main concern with this deck however is that I'm not entirely convinced it really can handle the new crop of aggressive decks. For one, you have very few answers to a turn 2 Hypnotic Specter and white weenie was never a great match up on top of that. I also wasn't convinced the deck could beat Gifts Ungiven the majority of the time.
One final consideration for a control deck was a deck based of the list I played at PT Philly, UGW control. The deck was well tuned to beat aggressive decks and with Wrath of God now available, it should be even better equipped to handle any type of aggressive deck you're likely to find at States. However, with Gifts Ungiven also likely to be popular, the deck did have a brick wall it had to deal with. Gifts was always the toughest matchup for the deck, and now with Kegamara, you're best weapons against them (North Tree and Green Genju) aren't as strong as they used to be.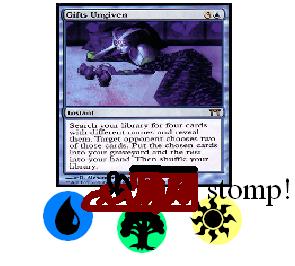 I really liked the idea of playing Wrath of God at states, but I just didn't think a standard UGW control deck could beat a Gifts deck. Then I started to think of what win conditions I could add to the deck to make it better against Gifts. I needed something that was difficult for the Gifts deck to deal with and could assure me a way to win.
This card tried to make an impact on block, but it just couldn't be fast enough to handle both white weenie and the black hand. However, in the current standard you now have access to Wrath of God, and I think this might be enough to push the matchup in your favor. Between Farseek, Reach and Elder, wrath can give you enough time to ramp to seven and end the game with an ideal. You also gain several enchantments from 9th that make it much better than it was in block.
Here's a list I came up with:
4 Sensai's Divining Top
4 Farseek
4 Kodoma's Reach
1 Honden of Night's Reach
1 Honden of Life's Web
1 Reverance
1 Zur's Weirding
1 Swamp
2 Island
4 Plains
9 Forests
SB:
1 Priveleged Position
1 Mindmoil
2 Honden of Night's Reach
2 Bosiju, Who Shelters All
3 Pacifism
The ideal concept has been successful before at a foreign Nationals. Seething Song was used to cast a quick Ideal and power out a Form of the Dragon. The card itself is incredibly powerful and I think once you cast it you can pretty much set up a win through a variety of different ways.
Against control you can simply used hondens to generate enough card advantage to win, or you can try and set up a Zur's Weirding Lock. Against beatdown you can just use either form or reverance to halt their attack and then win with a genju of hondens. It really doesn't matter what you use to win, the idea is that if you cast a Endiuring Ideal, you should win the game.
The main deck is basically a bunch of mana ramping spells and wrath of god to compliment your "ideal" strategy. Honden of Seeing Winds is the enchantment you run the most numbers of because it will help you to draw into a Enduring Ideal if the top hasn't done so yet. Speaking of top, you have 12 shufflers in your deck, not including the ideal, so you should be able to manipulate your draws well. The basic concept of the deck is simple, so lets move onto the sideboard.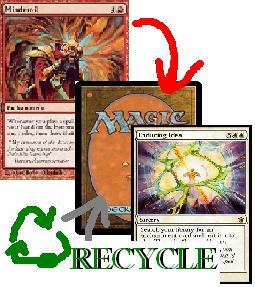 Most of the sideboard contains one of enchantments I felt would be stronger in certain matchups post sideboard. Mindmoil is a card I think might have to be in the main deck but I'm not sure. Basically it ensure that if you draw one of your win conditions that you can put it back into your deck and get it with an ideal. This isn't a real concern but it can be a problem sometimes if you draw to many of your win conditions after the Epic effect is resolved.
The Early Harvest and Pacifism are your only redundant anti beatdown cards. The pacifisms are mainly against BG agro because an early hippie can be a real problem. The Early Harvests are a card I think can help you against white weenie. The card Hokori can be a real problem for you at times. Having Wrath of God instead of Final Judgement makes it less problematic now than it was in block, but it can still be a headache at times. The Early Harvest will help you to break out of a Hokori lock fast and can even randomly help you to cast a Enduring Ideal as early as turn four, which is something you really might need against beatdown.
So anyway this deck is a lot of fun to play and I would recommend it for anyone going to states this year. The land search and top make the deck pretty consistant and Wrath of God is an amazing spell, especially at a tournament like States. The format is largely unknown so the enchanment targets might appear to be off somewhat. I would recommend testing the deck against your own gauntlet first and then altering the enchantment numbers to what you feel is best for your particular metagame. The great thing about the deck is that it's not only powerful, but flexible as well, so feel free to change it around and be creative.
Good Luck and I'll see you at States


Osyp "Joe Black" Lebedowicz