Courtesy of Wizards of the Coast (WotC) and Luca Van Deun, one of Magic's most popular combat tricks returns with a timeshifted frame in Time Spiral Remastered — Temur Battle Rage!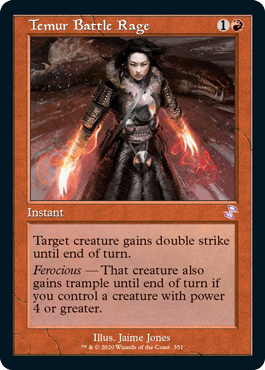 First printed in Fate Reforged, Temur Battle Rage was a popular combat trick during Fate Reforged Limited before finding a more permanent home in Modern Death's Shadow decks. Temur Battle Rage has been printed four times, with the fifth coming in Time Spiral Remastered.
Previewed alongside Temur Battle Rage were a slew of popular red Slivers: Sedge Sliver, Fury Sliver, Bonesplitter Sliver, Homing Sliver, Battering Sliverer, and Two-Headed Sliver.
Time Spiral Remastered is currently scheduled to release on March 19, 2021. You can check out our official Time Spiral Remastered preview gallery here.