Courtesy of Wizards of the Coast (WotC) and Gamespot, check out Mardu's new Dinosaur Cat Nightmare from Ikoria: Lair of Behemoths – Snapdax, Apex of the Hunt!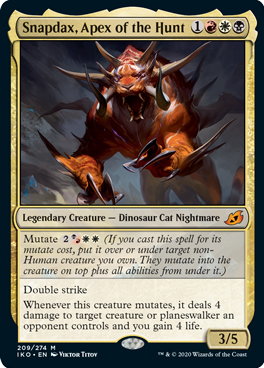 Above is the normal version of Snapdax from the Gamespot article, a powerful 3/5 double striker with an even more powerful mutate ability.
Whenever this creature mutates, it deals 4 damage to target creature or planeswalker an opponent controls and you gain 4 life.
On top of an already beefed up stat line for just four mana, Snapdax also doubles as a removal spell for an extra mana while giving a creature of yours double strike.
While Snapdax doesn't have an already existing deck to slot into, the flexibility of killing a creature or planewalker while being a strong threat on its own could make it the center of a new Mardu deck in Ikoria: Lair of Behemoths Standard.
Snapdax also gets the Showcase and Godzilla Monster Series treatment.