The latest Secret Lair Superdrop was officially revealed today on the Magic: the Gathering showcase stream today.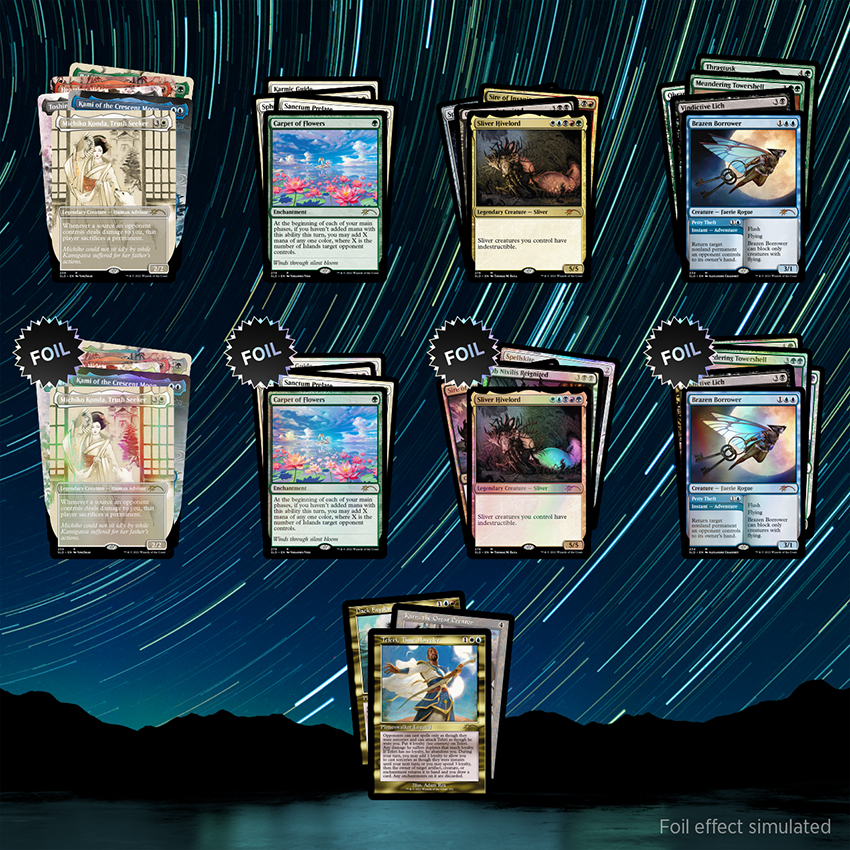 The latest Superdrop offering features five separate Secret Lair drops that can be ordered individually or as a bundle.
First, let's take a look at Teferi's Time Trouble. This drop includes three retro-frame planeswalkers with rules text as if it was written almost 30 years ago.
Check out Teferi, Time Raveler, Karn, the Great Creator, and Dack Fayden with art by Adam Rex, Mark Zug, and Greg Staples, respectively. This drop is only available in non-foil for $29.99.
Next up is Kamigawa Ink! This drop combines traditional Japanese brushwork with classic Magic story.
Artist JungShan delivers five new versions of Kamigawa legends. Check out Heartless Hidetsugu, Kami of the Crescent Moon, Michiko Konda, Truth Seeker, Reki, the History of Kamigawa, and Toshiro Umezawa! This drop is available in foil for $39.99 and non-foil for $29.99.
Math is for Blockers is the third drop featuring five cards with art by Alexander Chaudret that takes a simple geometric shape and expands it into stunning illustrations.
Feast your eyes on the new versions of Brazen Borrower, Vindictive Lich, Meandering Towershell, Ohran Frostfang, and Thragtusk. Playing into the math theme, the power and toughness of the creatures when read in order translate to the first 10 digits of pi. This drop is also priced at $39.99 for foil and $29.99 for non-foil.
The remaining two drops are new editions to the Artist Series. First up is Artist Series: Johanness Voss.
These four cards showcase Voss's incredible artwork and a poem of his own creation in the flavor text. Check out Carpet of Flowers, Karmic Guide, Sphere of Safety, and Sanctum Prelate. This drop is also priced at $39.99 for foil and $29.99 for non-foil.
Lastly, check out Artist Series: Thomas Baxa.
Baxa offers some horrifying versions of Ob Nixilis, Reignited, Sire of Insanity, Sliver Hivelord, and Spellskite in his Artist Series drop. This drop is also priced at $39.99 for foil and $29.99 for non-foil.
Players can order all five drops as a bundle in non-foil for $119.99 or the four foil drops as its own bundle for $129.99. A massive bundle featuring one of each non-foil drop and one of each foil drop for $239.99.
Visit the Secret Lair site to order.