Star City Games' Holiday Sales continue, and we've got another big one for you! From now through Monday, December 14 at 10:59 AM ET, save 25% on all Magic: The Gathering basic lands — regular, Snow-Covered, Promotional, Full-Art, Foil, Non-Foil, and all languages!
To take advantage of this limited-time offer, click here to view our complete inventory of Magic The Gathering basic lands and apply the coupon code SCGLANDS25 where prompted during the checkout process.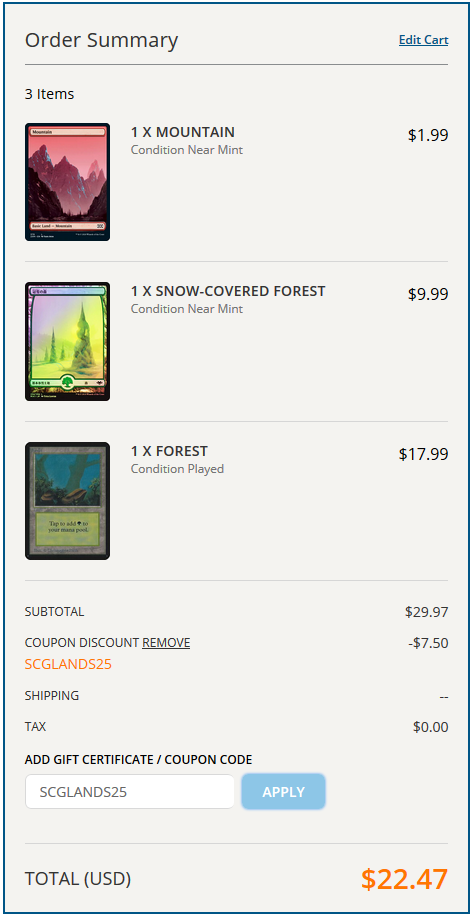 Have a question? Please check the FAQ below, or contact our Customer Service Team and we'll be happy to help!
Star City Games Holiday Sale Frequently Asked Questions (FAQ)
Q: Can I apply store credit to an online order containing Holiday Sale items?
A: Yes
Q: Can this Holiday Sale/promotion be combined with the 10% discount on Magic The Gathering singles that I receive everyday by being a Star City Games Premium member?
A: No. Premium members who order Magic The Gathering basic lands included in this week's Holiday Sale will receive 25% off on those items if they enter the code SCGLANDS25 during checkout.
Q: Is there a minimum order that must be met in order to receive these Holiday Sale prices?
A: No.
Q: Are there any Magic The Gathering basic lands not included in this sale?
A: This sale includes all Magic The Gathering basic lands that we currently have available for sale.
Q: Can I receive these Holiday Sale prices if purchasing these same products at The Star City Game Center?
A: Yes. Any online order a) for which you select "in person" or "curbside" pickup during the checkout process or b) placed by a Star City Game Center employee on your behalf in person, will receive the Holiday Sale price.