Four players locked up invites to the Magic Pro League (MPL) and Magic World Championship XXVII by advancing through the Challenger Gauntlet this past weekend. Sam Pardee, Noriyuki Mori, Keisuke Sato, and Arne Huschenbeth came out on top of the 24-person tournament that played out over three days featuring the highest-finishing players from outside the MPL and Rivals this season.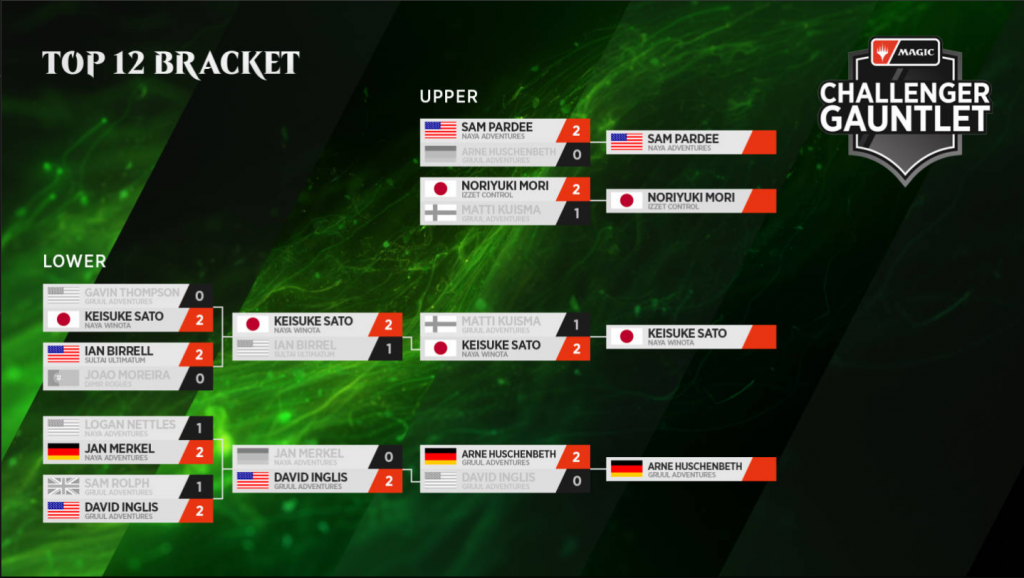 The first two days of the event whittled down the field from 24 to 12 players, leaving them to battle it out in a bracket where the upper bracket players had a loss to give while the lower bracket players had to win out to reach the MPL and Magic World Championship XXVII. The four players with the best records after two days advanced to the upper record, requiring a win to lock up top prizes. A loss sent them to the lower bracket with one more chance to secure a slot in the MPL and World Championship. All players in the lower bracket needed to chain three wins in a row.
The remaining players were left to play Standard for all the marbles. In the upper bracket, Pardee defeated Huschenbeth and Mori defeated Matti Kuisma to lock up their spots in the MPL and Magic World Championship XXVII.
Creatures (25)
Lands (24)
Spells (11) Creatures (4)
Lands (23)
Spells (33) Keisuke Sato and David Inglis battled through the lower bracket to face Kuisma and Huschenbeth, respectively. Sato managed to take down Kuisma while Huschenbeth rebounded from his earlier loss to beat Inglis.
Creatures (30)
Lands (23)
Spells (7) Creatures (26)
Planeswalkers (1)
Lands (21)
Spells (12) Pardee, Mori, Sato, and Huschenbeth will join Paulo Vitor Damo da Rosa, Ondrej Strasky, Gabriel Nassif, Seth Manfield, Eli Kassis, Stanislav Cifka, Matt Sperling, and Yuta Takahashi at Magic World Championship XXVII.
The twelve players that didn't reach Day 3 all will receive an invite to a future event in the 2021-2022 season while the eight players that failed to reach to the MPL on Sunday get to play in the Rivals Gauntlet for another shot. Top 4 players in the Rivals Gauntlet qualify for the MPL and the champion gets an invite to Magic World Championship XXVII. The other twenty players all join the Rivals League next season. The Rivals Gauntlet is set for Sept. 2-5.