Courtesy of Wizards of the Coast (WotC) and NessaMeowMeow, check out the final card in the Secret Lair X The Walking Dead Drop — Lucille!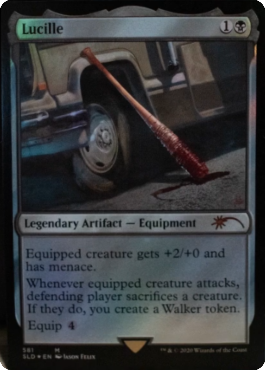 These new cards will be legal to play in Commander, Legacy, and Vintage formats and according to Wizards of the Coast (WotC), while mechanically unique, may be reprinted in the future with "new art, or mechanically-similar versions of these cards with different names and creative treatments."
The preorder window for this Secret Lair begins October 4, and will be available through October 12. The full set will cost $49.99.
Read the original article from Wizards of the Coast.