David Inglis won Monday's SCG Tour Online Championship Qualifier with Jund Sacrifice.
Quarterfinals
8
Lukas Twist
Rakdos Goblins
4
David Inglis
Jund Sacrifice
5
Karl Sarap
Rakdos Goblins (Umori)
2
Daniel Garcia-Rosas
Rakdos Pyromancer (Lurrus)
7
Michael Bonde
Jund Sacrifice (Jegantha)
6
Koutarou Ishibashi
Bant Control
Creatures (20)
Planeswalkers (2)
Lands (25)
Spells (13) Inglis, in his third SCG Tour Online Championship Qualifier Top 8, claimed his first victory and goes down as the first winner of a major Historic event on the SCG Tour. His take of Jund Sacrifice moved away from Collected Company and only used two copies of Bolas's Citadel in the sideboard, opting for three copies of Korvold, Fae-Cursed King and two copies of Vraska, Golgari Queen instead. The deck looks much closer to the old Standard build that used Trail of Crumbs and the Cauldron Familiar/Witch's Oven engine.
Inglis reached the elimination rounds as the No. 4 seed after going 6-1 in the Swiss with his only loss coming to Kyle Norman on Sultai Ramp in Round 5. Once in the Top 8, there wouldn't be any more losing as Inglis swept each opponent 2-0 to win the event. He defeated Rakdos Goblins in the hands of Karl Sarap and Lukas Twist in the quarterfinals and semifinals, respectively. Inglis beat Michael Bonde on a different build of Jund Sacrifice (Jegantha) by attacking with a 12/12 Korvold to cap the tournament.
Creatures (26)
Lands (22)
Spells (12) The other decks to make the Top 8 were Sultai Ramp by Ari Lax and Kyle Norman, Rakdos Pyromancer (Lurrus) by Daniel Garcia-Rosas, and Bant Control by Koutarou Ishibashi. Sultai Ramp made up the biggest percentage of the 122-player event at 32 copies, followed by Goblins (both Mono-Red and Rakdos builds) at 24, and Jund Sacrifice at 11. Check out the full metagame breakdown below.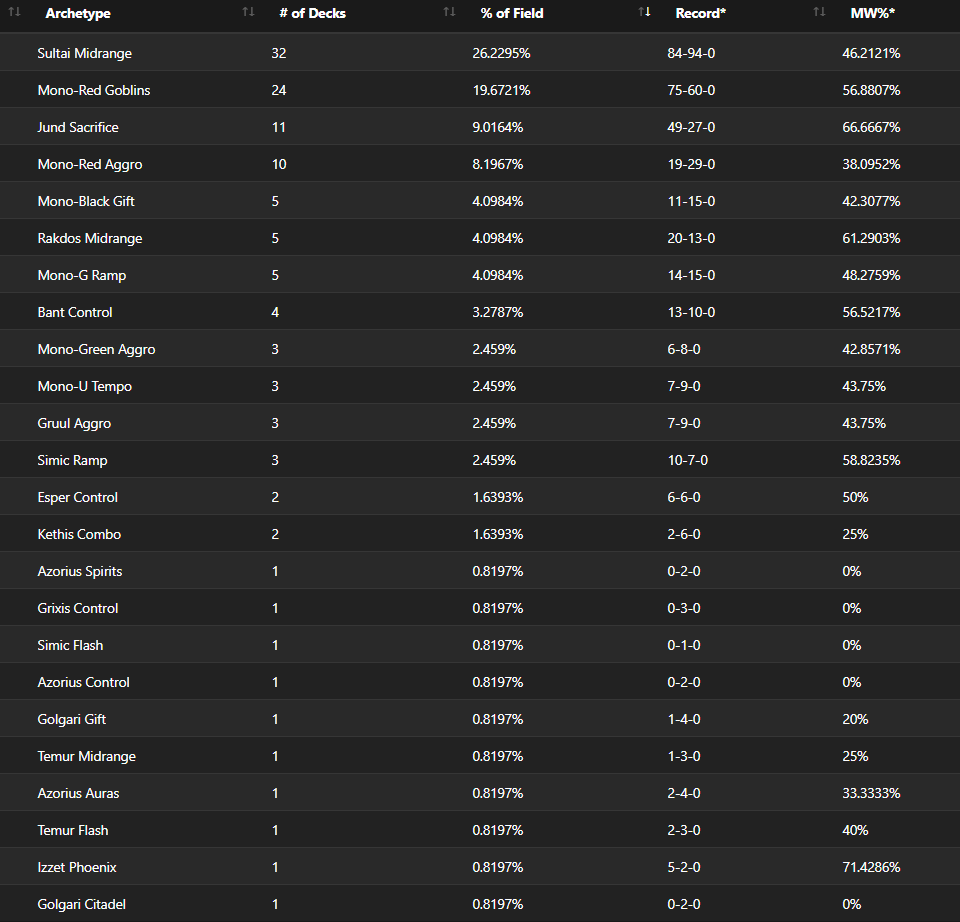 Jund Sacrifice and Rakdos Pyromancer were the top performers with win rates of 66% and 61% respectively. Goblins held its own with a 56% win rate, while Sultai Ramp only managed a win rate of 46%.
Creatures (18)
Lands (22) View the Top 16 decklists.
Join the SCG Tour for the sixth Championship Qualifier of Season 2 on September 26 and the Seasonal Championship on September 27.