Alexander Gordon-Brown won Saturday's SCG Tour Online Championship Qualifier with Sultai Ramp.
Quarterfinals
1
Koutarou Ishibashi
Sultai Ramp
8
Corey Baumeister
Sultai Ramp
4
Shohei Yomamato
Sultai Ramp
2
Alexander Gordon-Brown
Sultai Ramp
Semifinals
Alexander Gordon-Brown
2-1
Finals
Alexander Gordon-Brown
2-1
Champion
Alexander Gordon-Brown
2-0
Creatures (11)
Planeswalkers (4)
Lands (27) After Sultai Ramp took half the spots in the Top 8 of last weekend's Championship Qualifier, the format's front-runner moved up to six of eight on Saturday, including Gordon-Brown, who won two mirrors in the Top 4 and finals to claim the title. Gordon-Brown had to defeat Masaru Abe on Izzet Aggro in the quarterfinals, taking down one of only two non-Sultai Ramp decks in the elimination rounds.
Gordon-Brown and his list optimized for mirror matches defeated Koutarou Ishibashi 2-0 in the finals. Ishibashi reached the finals winning two other Sultai Ramp mirrors and was Gordon-Brown's lone loss in the Swiss. The other non-Sultai Ramp deck to reach the Top 8 was Mardu Winota in the hands of Mitch Sachs.
Almost 38% of the field registered Sultai Ramp with the next most played deck being Temur Adventures at just 10%. Though no copies made the Top 8, two players on Temur Adventures made the Top 16. From there, the next two most played archetypes were Mono-Green Aggro and Rakdos Sacrifice at 4% with neither making the Top 8.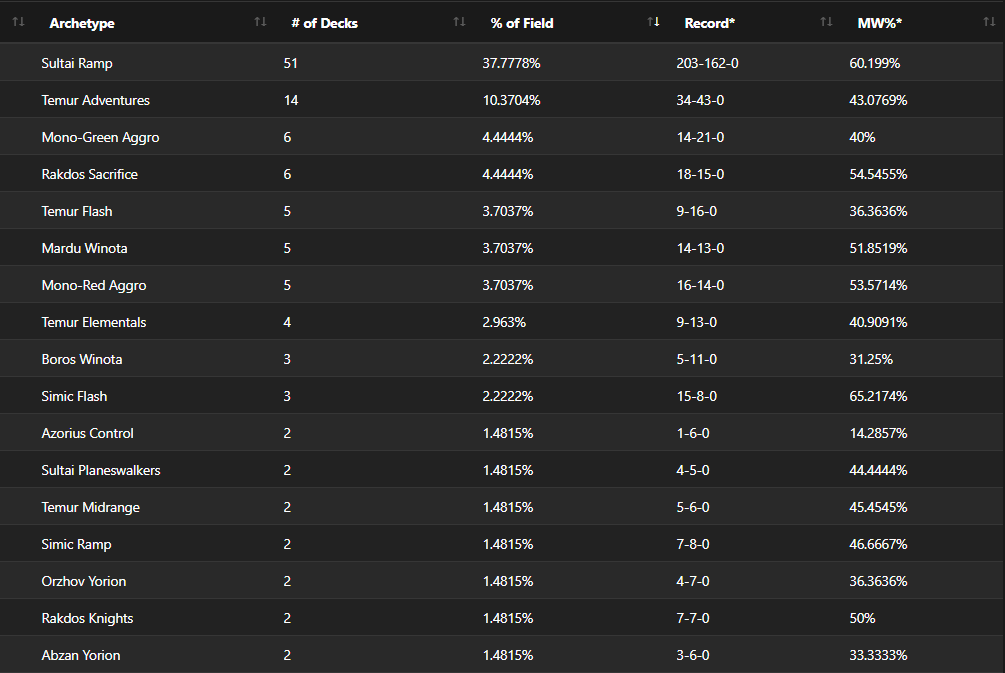 View the Top 16 decklists.