On the third day of Commander Legends previews, Gavin Verhey used today's episode of Good Morning Magic to break down cascade's inclusion in the set and unveil a new piece of equipment that can supply its own creature to wield it.
While the partner and monarch mechanics were included in Commander Legends to service the set's needs (make it draftable and keep games flowing), cascade was included because it is simply fun. The mechanic had split reviews when it came out in Alara Reborn from being too high variance for competitive play despite its rave reviews from casual players. Verhey described how a "straight to Commander" set would be the perfect place for more cascade cards.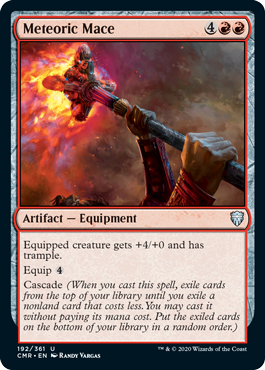 Check out Meteoric Mace, a cascading piece of equipment that can often find its own creature to suit up. Though cascade started as a mechanic that touched all colors in initial design, the final product ended up keeping cascade to the Temur colors. They also didn't go overboard with the mechanic with just thirteen cards in the set having cascade.