Five Bob Ross basic lands from the Happy Little Gathering Secret Lair drop can be acquired on MTG Arena using redeemable codes in the store.
The MTG Secret Lair Twitter account announced half of the Secret Lair basic lands were coming to Arena for free, starting with the code for the Plains. The codes for all five lands are listed below and are case sensitive:
| Land | Code |
| --- | --- |
| Plains | DelightfulMeadow |
| Island | IslandWilderness |
| Forest | TreeFriend |
| Swamp | HappySwamp |
| Mountain | MoveMountains |
The codes for the basic lands are good through Dec. 14. To get the other five basic land arts on Arena from the Secret Lair, you'll have to use the code that comes with the purchase of the Happy Little Gathering drop.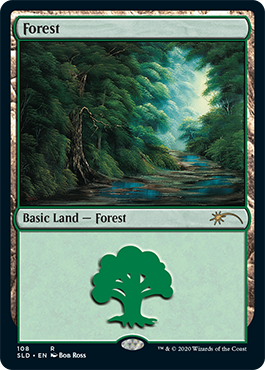 The drop along with the other four super drops from the Secretversary sale can be found here.