Courtesy of Wizards of the Coast (WotC) and Paulo Vitor Damo da Rosa, check out this unique mythic rare Zombie from Innistrad: Crimson Vow — Cemetery Desecrator!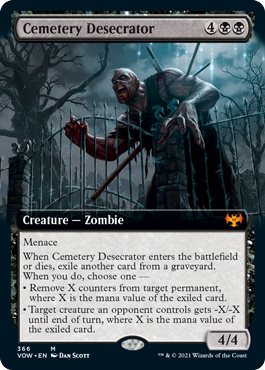 Cemetery Desecrator has a lot going for it. A six-mana 4/4, it comes equipped with menace, plus a sweet ability that triggers both when it enters the battlefield and when it dies. When the ability triggers and you exile a card from a graveyard, you'll have the choice between removing counters from a target permanent, which answers planeswalkers nicely and can even reset your own Sagas, or you can remove an opponent's creature by giving it -X/-X.
So what do you think of Cemetery Desecrator? Will the flexibility this card offers make it a star in Innistrad: Crimson Vow Standard? Let us know what you think in the comments.
Innistrad: Crimson Vow is currently scheduled for release on November 19. View our official preview gallery.