Wizards of the Coast (WotC) has announced that the Commander staple, Arcane Signet, will be reprinted in Commander 2020.
According to Magic: The Gathering Senior Designer, Gavin Verhey, the decision to have the Commander 2020 decks follow themes from Ikoria: Lair of Behemoths gave the design team more flexibility when selecting reprints and "allowed [them] to reprint a number of popular cards, including the fan-favorite mana rock.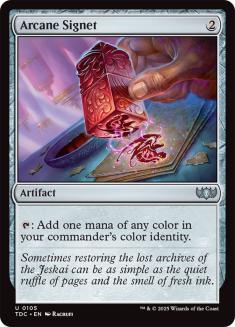 Verhey goes on to point out that the design team actively worked to improve the overall quality of reprints in Commander 2020 compared to 2018 and 2019, and feel that it's "important to set your expectations here to be what you would usually expect from Commander decks" in the future.
Each of the five Commander 2020 decks will include a copy of Arcane Signet and will be available when Ikoria: Lair of Behemoths releases in mid-May.