Two decks. Twenty new cards. We've gotten a full look at the Dominaria United Commander decks, and with them some sweet new choices to either lead decks or take a spot in the 99. Since lots of other content creators will be breaking down the decks—called Legends' Legacy and Painbow—as whole decks (as well as looking into their reprint equity), I'll discuss what we might want to do with the individual cards in other contexts, whether that's brewing something new around them or jamming them into existing builds.
Wait, Only Twenty?
Note that there are actually more than twenty new cards associated with Dominaria United Commander. Eight cards will appear only in Dominaria United set boosters. They have collector numbers DMC 21-28. Then there's the even cooler part. There are twenty box toppers, collectively referred to as Legends Retold, which are turbocharged versions of legendary creatures from OG Legends. For example, one of them is Jedit Ojanen, Mercenary, which was previewed by Commander Advisory Group (CAG) member Shivam Bhatt. They have collector numbers DMC 29-48.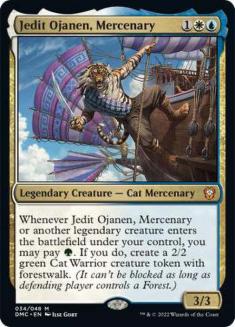 Because of space limitations, I'm only going to talk about the cards numbered DMC 1-20, the cards that are actually in the two decks. Those other 28 cards are likely worth their own coverage, perhaps in the weeks after a full set review, the set-specific updates to my deck suite, and which of the new commanders that I'll want to build decks with.
For simplicity's sake, I've listed the cards here alphabetically. The collector numbers are based on a bit of a wonky algorithm, with the two decks' commanders first. There's a fair amount to unpack here, so let's dive in.
Bladewing, Deathless Tyrant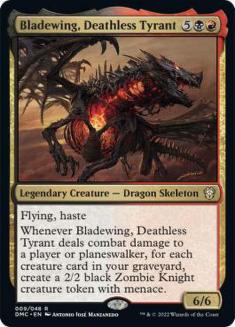 A new version of Bladewing the Risen from Scourge, Bladewing, Deathless Tyrant is an excellent piece for a reanimator deck, offering us a different, wide path to victory. What's unusual about this Bladewing is that it triggers on dealing combat damage to a player or a planeswalker. The ability is seen in only eleven other cards (with another premiering in this set), like Neheb, Dreadhorde Champion. When it does, we'll get a 2/2 Zombie Knight with menace for each creature card in our graveyard.
We're not likely to see (or want to see) this Bladewing early in a game. By the time it gets into combat, we should have a fair number of creatures in the graveyard already. Combined with cards that trigger on creatures entering the battlefield, such as Warstorm Surge, we can be dealing quite a bit of damage. While some sort of Zombie and/or Knight tribal is a reasonable thing to do with Bladewing, I'm more likely to put it into my Kresh Into the Red Zone deck, which thoroughly enjoys having creatures in the graveyard.
Cadric, Soul Kindler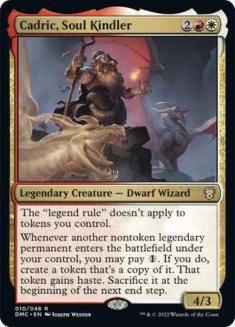 For all you Blade of Selves fans, Cadric, Soul Kindler is your jam. It turns off the legend rule for tokens you control, so equip that Blade to whatever you like. Cadric's second ability takes advantage of the first, giving us the chance to cheaply create a token copy of a nontoken legendary creature when it enters the battlefield.
It has haste and gets sacrificed at the beginning of the next end step, so we'll want some combat-ready stuff. We won't get the cast triggers off Kozilek, Butcher of Truth or Ulamog, the Infinite Gyre, but they'll sure annihilate somebody. Moraug, Fury of Akoum doesn't need too much help creating extra combat steps. Copying it means we'll double up every landfall trigger, which will provide ample fuel to close out games.
Dihada, Binder of Wills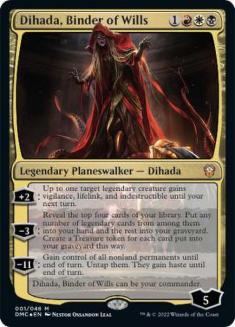 One of the face commanders that also happens to be a planeswalker, Dihada has lots going on, from combat-readiness to effective card draw to the biggest Insurrection ever. Because I like the combat phase, I'm more likely to run Dihada in a deck instead of lead it because of the +2 ability, which gives a legendary creature vigilance, lifelink, and indestructible until our next turn.
The latter part is extremely relevant in case someone wants to cast a sorcery-speed battlefield sweeper on their turn. I like the idea of Queen Marchesa not just sitting back as the monarch and daring stuff to happen, but charging into combat, gaining us some life, and taking back the crown if need be. The ultimate ability going off will be very rare, but I suspect it will also be quite memorable.
Fallaji Wayfarer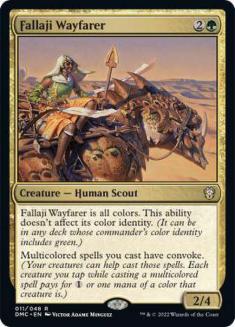 I get what the designers wanted out of the first card to mention color identity in a deckbuilding context. The intention is for it to be all five colors (killable with Red Elemental Blast!) and to provide any color mana via convoke, while not forcing you to play it in a five-color deck. The wording just feels clunky.
It is not, as some conspiracy theorists have alleged, part of Studio X's insidious plan to change hybrid mana and murder color identity. I'd love to go back in and see the design notes, looking specifically for consideration of having the mana cost be all colorless instead of having green in it. I get that convoke is predominantly a green ability, but it wouldn't have been too much of a stretch to not have any pips in the mana cost.
Gerrard's Hourglass Pendant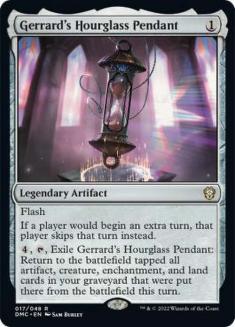 This is both a sweet card mechanically and a win for all the Vorthoses out there, the Pendant being the last piece of the Legacy. For only one mana, we can prevent players (and I like that it's symmetrical) from taking extra turns. If you have a Narset, Enlightened Master deck that's terrorizing your tables, here's an answer. Giving it flash was absolutely the right call to make, creating some blowout situations.
The second ability is a powerful answer to battlefield sweepers of many kinds. For just five mana, we can get most of our stuff back, from Damnation to Obliterate and more. Even just having it on the battlefield is a rattlesnake against said sweepers. This is a card I will be very happy to play.
Iridian Maelstrom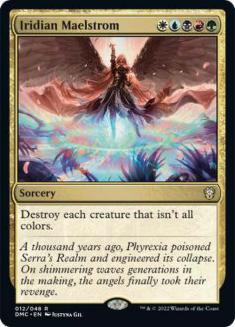 Finally, a sweeper that makes Progenitus not so vulnerable! Iridian Maelstrom is definitely a niche card for a niche deck, but that's really what I'd like to do more of. We have plenty of things that are generically good. I want stuff that interlocks with other little pieces to make a more compelling whole.
Jared Carthalion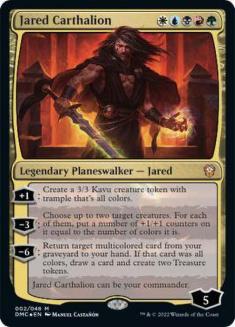 Everyone's favorite Glenn Danzig cosplayer is back as a planeswalker that can be your commander. The face commander of the Painbow deck, Jared doesn't have a big ultimate ability, instead focusing on strongly utilitarian other ones.
It's cool to see Kavu making its creature type comeback. The +1 ability creates a five-color 3/3, and then the -3 will really beef it up. 8/8s with trample are no joke. I'm interested in seeing what, if anything, people brew around this version of Jared Carthalion that's a departure from what the preconstructed deck does.
Jenson Carthalion, Druid Exile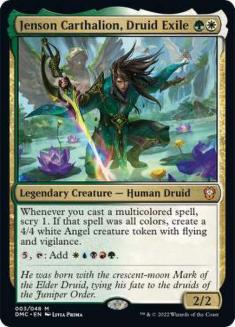 Jared's anime-haired cousin Jenson is a mana-filterer in the tradition of Crystal Quarry. Making Angels when we cast spells that are all colors is a very nice bonus. Once again, we have a card that builders need to really think about as a piece of something instead of being able to just jam it into decks. In this case, I suspect we see it in Jodah, Archmage Eternal decks.
Mana Cannons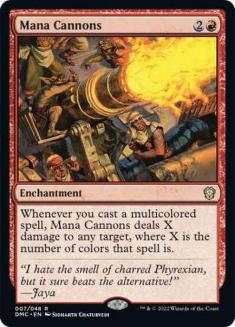 My vote for the best card name in the set, Mana Cannons is one of those cards that'll get initially dismissed by some people, who will then come around when the card wrecks them. Repeatable damage in packets of two to five will keep lots of decks in line, especially those with low-toughness, utility commanders. Having a source of damage sitting in the command zone regardless of what else the commander does is a difference-maker. Mana Cannons is the kind of solid yet unspectacular card that ends up winning games.
Moira, Urborg Haunt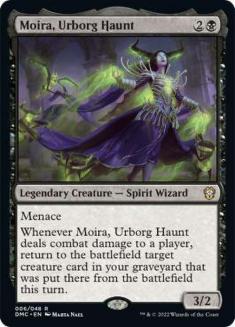 Another legendary creature that I'm more likely to run in the 99, Moira does the kind of thing that I like—bringing back stuff that I sacrificed. Having menace means she's more likely to get through and trigger. We can obviously play other things like Rogue's Passage or Thassa, God of the Sea to make her unblockable. I'm a fan of the idea of playing it in a deck that runs creatures with echo, like Karmic Guide and Bone Shredder, building a cool recursive engine.
Obsidian Obelisk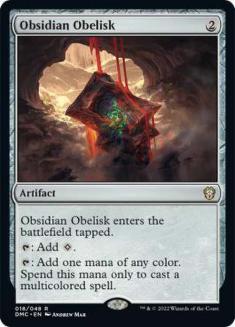 I believe we've gotten the folks in Studio X to focus on three-mana rocks with compelling abilities, as opposed to making another Arcane Signet. The only thing to say here is that this card was in development before that became part of the accepted path forward.
Entering the battlefield tapped isn't much of a downside if you're just dropping it Turn 2, like you might a Talisman of Dominance or something. It won't allow for any kind of explosive early turn, and needing to cast a multicolored spell in order for the colored mana production to be useful further limits it. I'm not wild about the presence of another two-mana rock, but as things go, this one seems pretty inoffensive.
The Peregrine Dynamo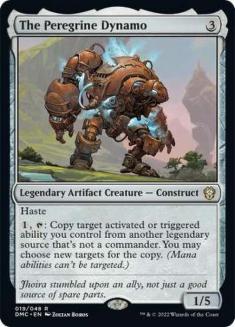 I love copying abilities, running Strionic Resonator and Lithoform Engine in multiple decks. The Peregrine Dynamo is a little more niche, and its limitation on not being able to copy a commander's ability keeps it from being too busted.
There's an infinite mana combo with Minamo, School at Water's Edge and Chromatic Orrery, but I suspect we'll see The Peregrine Dynamo more as a value engine. I have Tatyova, Benthic Druid in a few decks in which she's not the commander, so how about drawing two and gaining two? Doubling up on Kokusho, the Evening Star triggers will be sweet. How about copying the attack trigger of Etali, Primal Storm? This card will lead to some saucy game states.
Primeval Spawn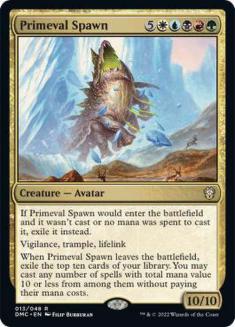 They've gone a long way to make sure Primeval Spawn can't be abused, like reanimation, blinking, or Tooth and Nail. If we control the narrative of Primeval Spawn, it'll be pretty powerful, which it should be for ten mana.
The obvious first layer is a 10/10 with vigilance, trample, and lifelink. If it dies, we bounce it, or it leaves the battlefield in any other way, then we get to cast up to ten mana value's worth of stuff from among the top ten cards of our library. We'll no doubt end up exiling a few things, but that's a reasonable price to cast the most relevant things from the top of the library.
The Reaver Cleaver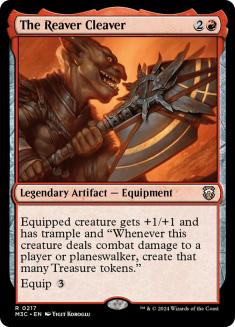 Okay, maybe this is the best name, and the second one in the set that triggers on dealing combat damage to a creature or planeswalker. It's certainly a strong card, with trample being the really relevant ability. Being able to run over any blockers means we'll still get at least a few Treasures.
Frequently, I see players not block at all when facing a trampler, since a chump blocker isn't going to save them much life. Like a number of other large Treasure generators, we can combo the Reaver Cleaver with Reckless Fireweaver to not only get an excellent rhyme, but also deal out some damage.
Shanid, Sleepers' Scourge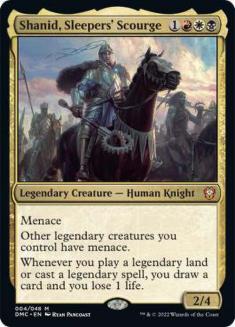 Another piece that can move the needle and make a Queen Marchesa deck a little more aggressive, Shanid is mostly about the card draw. Replace that one Mountain with Hammerheim, and that one Swamp with Urborg, if you want. They don't enter the battlefield tapped, and they'll replace themselves. Obviously, there are saucier choices, like Eiganjo, Seat of the Empire and Shizo, Death's Storehouse, but I'm a fan of cards that make us think about cards that are essentially forgotten.
Tiller Engine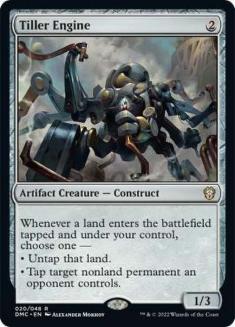 Tiller Engine certainly doesn't replace Amulet of Vigor; if anything, we just run them together. The flexibility is outstanding. It'll get us out from under the various Thalias or other Stax pieces which affect lands.
Being able to tap down potential blockers or other defensive pieces just pushes it over the top for me. I probably play more enters-the-battlefield tapped lands than most folks, since my "local" environment with the other RC members is pretty slow, so I see how Tiller Engine might be something that I get a little extra mileage from.
Two-Headed Hellkite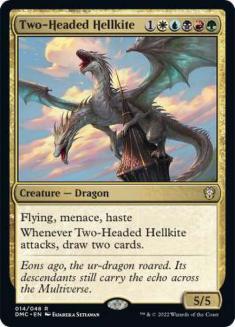 Here's something else to spend that Jenson Carthalion, Druid Exile mana on! The mana cost means we can only play Two-Headed Hellkite in a limited number of decks, but in those that we can, we definitely want to take a look at a 5/5 flyer with menace and haste that draws two cards when it attacks. I think the only downside is that The Ur-Dragon decks don't really need any more help than they already have.
Unite the Coalition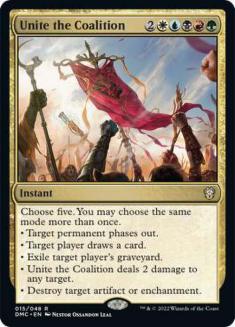 Although ten to the face is possible with Unite the Coalition, I'm pretty sure we'll see more of a mixed bag. We could nuke all our opponents' graveyards and still draw two cards or blow up two artifacts or enchantments. Saving the relevant portion of our team from a battlefield sweeper by phasing them out is an option.
There's a pretty big cost to Unite the Coalition—not just the seven mana, but the fact that we have to keep seven mana open and might not end up using it. This card will simply be something we have to commit to casting during the turn cycle; if not, we'll likely have lost too much momentum.
Verrak, Warped Sengir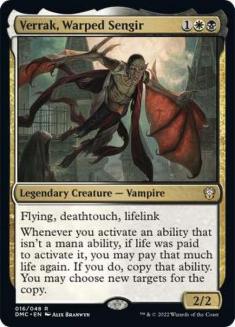 Verrak, Warped Sengir is the card that has everyone talking. The most notable use of Verrak, Warped Sengir is doubling up on fetchland activations. I've also heard folks mention Razaketh, the Foulblooded. I like it alongside Chainer, Dementia Master, reanimating a second creature for just three life. It'll also work with Erebos, God of the Dead, saving us two mana on a second activation, paying the life we were going to pay anyway. Same goes for Phyrexian Reclamation.
If we're gaining lots of life somehow, we could use Vona, Butcher of Magan to blow up two things. Verrak will also get a second trigger off Vilis, Broker of Blood, digging deeper and deeper into the deck. A fine card all around and useful in the 99, Verrak is one of my first choices to try to build around.
Zeriam, Golden Wind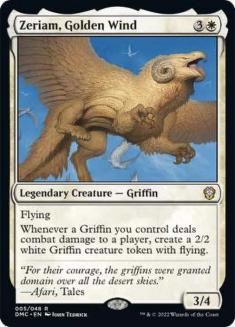 We still have a way to go before Griffin tribal can be a thing, but at least it's a start, right? Zeriam triggers on token and nontoken Griffins alike, so we might be able to build an army just starting from Zeriam if left alone for a bit. Maybe the real thing to do is play Arcane Adaptation or Conspiracy and make all our creatures into Griffins. The biggest thing about Zeriam is that it reminds me that I still want to make Retaliator Griffin work.
Twenty to Think About
Our first look at the Dominaria United Commander cards has revealed some true gems. Nearly every one of them is something to get excited about. Nine of the twenty are even available as commanders, giving us ample opportunity to explore brewing new concoctions. I look forward to seeing what you all come up with.
As always, we have a channel on the Commander RC Discord server dedicated to discussing my articles. I'd love to hear about features that you'd like to see, material you want more coverage on, or even things that you think just aren't working. I'm all ears. Join more than 7,000 friends for discussion of not just this piece, but on a wide variety of topics—both Commander-related and not. Hope to see you there!
Visit my Decklist Database to see my Signature Decks, the Chromatic Project, and more!