Over the weekend, another piece of Magic: The Gathering history was sold at auction – an artist proof, 8.5 Beta Black Lotus, signed by the late Christopher Rush, for $615,000.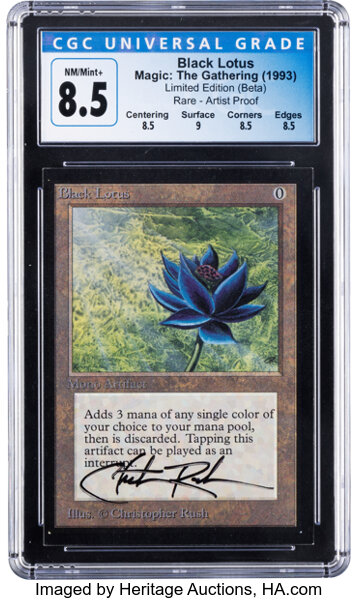 For those unfamiliar, an artist proof is a mockup provided to the artist prior to the card's official printing, and gives them an idea of how the real card will look. These proofs are easily recognizable by the blank card back. This particular proof was awarded an 8.5/10 by CGC Grading, receiving a 9 for Surface and an 8.5 for Centering, Corners, and Edges, respectively, with the signature also being verified by Jeff Ferreira.
Part of what makes this particular proof so valuable is the signature from its illustrator, the legendary Christopher Rush. During his tenure at Wizards of the Coast (WotC), Rush illustrated over 100 Magic: The Gathering cards, including the iconic Black Lotus, and was also the first artist outside Japan to illustrate a Pokémon card – the #12 Mewtwo promo. Rush passed away at the age of 50 in 2016.
It goes without saying, but these cards are extremely rare and only come up for sale once in a blue moon, but when they do, they fetch incredibly high prices, reaching well past the half-million mark. While this particular proof sold for $615,000, the most expensive artist proof Black Lotus was reportedly sold for $800,000 to music mega-star, Post Malone, last year.