So here we are, my last Star City Games article… again.
Technically, I already wrote my farewell article for the website two years ago when I took a brief hiatus from writing before eventually coming back. While it would have been so much fun to copy/paste that and see if anyone noticed, I think I can find some new ways to say goodbye. At the very least, I'll honor my last time on this platform by talking about the things that mattered to me the most during my time with SCG, what my current "hot takes" are with their decision to move away from competitive content, and finally what my plans are now.
Once more unto the breach, dear friends. Let's get into it one last time.
Saying Goodbye to VS Live!
I've done a lot with Star City Games over the years. I've written articles, of course, but my proudest accomplishment was starting "The VS Series" with Gerry Thompson. At the time of creation, that product truly engaged our audience and was on the cutting edge of Magic content creation. Its success brought so many amazing people to Roanoke to join in the "magic" — people I still call friends to this day.
Except this guy, man do I regret meeting him…
It was sad to leave VS Live! back in 2019, but I was super-excited to go back on the show with Corey Baumeister when I returned to Roanoke in 2021. Honestly, it's sort of embarrassing to think that I did two cross-country moves in the span of three years, but COVID-19 really did a number on us out west. We felt isolated, and really missed living with family, so Amber and I moved back! Once we got here, there just wasn't enough money in the budget to bring me back into VS Live! which was a huge bummer, but one I could totally understand.
It's amazing, but also bittersweet that my "brother from another mother" Corey Baumeister will be putting that piece of content to rest this Thursday without me. It's awesome that he followed in my footsteps to move to Roanoke to become a content creator for Star City Games, but damn do I wish I got to do the final episode of VS Live! with him. Put to rest something I created, you know? I get that it's no longer my show, and Ross and Corey deserve to finish out the final show, but that doesn't mean I can't be a bit jealous that I won't be there for it.
Doing VS Live! Ourselves?
More than a few people have told me we should just do VS Live! on our own. Todd, Ross, Corey, and I all still live in Roanoke after all. Now, even if we tackled the logistical issues of having the cards for our recordings, it still just wouldn't be the best use of our time. I just think this content model is a relic from the past, and not that many competitive Magic players want that style of long-form content. Especially with how easily available other Twitch streams and YouTube videos are.
This also applies to the articles Star City Games no longer wanted to support due to declining interest. Times have changed, and the best way to keep up with them would be to adapt. It just takes a ton of resources to do that. That's what makes it so difficult for a company to invest those resources when they could very easily spend them on "sure things" instead. Especially when Magic Organized Play has dwindled due to COVID-19, and the replacement for the MPL/Rivals structure remains unannounced.
That's really the most frustrating part of all of this. I've liked being a pro Magic player, but I fell in love with helping aspiring players get to the pro events through my decklists and sideboard guides. Nothing brought me more joy than cracking the code on an archetype, writing up a sideboard guide, and seeing that 75 win tournaments in the hands of complete strangers. Even to this day I get absolutely giddy when I see my lists do well in a tournament on MTG Melee tournaments when I'm in there correcting archetype names because some people are animals.
Seriously, to the person who named their deck "Selesnya Burn," I see you…
The Carrot on the Stick
Now, I get that COVID really complicates things, and that I'm much happier with Wizards of the Coast (WotC) being cautious about bringing back Organized Play that extends past Set Championships. It's just I really think we need to know if there's going to be more, and can accept that the "when" is still up in the air. With each month that we inch closer to the Streets of New Capenna Championship and Worlds, I feel more disheartened that we don't know what's coming next.
"The carrot on the stick" is something I've talked a lot about when it comes to pro Magic. This phrase is technically a marketing term that means "you'll get more engagement if people have something to aspire to." This is why we've seen things like Pro Tours, Worlds, the Players' Championship, the NRG Championship Series, the Magic Online Championship Series, the ManaTraders December Invitational, and so on and so forth. It might seem manipulative to some, but honestly it never has to me, as I knowingly chased almost every carrot on the stick I could find.
I loved chasing after whatever SCG or WotC threw at me. Hell, I would spend half the year making sure I hit Gold/Diamond/Mythic status, then invest the back half of the year on qualifying for the Star City Games Players' Championship. I knew the juice was most likely not worth the squeeze, but I didn't care. The journey was worth more than the destination for me.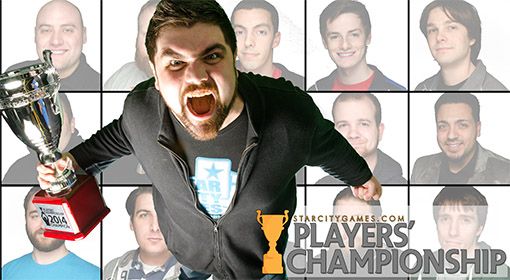 Maybe they felt special just because I was a twentysomething kid having fun traveling to tournament halls all the time, but I honestly think it was because I enjoyed chasing exclusivity. I loved being one of the names on a small list. Even though I never did well in a World Championship, I still felt prouder to be qualified than I did when I did well in the events that got me there.
I think that's really what a lot of us need right now. Just knowing if something like that is coming back, and maybe knowing what it may look like. Now, it's not going to all of a sudden fix the subsection of Magic we enjoy interacting with, but it would be a good first step in trying to bring in some of these new Magic players into our neck of the woods. In the dream scenario, it would reinvigorate a part of Magic history that meant so very much to me for all these years.
Oh crap, I just realized the Hall of Fame may never come back, and thus I may never get in. I guess I can add that one to the pile of cheers I'll make this week after I submit my final article!
My Future in Magic
As many of you know, I'm still very much active with Magic as a co-founder of MTG Melee. That project keeps me very busy and has been going very well these past few months. We have Set Championship Qualifiers going through our Premier Org Program, SCG CONs, the NRG Series, and a slew of other orgs running events daily on the site. Helping both organizers and customers has been an amazing experience I'm passionate about, which is not something I thought would be the case before starting the site.
That still doesn't mean I want to live without creating Magic content. Funnily enough, I'm not currently in a position to live without making it! I still don't know if I'll end up making content for another Magic website, but I'm interested in the idea if the right fit presents itself. One thing I do know, though, is I'll be going back to making content on Twitch and YouTube, and starting to implement my ideas on how I think competitive Magic content should be produced on a personal scale.
Oh, and I may get the Bash Bros gang back together now that we're a little less busy!
That may come as a surprise to many of you dedicated fans, as I just stopped streaming back in November of last year. It may have seemed that I just didn't like doing it, but the reality is my fiancée had some serious health scares last year. Without getting too personal, there were some pretty rough months and I just couldn't find the time or energy to care about Magic. Things are much better now, though, and we're finally back to living normal lives again, which is nice.
So yeah, I'll be back to streaming after the Kamigawa: Neon Dynasty Championship in the middle of March. Who knows, I may be back after decklists are due, but I'm not making any promises there. So be sure to follow me on Twitter, Twitch, and YouTube if you're interested in seeing where I do next when it comes to Magic content. I promise you it's going to be a lot different from what you've been used to!
Thank You, Star City Games
I'm going to end this by thanking Star City Games. For inviting me to move to Roanoke to build the VS Series, for sponsoring many of the Pro Teams I tested on, for allowing me to play in so many amazing tournaments, and finally for letting me write this final article. They could have just let us go the day they decided to end SCG Premium, but they didn't. All good things must come to an end, and working for this company was one of the best things that's ever happened to me.
Because of this company I met my fiancée, my best friend, and my second-best friend (you all know who you are). I got to learn so many life skills, and I got a second shot at being the best Magic player I could be (you'd understand that if you read my last going-away article!).
I just owe Star City Games so much that I can't really find a way to be upset that these are the last words I'm writing for this company.